Friday 11/3 at Healdsburg High, actually 3200 meters
Photos by Michael Lucid
Cross Country runners show speed on the track again this fall.
In the boys fast heat Sonoma Academy's Andre Williams had a personal best time 9:49.1 bettering his still standing school record at Kelseyville (9:53.54+) edging Maria Carrillo's Rory Smail, also PRing at 9:49.6. Eight runners in that heat broke 10 minutes and their personal bests. Of those only Lawson and Godinez ran faster last spring in track.


In the girls fast heat Healdsburg's Gabrielle Peterson took top honors over Maria Carrillo's Sydnie Rivas 11:07.5 to 11:09.5.
Both Rivas and teammate Aimee Armstrong (11:20.5) moved into the All-Time top 50 with Rivas moving to 32nd and Armstrong at 47th. Peterson ran 10:59.75 last spring.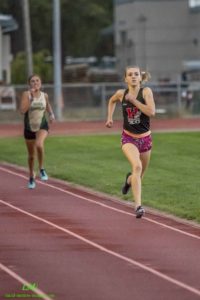 Boys Heat 5
Andre Williams	 9:49.1	Sonoma Academy, old pr 9:53.3
Rory Smail	 9:49.6	Maria Carrillo new pr
Ben Lawson	 9:52.2	Maria Carrillo pr 9:45.99
Harrison Frankl	 9:52.7	Maria Carrillo new pr
Colton Swinth	 9:53.0	Maria Carrillo new pr
Dante Godinez	 9:57.7	Healdsburg pr 9:54.8
Zach Lindemann	 9:58.5	Maria Carrillo new pr
Will McCloud	 9:59.7	Maria Carrillo new pr
Paden Collard	 10:00.1 Cloverdale new pr
Scott Kruezfeldt 10:09.9 Maria Carrillo pr 9:58.11
Patrick Philip	 10:18.7 Maria Carrillo
Owen Pugh	 10:24.3 Maria Carrillo

Girls Heat 4
Gabrielle Peterson 11:07.5 Healdsburg pr 10:59.75 
Sydnie Rivas	11:09.5 Maria Carrillo old pr 11:28.45
Aimee Armstrong	11:20.5	Maria Carrillo old pr 11:34.3
Jasmine Becker	11:43.8	Montgomery pr 11:43.1
Leah Haley	11:47.1	Montgomery new pr
Nicole Morris	11:47.6	Maria Carrillo new pr
Mariah Briceno	12:11.7	Montgomery new pr
Talia Leano	12:16.9	Maria Carrillo pr 11:36.6
Meghan Field	12:20.9	Maria Carrillo pr 12:01.5
Julie Edwards	12:51.5	Cloverdale

Boys Heat 3
Pierce Kapustka	10:30.3	Maria Carrillo
Jack Vanden Heuvel 10:40.6 Healdsburg
Brandon Alvarado 10:45.9 Montgomery
Justin Richter	10:49.1	Montgomery
Alex Pallais	10:53.5	Sonoma Academy
Jacob Williams	10:55.2	Montgomery
Joshua Chang	10:58.2	Maria Carrillo
Brent Oru-Craig	11:00.7	Montgomery
Luke Fuette	11:07.7	Sonoma Academy
Jack Roney	11:12.6	Sonoma Academy
Morgan Piper-Cordova 11:13.6 Sonoma Academy
Luca Pastene	11:15.3	Healdsburg
Peter Trebilcock 11:19.8 Healdsburg
Sebastian Herbst 11:29.2 Montgomery
Edgar Ortiz	11:31.3	Healdsburg

Girls Heat 2
Avery Damron	13:04.0	Maria Carrillo
Natalie Bozeman	13:06.0	Healdsburg
Haley Joerger	13:24.8	Maria Carrillo
Hannah Cohen-Sandler 13:27.6 Maria Carrillo
Amelia McDonald	13:35.0	Sonoma Academy
Adele Biehl	13:37.7	Healdsburg
Claire Zechiel	13:38.2	Sonoma Academy
Jamie Lu	13:47.0	Maria Carrillo
Hannah Harlan	14:13.0	Healdsburg
Nadya Rued	14:15.0	Healdsburg
Alyssa Rued	14:54.0	Healdsburg
Abby Bautista	15:18.7	Healdsburg

Boys Heat 1
Taylor Ingram	10:52.3	Maria Carrillo
Jonas Crane	11:25.5	Sonoma Academy
Fernando Salazar 11:48.7	Healdsburg
Porter Stein	11:50.5	Sonoma Academy
Matt Arrietta	11:52.1	Maria Carrillo
Charles Fisher	12:04.3	Montgomery
Jeremy Felix	12:04.8	Healdsburg
Everett Conway	12:08.7	Cloverdale
Jaden Fernandez	12:11.2	Montgomery
Bryce Chinn	12:13.7	Maria Carrillo
Tucker Morgan	12:14.7	Cloverdale
Finn Addison	12:15.3	Cloverdale
Allan Farfan-Canales 12:17.7 Sonoma Academy
Logan Field	12:18.7	Maria Carrillo
John Dow	12:21.8	Healdsburg
Jousha Jones	12:32.0	Montgomery
Alexander Gardner 13:27.0	Healdsburg
Henry Waterman	14:00.9	Healdsburg