Very simple, so it doesn't disappear.
I have so enjoyed producing these lists and promoting these sports the last 30 years and it is my hope that through this web site, I can keep making them available to all.
Keeping this up and running (pun intended) is going to take a team effort. I am more than willing to put in the hours, and keep updating the information, but I'll need a little help from everyone to support the site and the work. I'm hoping that those who like this site will be willing to pitch in something so I can afford to keep it up. Even if each family just gave $1 per month, for a grand total of $12 per year, that would help. Although I am hoping that there are some out there that will want to do more than that, I know there are others out there on tight budgets like mine.
As of now there are two ways to donate to support this site – PayPal, credit cards or snail mail:
I prefer a check since PayPal takes some of the money.
I have opened a PayPal account just for the new website. People can send whatever amount they want to help with the website easily by clicking on the Donate button above. You can use a credit card to donate on that site as well without setting up a PayPal account of your own. Either way, it is easy to do by clicking on the Donate button above.
And if you send the amount by friends or family I will receive the full amount rather than paypal taking part of it.
For mailing my address is
Jim Crowhurst
1040 Road B
Redwood Valley, CA 95470
Do NOT send cash through the mail. We have a locked mailbox, yet a relative sent my son graduation money last June, which only the USPS handled, yet the envelope was ripped open and the cash was taken before it arrived here.
I so appreciate the many fans of my old sites and wish I could do this for free, but like all of you I have these dang bills to pay.
Thanks again for considering to support the site financially.
Jim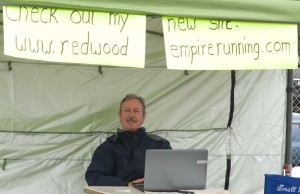 How I was recruited to the sport of Track & Field
There might not be a Redwood Empire Running without Herb Dower