NBL cross country leagues for 2020 & 2021 decided
2020 Big Cat info

Sara Hall finishes as top American woman at Houston half marathon
Local Marathoners Spector and Lane have big days
What To Know About Winter Track Championships Qualifying
Pole Vault Summit, more added
Gabby Peterson runs 9:50.28 indoors for 3,000 meters
Locals at USATF Cross Country Championships
Top returning boys track marks
Top returning girls track marks
Info on Santa Rosa Twilight Invite March 27th
CA Winter Champs Qualifier (Pitman HS) Turlock
2020 Boys Returners from All-Redwood Empire Running Track & Field
2020 Girls Returners from All-Redwood Empire Running Track & Field
Marie Sugiyama, champion of North Bay high school sports, WWII internment camp survivor, dies at 84
Redwood Empire History erased
What has happened to the boys triple jump?
2019 All NorCal
California Winter Championships Qualifier & Finals Info!
2019 Footlocker Nationals
Skandera's at National Championships
Felix Herbst, former harrier, combines music, science as a 21st-century musician
Nike Nationals & Footlocker West
Boys All-Redwood Empire Running Cross Country
Girls All-Redwood Empire Running Cross Country
2019 All-Empire Notes
Michael Lucid photos of VVAL Finals
Boys State Cross Country Finals
Girls State Cross Country Finals
CIF-State Meet Preview
State Meet Preview: Division V
Empire's state bests
10 Storylines to Follow at State Championships: Can McClain make 11th in a row for NCS
State Meet Preview: Division III
2019 All NCS Team
NCS Boys Championships
NCS Girls Championships
Swoboda 24th at NAIA Cross Country National Championships, results, preview, story
NCS Preview, link fixed
The Redwood Empire currently holds the NCS girls records for Div. 1, 2 & 4. Will McClain give us div 5?
VVAL boys photos by Thomas Benjamin
VVAL girls photos by Thomas Benjamin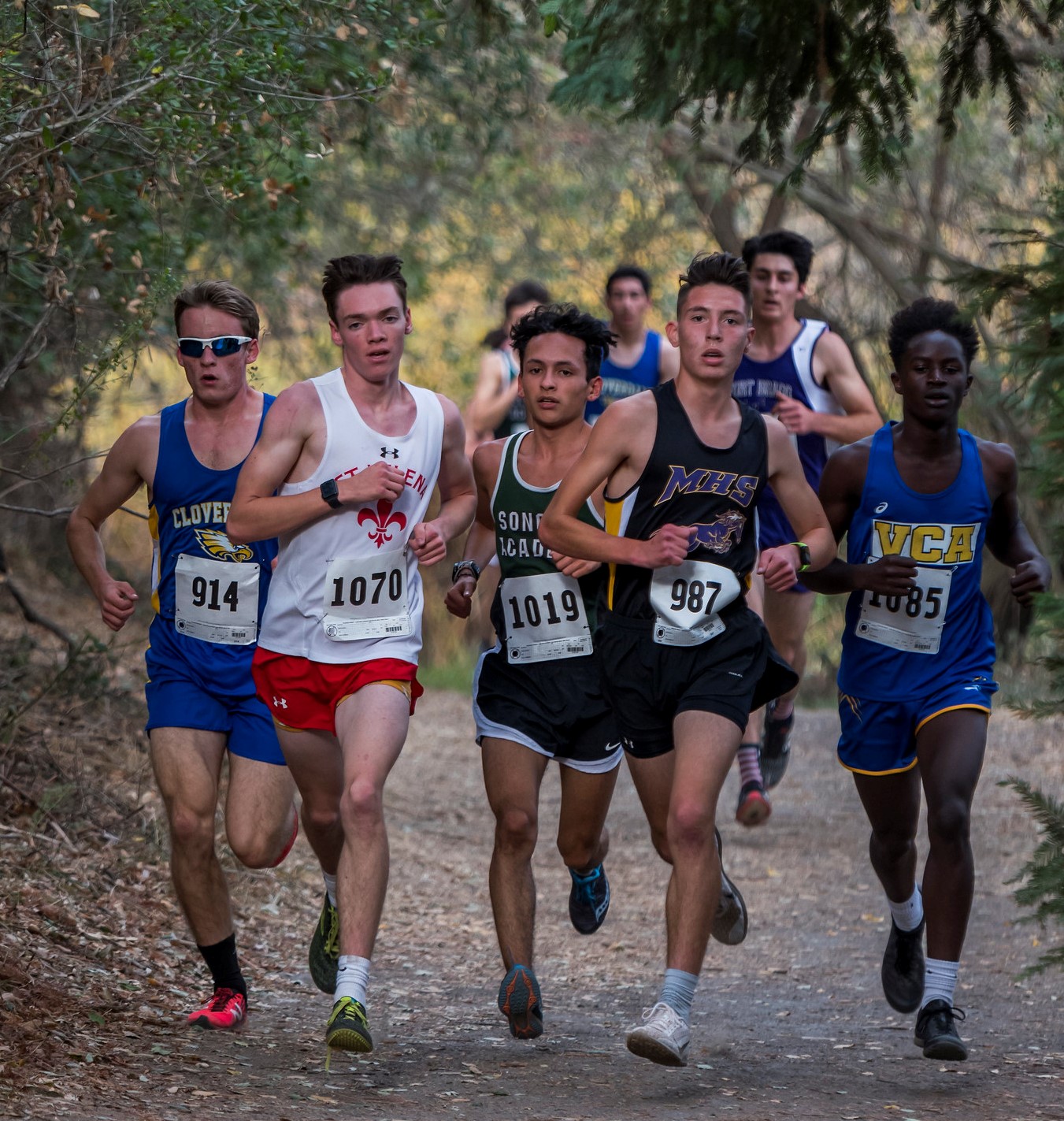 More photos of CMC Finals by Michael Lucid
More photos of Boys CMC Finals by Thomas Benjamin
More photos of Girls CMC Finals by Thomas Benjamin
Make-up HOKA 3200m night of madness!
Boys 2019 League Finals Times
Girls 2019 League Finals Times
Boys VVAL Championships
Girls VVAL Championships
Entries for Make-up HOKA 3200m night of madness!
Schulz, Chung, Atkins, White & Peterson at NCAA Regionals
135 Michael Lucid photos of the NBL Redwood meet
Both Carrillo teams state ranked
What will the 2020 NBL boys look like
What will the 2020 NBL girls look like
Boys Coastal Mountain Conference Championship, Video & clearer results added
Girls Coastal Mountain Conference Championship, Video & clearer results added
Make-up HOKA 3200m night of madness!
Over 200 Michael Lucid photos from NBL Oak Finals
Former Windsor star Justin McQuaid sadily has passed away
Boys North Bay League "Redwood" Championship
Girls North Bay League "Redwood" Championship
Girls North Bay League "Oak" Championship
Boys North Bay League "Oak" Championship
SRJC at NorCal Championships
Mary Cain Opens Up On NOP 'Abuse'
11/6 meets
Alia Gray places 19th at NY Marathon
What's happening with Cross Country now that we have another fire shortened season?
Daniel Skandera breaks yet another world record
SRJC women win Big 8 AGAIN
Peterson perseveres at Pac-12 Cross Country Championships
More Lucid photos from Analy/El Molino meet
NCS Cross Country Rankings
Cross country teams watch, wait as Kincade fire blazes on
Students of striking Chicago teachers barred from meet
Casa Grande/Healdsburg at Mt Sac
10/23 meets
McClain, Swinth & Smail among the best
Vintage at Monterey Bay Invitational
SRJC/SSU + at Bronco invite
230 Photos by Michael Lucid from 10/16 Spring Lake NBL Oak meet
Mariner Invite
Yoshaany Rahm Invitational
10/16 Boys VVAL photos by Thomas Benjamin
10/16 Girls VVAL photos by Thomas Benjamin
Fast teams as well
redwoodempirerunning needs help
10/16 meets
2019 Clovis Inv – Varsity Boys Championship Video
NBL big meet wednesday
NorCal Cross Country Rankings
Nicole Lane qualifies for Olympic Trials marathon
Harper McClain 3rd Place Girls Championship Race – Clovis Interview
Castro Valley Invitational
Clovis Invitational
More Thomas Benjamin boys photos from 10/8
More Thomas Benjamin girls photos from 10/8
Carrillo #1 ranked in state, Sonoma Academy #10
10/9 meets
NCS Rankings
10/8 meets
Hall kicks to victory at the USATF 10 Mile Championships
Artichoke Invitational
Swoboda's Career Race Highlights Impressive Day for Corban XC
Sara Hall 6th American All-Time
SRJC at Toro Park Invitational/Norcal Preview , Grace Southern added
The new kid/school on the block
Ukiah at Clam Beach
Montgomery+ at Master's University XC Invitational
California just passed a law that allows college athletes to get paid
California Schools Face Potential NCAA Ban If Compensation Bill Passes
Alumni at Capital Cross Challenge
Boys photos from Fort Bragg
Girls photos from Fort Bragg
Sara Hall Runs Massive PR in Berlin
Boys Eye Opener Invitational
Girls Eye Opener Invitational
Piner at Scott Bauhs Invitational
Capital Cross Challenge
Tiger Twilight 2-miler

9/25 meets
RIP former Humboldt coach, Jim Hunt
187 photos by Michael Lucid from Bob Shor XC Invitationals
Top 10 NorCal times from Woodbridge
Carrillo videos from Woodbridge
More Viking Opener photos by Michael Lucid
Farmer's Invitational
Harper McClain & Carrillo at Woodbridge
De La Salle Nike Invitational: Casa Grande & Cloverdale's Collard
SSU at Coyote challenge
More Boys Photos of 9/18 meet at Spring Lake
More Girls Photos of 9/18 meet at Spring Lake
SRJC at Lou Vasquez Invitational
Photos of 9/18 meet at Spring Lake
9/18 meets
Catching up with St. Helena junior, Harper McClain
Colton Swinth interview
Ed Sias
Girls Viking Opener
Boys Viking Opener
The incredible women of the Viking Opener
Stump Invitational
Tribute to Peter Guerrini
Viking Opener still running strong after 35 years
Middletown students stand up for coach
9/11 Meets
Aggies set to #RunForStump at inaugural Stump Invite
Fogg guides Maria Carrillo from darkness to light
Middletown coach Don Cobb has been removed as coach

Thomas Benjamin photos from Boys Bob Shor Invite
Thomas Benjamin photos from Girls Bob Shor Invite
Former runners of the year: Peterson & White kick off their college seasons: Gabby 11:00 3200m pace
San Francisco/Lowell Invit
Lagoon Valley Classic
Megan Field (Maria Carrillo '19) freshman at UC Irvine finished 99th/200 in 20:38 at Mark Covert race
Last spring I made a visit two hours from my home in Northern California to spend an afternoon with the Paradise HS Bobcats five months after the Camp Fire leveled a majority of their town. I was humbled by my time with athletes, coaches and parents there as well as by the opportunity to make a small gesture of donating new uniforms to the track & field team. The resilience and pride displayed by the people of Paradise provided perspective and inspiration that endures even as the rebuilding process in Butte County continues today. • • •If you would like to join me in supporting the Bobcat Track & Field program to continue helping these athletes run and chase their goals, you can make a donation of any value via PayPal to the following account: ParadiseHS.sports.booster.club@gmail.com.Thank you and please make sure to call out Track & Field in your note!

Posted by Kim Conley on Friday, September 6, 2019
Boys Bob Shor Invite
Girls Bob Shor Invite
Good inspirational cross country stuff on youtube
Sierra Atkins 22nd, Lucas Chung 38th
Locals at UCSB Lagoon Meet
Santa Rosa at Great Cow Run
Middletown at Bill Springhorn Classic
Korir, Hall Seek to Defend Titles at USATF 20 km Championships
Close to 200 photos by Michael Lucid from Rancho meet
Nicole Lane wins the Santa Rosa Half Marathon
Boys Rancho Invit
Girls Rancho Invit
Maria Carrillo boys state ranked 5th & #1 in div III
Boys Top Cross Country Returners
Girls Top Cross Country Returners
2019 NCS Division rankings
California cross country high school team trains with shelter dogs
Conley wins bronze medal at Pan American Championships
Harper McClain wins two National Championships
St. Helena track standout McClain turns sights to cross country
Stanford T/F Invitational 2019 Day 2
Stanford T/F Invitational 2019 Day 1
Waisea Jikoiono, 4th Pacific Games 6-6.25
New All-Time Bests Set In 2019
World Record Broken in Women's Mile
2019 Kenwood Results
KENWOOD FOOTRACE HISTORICAL RECORDS
Michael Lucid's NCS Meet of Champions Day 2 photos
Michael Lucid's NCS Meet of Champions Day 1 photos
50 Years Ago Today, Steve Prefontaine Wowed High School Crowd With Record Run
How Injuries Can Actually Improve Your Performance By Alia Gray
What is the Redwood Empire?
Track & Field and Cross Country Rules Changes – 2019
Rincon Valley Christian School announces closure after nearly 50 years
See archives above for past seasons