In the prelims of the 13-14 year old girls 800 meters the two fastest times of the day both came in heat number 4 as Oregon's Reilly Thomas edged Santa Rosa's Ashlin Mallon by 5 one thousands of a second.
Ashlin led thru the first lap in 69.31 to 69.91. On the second lap Reilly moved ahead with a 68.81 lap to 69.42 for Ashlin.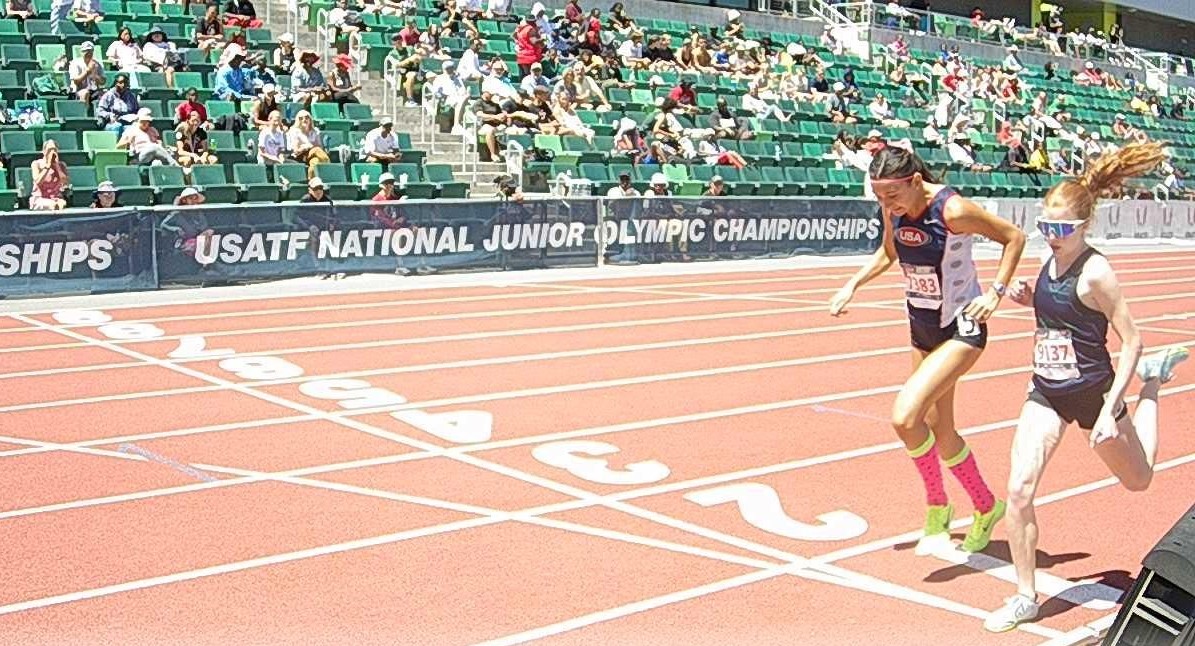 Top 5 times from all heats
1.	13	Reilly Thomas		2:18.72	Ridgeline Track Club, Oregon
2.	14	Ashlin Mallon		2:18.73	Unattached
3.	14	Rowyn Martens		2:18.96	Mt. Pleasant Track Club
4.	13	Azra Gercek		2:19.32	Optimum Speed
5.	14	Shirayah Lewis-Williams	2:19.99	West Coast Elite
75 competitors.
Results
Top 2023 800m Empire High Schoolers
2:12.47 Hanne Thomsen, 10, Montgomery, NBL leader; 4/22 Viking
2:20.24 Lea Smit, 11, Justin-Siena, VVAL leader; 5/13 NCS Redwood
Ashlin is still competing as an 8th grader, here are the All-Time fastest 800 in the Empire by 9th graders.
2:13.46 Jenny Aldridge, Maria Carrillo 1999
2:13.66 Rylee Bowen, Sonoma Academy 2015
2:14.38 Kristin Sanzari, Maria Carrillo 2004
2:14.64+ Julia Stamps, Rincon Valley J.H. 1994, Ashlin's mom
2:15.83 Hanne Thomsen, Montgomery 2022
2:17.13 Kerri Woolheater, Casa Grande 1989
2:17.62 Sara Bei, Montgomery 1998, 2:17.79 '99
2:18.47 Talia Leano, Maria Carrillo 2016
2:18.63 Ileana Moon, Casa Grande 2013
2:18.71 Kristin Fladseth, Maria Carrillo 2002
Ashlin is entered in the 1500 trials on the 27th and the 800 finals on 29th.
Ashlin's sister Siena was DQed in her 11-12 year old girls 800 meter race for Stepping on a Line (rule 163.3B) which means on one of the turns there was only a line and not a raised curb and if you step on it you can be DQed.
Looks like she would have been third in her heat at 2:34.88 following splits of 73.21 and 81.67.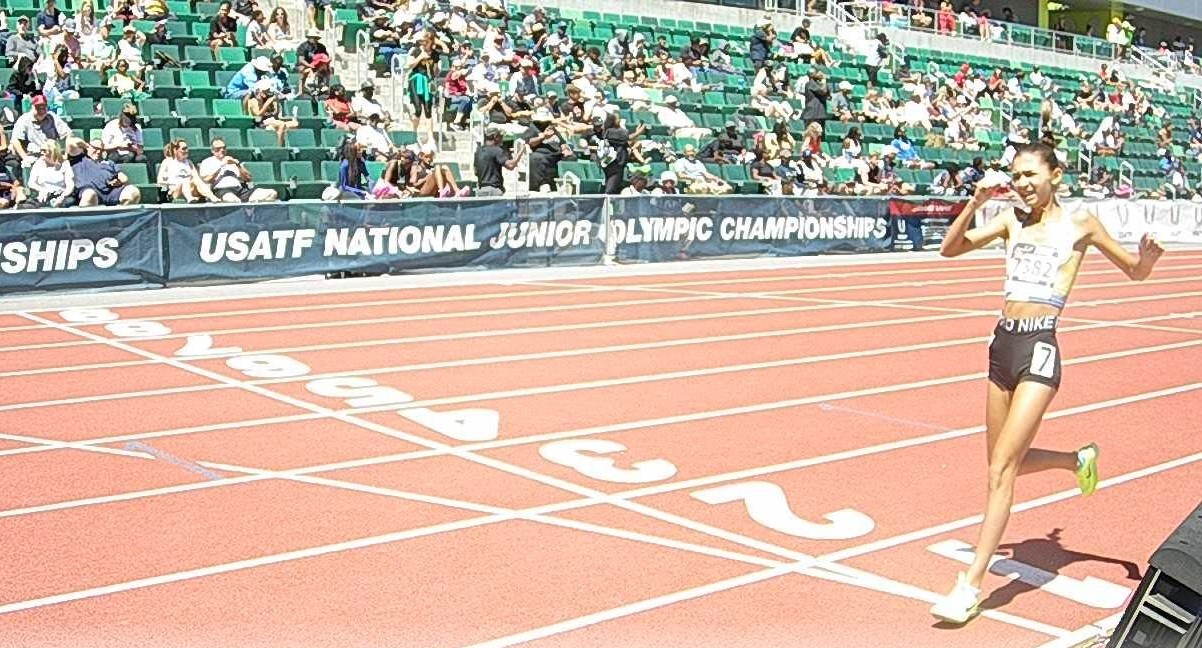 Sadie Sanders running for West Coast Striders ran in the girls 15-16 200m and finished in 25.84 +3.4. It took 25.13 to advance.
Sadie is entered in the 400 with first round on the 28th.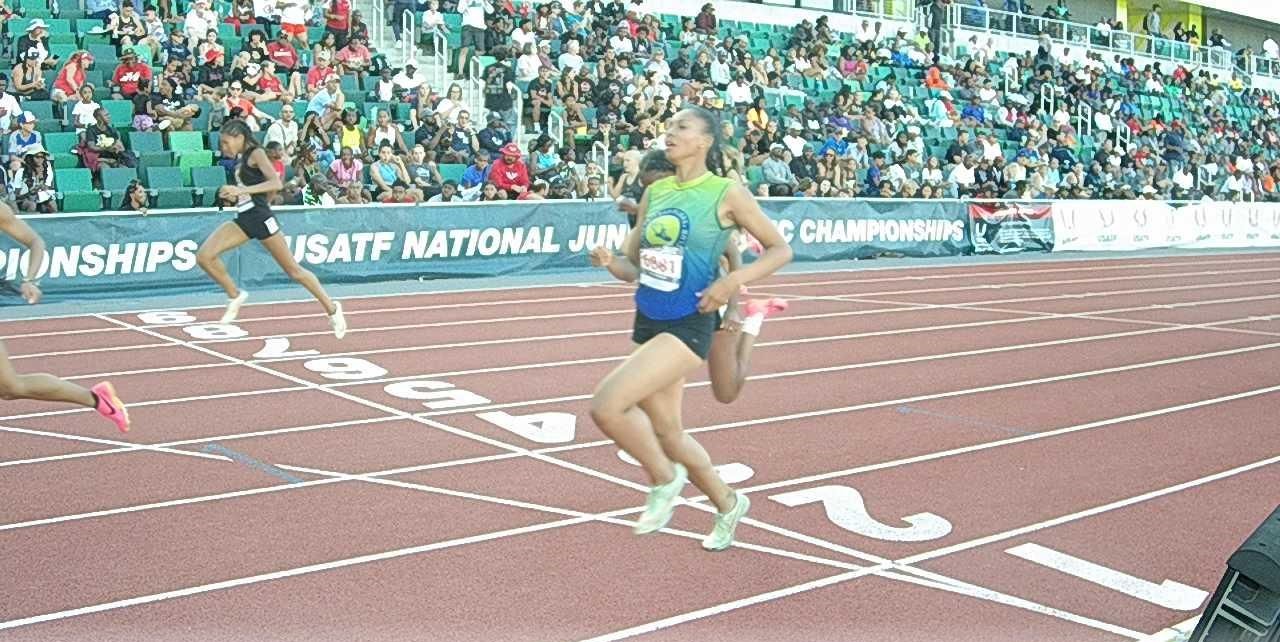 Jacob Garzoli competing for West Coast Striders in the 15-16 boys triple jump placed 37th out of 69 jumpers with his 39-02.50 -0.3. best mark.