SOPHOMORE Hanne Thomsen has once again destroyed the Redwood Empire record in the 3200 meters and become our first ever sub 10 minute runner finishing at Arcadia in 9:55.31.
Watch the race
Post race interview
Both her and the winner broke the old meet record with a total of nine girls breaking 10.
It is the second fastest time in California this year behind Ventura's Sadie Engelhardt 9:51.49 with both breaking the old CA sophomore All-Time record before 2023.
Engelhardt won the mile tonight in 4:36.26.
Thomsen's time is number three in the nation behind todays winner, Irene Riggs from West Virgina and Engelhardt.
Her enroute 3000m time was 9:16.76. Another Empire record.
All-Time California 3200m
9:47.28c -Dalia Frias (Mira Costa, Manhattan Beach-SS) 2022 Brooks PR
9:48.59 -Kim Mortensen (Thousand Oaks-SS) 1996 SS Masters Meet
9:50.10c -Bethan Knights (Northwood, Irvine-SS) 2014 Brooks PR Meet
9:50.69 ***Sadie Engelhardt (Ventura-SS) 2022 Ventura County Championships
9:52.13 *Jordan Hasay (Mission Prep, San Luis Obispo-CE) 2008 State Meet
9:52.23 -Mia Barnett (Crescenta Valley, La Crescenta-SS) 2021 Laguna Beach Distance Carnival
9:52.51 -Laurynne Chetelat (Davis-SJ) 2008 State Meet
9:53.79 *Destiny Collins (Great Oak, Temecula-SS) 2015 State Finals
9:55.31 ** Hanne Thomsen (Montgomery) 2023 Arcadia
9:57.52 **Claudia Lane (Malibu-SS) 2017 Arcadia Invit'l
Thomsen's time is the 2nd fastest CA Sophomore All-Time behind 9:51.49 Sadie Engelhardt (Ventura-SS) 2023 Don Green Memorial Invitational
All-Time Empire Performances
9:55.31 Hanne Thomsen, Montgomery 4/8/23 Arcadia, Current Empire record
10:04.12i Hanne Thomsen, Montgomery 3/10/23 Indoor Nationals, former Empire record
10:06.89 Hanne Thomsen, Montgomery 5/28/22 State, former Empire record
10:11.11 Sara Bei, Montgomery 6/2/01 State, former Empire record
10:12.03 Hanne Thomsen, Montgomery 4/9/22 Arcadia, Watch the race
10:12.20 Julia Stamps, Santa Rosa 5/18/96 NCS Redwood, former Empire record, watch race
10:13.20 Rylee Bowen, Sonoma Academy 4/9/16 Arcadia
10:13.94+ Julia Stamps, Santa Rosa 5/25/96 MOC
10:14.46 Hanne Thomsen, Montgomery 3/19/22 Dublin
10:14.74+ Sara Bei, Montgomery 4/28/01 Viking Classic
3200 METERS
2nd Hanne Thomsen, Montgomery 9:55.31
Photos are screen shots from video
High Jump
=4th Nathan Fifer, Montgomery 6′ 2″
Discus
8th Santiago Adan, Cardinal Newman 151′ 4″
1 Mile Run
21st Tiernan Colby, Sonoma Academy 4:23.21, =1600 4:21.69
Watch the race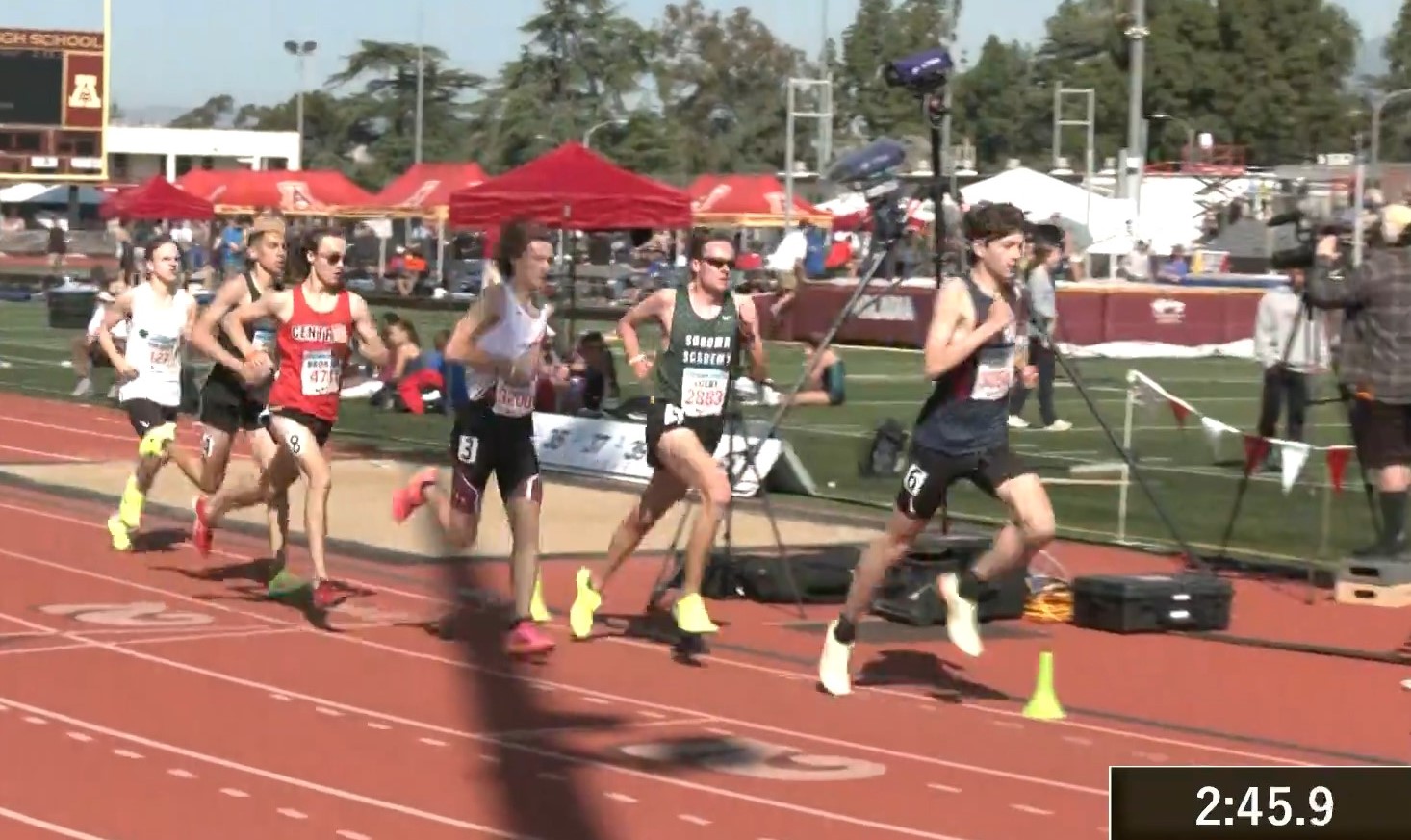 400 Relay
27th Maria Carrillo 49.57, 27th performance All-Time
Of the top 50 performances the Puma's 2018 team ended with 7 and the 2023 squad is already up to 6.
Watch the race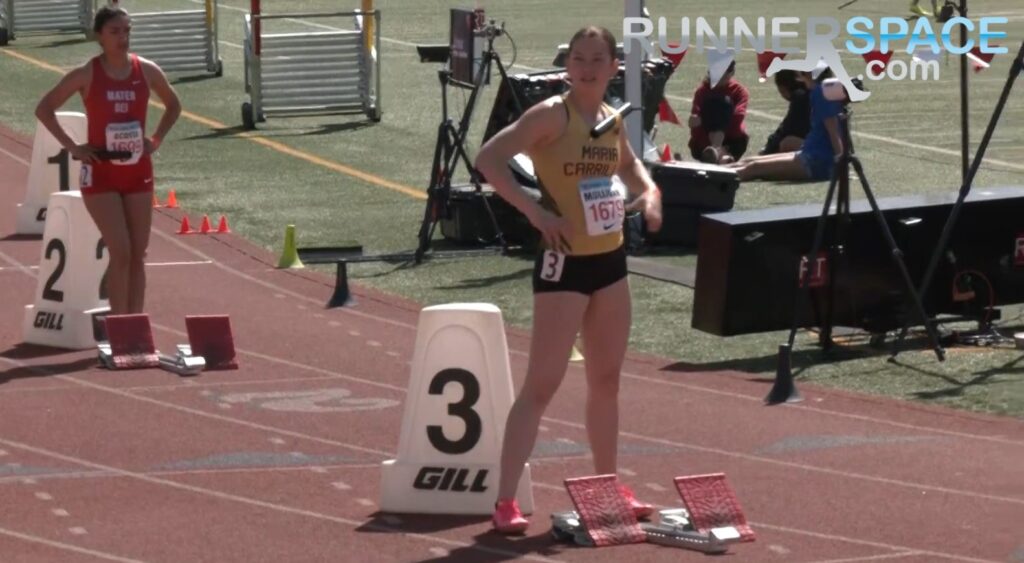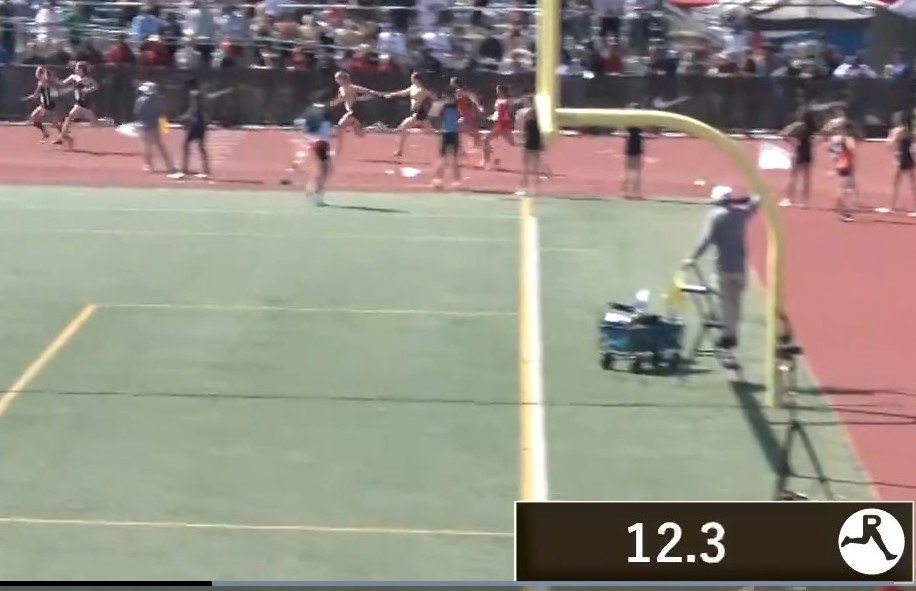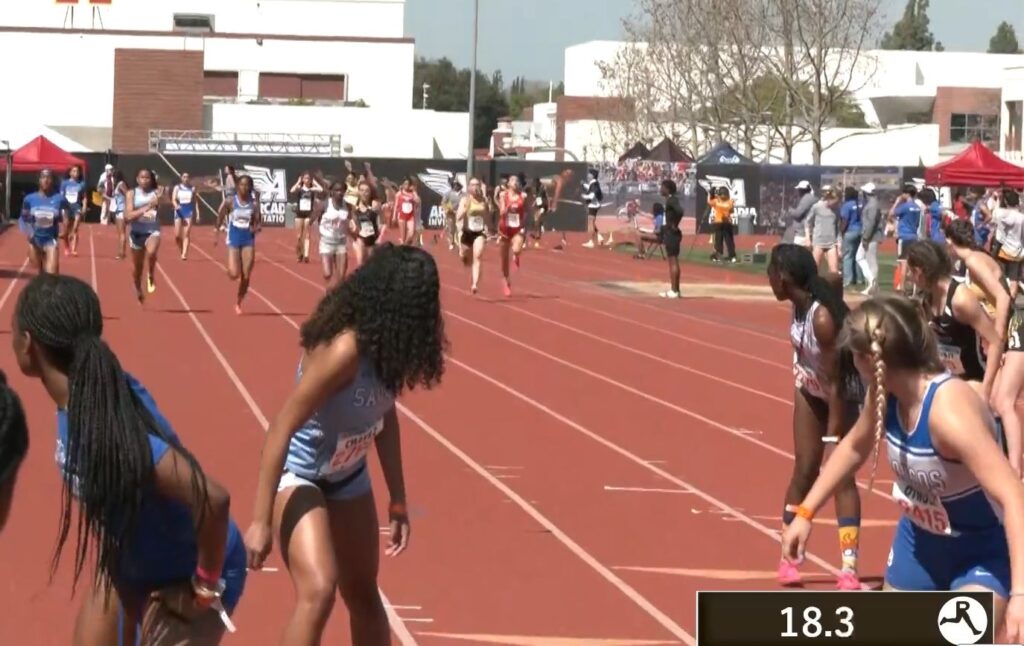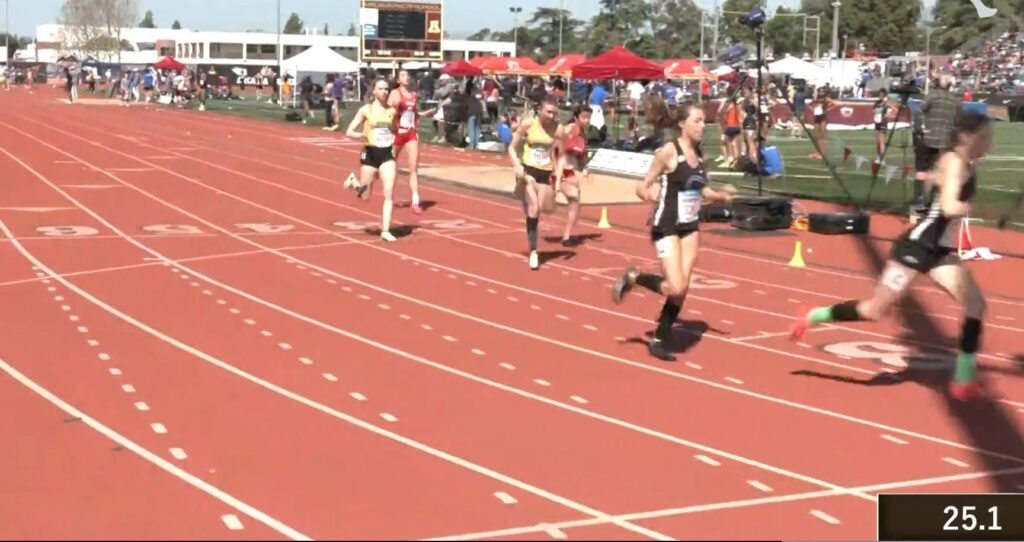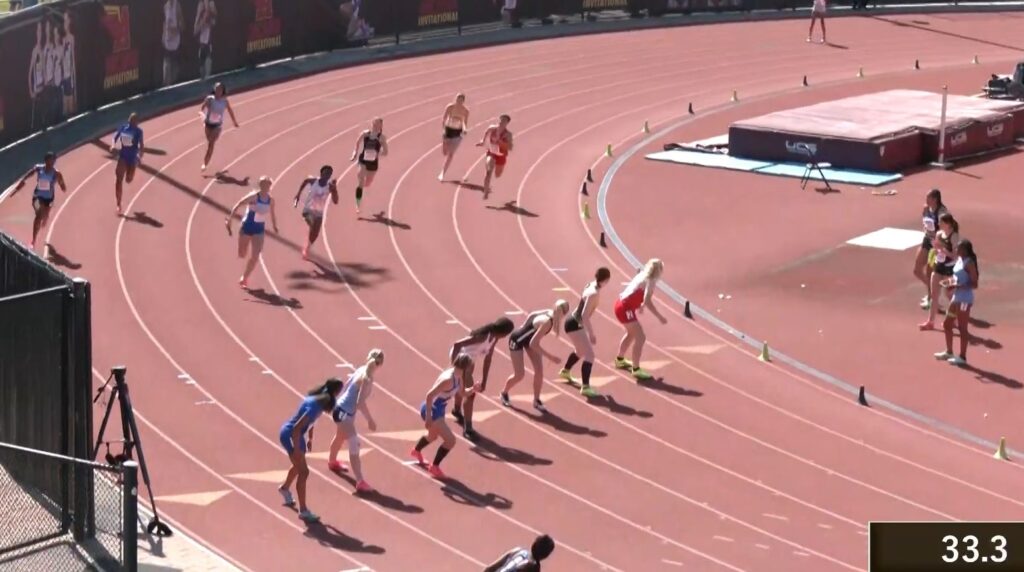 400 METERS
27th Elianah Demange, Maria Carrillo 59.42
Watch the race, last I checked this video needs fixing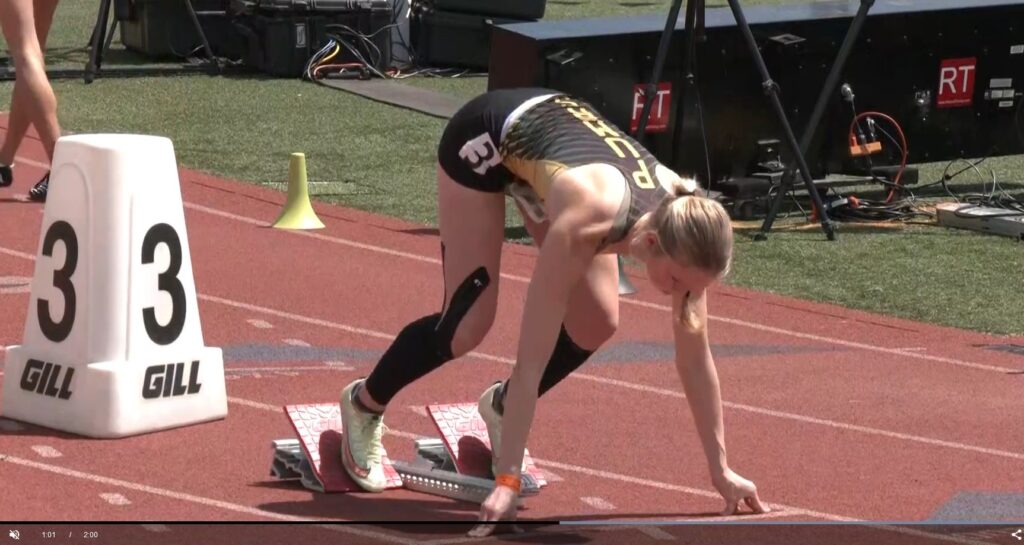 Distance Medley
11th 12:46.16 Maria Carrillo
Watch the race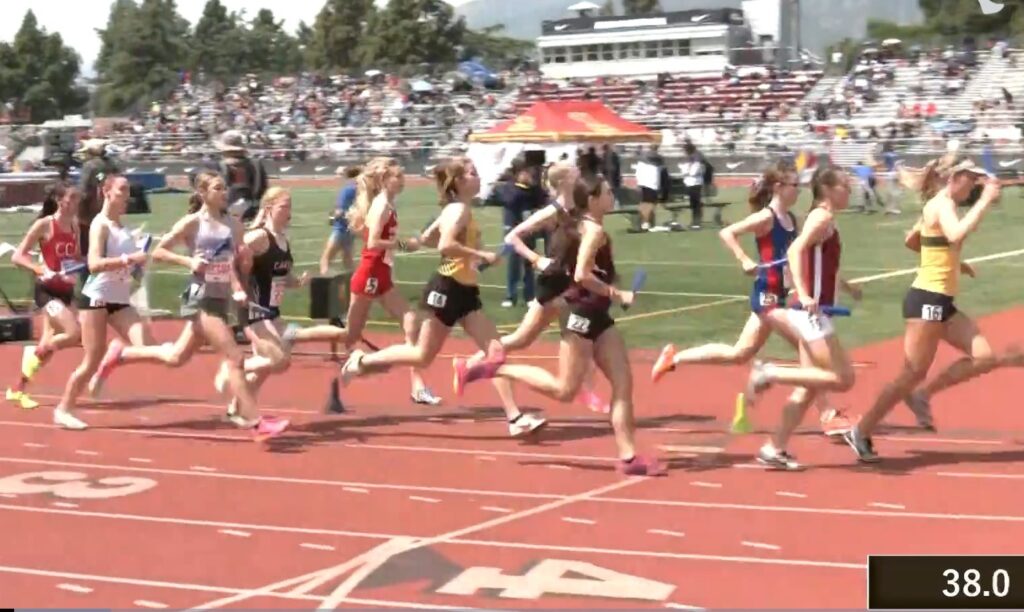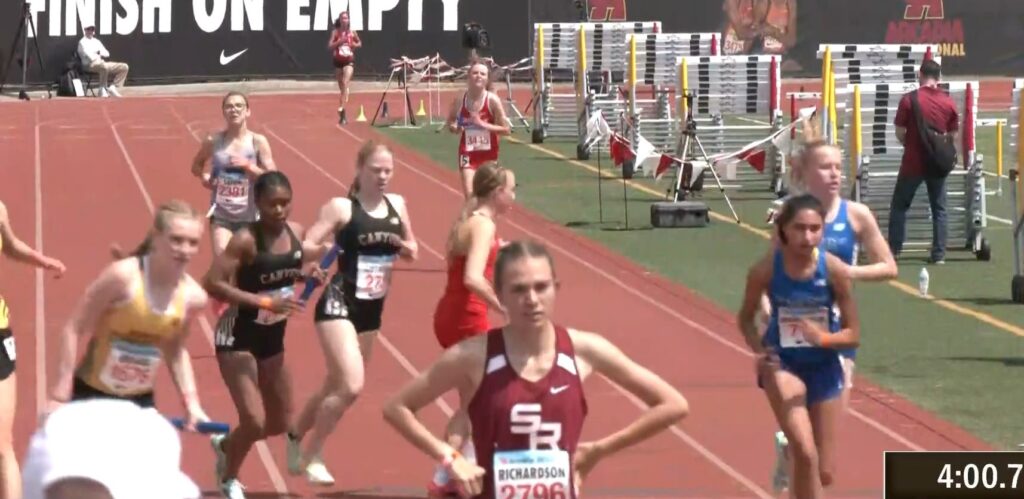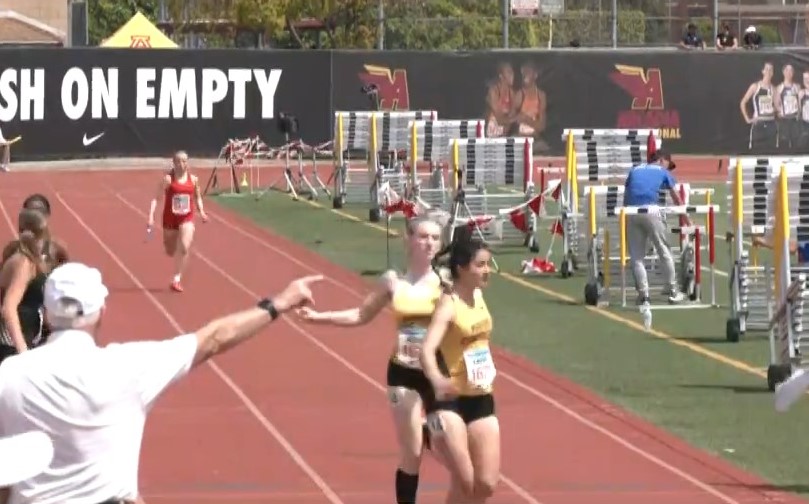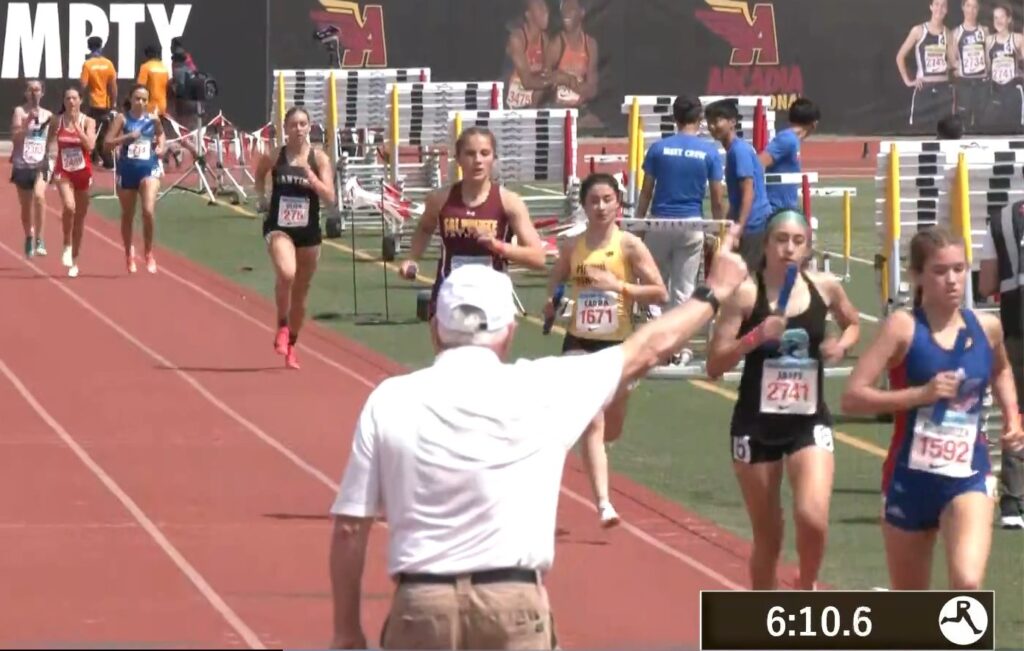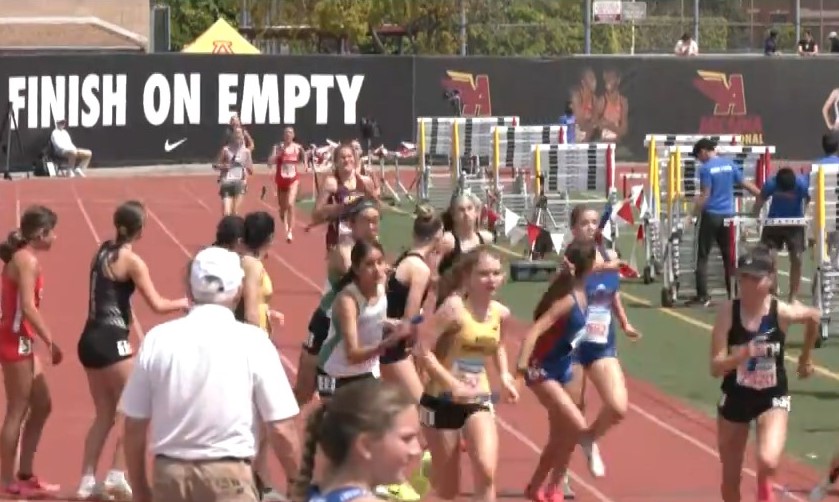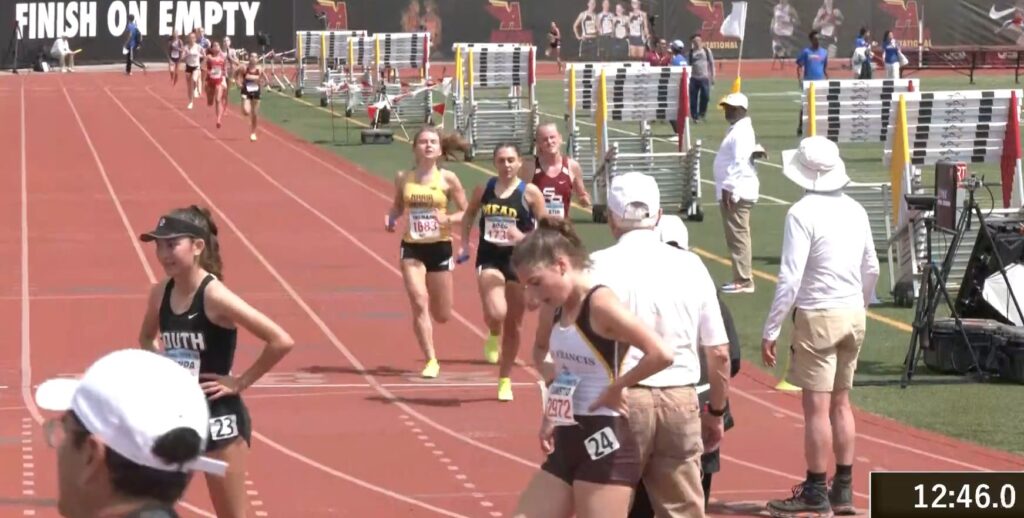 POLE VAULT
8th Lily Mulligan, Maria Carrillo 12-3
Now has 19 of the 20 Empire vaults higher than 12-1.
HIGH JUMP
=7th Alexis Hunt, Maria Carrillo 5-4
3200 METERS
28th Jude DeVries, Montgomery 9:32.08
Watch the race