Footlocker Nationals
Amber Trotter, Ukiah 2001, Video of race
Sara Bei, Montgomery 2000 Video of race
Julia Stamps, Santa Rosa 1994, Video of race
Redwood Empire at Nationals, see below
Western Regionals
Julie Nacouzi, Montgomery 2010
Amber Trotter, Ukiah 2001
Sara Bei, Montgomery 1998
Julia Stamps, Santa Rosa 1994 & 1995
STATE
Div 1
Amber Trotter, Ukiah *2001
Trina Cox, Santa Rosa 1997
Julia Stamps, Santa Rosa *1994, *1995 & *1996
Div 2
Jacque Taylor, Casa Grande 2009, 2nd Julie Nacouzi, Montgomery
Sara Bei, Montgomery *1999, 2000, First 4-time State Champion in California History
Div 3
Sara Bei, Montgomery *1997, *1998
Hanne Thomsen, Montgomery 2021, 2022, 2023
Div 4
Sarah Sumpter, Healdsburg 2007
Div 5
Harper McClain, St. Helena 2019
Gabrielle Peterson, Healdsburg 2018
Rylee Bowen, Sonoma Academy 2014, 2015 & 2017
Team
Div 2
Montgomery 2000
NorCal
Lori Shanoff, Petaluma 1981
NORTH COAST SECTION
Meet history
MEET OF CHAMPIONS
Lori Shanoff, Petaluma 1980
Div 1
Phyllis Blanchard, Rancho Cotate 2002
Amber Trotter, Ukiah *2001
Trina Cox, Santa Rosa 1997, 1998
Julia Stamps, Santa Rosa *1994, *1995 & *1996
Michelle McConnico, Santa Rosa 1993
Megan Reeder, Santa Rosa 1992
Nika Horn, Santa Rosa *1991
Rhonda Mazza, Santa Rosa 1990
3A
Lori Shanoff, Petaluma 1980
Lisa Dailey, Petaluma 1979
Dana Flint, Ukiah 1978
Div 2
Ashley Moffett, Casa Grande 2012, 2nd Hannah Haley, Windsor
Ashley Moffett, Casa Grande 2010
Julie Nacouzi, Montgomery *2009, 2nd Jacque Taylor, Casa Grande
Jacque Taylor, Casa Grande *2008
Jacque Taylor, Casa Grande 2006
Jacqui Wentz, Maria Carrillo 2005, 2nd Jennifer Martindill, Montgomery
Jenny Aldridge, Maria Carrillo 2001
Amber Trotter, Ukiah *2000
Sara Bei, Montgomery *1999
Div 3
Hanne Thomsen, Montgomery 2021, *2022, *2023
Isabel Andrade, Petaluma 2008, 2009
Lauren Curtin, Maria Carrillo 2007
Jenny Aldridge, Maria Carrillo 1999, 2000
Sara Bei, Montgomery *1997, *1998
2A
Jennie Dempsey, Analy 1988
Kathy Dalton, Sonoma Valley 1986
Julie Ruiz, Ursuline 1983 & 1984
Jennifer Bocca, Analy 1982
Div 4
Gabrielle Peterson, Healdsburg 2017
Nicole Lane, El Molino 2011
Sarah Sumpter, Healdsburg *2007
Brittney Escamilla, El Molino 2006, 2nd Sarah Sumpter, Healdsburg
Sarah Hallas, Ursuline 1997
1A
Jeannise Eisenman, Calistoga 1984, 1985, 1986
Dana Pyorre, Fort Bragg 1981, 1982, 1983
Mary Grace Maloney, St Vincent 1980
Janice Peront, Clear Lake 1976
Div 5
Harper McClain, St. Helena *2019
Rylee Bowen, Sonoma Academy 2014, 2015
* – Fastest time of all divisions.
Teams
State
Div 2
Montgomery 2000
NORTH COAST SECTION
Div 1
Ukiah 2001
Santa Rosa 1990, 1991, 1996, 1998
3A
Montgomery 1977
Montgomery 1976
Div 2
Maria Carrillo 2013
Maria Carrillo 2012
Maria Carrillo 2011
Maria Carrillo 2005
Montgomery *2001, Maria Carrillo 2nd
Montgomery 2000
Div 3
Maria Carrillo *2009
Maria Carrillo 2008
Maria Carrillo 2004
Montgomery 1998
Div 4
Ursuline 1991, 1992
1A
Fort Bragg 1978, 1981-1983
Clear Lake 1975, 1976
Div 5
Sonoma Academy 2014
Eliminated qualifing meets
Div 3 North
Sally Cheda, Petaluma 1994
Sara Jakel, Sonoma Valley 1993
Magdalena Valterova, Rancho Cotate 1992
Lissette Lemus, Rancho Cotate 1991
Div 4 North
Melody Haas, Clear Lake 1993
Stefanie Bosch, Ursuline 1991
Team
Div 3 North
Petaluma 1993
Rancho Cotate 1991, 1992
Div 4 North
Ursuline 1991, 1992 & 1994
compiled by Jim Crowhurst
Foot Locker National Cross Country Championships
The tiny little Redwood Empire has had an amazing history at the National Championships.
We have actually had two girls in the top seven twice before.
Here is a look at how our girls have done.
1994 Julia Stamps, Santa Rosa 1st, won by 31 seconds.
1997 Sara Bei, Montgomery 10th and Trina Cox, Santa Rosa 24th.
1998 Sara Bei, Montgomery 3rd and Trina Cox, Santa Rosa 6th.
2000 Sara Bei, Montgomery 1st, course record and Amber Trotter, Ukiah 7th.
2001 Amber Trotter, Ukiah 1st, course record, won by 40 seconds.
2007 Sarah Sumpter, Healdsburg 22nd.
2008 Jacque Taylor, Casa Grande 30th.
2009 Julie Nacouzi, Montgomery 25th and Jacque Taylor, Casa Grande 40th.
2010 Julie Nacouzi, Montgomery 3rd.
2022 Hanne Thomsen, Montgomery 16th Nike Cross Nationals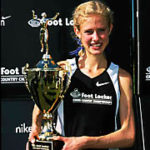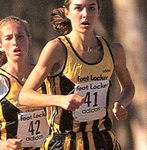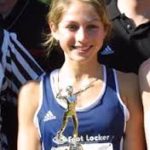 .
.
.
.
.
.
.
Watch Trotter's 2001 win
Watch Bei's 2000 win
Watch Stamp's 1994 win


Fastest times ever run at Footlocker Nationals
Year  Time   Athlete          Gr High school        City            St      Course
2001  16:24  Amber Trotter   12 Ukiah               Redwood Valley  CA      Orlando, FL
1990  16:39  Melody Fairchild 12 Boulder             Boulder         CO      San Diego, CA
1981  16:40a Connie Robinson  12                     Cincinnati      OH      Orlando, FL
1994  16:41b Julia Stamps     10 Santa Rosa          Santa Rosa      CA      San Diego, CA
1985  16:43  Erin Keogh        11 Langley            McLean          VA      San Diego, CA
1983  16:43  Janet Smith       12                    Edison          NJ      San Diego, CA
2019  16:45  Zofia Dudek       12 Ann Arbor Pioneer  Ann Arbor       MI      San Diego, CA
2019  16:47  Marlee Starliper  12 Northern York      Wellsville      PA      San Diego, CA               
1984  16:48  Cathy Schiro      12                    Dover           NH      San Diego, CA
2022  16:50  Karrie Baloga     12 Cornwall Central   New Windsor     NY      San Diego, CA
2010  16:53  Aisling Cuffe     12 Cornwall Central Cornwall-on-Hudson NY     San Diego, CA
2000  16:55c Sara Bei          12 Montgomery         Santa Rosa      CA      Orlando, FL

a-different course from 2000.
b-missed CR by 2 seconds.
c-set CR that Trotter broke.

California is the only state that has has more than two champions who ran one of the 12 fastest times.
All three of those runners were from our North Bay League.
Two of those runners were from the city of Santa Rosa.
Of the two fastest times from both the San Diego course and the Orlando course the NBL produced two of the four times.
The three fastest times ever run by girls from the west team were all from the North Bay League.

Elsie Allen's Celedonio Rodriguez has gotten our boys represented with his 18th place finish in 1998.
Balboa Park in San Diego has served as the most frequent venue for the national championships. The course is winded in a figure-8 fashion through the Morley Field portion of the nearly 5.0 km² park. There is no shortage of hills and mounds, which makes this course the definitive cross country course. (Although the San Diego venue has always been Balboa Park, the Championships in 1979 and 1980 were run on a course other than Morley Field—a course on the western edge of Balboa Park.)
The Orlando course was extremely flat, but deceivingly slow in terms of runners' times. Patches of grass and sand were scattered throughout the flat, 5,000m course.