Vine Valley Athletic League, history
Sat, Nov 6, 2021 at the 3.0 mile Alston Park course, used since 2018
The Casa Grande girls dominated this meet lead by their freshman champion Avery Codington.
The Gaucho's place six runners in the top ten.
Justin-Siena freshman Hailey Schuemann finished second with Petaluma's Siena Deadman in third.
The top nine finishers are all underclassman.
Codington is Casa's first girls champion since Ashley Moffet won the Sonoma County League in 2010.
Justin-Siena's Schuemann 2nd place is her school's best finish in the VVAL.
Petaluma's Deadman 3rd place betters their school's VVAL best of 8th by Eva Tate in 2019.
American Canyon's Emma Piazza 16th place betters their school's VVAL best of 20th by Daniela Solis in 2019.
Photos by Michael Lucid
Lucid's 645 VVAL Championship photos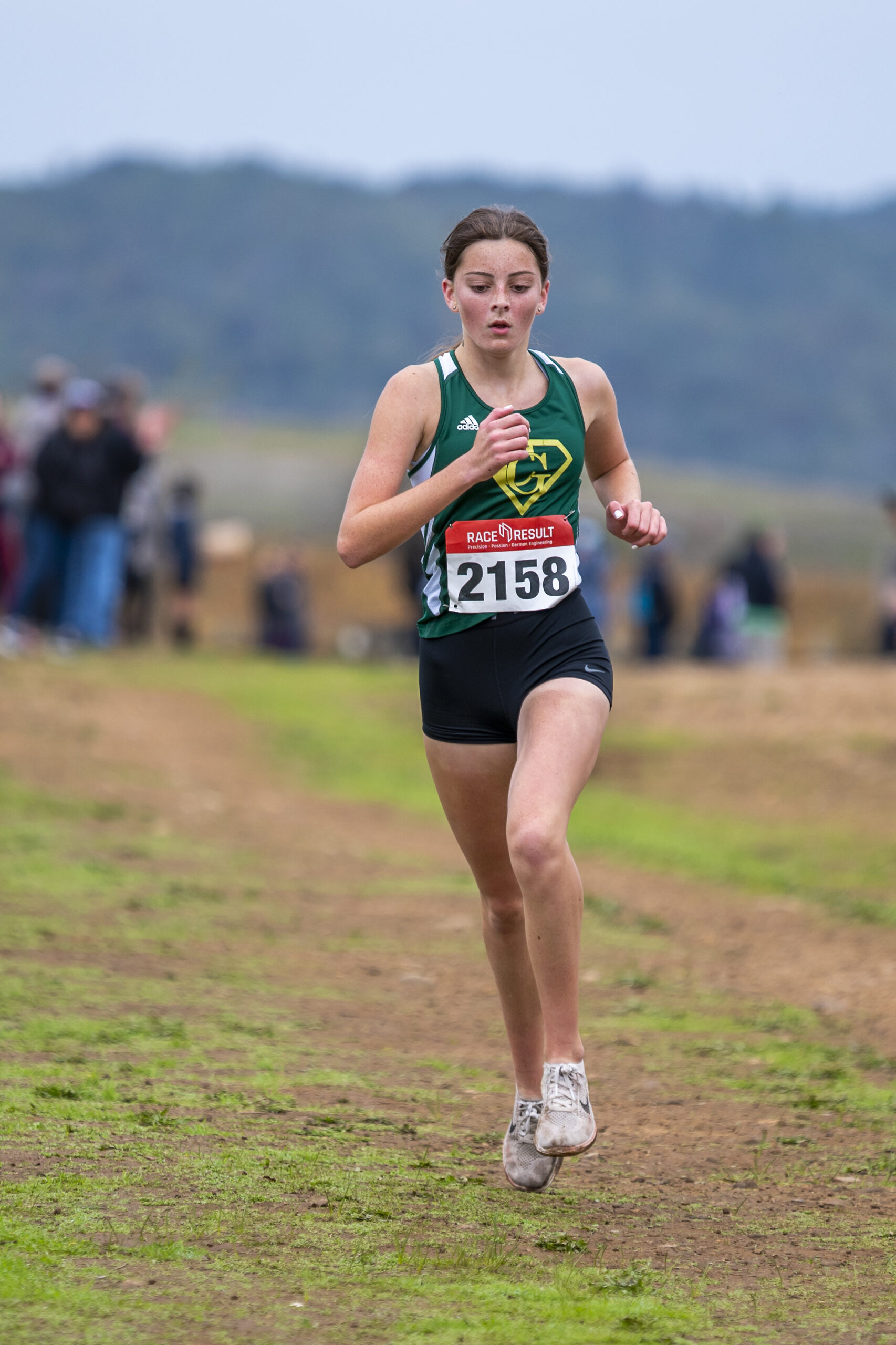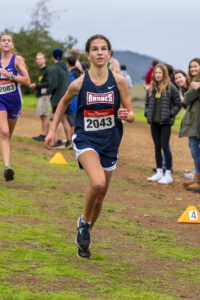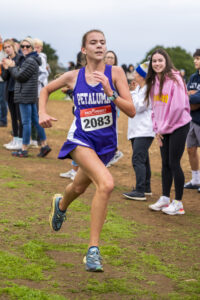 .
.
.
.
.
.

Varsity Girls
1. Casa Grande 30
2. Petaluma 47
3. Justin-Siena 78
4. Napa 102
5. Vintage 111
6. American Canyon 147
7. Sonoma Valley Incomplete

Course Record: 18:24 Mary Deeik, Vintage 10/24/18

	1.	9	Avery Codington		20:44.8 Casa Grande
	2.	9	Hailey Schuemann	20:59.6	Justin-Siena
	3.	10	Siena Deadman		21:00.9 Petaluma
	4.	10	Reilly Kreutz		21:19.8 Petaluma
	5.	9	Elizabeth Vestnys	21:21.8 Casa Grande
	6.	11	Sophia Notaro		21:21.9 Vintage
	7.	10	Stella Alvarenga	21:32.0 Casa Grande

	8.	10	Abigail Busch		21:41.8 Casa Grande
	9.	11	Kayla Jimenez Carreno	22:08.1 Casa Grande
	10.	12	Moriah Busch		22:10.3 Casa Grande
	11.	12	Katherine Heffernan	22:14.7	Justin-Siena
	12.	11	Eva Tate		22:20.8 Petaluma
	13.	11	Georgiana Morris	22:27.2 Petaluma
	14.	10	Sonya Mitchell		22:34.6 Napa

	15.	10	Nora Lounibos		22:34.7 Petaluma
	16.	10	Emma Piazza		23:04.5	American Canyon
	17.	11	Alondra Palafox		23:38.9	Napa
	18.	11	Jemma Ceja Delgado	24:06.2 Napa
	19.	9	Lily Dominguez		24:19.1 Justin-Siena
	20.	9	Quetzaly Hernandez	24:20.9 Vintage
	21.	9	Lauren Blakley		24:26.5 Casa Grande

	22.	12	Ainsley Adams		24:38.1 Justin-Siena
	23.	11	Lilla Kasper		24:39.5	Vintage
	24.	9	Paige Helms		24:45.8 Justin-Siena
	25.	11	Anna Scudero		24:45.8	Napa
	26.	9	Ella Webb		24:48.7	Justin-Siena
	27.	9	Eliza Chapin		25:10.2	Vintage
	28.	11	Jazmin Damian		25:15.4	Napa
	29.	11	Sadia Diouf		26:04.4 American Canyon
	30.	12	Melina Sanchez-Bernal	26:11.5	Napa
	31.	11	Quinn Edie		26:21.2 Justin-Siena
	32.	9	Ellaine Fuerte		26:23.7 American Canyon
	33.	11	Taylor Crayne		26:40.8	Petaluma
	34.	9	Hannah Wildes		28:08.9 American Canyon
	35.	9	Maddie Chiu		28:09.2 Vintage
	36.	11	Jessica Estrada		30:57.1	American Canyon
	37.	11	Telorah Kawakami	39:21.6 American Canyon

JV Girls
1. Petaluma 15
Others Incomplete



Ayshalyn Celaya

Kathryn Samford

Valerie Farr



.

.

.

.

.

.

.

.

	1.	9	Ayshalyn Celaya		25:10.3 Justin-Siena
	2.	12	Kathryn Samford		25:19.0 Petaluma
	3.	-	Valerie Farr		25:44.0 Casa Grande
	4.	9	Eponine Celaya		25:48.8 Justin-Siena
	5.	11	Lucca Palmini		26:48.9 Petaluma
	6.	9	Sofia Campos		27:03.8 Justin-Siena
	7.	9	Aina Akaboshi		27:13.3 Vintage

	8.	9	Stacy Cruz		27:26.8 Casa Grande
	9.	10	Paula Montes Cesena	27:27.6	Petaluma
	10.	10	Mila Cornell		27:41.4 Napa
	11.	11	Stephanie Cardiel	27:54.4 Petaluma
	12.	12	Kelsey Dooley		28:15.9 Petaluma
	13.	12	Sofia Ridolfi		29:27.8 Casa Grande
	14.	11	Kirsten Eveland		31:22.2	Petaluma
	15.	9	Joselyne Cervantes	38:13.6	Justin-Siena