North Bay League "Redwood" Championship 11/2/23
2.97 mile Spring Lake County Park course, since 1988
Photos by Michael Lucid
More photos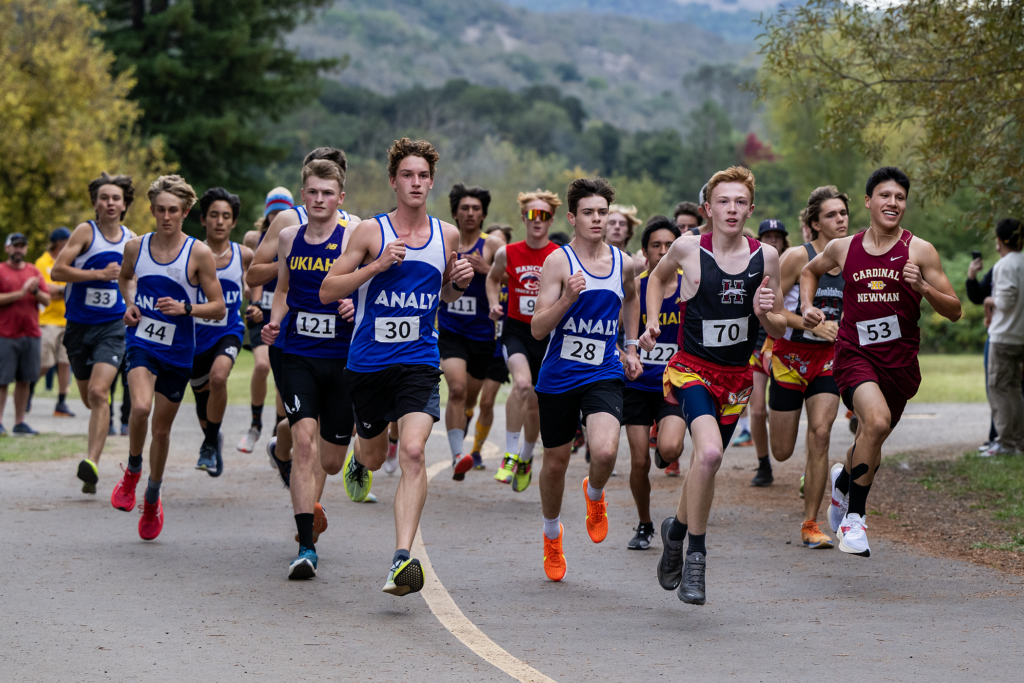 Analy ties Healdsburg for the most pennants won in this league of the schools currently in it with their eighth win today.
Analy easily took this championship meet with a score of 37 to Ukiah's 55 and Healdsburg's 59.
Analy's Cormac Gaylord took the win this year at 15:54 followed by Healdsburg's Kaeden Anderson at 16:07.
Gaylord is Analy's first individual champion since Ruben Mora-Roman back in 2002.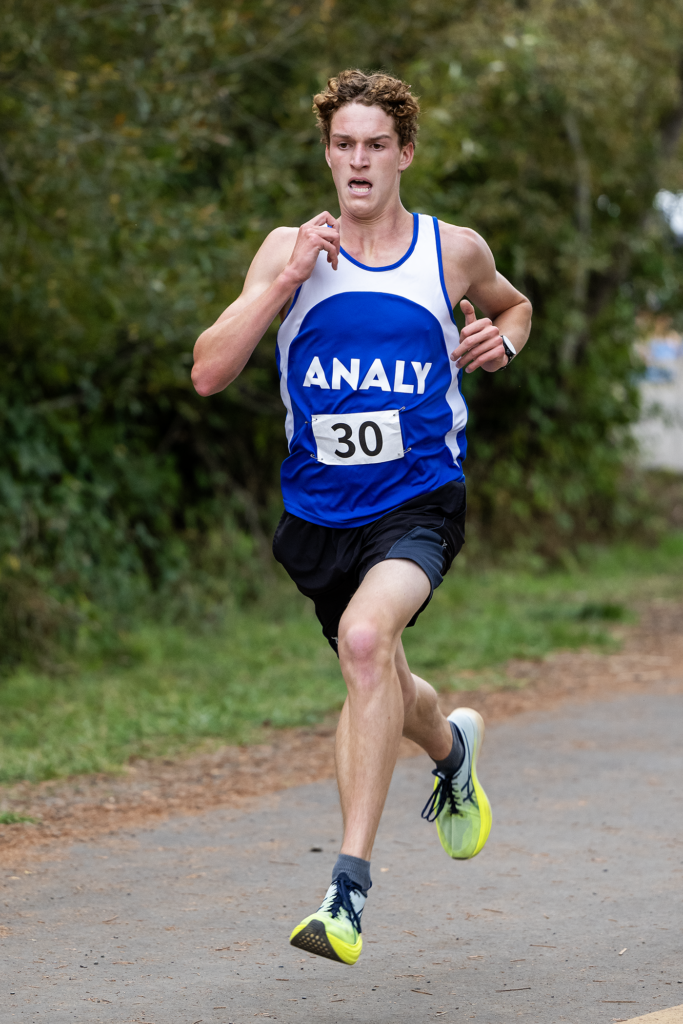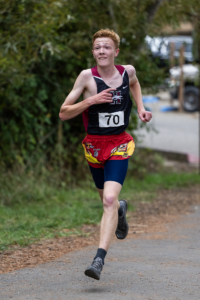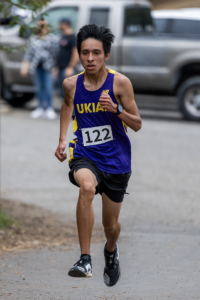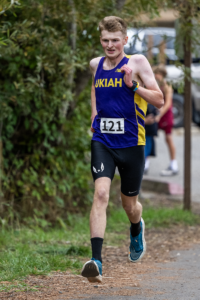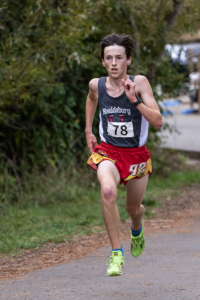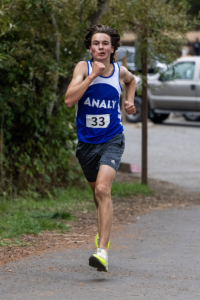 Meet History
League Championship Meet Record Times for Spring Lake
Individual: 15:08 Sterling Lockert, Petaluma 2008
Team: 77:49 Petaluma 2008

Varsity
1 Analy            37    1    7    8   10   11   15   17  Total Time:  87:25   Average: 17:29                                                    
2 Ukiah            55    4    5   12   16   18   21   25  Total Time:  91:15   Average: 18:15                                                    
3 Healdsburg       59    2    6    9   20   22   27   28  Total Time:  91:46   Average: 18:21                                                   
4 Rancho Cotate    93   13   14   19   23   24   29   35  Total Time:  98:59   Average: 19:48                                                    
5 Cardinal Newman 122    3   26   30   31   32   33   34  Total Time: 108:00   Average: 21:36 
  St. Vincent, Elsie Allen Incomplete

  1 Gaylord, Cormac           11 Analy                 15:54    1             
  2 Anderson, Kaeden          11 Healdsburg            16:07    2             
  3 Estrada, Adrian           12 Cardinal Newman       16:41    3             
  4 Ruiz, Oscar               11 Ukiah                 16:48    4             
  5 Rahn, Jack                12 Ukiah                 16:57    5             
  6 McWilliams, Jake          10 Healdsburg            17:18    6             
  7 Holman, Quince            10 Analy                 17:23    7   
          
  8 Dawson, Owen              10 Analy                 17:36    8             
  9 Willmore, Jack            12 Healdsburg            18:11    9             
 10 Vanden Heuvel, Bear       11 Analy                 18:14   10             
 11 Petersen, Caleb           12 Analy                 18:18   11             
 12 Brown, Jackson            11 Ukiah                 18:37   12             
 13 James, Hunter             10 Rancho Cotate         18:51   13             
 14 Hernandez, Ramsay         12 Rancho Cotate         18:53   14      
       
 15 Hergenrather, Choegyal     9 Analy                 19:12   15             
 16 Mitchell, Parker          10 Ukiah                 19:14   16             
 17 Little, David             12 Analy                 19:18   17             
 18 Fierro, Xavier            11 Ukiah                 19:39   18             
 19 Marcotte, Gavin           12 St. Vincent           19:40                  
 20 Carreno, Mario            12 Rancho Cotate         19:40   19             
 21 York, Lucas               12 Healdsburg            19:44   20  
           
 22 Shaw, Kaden                9 Ukiah                 19:48   21             
 23 Fitzpatrick, Ross         11 Healdsburg            20:26   22             
 24 0rtega, Jaiden            11 Rancho Cotate         20:40   23             
 25 Barzed, Aaron             10 Rancho Cotate         20:55   24             
 26 Hasunuma, Kobi            11 Ukiah                 20:57   25             
 27 Gaskill, Tommy            10 Cardinal Newman       21:15   26             
 28 Hausman, Brandon          10 Healdsburg            21:17   27             
 29 Willmore, Dash            11 Healdsburg            21:33   28             
 30 Oo, Reese                 10 Rancho Cotate         21:49   29             
 31 Reed, Harlen               9 Cardinal Newman       22:55   30             
 32 Garrett, Nick              9 Cardinal Newman       23:24   31             
 33 Puckett, Jackson           9 Cardinal Newman       23:45   32             
 34 Lowe, Robert               9 Cardinal Newman       23:47   33             
 35 Davis, Kayden             10 Cardinal Newman       24:06   34             
 36 Smith, Dominic            10 Rancho Cotate         29:24   35    

Junior Varsity
1 Analy  15    1    2    3    4    5    8    9   Total Time:  98:55   Average: 19:48                                                    
2 Ukiah  46    6    7   10   11   12             Total Time: 109:34   Average: 21:56  

  1 Berg, Aidan               10 Analy                 19:02    1             
  2 Varville, Richard         11 Analy                 19:37    2             
  3 Hergenrather, Songtsen     9 Analy                 19:39    3             
  4 Davis, Jack                9 Analy                 19:59    4             
  5 Schluter, Marcus          12 Analy                 20:38    5             
  6 Cohen, Elijah              9 Ukiah                 20:52    6             
  7 Sommers, Samuel            9 Ukiah                 21:12    7 
            
  8 Tantarelli, Luciano       10 Analy                 21:22    8             
  9 Ostrom, Kai               11 Healdsburg            21:44                  
 10 McKnight, Benjamin        12 Analy                 21:55    9             
 11 Baptista, Milo             9 Analy                 21:56                  
 12 Kirkley, Elijah           11 Ukiah                 21:58   10             
 13 Beaver, Camden            11 Cardinal Newman       22:10                  
 14 Dyleski, Jaylin           12 Analy                 22:15    
              
 15 Orozco, Carlos            10 Ukiah                 22:16   11             
 16 Jorgensen, Davin          10 Analy                 22:19                  
 17 Ross, Austin              11 Ukiah                 23:16   12             
 18 Snyder, Owen               9 Cardinal Newman       23:59                  
 19 Herrod, Henry             10 Healdsburg            25:44                  
 20 Pollack, Ben              10 Healdsburg            25:59                  
 21 Wilkinson, Ronan           9 Rancho Cotate         26:51                  
 22 Ruiz, Ramon                9 Analy                 27:02                  
 23 Logan, Carter              9 Cardinal Newman       27:03                  
 24 Thomas, Erik              11 Elsie Allen           27:13                  
 25 Timmsen-Miller, Milo      10 Healdsburg            30:07