Spring Lake Regional Park is the home to one of the areas best known prep cross country courses.
That course was established back in 1987.
Here is my coverage of the mind blowing girls who have run this Spring Lake course.
Part 1 1963-1986
Part 2: The new course
Part 3: Boys on the course
1987



During that 1987 season other races, including the North Bay League finals, were run on a different Spring Lake course that started in the Oak Knolls area.
But two races hosted by Montgomery ran the current course.
The first was the September 23rd dual meet of Montgomery vs. Casa Grande. In that race the very first course record was established with Montgomery's Nicole Fischer taking the win in 21:24.
The other meet that year, October 14, dual meet, Montgomery vs. Piner, Fischer again won and lowered the girls mark to 20:21.
Along with this new course Montgomery coach Larry Meredith also created the 2.0 mile course that has been used for the Viking Opener.
That first Viking Opener was won by Fortuna's Sarah Grundman setting the girls course record at 13:07 in that 1987 race.
From 1988 on all the prep races run at the Spring Lake used these two courses.
1988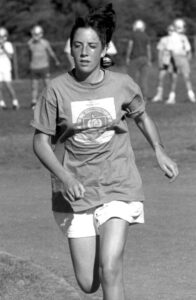 At the Viking Opener, held on the 2.0 mile course, Analy's Jennie Dempsey took the course record down to 12:18.
Dempsey would also lower the 2.97 mile course record (CR) down to 18:46 in winning the Sonoma County League Finals that year.
It was her second SCL individual title, winning both times by over a minute.
Analy would establish the team CR at 102:59 for the combined times of their top five runners. This is still the Analy school record here.
Dempsey would later win the North Coast Section division II title and then place 7th at state.
Meanwhile in the North Bay League finals a freshman named Nika Horn was running for Rincon Valley JH to try and qualify on towards state.
Horn set the freshman record at 18:58, which would last for seven years. The official NBL champion that year was Piner's Michelle Ferguson in 19:14.
1989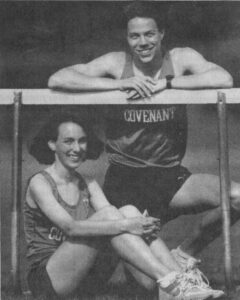 Horn, now a sophomore at Santa Rosa High School, took down the CR with an 18:19 clocking for another class record as well.
At NBL finals she won her first "official" NBL title in 18:48.
Hanna Skandera ran the fastest ever time for a Coastal Mountain Conference runner on the course at 19:33, competing for Covenant Christian .
1990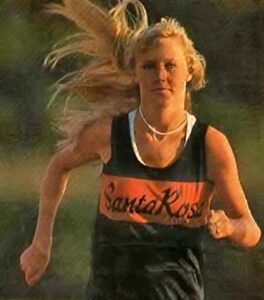 Horn continued to take down Redwood Empire records.
First at the Spring Lake 2 miler winning in 11:54, then later on the 2.97 mile course going 18:09 (Jr class record).
Horn crossed the NBL Finals finish line first for the third year, second "official" NBL title.
All three years she lowered the NBL Championship meet record (MR).
Her Panther team lowered the team CR in the Viking Opener to 66:03. At state they placed 8th in Division I State after winning NCS and NBL titles.
The SCL finals that year ran on a shorter course by mistake.
1991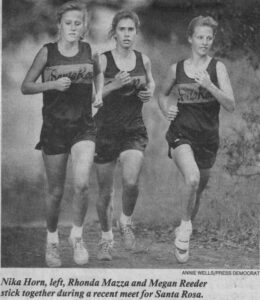 Horn set yet another CR at the Viking Opener 2 miler taking it down to 11:49. Her team would also lower the CR to 64:05.
Montgomery's Pamela Richardson set a freshman record for the 2 miler at 12:14.
In the NBL finals that year Horn would lead early on but a virus she was trying to recover from caused her to finish third with teammates Rhonda Mazza (18:10) and Megan Reeder (18:13) topping the field and just missing Horn's CR.
The Panther team as a whole would still break the course record with a 95:37 time.
(Rhonda Mazza 18:10, Megan Reeder 18:13, Nika Horn 18:52, Wendy Beardall 20:00, Michelle McConnico 20:22)
They would go on to win NCS divisions I and place 6th at State in division I.
For the next three years a NCS qualifier between the league finals and the NCS State qualifier would be held at Spring Lake for the Northern division III & IV sections.
Rancho Cotate's Lissette Lemus would win the Div 3 race this first year while Ursuline's Stefanie Bosch would win the Div 4 race. Both girls also lead their schools to the team championships as well.
1992
The NCS Div III & IV North Championships were held again at Spring Lake with Rancho Cotate's Magdalena Valterova lead her team to the championship for both individual and team titles.
Ursuline again won the Div IV title.
1993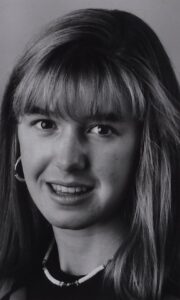 A ninth grade junior high runner would blow away all our thoughts on how fast this course could be run.
Julia Stamps from Rincon Valley J.H. would take the course record at the Viking Opener all the way down to 11:07.
She destroyed all preps she ran against that year in cross country and only a appendicitis kept her from winning the state championship.
She never ran the 2.97 mile course that season.
Sonoma Valley's Sara Jakel would lower the SCL Meet Record to 18:23 .
This would be the last year an NCS meet would be held at Spring Lake.
After that I believe the NCS set rules for courses that could be used for their meets and this course did not have a wide enough starting area to meet those standards.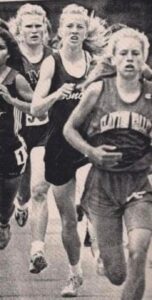 Local girls won both races with Jakel winning the Div 3 race while Clear Lake's Melody Haas would win the Div 4 race.
Haas' time of 19:03 would lower the CMC course best.
Petaluma would be the Div 3 North Team champions.
.
.
.
.
1994
As if her Viking Opener debut wasn't enough Stamps took another 18 seconds off her own CR with a 10:51 this year.
Her first time running the 2.97 mile course was October 5th of this year as she helped her team narrowly defeat Montgomery 27-29 with an amazing one minute and 14 second reduction of the CR to 16:55.
That was just a warm up for her as she clocked 16:18 in the NBL finals. That time still stands as the Meet record.
This of course was the year that she won the NATIONAL cross country title, beating the best in the country by 31 seconds.
In April she would break both the California State track 5,000m record and the National sophomore record with a 16:31.2 time.
1995
Stamps lowered the Viking Opener record to 10:49, still the Junior class record by 28 seconds.
October 11th in the big dual verses Montgomery, SR won 26-29, Stamps set the still standing course record of 16:15, with no one within three minutes of her.
The league finals were not run at Spring Lake that year so her only other time on the course in 1995 was a 16:34 on Oct. 25th with teammate Trina Cox running a freshman course record in 18:26.
1996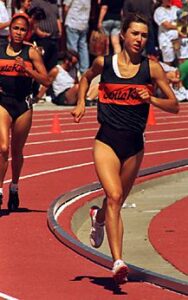 With national and state champions taking on the Viking Opener 2 miler at Spring Lake, still no one has come within 25 seconds of Stamps senior year run when she clocked 10:40 on the course.
The Panther team would also break the CR with a 62:26, still third All-Time.
At the NBL league finals Stamps would win her third NBL title, all of them by over one minute and 15 seconds.
Teammate Cox would run the second fastest sophomore time ever to that point behind Stamps' sophomore CR, with Cox running 17:40.
The Stamps/Cox team blew away all the other past years teams running 3 minutes faster than the old CR with a 92:29, that's an 18:30 average, at the NBL finals.
(Julia Stamps 16:19, Trina Cox 17:40, Lindsy Johnson 18:51, Katie Stafford 19:07, Anathea Meade 20:32)
At state Stamps would win her third Div. I title with the team placing 10th.
1997
Cox runs second fastest time ever at Viking Opener in 11:25 for the win.
Stamps is gone but now Montgomery has a freshman sensation in Sara Bei.
Bei breaks the freshman course record at Spring Lake in 17:09.
Bei then goes on to run the fastest time of all divisions at state winning Div. III. Then places 10th at Nationals.
Cox lowers her Spring Lake best to 17:20 and wins at state in Div. I. Then places 24th at Nationals.
Ursuline's Sarah Hallas set the, now Cardinal Newman, record this year at 18:19 and went on to be NCS IV Champion.
1998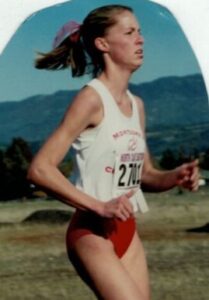 Bei runs the Viking Opener in 11:05, which still stands at #2 time ever.
Bei runs Spring Lake in 16:43 for the Montgomery school record. It was the second fastest evr, currently #3.
Bei would defend her Div. II state title and take third at the Nationals.
Cox would run the #5 time ever at Spring Lake at 17:04 and give the NBL two All-Americans taking 6th at the Nationals.
Cox's time is still the fastest ever non-winning time at Spring Lake.
Montgomery's Sarah Bashel would run 17:40 on the course for the #16 All-Time mark.
.
.
1999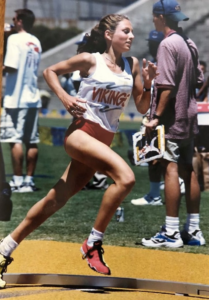 Bei wins her third NBL title with a 16:57 clocking.
.
.
.
.
.
.
2000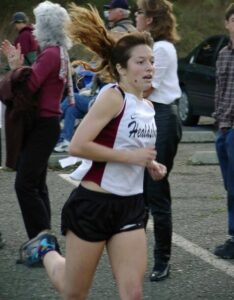 This would be one of the most amazing seasons ever.
Ukiah's Amber Trotter was just a so so runner her first two seasons but burst on the scene at the Viking Opener with an 11:20 time.
Sara Bei was sidelined for some of the early-season meets while rehabbing an injury.
Bei makes her first Spring Lake appearance of the year on September 26th with a fine 17:33 mark.
Healdsburg's Kelly Rogers, now known as coach Blanchard, would just miss the SCL Meet Record by 1 second, running 18:24, for a margin of victory of 1:03, and capture her 2nd of 3 SCL titles.
Bei continued her injury comeback but still loses to an incredibly improved Trotter as the Wildcat kept the Viking from winning the NBL finals for the fourth year as the two ran 17:00 to 17:12.
Trotters time would put her third on the All-Time list behind Stamps and Bei's bests.
League finals story
Trotter would again beat Bei at NCS before Bei, plus her team, would win at state. Trotter was 2nd with Rogers taking third in division V.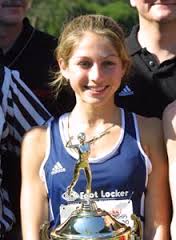 Bei became the first 4-time State Champion in California History.
Bei would then go on to win the National title with Trotter taking 7th.
This would be the second year in the last three that the NBL would have two girls finish in the top 7 of the nation.
Read all about Montgomery's championship season here.
.
.
2001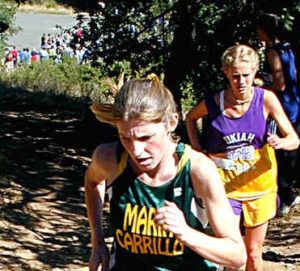 After her amazing year last year Trotter would have a season that would rival any prep girl in US history.
Trotter would destroy every opponent she would run against this season.
Trotter's Spring Lake time (16:31) at the NBL finals has only been bettered by Stamps.
Maria Carrillo's Jenny Aldridge 2nd place finish of 17:06 behind Trotter has her at 6th All-Time behind five state champions.
The Puma team would take six seconds off the course record set by the 1996 Panther team. It has held the record to this day.
Record 92:23 2001 Maria Carrillo, 18:29 average.
(Jenny Aldridge 17:06, Amy Robinson 18:24, Ashlee Drady 18:44, Carina Hendricks 18:58, Meghan Boes 19:11).
It was also one of the greatest team time battles as Ukiah set their school record in the race at 94:48.
(Amber Trotter 16:31, Shelby Leland 18:04, Kyra Kenney 19:31, Mary Shibata 20:21, Megan Mullin 20:21)
Maria Carrillo would lose the pennant the next year to Montgomery but win at least a share of the pennant from 2003 on until 2020 when there was no finals because of pandemic.
2002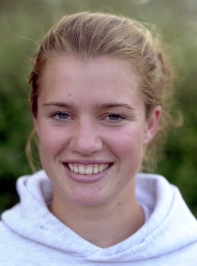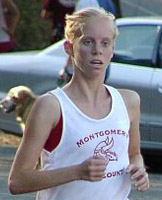 The 2002 Montgomery team would destroy the Viking Opener course record by over a minute with a 61:24 combined time. Kim Conley would lead the team with an 11:56 finish.
After Conley came Kim Handel (12:12), Carina Hendricks (12:16), Christy Sweaney (12:21), Marissa Walsh (12:39).
The fast meet of the year would be on Oct. 23rd. Maria Carrillo's Amy Robinson would take the win in 17:39, #2 for MC AT & #15 AT.
On the team side Montgomery would produce their best ever Spring Lake time at 92:41, #4 All-Time for a 18:32 average.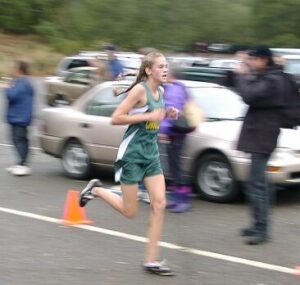 (Kim Handel 17:47, Kim Conley 17:59, Emma Conley 18:55, Carina Hendricks 18:58, Christy Sweaney 19:02) Fastest #5 runner ever. At state they would take 3rd in division II.
A cold and wet course from first storm of the year saw slower times at the NBL finals with Robinson taking the win.
.
.
.
.
2003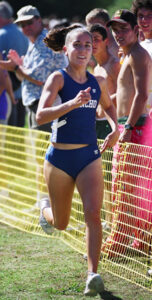 Rancho Cotate's Phylis Blanchard covered the Viking Opener in 11:28 and followed it with a 17:24 for the longer course, =#10 AT.
Blanchard would take 4th at STATE in Div. II .
Montgomery's Kim Conley would run 17:46 at Spring Lake this year.
.
.
.
.
2004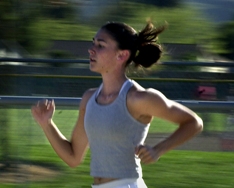 Casa Grande's Ashton LeSieur wins her third SCL title at Spring Lake in 18:36.
Maria Carrillo puts together one of their best teams averaging 18:41 on the 2.97 course in 93:27.
(Kristen Sanzari 18:05, Leanne Fogg 18:06, Amy Robinson 18:57, Kristin Fladseth 19:03, Jacqui Wentz 19:16)
They would place 2nd at State in division III.
2005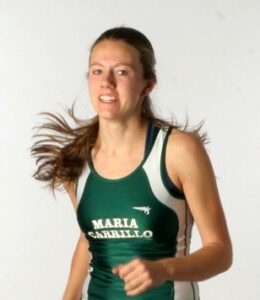 For the first time Spring Lake was used to host the Coastal Mountain Conference Finals.
The meet was won by Cheyene Waldman of Willits in 20:23.
Maria Carrillo's Jacqui Wentz ran the fastest Spring Lake time this year winning the NBL finals in 18:07.
.
.
.
2006
Freshman Jacque Taylor of Casa Grande would set a SCL meet record in 17:19. A freshman record at the time and still number two ever.
2007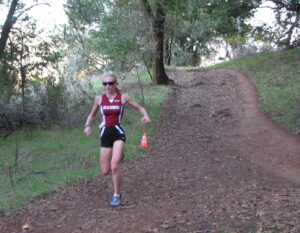 Sonoma Academy's Grace Hafner lowered the CMC meet record to 19:19 this year.
Healdsburg's Sarah Sumpter wins the SCL finals in 16:51.
That time still stands as the NBL Redwood/SCL League Championship Meet Record.
Sumpter would run the fastest time of all divisions at NCS and win the State division IV title.
.
2008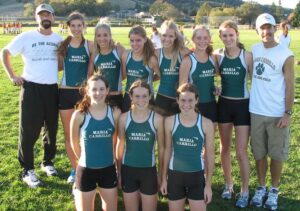 Casa Grande's Taylor would move into the number seven All-Time spot at Spring Lake with a 17:07.
Taylor would run the fastest time of all divisions at NCS meet.
Maria Carrillo's team of (Lauren Curtin 17:54, Cara Curtin 18:25, Kelly O' Leary 18:34, Jordan Davis 18:39, Sarah DiRado 19:05) ran what is today still the third fastest team time ever at Spring Lake in 92:37, they went on to take 3rd at State in division III.
.
.
.
2009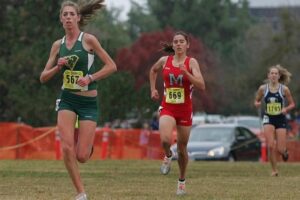 The match ups between Jacque Taylor and Montgomery's Julie Nacouzi would make this one of the most exciting seasons ever.
Both would make it all the way to the Nationals but sadly the two never went head to head at the longer Spring Lake course.
At the Viking Opener Taylor would win the Senior/Junior race over Nacouzi 11:09 to 11:22.
At the league finals Taylor would win the NBL Redwood/SCL League Championship in 17:15 and lead her team to the still standing NBL Redwood/SCL League Championship Meet Record in a 95:50 time.
(Jacque Taylor 17:15, Dominique Ratto 18:35, Eva Luu 19:31, Taylor Falk 20:13, Kylie Buck 20:16)
They were pushed by Petaluma's fastest team ever which ran a 97:46 time.
(Isabel Andrade 18:01, Francesca Honey 19:08, Kirby Franklin 19:45, Dorothea Parker 20:10, Kailyn Paretti 20:42)
Taylor became the SCL's first ever three time winner.
Nacouzi easily won the NBL title in 17:24 for what is still the 10th best Spring Lake time ever.
At the NCS Div. II meet Nacouzi would win with the fastest time of all division ahead of Taylor.
At State Taylor would become our newest State Champion with Nacouzi giving us our first ever 1-2 finish at State.
A look at the race for number one
2010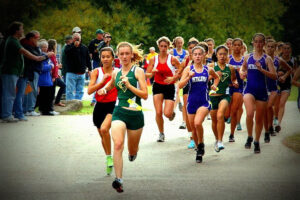 Nacouzi would start of the season strong, crushing the fields at the Viking Opener in 11:31.
Nacouzi last race in the Viking uniform was winning the Stanford Invitational before leaving the team.
She would go on to win the West Regional Cross Country Championship and place third at Nationals.
Fastest time at the longer Spring Lake course this year was by Ashley Moffet of Casa Grande in 18:01 to win the SCL finals.
2011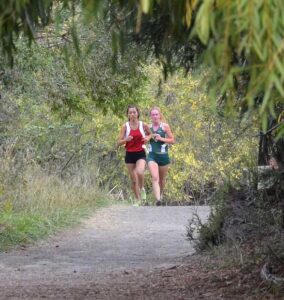 Sonoma Academy's Katy Lee would run a early season CMC course record at Spring Lake in 18:30.
El Molino's Nicole Lane would win the SCL Finals in 17:30, still the =#12 All-Time Spring Lake mark.
In the NBL finals Maria Carrillo and Santa Rosa would take the top two spots which was common for this decade.
Piner would have their fastest team and individual ever this year in third at 99:26.
Kyra Johnson of Piner was the individual champion at 18:11 followed by teammates Dezirae Johnson 19:03, Mayra Villa 19:42, Jasmine Nystrom 20:53 and Paloma Romero 21:37.
.
2012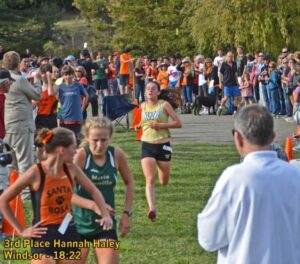 The big Spring Lake meet of this year would be at the NBL Finals.
Santa Rosa's Delany White would win in 18:17 and become the =3rd fastest Freshman All-Time.
She would be followed by Brynna Thigpen, Maria Carrillo 18:20 and Windsor's current school record holder Hannah Haley 18:22.
.
.
.
2013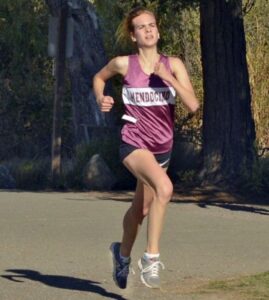 Mendocino's Erin Thomas ran one of the CMC's fastest times ever at Spring Lake at the Sonoma Academy Invite with an 18:45 time.
She would win her third CMC title that year and place 12th at State in division V.
.
.
.
.
2014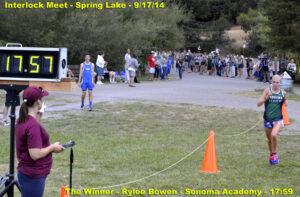 Back in 1988 the freshman record at Spring Lake was set by Nika Horn at 18:58.
Nika's daughter, Rylee Bowen, is now a freshman at Sonoma Academy and tears up the course at the Viking Opener in 11:20.
Only Stamps has ever run it faster as a freshamn.
On September 17 Rylee would cover the longer course in 17:59 and then 17:36 on October 14th in a tri-meet.
These would be the fastest CMC times to date and Rylee's best Spring Lake time.
Rylee would be State Champion that year in division V.
2015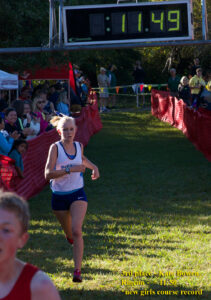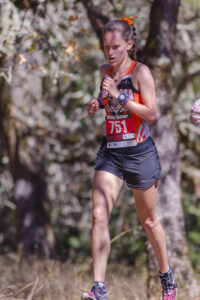 McKinleyville's Morgin Coonfield (11:24) would win the JR/Sr race at the Viking Opener over Delaney White (11:39).
Rylee did not run this race this year but her 8th grade sister Kate Bowen would have the next best time of the day in the Middle School race at 11:50.
White blazed to the win in the NBL finals with a 17:30 time and became the first to win 4 NBL titles.
Rylee Bowen would lower the CMC finals meet record down to 18:02, photos.
In the NBL finals Maria Carrillo and Santa Rosa would take the top two spots as was usual around then but Cardinal Newman had their fastest team ever in third at 98:24.
CN team (Kasey Braun 18:43, Noel Clark 19:27, Eliana Heath 19:59, Lillian Larson 20:01, Isabelle Vreeland 20:14)
Analy's Emma Douch set the, now West County school, record this year at 18:28.
2016
Sonoma Academy would run the fastest ever team time for a CMC school in an October league meet of 99:01.
(Rylee Bowen 17:51, Kate Bowen 18:36, Mckenna Sell 20:01, Madison Glen 21:05, Amelia McDonald 21:28)
2017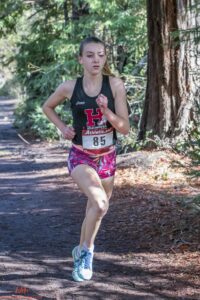 Healdsburg junior Gabrielle Peterson would win her 2nd SCL title in 17:53, her 1:57 minute margin of win is the largest in SCL history at Spring Lake.
2018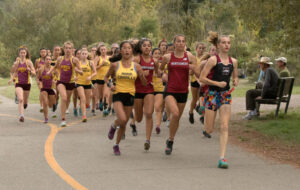 Peterson blazed an 11:25 at Viking Opener to start the season with a bang.
She would move into the number eight All-Time spot at Spring Lake with a 17:11 at the final league meet.
Both the NBL and SCL finals were cancelled this year because of unsafe air quality.
Peterson was able to run at State and became yet another division V State Champion for Redwood Empire.
2019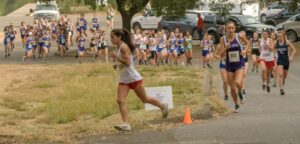 Only eight girls in the 32 year history of the Spring Lake course have ever run faster than what St Helena junior Harper McClain ran at the CMC finals this year (17:18).
It of course was a new CMC course record.
McClain became yet another division V State Champion for us.
.
2020
This season was pushed from the Fall to the Spring with no races allowed at Spring Lake because of the pandemic.
2021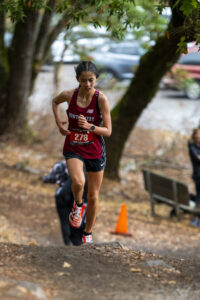 At the Viking Opener Montgomery's Hanne Thomsen broke her school's freshman record held by Sara Bei running the 2 mile course in 11:21.
Bei ran 11:38 in 1997 as a ninth grader with only Julia Stamps (11:07), Rincon Valley. J.H. 1993 and Rylee Bowen (11:20), Sonoma Academy 2014 ever going faster as freshmen.
The great flood of 2021 only allowed the NBL "Oak" to race their finals at Spring Lake but Thomsen beat the field by over a minute and moved into the All-Time top 10. Her 17:17 run also made her the second fastest freshman time ever behind Bei. It was the fastest winning time since 2001 in the NBL and the largest margin of victory since 1996.
Spring Lake All-Time
Viking Opener Bests
compiled by Jim Crowhurst