By Larry Meredith

Former Viking coach Larry Meredith is celebrating the 20th anniversary of his teams State Championship 2000 season by doing a meet-by-meet recap of that season, 20 years years to the date of each meet.
I will be adding to this page as each comes out and am hoping to have individual interviews with each member of the championship team.
The 2000 schedule:
September 1 – Rancho Cotate Invitational at RCHS/SSU
September 9 – Ed Sias Invitational at Martinez
September 13 – Contra Loma Classic Invitational at Antioch
September 16 – Viking Opener Invitational at Spring Lake
September 20 – NBL/SCL Interlock #1 at Foothill Park
September 23 – Cowchip Invitational at Novato
September 26 – NBL/SCL Interlock #2 at Spring Lake
September 30 – Iolani Invitational at Hawaii
October 4 – NBL Dual Meet vs. Piner at Foothill Park
October 11 – NBL Tri Meet vs. SRHS and MCHS at Spring Lake
October 14 – Castro Valley Invitational at Castro Valley
October 18 – NBL Tri Meet vs. Ukiah and EAHS at Ukiah
October 21 – Mt. SAC Invitational at Walnut
October 25 – NBL Tri Meet vs. RCHS and CN/Urs at Spring Lake
November 3 – NBL Championships at Spring Lake
November 18 – NCS Championships at Ukiah
November 25 – State Championships at Fresno
Glory Days
The year 2000: A look back at the greatest cross country season in Montgomery Vikings history
At the dawn of a new millennium a wave of great expectations was building strength among the Viking family of cross country runners at Montgomery High School. On the boys' side, the team had claimed the 1999 North Bay League title, placing five runners among the first twelve. There was not a single senior among the top eight Vikings. The girls were victorious at the NBL Championships as well, winning for the first time in 13 years, and looking to bring back their fastest six runners for the 2000 season. On top of that, there were two exciting prospects waiting in the wings at Slater Middle School. The cross country season couldn't come soon enough.
Recognizing the potential for greatness, plans were put in place for a special group trip to an invitational in Hawaii and the fundraising began. This became the initial point of focus for the varsity teams and all members worked hard for eight months on and off the trails to make it happen. The efforts culminated in an unforgettable season that deserves a meet-by-meet walk down memory lane.
---
Chapter 1: Galloping out of the Gate
Twenty years ago today . . .
September 1, 2000: Rancho Cotate Invitational, Rohnert Park, California
An impressive season debut for the red-and-gray of Montgomery. In a field of 9 teams, the varsity boys claim 6 of the top 9 places, the varsity girls take 6 of the top 11 and the JV boys put 4 in the top 6. The varsity teams are made up of tight packs as the top 4 boys finish in a span of 4 seconds and the girls' team placed runners 2 through 5 in a 12-second window.
Regan Masi, Nick Millar, Jon Fitch and Drew Fagent all run faster than David Toomey's MHS best on this course, a 14:41 turned in 7 years ago. In addition, Zac Fitch runs the 7th-best MHS time here ever and Jason Fung turns in the 10th-best all-time for MHS.
On the girls' side, Joy Terribilini runs the 4th-best in MHS history here and then the two frosh runners, Christy Sweaney and Kim Conley, debut with the 7th and 8th best MHS times, respectively. Elisa Pedersen turns in the 9th-fastest mark all-time for MHS. Combined with the top 2 times from previous years by Sara Bei and Sarah Bashel, the current team has 6 of the top 9 MHS runners ever to race the Rancho course. The boys' team nearly matches that with 6 of the top 10 Vikings in Rancho course history.
The personal record list is led by sophomore Andrew Gallagher, who cuts 2:13 from his 1999 effort. Amelia Thomas is next, taking 1:57 off her previous best on this course. Charles Proctor is 1:50 better than last year and Nick Millar improves by 1:30. Jason Fung PRs by 1:16, Greg De Selle by 1:14, Joy Terribilini by 1:04 and Barbara Hall by 1:02. Many more PRs: Drew Fagent – 0:52; Jeff Mills – 0:50; Elisa Pedersen – 0:33; Jake Minkoff – 0:31; Jon Fitch – 0:26; David Dranow – 0:20; Regan Masi – 0:18 and Zac Fitch – 0:13.
Freshmen Matt Fitch and K.C. Cody have outstanding debut races for the JV squad.
Meet results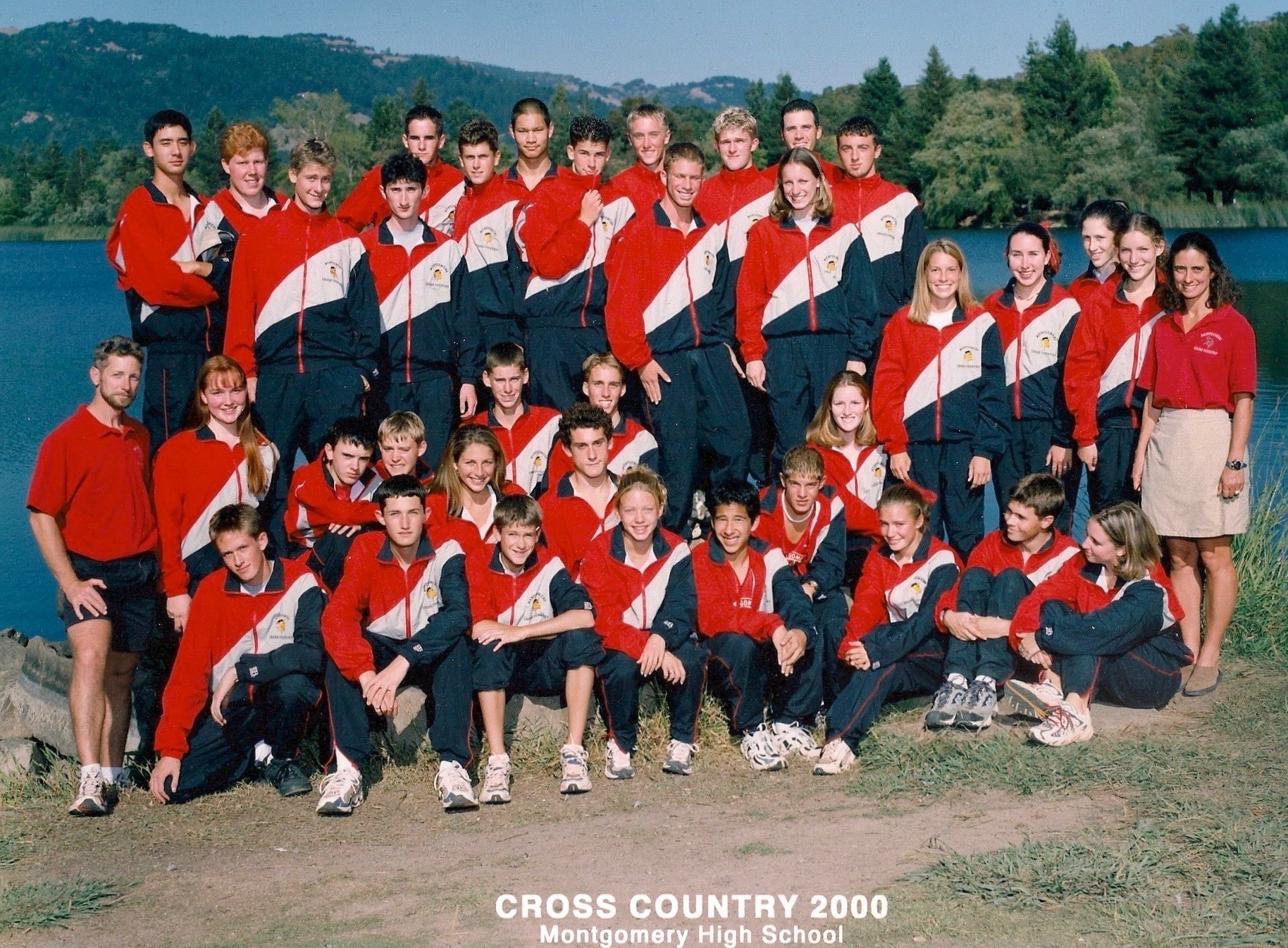 ---
Chapter 2: An Early Test
Twenty years ago today . . .
September 9, 2000: Ed Sias Invitational, Martinez, California
The hilly, 2-mile course at Hidden Valley Park has long been an annual early-season test for Montgomery's cross country teams. This year the field was particularly loaded will traditional powerhouse teams from Buchanan HS of Clovis, Bellarmine Prep from San Jose, Vacaville HS from the Central Valley and Piedmont HS from the East Bay.
The girls' team wastes no time in sending a strong message, not only to the North Coast Section, but to the entire state of California by winning the varsity race with a margin of 62 points over runner-up Buchanan. Sara Bei is back on the winning track, coming from far behind early in the race. A strong race by Sarah Bashel for 6th is followed by the Viking pack of 4 runners between 16th and 25th places. Joy Terribilini has another big PR, improving by 26 seconds over last year's time. Elisa Pedersen cuts 14 seconds from her best. Freshmen Kim Conley and Christy Sweaney join their teammates as the top 6 runners in MHS history on this course, dating back to 1988.
Regan Masi leads the boys' team again, running the 2nd-fastest MHS time in Viking history on this course. Nick Millar ends up 4th on that list, Drew Fagent is 5th, Jon Fitch 6th and Zac Fitch 8th, all 5 boys finishing in a 12-second span. The team finishes 3rd, just 9 points behind the winners from state power Buchanan.
Charles Proctor has the best PR with an improvement of 1:35, followed by Nick Millar's 0:47, Greg De Selle's 0:35, Julia Goepel's 0:33, Jason Fung's 0:32 and Drew Fagent's 0:31. Andrew Gallagher claims the 5th-fastest frosh-soph mark all-time for MHS while Matt Fitch now stands at 7th on the list.
Meet Results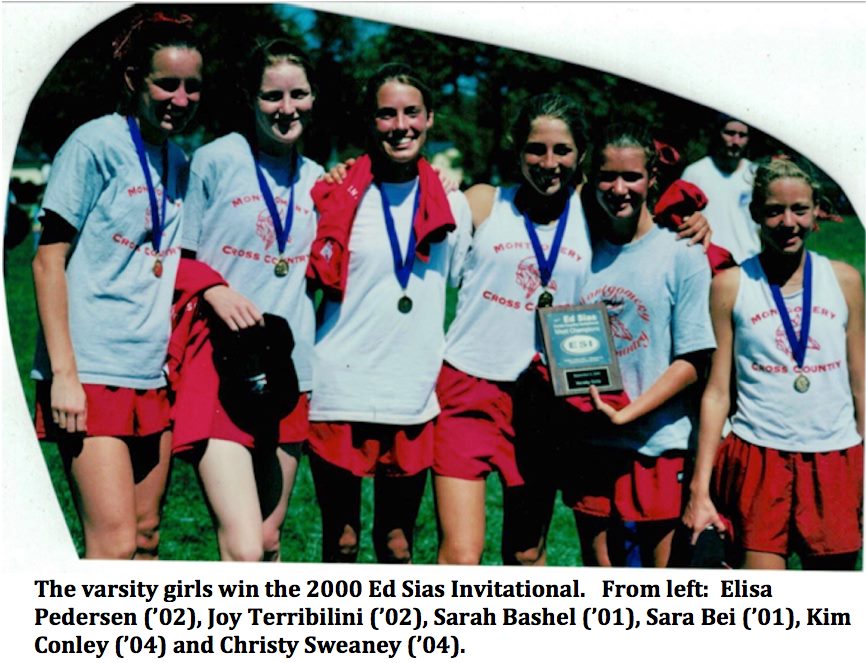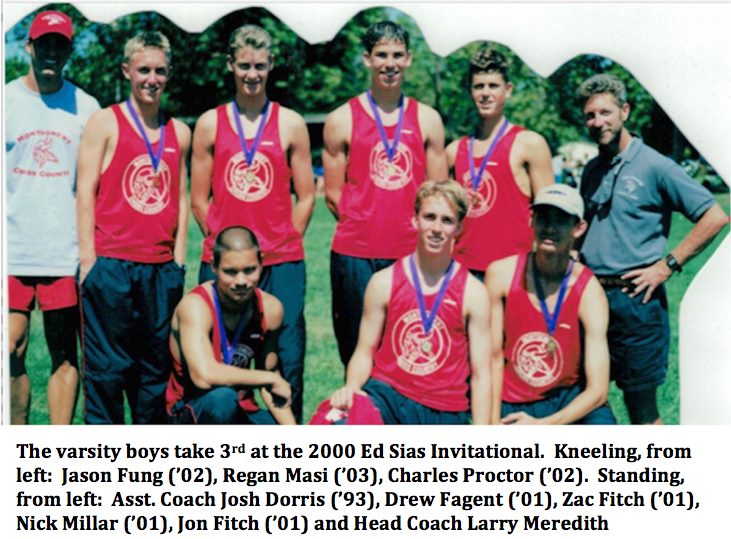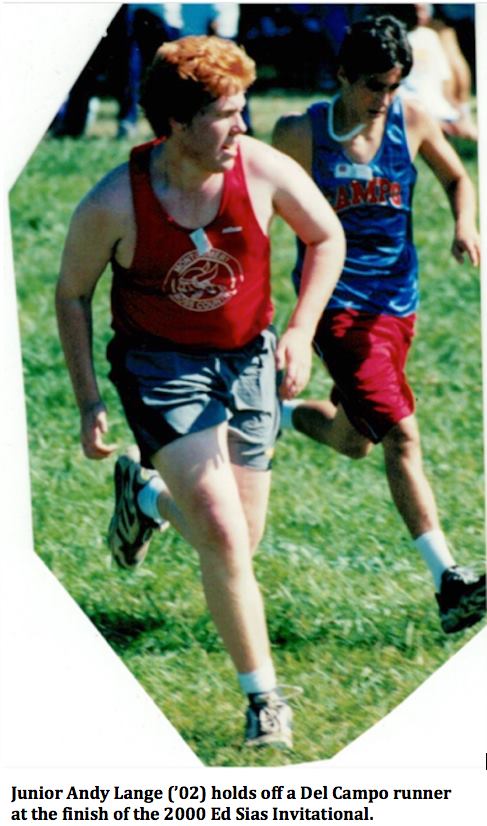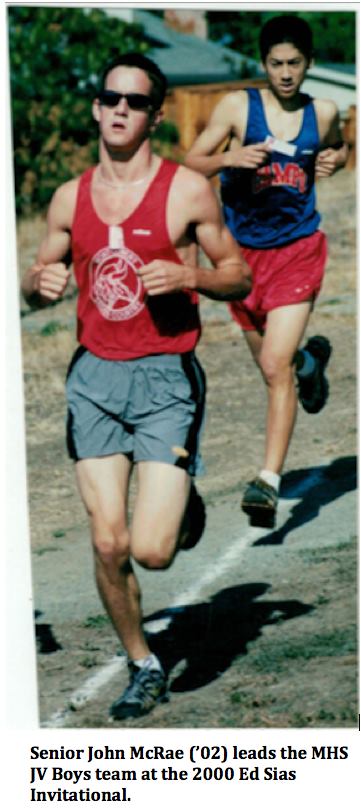 ---
Chapter 3: Turning up the Heat
Twenty years ago today . . .
September 13, 2000: Contra Loma Classic Invitational, Antioch, California
The team travels to a rare mid-week invitational meet, rolling into Antioch's Contra Loma Regional Park late on a Wednesday afternoon. Presented with a rough, hilly course on a hot day with no shade on the trails, the Vikings take care of business.
The result is a double victory for the varsity teams. The girls win without top runner Sara Bei and the boys jam 5 runners between 5th and 12th. Zac Fitch moves up to take the top varsity spot for MHS. Sophomore Barbara Hall nearly wins the JV girls race and earns a varsity position for the next meet.
Meet Results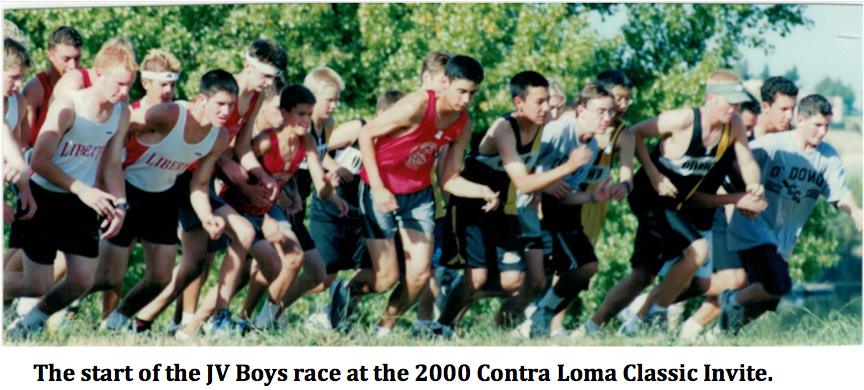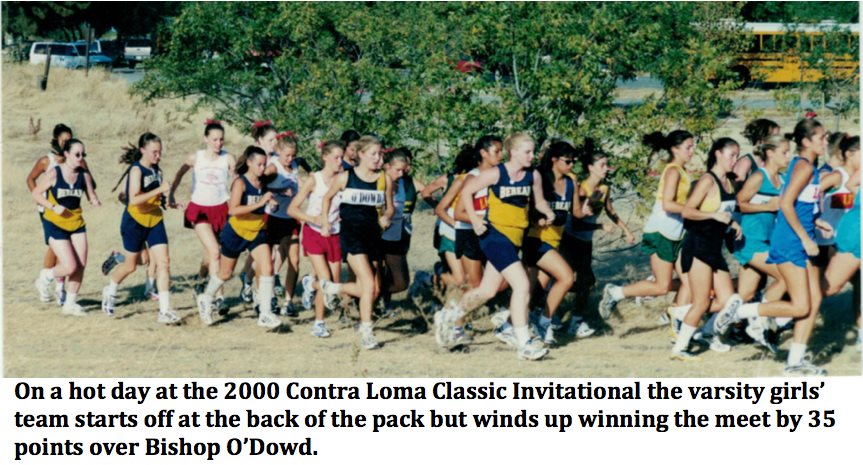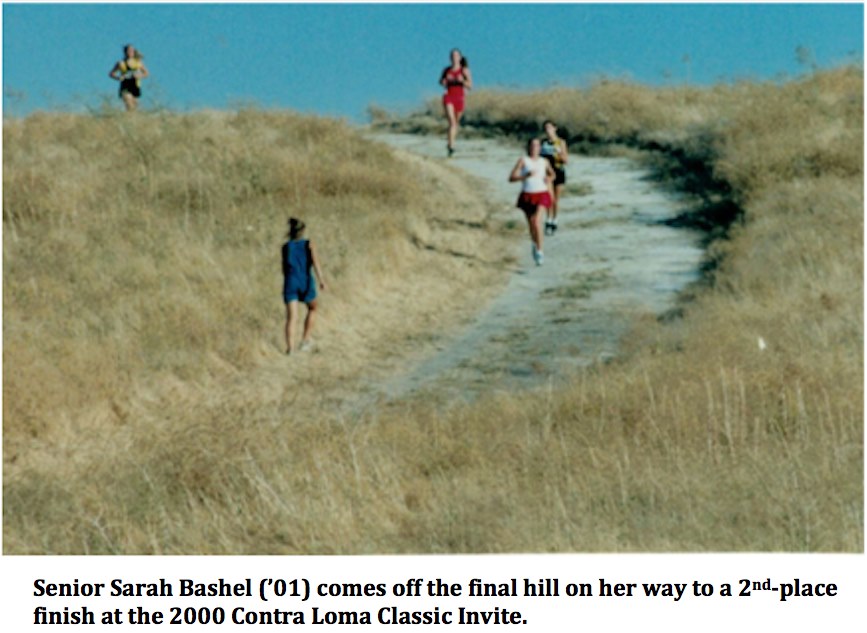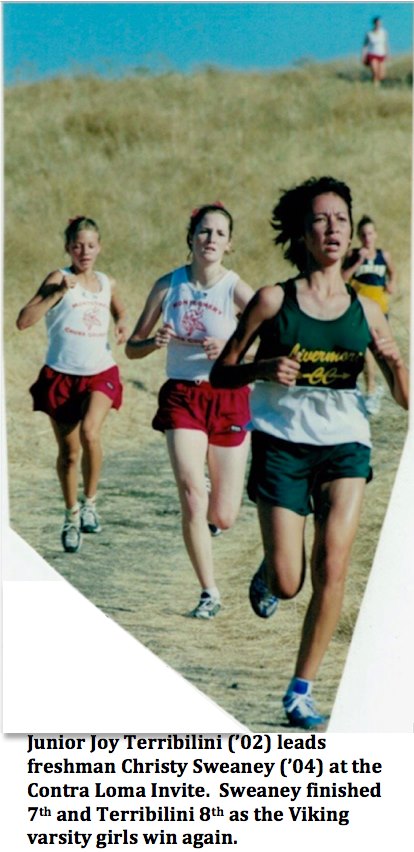 ---
Chapter 4: There's No Place Like Home
Twenty years ago today . . .
September 16, 2000: Viking Opener Invitational, Santa Rosa, California
The Viking Opener Cross Country Invitational was first held in the fall of 1985. That year Spring Lake Park was completely closed for months due to the invasion of hydrilla, an exotic, aquatic plant that threatened to overtake the lake. So the first VO was held in nearby Annadel State Park on an odd, L-shaped, 2.2-mile course. There were just 9 teams represented in the meet, all but Fortuna HS coming from the local NBL-SCL schools. The course moved to Spring Lake the following year but the current 2-mile course was established in 1987.
Year-after-year the meet grew in popularity and by this year 616 runners from 31 teams crowded onto the course making this the largest HS invitational north of San Francisco.
The home team was ready for the challenge. Montgomery has it's best day in the 16-year history of the Viking Opener, claiming 3 team titles and breaking 4 team school records over the 2-mile course.
Nick Millar led the boys to the Senior team title with the 2nd-fastest time in school history, helping set team records for Senior Boys and Overall Boys. The boys take 4 of the top 8 spots. Jon Fitch became the 5th-fastest Viking in history. Regan Masi set a sophomore team record in leading the Frosh-Soph team to a victory and team F/S record. Andrew Gallagher, who PR'd by 1:02, became the 3rd-best soph in school history. Matt Fitch ran the 2nd-best MHS freshman time ever and K.C. Cody moves to the 5th spot on that list.
In separate races, Joy Terribilini and Kim Conley tied for the 4th-best girls' time in school history. Christy Sweaney had the 6th-best on that list. The Junior/Senior Girls team places 3 in the top 12, wins the meet and breaks the school record for combined time. The Frosh/Soph team comes in 2nd.
Big PRs are recorded by Charles Proctor, with a 0:46 improvement; Amelia Thomas is better by 0:41; Nick Millar by 0:40; Jeff Mills by 0:40; Greg De Selle by 0:39 and Joy Terribilini by 0:25.
Other PRs include Barbara Hall 0:16, Drew Fagent 0:15, Jon Fitch 0:13, Regan Masi 0:06, Zac Fitch 0:05, Jason Fung 0:04 and Elisa Pedersen 0:04.
Team members making Montgomery's All-Time Top 25 list include Elisa Pedersen, 8th overall and 5th junior; Zac Fitch, 9th overall and 9th senior; Regan Masi, 13th overall and 1st soph; Andrew Gallagher 21st overall and 3rd soph; Barbara Hall, 22nd overall and 10th soph; Amelia Thomas, 25th overall and 14th junior; Sarah Bashel, 9th senior; Jason Fung, 22nd junior; Hannah Gallagher, 25th junior and Julia Goepel, 22nd soph.
The 14th Annual VO Alumni Race, which invites alumni from any and all high schools, resulted in another Viking victory when MHS alum Lisa Gay '92 dominated the women's race to win by 31 seconds. Teammates Linda Parker '89 finished 11th and Leslie Curry '81 was 12th to score a 3rd-place finish for the Viking team. Assistant Coach Tori Meredith (Branham '75, San Jose) finished 5th overall and was the 2nd masters runner. The MHS Alumni Men captured 5th place, led by Scott Story '94 in 12th and Eric Downing in 13th. Head Coach Larry Meredith (Wapahani '75, Selma, Indiana) was right behind them in 14th and was 2nd among masters. Other Viking alums included Star Stevenson '90 in 20th; Jerry Finlay '97 in 29th; Erik Haluzak '92 in 44th; Greg Mills '98 in 48th; Keith Lewis '89 in 51st; Michael Parker '85 in 54th; David DeSelle '68 in 60th and Brian Mills '00 in 63rd.
Montgomery & Alumni Results
---
Chapter 5: Surviving Foothill Park
Twenty years ago today . . .
September 20, 2000: NBL/SCL Pre-Season Interlock, Windsor, California
The annual pre-league schedule included two meets that match up Sonoma County League and North Bay League schools. Our first was hosted by Windsor HS (SCL) at Foothill Regional Park and included Cardinal Newman/Ursuline HS (NBL). A giant roller coaster could be built on the trails there as they present one steep hill after another with hardly any flat terrain. Montgomery is in the middle of a stretch of 9 meets in 5 weeks so the team was in need of a break from stiff competition. Fortunately for the Vikings, neither opponent in this meet was strong enough to threaten for the win.
The pre-race instructions were to work the uphills and ease off on the downhills, avoiding danger on steep, sharp turns. Varsity runners were told not to compete with teammates but to run hard enough to ensure a team win. Mission accomplished.
Top runner Sara Bei was still absent with an injury so the next five girls ran in front in a tight pack until they separated slightly while cruising the final downhill to the finish. Freshman Christy Sweaney earned her first high school victory, one second ahead of senior Sarah Bashel. Kim Conley (3rd), Joy Terribilini (4th) and Elisa Pedersen (5th) filed through a few seconds later to give the Viking girls a perfect team score of 15. Barbara Hall and Amelia Thomas made it 7 of the top 8 for the Red and Gray.
The boys' race was nearly a carbon copy as four Vikings led the way throughout. Sophomore Regan Masi claimed the top spot this time as the game of musical chairs for this position continued. Seniors Zac Fitch(2nd), Drew Fagent (3rd) and Jon Fitch (4th) crossed the line shortly thereafter and then Nick Millar (7th), Andrew Gallagher (9th), Jason Fung (10th) and Matt Fitch (11th) gave Montgomery 8 of the top 11 spots at the finish.
---
Chapter 6: Running with the Bulls
Twenty years ago today . . .
September 23, 2000: Cowchip Classic Invitational, Novato, California
While a relative newcomer on the invitational scene, the Cowchip Classic has quickly grown into one of the most competitive cross country meets in Northern California. This year they introduced the "Golden Chip" division exclusively for the top varsity teams entered in the meet. The girls would face their toughest rival in the North Coast Section in San Ramon Valley HS, ranked among the top 5 in the state for Division II. The boys had their hands full with the top 3 teams in the Sac-Joaquin Section in Jesuit, Davis and Vacaville. Jesuit is the top-ranked boys team in California.
The Stafford Lake Park course is typical North Bay coastal mountain terrain, which is to say rolling, oak-studded hills covered mostly in dry grasses this time of year. It is also open-range cattle country that required special course supervision during the races, a challenge that became an issue for one race. Race day dawned clear and cool but temperatures climbed rapidly as the morning wore on.
The JV girls took to the course first and Julia Goepel was the Vikings' top finisher in 28th out of 107 runners. Between races a herd of cows wandered into a fenced corner for a drink of water. When the large JV boys field charged through a wide gate early in the race the trapped cows began to panic and a mini-stampede cut the pack of runners in half as the bovine contingent escaped to quieter pastures. One unlucky calf, maybe a couple of months old, became separated from mom and joined the wrong herd as the boys headed out on a loop around the hill. When the runners returned to the same spot a mile later, the young bull had moved up to a top-10 position but alas, pulled out of the race at that point to rejoin his tribe. Montgomery's Charles Proctor avoided the cattle drive delay to lead the JVs with a 24th-place finish in a large field of 152.
Sophomore Andrew Gallagher was pulled from the varsity squad for a chance at a starring role in the crowded Frosh-Soph Boys race. Midway through the race Andrew moved to the head of the pack of 186 runners and as he entered the final stretch he was locked in a duel for the overall individual win. Andrew unleashed a furious kick to claim the crown. Matt Fitch was not far behind in 6th place, followed by K.C. Cody in 14th as the F/S boys took 5th among the 23 teams competing.
Jesuit's varsity boys demonstrated why they are the #1 ranked team in California with a 46-point win over Davis, another state-ranked squad. The Vikings ended up just 5 points back of Davis, only 26 seconds separating top runner Regan Masi (13th) from #5 man Drew Fagent (28th). Sandwiched between them were Zac Fitch (15th), Nick Millar (19th) and Jon Fitch (23rd).
Montgomery ace Sara Bei was still on the sidelines while rehabbing an early-season injury so the task to remain undefeated for the season became a daunting one. Runners from San Ramon Valley crowded together up front for much of the race but the Viking ladies, using the tried-and-true formula of even pacing, moved up steadily as a group until the race seemed fairly even with less than a mile to run. That final stretch was a testament to the strength of this Montgomery squad as they ran down their rivals and emerged victorious once again, this time by a scant 8 points. Freshman Kim Conley
took over the top spot with her 7th-place finish with Sarah Bashel just 4 seconds back in 9th. Elisa Pedersen (10th), Christy Sweaney
(13th) and Joy Terribilini (14th) completed the pack of 5 runners finishing in a span of just 12 seconds.
.
.
.
.
.
.
.
.
.
.
.
.
.
.
.
.
.
.
.
.
.
.
Montgomery Results
---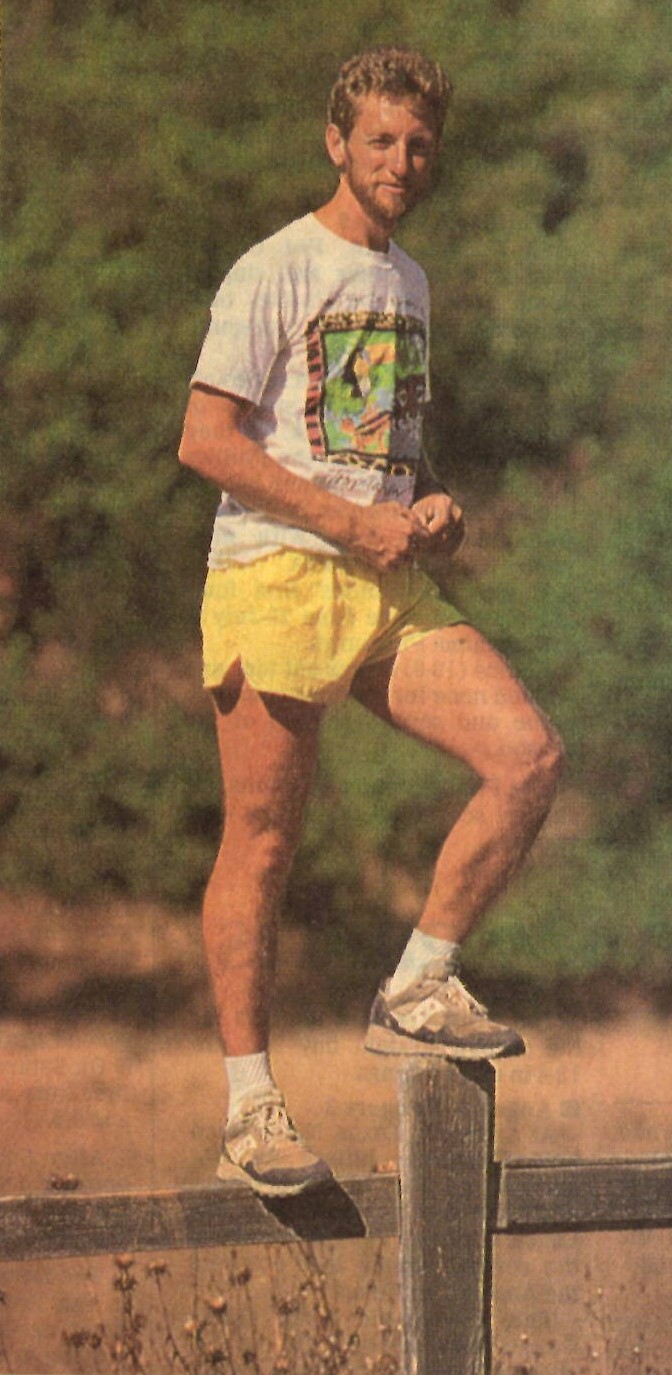 ---