By Larry Meredith

Former Viking coach Larry Meredith is celebrating the 20th anniversary of his teams State Championship 2000 season by doing a meet-by-meet recap of that season, 20 years to the date of each meet.
I will be adding to this page as each comes out and am hoping to have individual interviews with each member of the championship team.
The 2000 schedule:
September 1 – Rancho Cotate Invitational at RCHS/SSU
September 9 – Ed Sias Invitational at Martinez
September 13 – Contra Loma Classic Invitational at Antioch
September 16 – Viking Opener Invitational at Spring Lake
September 20 – NBL/SCL Interlock #1 at Foothill Park
September 23 – Cowchip Invitational at Novato
September 26 – NBL/SCL Interlock #2 at Spring Lake
September 30 – Iolani Invitational at Hawaii
October 4 – NBL Dual Meet vs. Piner at Foothill Park
October 11 – NBL Tri Meet vs. SRHS and MCHS at Spring Lake
October 14 – Castro Valley Invitational at Castro Valley
October 18 – NBL Tri Meet vs. Ukiah and EAHS at Ukiah
October 21 – Mt. SAC Invitational at Walnut
October 25 – NBL Tri Meet vs. RCHS and CN/Urs at Spring Lake
November 3 – NBL Championships at Spring Lake
November 18 – NCS Championships at Ukiah
November 25 – State Championships at Fresno
Glory Days
The year 2000: A look back at the greatest cross country season in Montgomery Vikings history
At the dawn of a new millennium a wave of great expectations was building strength among the Viking family of cross country runners at Montgomery High School. On the boys' side, the team had claimed the 1999 North Bay League title, placing five runners among the first twelve. There was not a single senior among the top eight Vikings. The girls were victorious at the NBL Championships as well, winning for the first time in 13 years, and looking to bring back their fastest six runners for the 2000 season. On top of that, there were two exciting prospects waiting in the wings at Slater Middle School. The cross country season couldn't come soon enough.
Recognizing the potential for greatness, plans were put in place for a special group trip to an invitational in Hawaii and the fundraising began. This became the initial point of focus for the varsity teams and all members worked hard for eight months on and off the trails to make it happen. The efforts culminated in an unforgettable season that deserves a meet-by-meet walk down memory lane.
---
Chapter 1: Galloping out of the Gate
Twenty years ago today . . .
September 1, 2000: Rancho Cotate Invitational, Rohnert Park, California
An impressive season debut for the red-and-gray of Montgomery. In a field of 9 teams, the varsity boys claim 6 of the top 9 places, the varsity girls take 6 of the top 11 and the JV boys put 4 in the top 6. The varsity teams are made up of tight packs as the top 4 boys finish in a span of 4 seconds and the girls' team placed runners 2 through 5 in a 12-second window.
Regan Masi, Nick Millar, Jon Fitch and Drew Fagent all run faster than David Toomey's MHS best on this course, a 14:41 turned in 7 years ago. In addition, Zac Fitch runs the 7th-best MHS time here ever and Jason Fung turns in the 10th-best all-time for MHS.
On the girls' side, Joy Terribilini runs the 4th-best in MHS history here and then the two frosh runners, Christy Sweaney and Kim Conley, debut with the 7th and 8th best MHS times, respectively. Elisa Pedersen turns in the 9th-fastest mark all-time for MHS. Combined with the top 2 times from previous years by Sara Bei and Sarah Bashel, the current team has 6 of the top 9 MHS runners ever to race the Rancho course. The boys' team nearly matches that with 6 of the top 10 Vikings in Rancho course history.
The personal record list is led by sophomore Andrew Gallagher, who cuts 2:13 from his 1999 effort. Amelia Thomas is next, taking 1:57 off her previous best on this course. Charles Proctor is 1:50 better than last year and Nick Millar improves by 1:30. Jason Fung PRs by 1:16, Greg De Selle by 1:14, Joy Terribilini by 1:04 and Barbara Hall by 1:02. Many more PRs: Drew Fagent – 0:52; Jeff Mills – 0:50; Elisa Pedersen – 0:33; Jake Minkoff – 0:31; Jon Fitch – 0:26; David Dranow – 0:20; Regan Masi – 0:18 and Zac Fitch – 0:13.
Freshmen Matt Fitch and K.C. Cody have outstanding debut races for the JV squad.
Meet results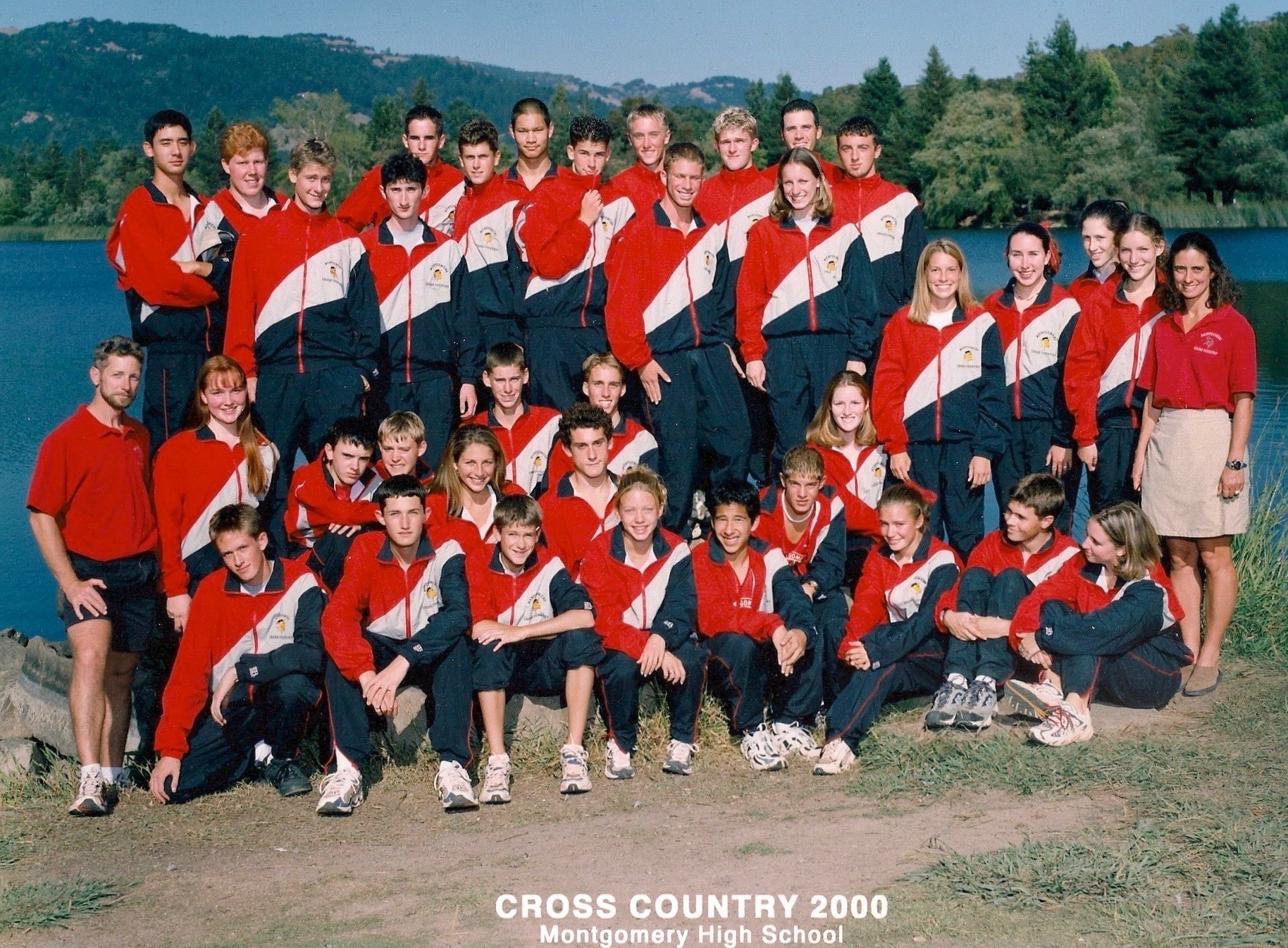 ---
Chapter 2: An Early Test
Twenty years ago today . . .
September 9, 2000: Ed Sias Invitational, Martinez, California
The hilly, 2-mile course at Hidden Valley Park has long been an annual early-season test for Montgomery's cross country teams. This year the field was particularly loaded will traditional powerhouse teams from Buchanan HS of Clovis, Bellarmine Prep from San Jose, Vacaville HS from the Central Valley and Piedmont HS from the East Bay.
The girls' team wastes no time in sending a strong message, not only to the North Coast Section, but to the entire state of California by winning the varsity race with a margin of 62 points over runner-up Buchanan. Sara Bei is back on the winning track, coming from far behind early in the race. A strong race by Sarah Bashel for 6th is followed by the Viking pack of 4 runners between 16th and 25th places. Joy Terribilini has another big PR, improving by 26 seconds over last year's time. Elisa Pedersen cuts 14 seconds from her best. Freshmen Kim Conley and Christy Sweaney join their teammates as the top 6 runners in MHS history on this course, dating back to 1988.
Regan Masi leads the boys' team again, running the 2nd-fastest MHS time in Viking history on this course. Nick Millar ends up 4th on that list, Drew Fagent is 5th, Jon Fitch 6th and Zac Fitch 8th, all 5 boys finishing in a 12-second span. The team finishes 3rd, just 9 points behind the winners from state power Buchanan.
Charles Proctor has the best PR with an improvement of 1:35, followed by Nick Millar's 0:47, Greg De Selle's 0:35, Julia Goepel's 0:33, Jason Fung's 0:32 and Drew Fagent's 0:31. Andrew Gallagher claims the 5th-fastest frosh-soph mark all-time for MHS while Matt Fitch now stands at 7th on the list.
Meet Results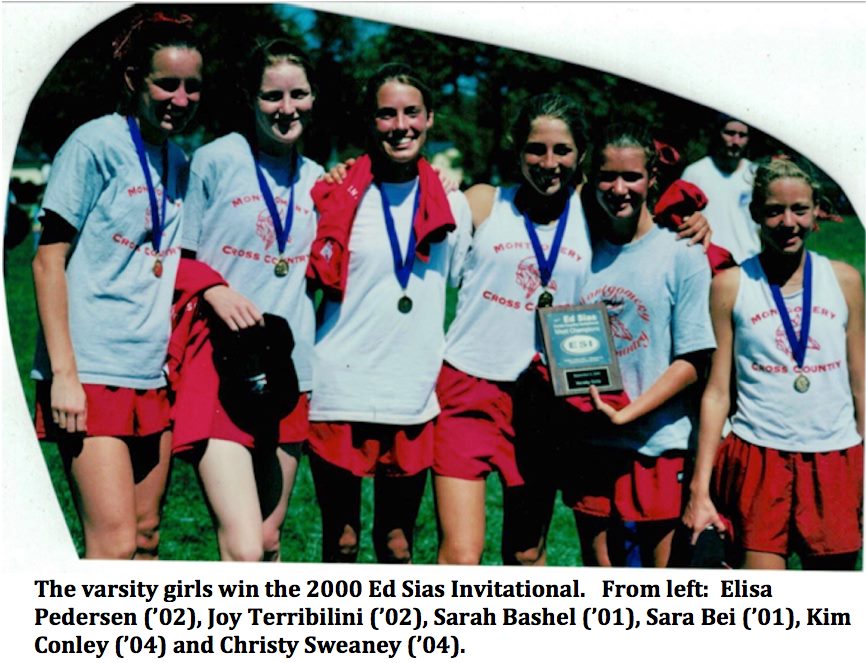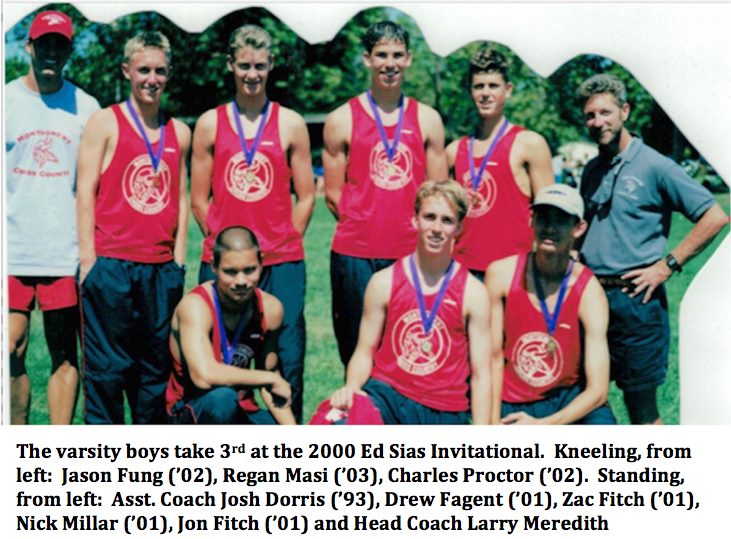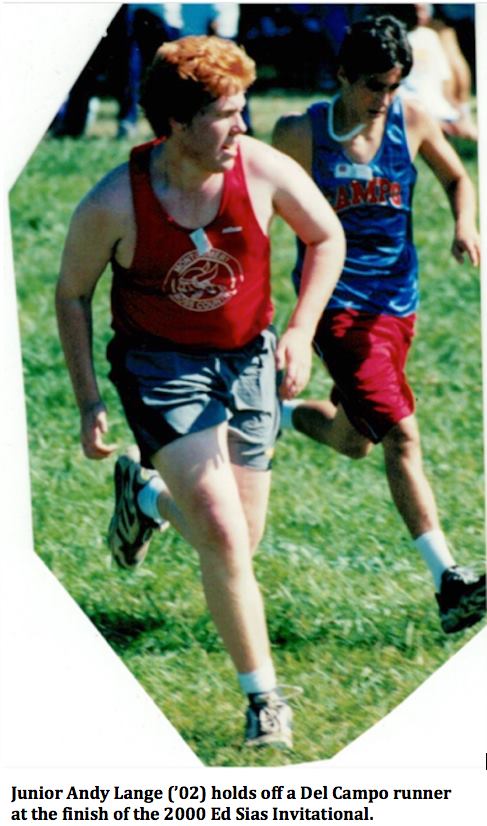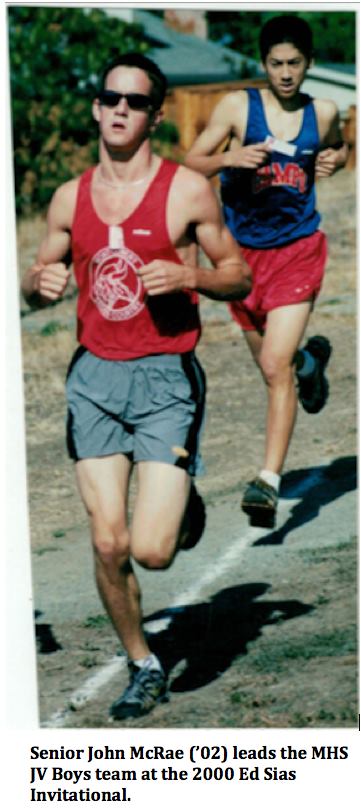 ---
Chapter 3: Turning up the Heat
Twenty years ago today . . .
September 13, 2000: Contra Loma Classic Invitational, Antioch, California
The team travels to a rare mid-week invitational meet, rolling into Antioch's Contra Loma Regional Park late on a Wednesday afternoon. Presented with a rough, hilly course on a hot day with no shade on the trails, the Vikings take care of business.
The result is a double victory for the varsity teams. The girls win without top runner Sara Bei and the boys jam 5 runners between 5th and 12th. Zac Fitch moves up to take the top varsity spot for MHS. Sophomore Barbara Hall nearly wins the JV girls race and earns a varsity position for the next meet.
Meet Results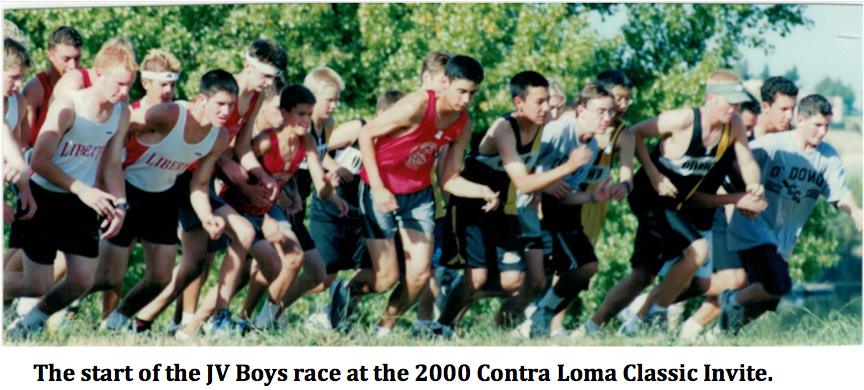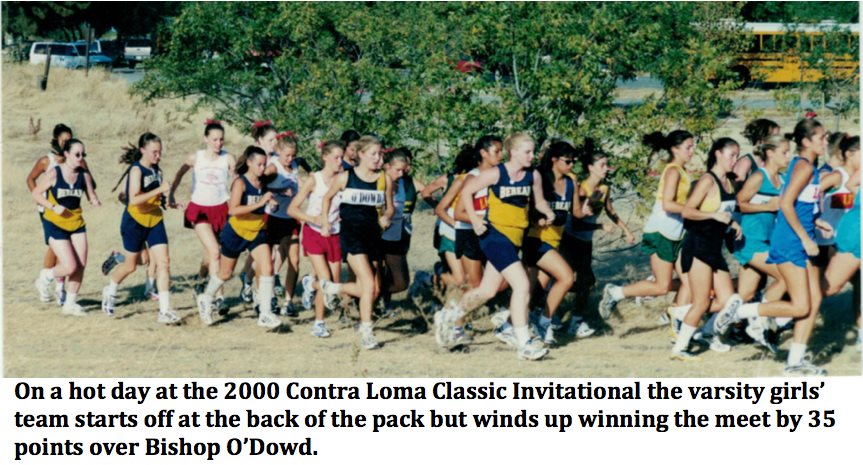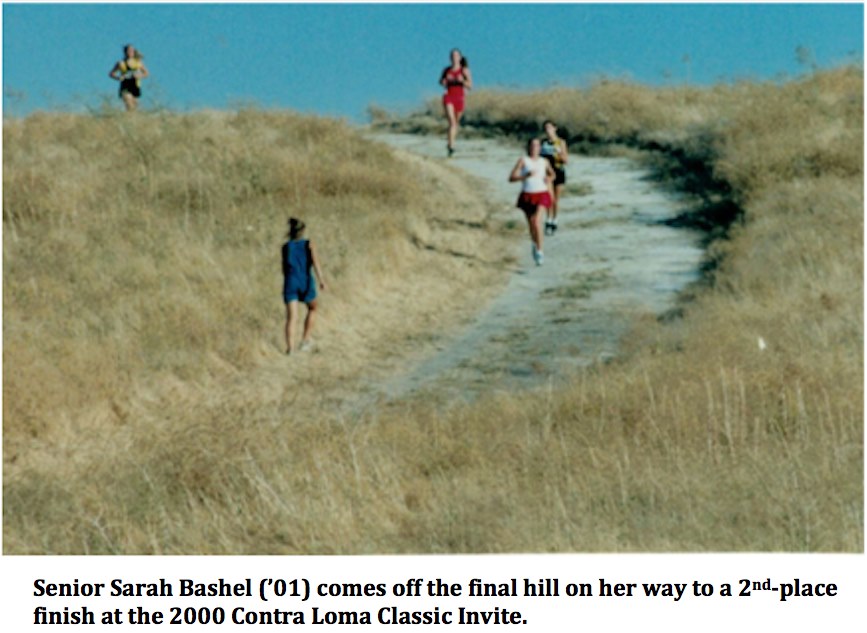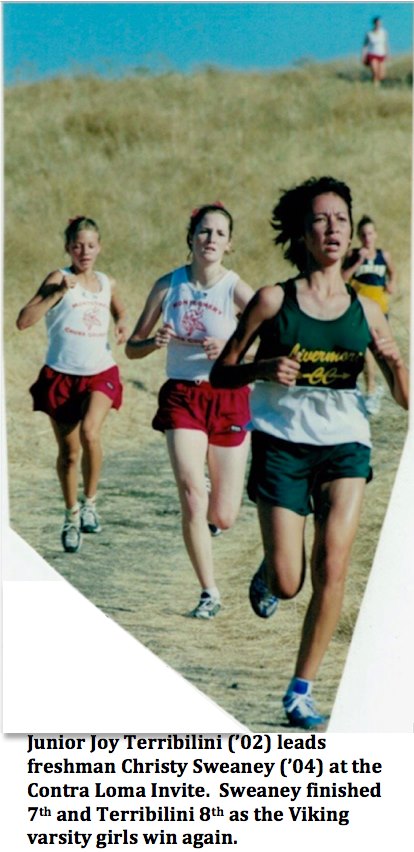 ---
Chapter 4: There's No Place Like Home
Twenty years ago today . . .
September 16, 2000: Viking Opener Invitational, Santa Rosa, California
The Viking Opener Cross Country Invitational was first held in the fall of 1985. That year Spring Lake Park was completely closed for months due to the invasion of hydrilla, an exotic, aquatic plant that threatened to overtake the lake. So the first VO was held in nearby Annadel State Park on an odd, L-shaped, 2.2-mile course. There were just 9 teams represented in the meet, all but Fortuna HS coming from the local NBL-SCL schools. The course moved to Spring Lake the following year but the current 2-mile course was established in 1987.
Year-after-year the meet grew in popularity and by this year 616 runners from 31 teams crowded onto the course making this the largest HS invitational north of San Francisco.
The home team was ready for the challenge. Montgomery has it's best day in the 16-year history of the Viking Opener, claiming 3 team titles and breaking 4 team school records over the 2-mile course.
Nick Millar led the boys to the Senior team title with the 2nd-fastest time in school history, helping set team records for Senior Boys and Overall Boys. The boys take 4 of the top 8 spots. Jon Fitch became the 5th-fastest Viking in history. Regan Masi set a sophomore team record in leading the Frosh-Soph team to a victory and team F/S record. Andrew Gallagher, who PR'd by 1:02, became the 3rd-best soph in school history. Matt Fitch ran the 2nd-best MHS freshman time ever and K.C. Cody moves to the 5th spot on that list.
In separate races, Joy Terribilini and Kim Conley tied for the 4th-best girls' time in school history. Christy Sweaney had the 6th-best on that list. The Junior/Senior Girls team places 3 in the top 12, wins the meet and breaks the school record for combined time. The Frosh/Soph team comes in 2nd.
Big PRs are recorded by Charles Proctor, with a 0:46 improvement; Amelia Thomas is better by 0:41; Nick Millar by 0:40; Jeff Mills by 0:40; Greg De Selle by 0:39 and Joy Terribilini by 0:25.
Other PRs include Barbara Hall 0:16, Drew Fagent 0:15, Jon Fitch 0:13, Regan Masi 0:06, Zac Fitch 0:05, Jason Fung 0:04 and Elisa Pedersen 0:04.
Team members making Montgomery's All-Time Top 25 list include Elisa Pedersen, 8th overall and 5th junior; Zac Fitch, 9th overall and 9th senior; Regan Masi, 13th overall and 1st soph; Andrew Gallagher 21st overall and 3rd soph; Barbara Hall, 22nd overall and 10th soph; Amelia Thomas, 25th overall and 14th junior; Sarah Bashel, 9th senior; Jason Fung, 22nd junior; Hannah Gallagher, 25th junior and Julia Goepel, 22nd soph.
The 14th Annual VO Alumni Race, which invites alumni from any and all high schools, resulted in another Viking victory when MHS alum Lisa Gay '92 dominated the women's race to win by 31 seconds. Teammates Linda Parker '89 finished 11th and Leslie Curry '81 was 12th to score a 3rd-place finish for the Viking team. Assistant Coach Tori Meredith (Branham '75, San Jose) finished 5th overall and was the 2nd masters runner. The MHS Alumni Men captured 5th place, led by Scott Story '94 in 12th and Eric Downing in 13th. Head Coach Larry Meredith (Wapahani '75, Selma, Indiana) was right behind them in 14th and was 2nd among masters. Other Viking alums included Star Stevenson '90 in 20th; Jerry Finlay '97 in 29th; Erik Haluzak '92 in 44th; Greg Mills '98 in 48th; Keith Lewis '89 in 51st; Michael Parker '85 in 54th; David DeSelle '68 in 60th and Brian Mills '00 in 63rd.
Montgomery & Alumni Results
---
Chapter 5: Surviving Foothill Park
Twenty years ago today . . .
September 20, 2000: NBL/SCL Pre-Season Interlock, Windsor, California
The annual pre-league schedule included two meets that match up Sonoma County League and North Bay League schools. Our first was hosted by Windsor HS (SCL) at Foothill Regional Park and included Cardinal Newman/Ursuline HS (NBL). A giant roller coaster could be built on the trails there as they present one steep hill after another with hardly any flat terrain. Montgomery is in the middle of a stretch of 9 meets in 5 weeks so the team was in need of a break from stiff competition. Fortunately for the Vikings, neither opponent in this meet was strong enough to threaten for the win.
The pre-race instructions were to work the uphills and ease off on the downhills, avoiding danger on steep, sharp turns. Varsity runners were told not to compete with teammates but to run hard enough to ensure a team win. Mission accomplished.
Top runner Sara Bei was still absent with an injury so the next five girls ran in front in a tight pack until they separated slightly while cruising the final downhill to the finish. Freshman Christy Sweaney earned her first high school victory, one second ahead of senior Sarah Bashel. Kim Conley (3rd), Joy Terribilini (4th) and Elisa Pedersen (5th) filed through a few seconds later to give the Viking girls a perfect team score of 15. Barbara Hall and Amelia Thomas made it 7 of the top 8 for the Red and Gray.
The boys' race was nearly a carbon copy as four Vikings led the way throughout. Sophomore Regan Masi claimed the top spot this time as the game of musical chairs for this position continued. Seniors Zac Fitch(2nd), Drew Fagent (3rd) and Jon Fitch (4th) crossed the line shortly thereafter and then Nick Millar (7th), Andrew Gallagher (9th), Jason Fung (10th) and Matt Fitch (11th) gave Montgomery 8 of the top 11 spots at the finish.
---
Chapter 6: Running with the Bulls
Twenty years ago today . . .
September 23, 2000: Cowchip Classic Invitational, Novato, California
While a relative newcomer on the invitational scene, the Cowchip Classic has quickly grown into one of the most competitive cross country meets in Northern California. This year they introduced the "Golden Chip" division exclusively for the top varsity teams entered in the meet. The girls would face their toughest rival in the North Coast Section in San Ramon Valley HS, ranked among the top 5 in the state for Division II. The boys had their hands full with the top 3 teams in the Sac-Joaquin Section in Jesuit, Davis and Vacaville. Jesuit is the top-ranked boys team in California.
The Stafford Lake Park course is typical North Bay coastal mountain terrain, which is to say rolling, oak-studded hills covered mostly in dry grasses this time of year. It is also open-range cattle country that required special course supervision during the races, a challenge that became an issue for one race. Race day dawned clear and cool but temperatures climbed rapidly as the morning wore on.
The JV girls took to the course first and Julia Goepel was the Vikings' top finisher in 28th out of 107 runners. Between races a herd of cows wandered into a fenced corner for a drink of water. When the large JV boys field charged through a wide gate early in the race the trapped cows began to panic and a mini-stampede cut the pack of runners in half as the bovine contingent escaped to quieter pastures. One unlucky calf, maybe a couple of months old, became separated from mom and joined the wrong herd as the boys headed out on a loop around the hill. When the runners returned to the same spot a mile later, the young bull had moved up to a top-10 position but alas, pulled out of the race at that point to rejoin his tribe. Montgomery's Charles Proctor avoided the cattle drive delay to lead the JVs with a 24th-place finish in a large field of 152.
Sophomore Andrew Gallagher was pulled from the varsity squad for a chance at a starring role in the crowded Frosh-Soph Boys race. Midway through the race Andrew moved to the head of the pack of 186 runners and as he entered the final stretch he was locked in a duel for the overall individual win. Andrew unleashed a furious kick to claim the crown. Matt Fitch was not far behind in 6th place, followed by K.C. Cody in 14th as the F/S boys took 5th among the 23 teams competing.
Jesuit's varsity boys demonstrated why they are the #1 ranked team in California with a 46-point win over Davis, another state-ranked squad. The Vikings ended up just 5 points back of Davis, only 26 seconds separating top runner Regan Masi (13th) from #5 man Drew Fagent (28th). Sandwiched between them were Zac Fitch (15th), Nick Millar (19th) and Jon Fitch (23rd).
Montgomery ace Sara Bei was still on the sidelines while rehabbing an early-season injury so the task to remain undefeated for the season became a daunting one. Runners from San Ramon Valley crowded together up front for much of the race but the Viking ladies, using the tried-and-true formula of even pacing, moved up steadily as a group until the race seemed fairly even with less than a mile to run. That final stretch was a testament to the strength of this Montgomery squad as they ran down their rivals and emerged victorious once again, this time by a scant 8 points. Freshman Kim Conley
took over the top spot with her 7th-place finish with Sarah Bashel just 4 seconds back in 9th. Elisa Pedersen (10th), Christy Sweaney
(13th) and Joy Terribilini (14th) completed the pack of 5 runners finishing in a span of just 12 seconds.
.
.
.
.
.
.
.
.
.
.
.
.
.
.
.
.
.
.
.
.
.
.
Montgomery Results
---
Chapter 7: Sweeping Up Around Spring Lake
Twenty years ago today . . .
September 26, 2000: NBL/SCL Pre-Season Interlock, Spring Lake Regional Park, Santa Rosa, California
SEVEN TEAMS gathered at Spring Lake Regional Park to do battle on Montgomery's 2.97-mile home course for the first time this season. The course has been the local standard for 14 seasons and is the site of the NBL and SCL Championship Meets in November. On this day the Vikings hosted North Bay League rivals Maria Carrillo HS and Cardinal Newman/Ursuline HS along with 4 teams from the Sonoma County League: Petaluma, Casa Grande, Windsor and El Molino.
The Vikings took care of business in dominating fashion, scoring a perfect 15 points in both boys races and just 20 points in the varsity girls' win. Three-time state champ Sara Bei returns and runs far ahead of the field for the win in the girls' race. The next five Vikings continued to move in a pack and were separated by a total of 15 seconds at the finish. It was Sarah Bashel in 3rd, Kim Conley 4th, Christy Sweaney 5th, Joy Terribilini 7th and Elisa Pedersen 8th. Joy's time is another personal best, beating last year's mark by 11 seconds. Amelia Thomas also sets a new PR by 8 seconds.
The Montgomery boys were even more of a force as the varsity team swept the top 5 places in a span of only 9 seconds. Soph Regan Masi remained the top dog, once again edging senior Zac Fitch. Drew Fagent, Jon Fitch and Nick Millar were close on their heels. Drew has the best PR of the day for MHS, running 23 seconds faster than his 1999 mark. Andrew Gallagher, who finished 9th in the race, improved by 18 seconds.
The JV boys matched the varsity with a 1-thru-5 sweep, this time led by freshmen Matt Fitch and K.C. Cody. It is Matt's first HS cross country victory. Charles Proctor (3rd), Jeff Mills (4th) and John McRae (5th) wrap up the perfect team score. Charles gets another big PR, running 18 seconds faster than last year. Julia Goepel leads the MHS girls JV runners, taking 7th in a field of 19.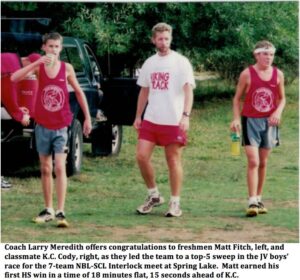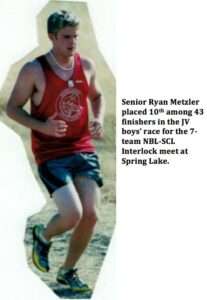 .
.
.
.
.
.
.
.
.
.
.
Montgomery Results
---
Chapter 8: Vikings Invade Hawaii!!
Twenty years ago today . . .
September 30, 2000:
Iolani Invitational, Oahu, Hawaii
After 9 months of planning and fundraising the varsity teams packed their swimwear and uniforms and lifted off for the Aloha State. In addition to competing in a cross country invitational and getting in some quality team bonding at the beach, there was a poignant history lesson to be learned at Pearl Harbor.
From Wikipedia:
"Montgomery High School was named after Bill Montgomery. Montgomery is considered the first person from the city of Santa Rosa to have died in World War II. William "Billy" Montgomery was killed at Pearl Harbor on December 7, 1941 while serving aboard the battleship USS California."
Our visit to Pearl Harbor included watching the historical videos, taking a tour of the site and, most impactful, a Q and A session with survivors from that fateful day. We found Billy's name etched into the wall dedicated to the memory of the servicemen and women who lost their lives on December 7th, 1941.
Perhaps inspired by the experience, the runners from Billy Montgomery HS took to the cross country course the next day and laid waste to the competition. Taking heed of the hilly terrain and the oppressive heat and humidity, Viking runners held back through the first mile before reeling in their less careful competitors on their way to dominating victories in both the girls and boys varsity races.
Sara Bei continued her winning ways, outpacing her nearest competition by almost a minute-and-a-half. The next 5 Vikings finish in the top 14, led by Sarah Bashel in 7th and Joy Terribilini, 8th for a 28-point margin of victory over another visiting NCS team, Antioch.
The boys match that effort, scoring just 25 points to Clovis West's runner-up total of 53. Nick Millar comes from well back early in the race to take the lead with a half-mile to go. He poured it on from there to earn his first HS win in impressive fashion. Seven seconds later Regan Masi nipped Zac Fitch in a battle for 3rd place. Jon Fitch gave MHS 4 runners in the top 6 a few seconds later.
That was not the end of gold medals for the Red and Gray. Assistant coaches Josh Dorris and Tori Meredith also posted victories in the coaches' race. By all measures, this trip was a huge success.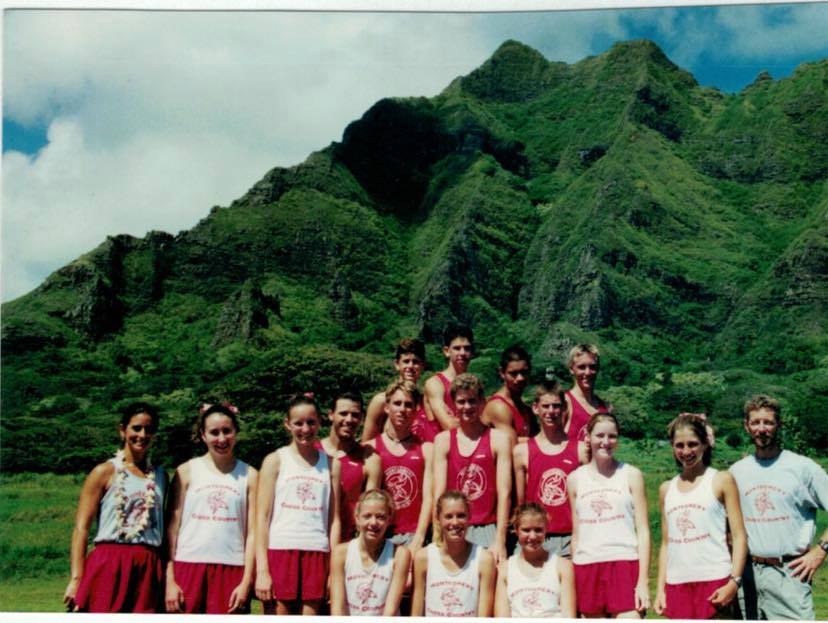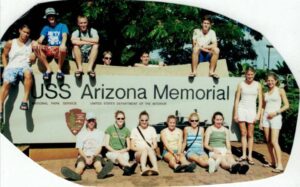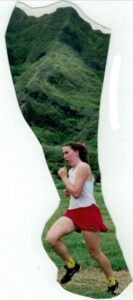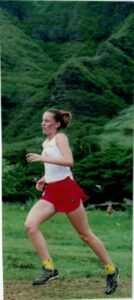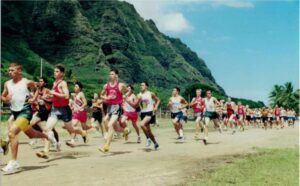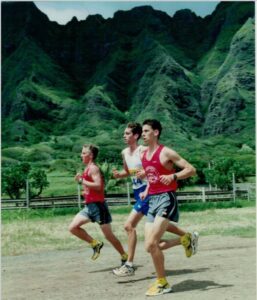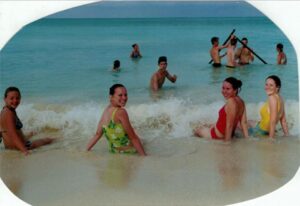 More photos from the Iolani Invitational
.
.
.
.
.
.
---
Chapter 9: 3 x 15 = Perfection!
Twenty years ago today . . .
Note: Twenty years later Sara Bei still improving
October 4, 2000: NBL Dual Meet vs. Piner HS, Windsor, California
The official beginning of the North Bay League season saw the Vikings return to Foothill Regional Park for a dual meet with the Piner Prospectors. There were no signs of jet lag in varsity legs and the JV runners did not skip a beat, all teams rolling up perfect scores of 15.
Senior Sarah Bashel claims her first HS varsity win and first XC win since her stunning Viking debut in winning the frosh-soph race at the Artichoke Invitational three years ago. The girls' pack continues to impress with just 13 seconds separating first thru fifth. Julia Goepel and Alexis Traverso take 1-2 among girls' JV.
Senior Zac Fitch reclaims the varsity boys' top spot for the first time in three weeks, the team sweeps the top 7 places and runners 1 thru 6 finish within a 32-second window. The JV Boys fill the top 10 places, led once again by freshman Matt Fitch.
.
.
.
.
.
.
.
.
.
.
---
Chapter 10: Vikings Sail to Victory at Spring Lake
Twenty years ago today . . .
October 11, 2000: NBL Tri-Meet vs. Maria Carrillo HS and Santa Rosa HS, Spring Lake Regional Park, Santa Rosa, California
The girls, led by Sara Bei again, survive a strong challenge from Maria Carrillo HS to win by 10 points. Amelia Thomas
cuts 50 seconds from her course PR. Christy Sweaney is 35 seconds faster than her first try on the course and Joy Terribilini has a 16-second PR. Elisa Pedersen cuts 14 seconds off her best and Kim Conley improves by 2 seconds. Christy becomes the #4 Viking All-Time and she is followed on that list by Joy (7th), Kim (8th) and Amelia (20th).
The boys varsity records a 15-point sweep for the 3rd time this season with Regan Masi back in front, tying the school sophomore record of 15:57 set by Jason Deselle in 1995. PRs are earned by Andrew Gallagher (0:40), Jason Fung (0:18), Nick Millar (0:18), Jon Fitch (0:14), Drew Fagent (0:12), Zac Fitch (0:09) and Regan (0:09). Those moving up on Montgomery's All-Time list include Regan (8th), Zac (9th), Nick (13th), Jon (14th), Drew (15th) and Andrew (24th).
Matt Fitch runs the 2nd-fastest JV time in course history, his 17:04 just 4 seconds off of the 1991 effort by Montgomery's Ryan Lew. Matt leads a top-4 sweep for the Vikings in that race. K.C. Cody's time is 3rd-best in course history for JV runners. Matt and K.C. also become the 2nd- and 3rd-fastest freshmen in school history, behind teammate Regan Masi's mark from a year ago.
.
.
.
.
.
.
.
.
.
.
.
---
Chapter 11: Vikings Teach Another Lesson in Pacing
Twenty years ago today . . .
October 14, 2000: Castro Valley Invitational, Castro Valley, California
Outstanding tactical races by varsity teams once again. Both teams are hardly noticed in their races until the latter stages when one Viking after another passes struggling competitors. For the 4th time this season the boys and girls varsity teams win invitational titles on the same day, a feat never before accomplished by Montgomery.
Sara Bei misses the course record by just 3 seconds in recording a 20-seconds PR for the win. She is joined by Sarah Bashel, Elisa Pedersen, Christy Sweaney, Kim Conley and Joy Terribilini as the top 6 Viking runners ever to run this course. Amelia Thomas and Barbara Hall also make the Viking All-Time Top Ten list here in 9th and 10th.
Zac Fitch has his best performance of the year to lead the boys and his time has been bettered by only one other Viking in history, that of Peter Vincent way back in 1982. Nick Millar is now 3rd-best on the list, Regan Masi 5th, Jon Fitch 6th and Andrew Gallagher 10th.
Matt Fitch runs a terrific race to win the boys freshman division, eclipsing Jason Deselle's 1995 frosh-soph best by 3 seconds. K.C. Cody takes 3rd in the frosh race and notches the 4th-best time on Montgomery's frosh/soph list for this course. Jeff Mills is now 7th on that list
.
.
.
.
.
.
.
.
.
.
.
---
Chapter 12: Hunting Wildcats and Wolves
Twenty years ago today . . .
October 18, 2000: NBL Tri-Meet vs. Elsie Allen HS and Ukiah HS, Ukiah, California
Considered a threat before the season began, Ukiah's boys team proves to be no match for this year's Vikings. Zac Fitch and Jon Fitch make it a 1-2 MHS finish and spur an 18-point win.
Led by Sara Bei, the girls' team cruises to the top 6 places and rack up a perfect score of 15. K.C. Cody wins his first high school race in the JV boys event.
.
.
.
.
.
.
.
.
.
.
.
---
Chapter 13: Mt. SAC – Time to Face the Music
Twenty years ago today . . .
October 21, 2000: Mt. San Antonio College Invitational, Walnut, California
Held annually since 1948, the Mt. San Antonio College Cross Country Invitational – simply known as Mt. SAC – is the most competitive high school meet in the nation. This year 11 of the top 20 ranked HS boys teams in California were entered in the Team Sweepstakes race. The girls faced 10 of the state's top 20, including 4 of the top 5 from Division I and the state's #1 teams from Division II and III. Montgomery's girls entered the meet as the state's #3-ranked D-II team.
Race favorite Sara Bei was nowhere to be seen among the large lead pack when the first half-mile loop was completed. At the mile mark before the first difficult hill, Sara had moved up to 18th place but was still far behind the leaders. That's where she got to work. Approaching 2 miles, just before the start of Poop Out Hill, Sara had moved up to 4th place and then quickly charged into 3rd as the slope became very steep. By the time she started up the final climb, Reservoir Hill, Sara had taken the lead and was opening up a wide gap. In the final mile alone, Sara outran her pursuers by 28 seconds to complete another remarkable come-from-behind win.
In the large and talented field Viking girls 2 thru 6 found it impossible to maintain their typical pack, an experience that could turn out to be a blessing in disguise in preparing for the state championship meet in November. Sarah Bashel upped her game, pulling ahead of her teammates for a solid 24th-place finish. Then came a mini-pack of Elisa Pedersen in 37th, Christy Sweaney in 39th and Joy Terribilini in 41st. While the girls' team suffered their first loss of the season in finishing 5th, the teams ahead of them were 3 of the top-ranked D-I schools and the #1 D-III school. Among Division II schools, Montgomery finished 7 points ahead of previously #1-ranked Canyon and this result vaulted the Vikings into the top spot for the first time this season.
A video of race highlights shows why Sara Bei is a national-class runner like none before her. Watch Sara combine exceptional pacing, patience, discipline, confidence and the will to win. Watch here
The travel schedule required that the boys' team also be entered into the Team Sweepstakes division, a daunting position for an unranked squad. Nick Millar, in 41st, and Zac Fitch, 43rd, held up well in the battle but the remainder of the team was atypically splintered and the boys were relegated to 17th in the field of 18 teams. Notably the only other North Coast Section team to race here was Granada which finished 13th, 38 points ahead of the Vikings. They will need to be dealt with at the end of the season.
The boys Mt. SAC video is more brief than the girls and our team can only be spotted at the starting line: Watch here
---
Chapter 14: Streaking through the League
Twenty years ago today . . .
October 25, 2000: NBL Tri-Meet vs. Cardinal Newman/Ursuline HS and Rancho Cotate HS, Spring Lake Regional Park, Santa Rosa, California
The varsity girls finish off their second consecutive unbeaten season with a regular-season record of 12 wins and no losses to extend their 2-year streak to 23 wins in-a-row. The varsity boys end up undefeated as well with a record of 15-and-0 and a winning streak of 18. The JV Boys rack up another perfect score and another undefeated season, their 4th in-a-row at 10-and-0. The winning streak for the JV boys is now 45 regular-season meets over 5 years.
A couple of days of hard rain leaves the course in very bad condition with lots of water and a very slippery surface – a very tough day to challenge personal records on the home course. Three JV runners manage to better their previous PRs, led by Mike McHugh's 56-second improvement. Ben Fryer runs his 3rd-consecutive PR, cutting off 23 seconds and Jeff Mills runs a fine race to eke out a 1-second PR. K.C. Cody wins the JV boys race by 45 seconds and Hannah Gallagher outruns teammate Julia Goepel by 20 seconds to win the JV girls race.
Zac Fitch leads the way in a 1-2-3 Viking finish for the varsity boys. Junior Jason Fung out-kicks frosh Matt Fitch for the final varsity spot to compete in next week's NBL Championships.
Freshman Christy Sweaney leads the Monty girls for the second time this season as the Vikings take places 2-thru-8 in the varsity girls race.
---
Chapter 15: North Bay League Championships – Vikings are in a League of their Own
Twenty years ago today . . .
November 3, 2000: North Bay League Championship Meet, Spring Lake Regional Park
Nick Millar is crowned king of the NBL by pulling away from teammates (and twin brothers) Zac Fitch and Jon Fitch late in the race to lead a 1-2-3 Viking sweep on the 2.97-mile home course at Spring Lake. It is the first top 3 sweep in MHS cross country history. Drew Fagent earns NBL First Team honors by taking 7th and Andrew Gallagher wraps up the team title for Montgomery by coming through in 12th. The winning score of 25 points is the lowest for MHS since 1985. This despite a puzzling case of fatigue that has beset Regan Masi, who had been the Viking's #1 runner in six different meets over the first half of the season. Regan finished 22nd.
More school history is made: this is the first time the Vikings have won back-to-backh titles for both boys and girls. The varsity girls are nearly as dominant as the boys, scoring only 27 points and placing 5 runners in the top 8, led by Sara Bei's 2nd-place finish. NBL First Teamers include Sarah Bashel (for the 4th-straight year), Elisa Pedersen and Christy Sweaney. Amelia Thomas improves from 29th last year to 18th this year. The girls combined team time is a school record and is the 2nd-fastest for any girls team in Spring Lake history. All this is accomplished without Joy Terribilini the team's #3 runner for much of the season, who is rehabbing a nagging injury.
The JV boys are even more dominant in their race, taking the top 3 spots and scoring only 22 points, the JV Vikings' lowest total in 9 years. Matt Fitch is crowned JV league champ, leading teammates K.C. Cody and Jeff Mills as they match the varsity boys' top-3 sweep.
Amelia Thomas crushes her Spring Lake PR by 50 seconds. Other PRs are set by Kim Conley (by 31 seconds), Charles Proctor (22 seconds), Jeff Mills (20), Nick Millar (20), Jon Fitch (11), Elisa Pedersen (7), Zac Fitch (5) and Greg De Selle (3).
On the MHS boys' all-time list, Nick Millar ends up 4th, Zac Fitch is 7th, Regan Masi 9th, Jon Fitch 11th, Drew Fagent 15th and Andrew Gallagher 24th.
On the girls' all-time list, Sara Bei is the school record holder, Sarah Bashel is 2nd, Elisa Pedersen 4th, Christy Sweaney 5th, Kim Conley 6th, Joy Terribilini 8th, Amelia Thomas 20th and Barbara Hall 25th.
Matt Fitch and K.C. Cody are the 2nd-and 3rd-fastest JV runners in NBL history. Nick Millar (16th), Zac Fitch (21st) and Regan Masi (23rd) make the all-time NBL Top 25 list. The girls on that list include Sara Bei (2nd), Sarah Bashel (5th), Elisa Pedersen (18th), Christy Sweaney (19th) and Kim Conley (22nd).
.
.
.
.
.
.
.
.
.
.
.
---
Chapter 16: Surviving a Scare; Next Stop – State!
Twenty years ago today . . .
November 18, 2000: North Coast Section Championship Meet, Ukiah, California
Ukiah High School was chosen to host the 2000 North Coast Section Cross Country Championship Meet on their hilly campus course. Just one month earlier the Vikings previewed the course in a tri-meet with Ukiah and Elsie Allen. After 15 days without a race the Montgomery boys seemed to be chomping at the bit and came off the starting line in a hurry, filling 5 spots in the top 15 just a mile into the 5K route. This atypical tactic would cost them late in the race as they slowly faded back through the field. Top Viking Zac Fitch held up the best, clinching an individual spot to the state meet with his 12th place finish. He was followed closely by Nick Millar in 14th and brother Jon Fitch in 16th. Regan Masi was still not feeling right but managed to pull down our #4 position in 22nd place. Senior Drew Fagent was having an off day so it was left to sophomore Andrew Gallagher to complete the Viking score with his 24th-place finish. Number 7 runner Jason Fung wrapped up the MHS effort by taking 42nd in the field of 114. Facing 3 of the state's top 8 Division II teams, Montgomery's 4th-place team finish left them on the outside looking in for state meet qualification. Fortunately a new path to team qualification had been instituted. Teams who met a combined time standard would be allowed to advance. The Viking boys, despite having a sub-par day, easily broke the qualifying standard, coming in nearly 2 minutes under and becoming the 5th MHS boys squad in the past 11 seasons to make an appearance at the state championships.
The #1 state-ranked Viking girls faced off with #3 San Ramon Valley HS and the race was a barn burner. Both teams put 4 runners in the top 10 in what basically turned out to be a dual meet for the NCS title. Senior Sara Bei battled for the win with NBL nemesis Amber Trotter of Ukiah, with Trotter coming out on top for the second meet in-a-row. But veterans Sarah Bashel, a senior and Elisa Pedersen, a junior, were struggling out on the course and with a mile left in the race MHS was down by several points to San Ramon. The day was saved by outstanding finishes by a pair of Viking freshmen. Kim Conley, who had been in something of a slump in recent meets, blazed through the final mile and came through with her best race to date, edging out teammate Sarah Bashel for 5th place. Then Christy Sweaney moved up through the pack late to claim 10th. The team title would come down to a battle of #5 runners. Junior Joy Terribilini hadn't raced in 3-and-a-half weeks due to injury but, with the help of pool-running workouts accompanied by assistant coach Tori Meredith, Joy bounced back to claim 13th place and secure the NCS pennant for Montgomery's girls by a scant 2 points over San Ramon. It was the 4th girls' section title in school history and sent MHS to the state meet for the 3rd time in 4 years. Both the boys and girls teams could heave a huge sigh of relief as they survive to fight another week.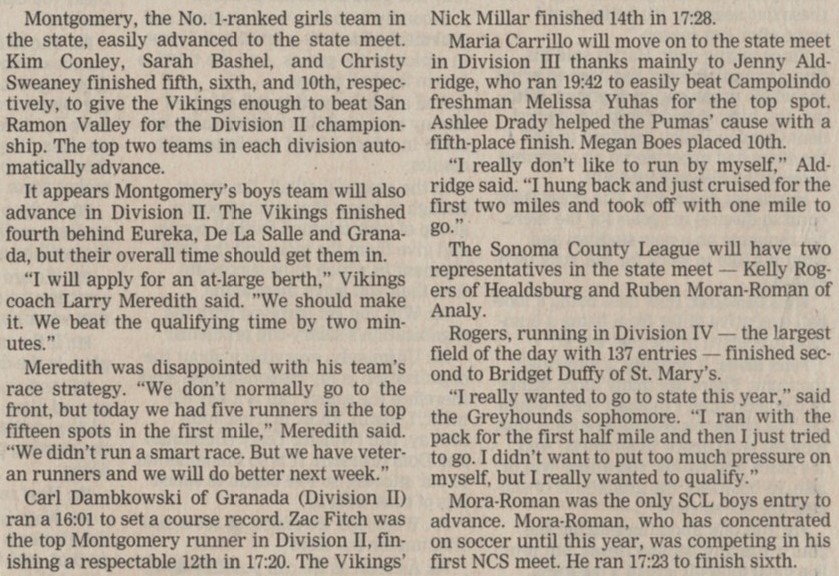 Montgomery Results
Complete Results
---
Chapter 17: Boys State Meet and Season Wrap-up
Twenty years ago tomorrow . . .
November 25, 2000: California State Championship Meet, Woodward Park, Fresno, California
The 2000 MHS varsity boys cross country team had no individual superstars but arguably had three #1 runners during the season. Senior Zac Fitch led the boys on seven occasions, sophomore Regan Masi was the top dog six times and senior Nick Millar claimed to be King of the Vikings in four of the most competitve meets, including an invitational crown and the North Bay League's individual championship. Although senior Jon Fitch did not lead the team in any meet, he was almost always just seconds behind the lead Viking, running in the #2 to #4 spots in all 17 meets. Senior Drew Fagent was nearly as reliable in the #3 to #5 spots and earned First Team All-NBL honors along with teammates Nick, Zac and Jon.
With Regan sidelined due to illness and Drew on the recovery, the Viking boys came into the state championship meet not quite in peak condition but turned in a solid performance. The seniors led the way, Zac (50th), Jon (56th) and Nick (59th) forming their typical pack in finishing within a 6-second spread and then Drew (87th) coming in just 21 seconds later. The near future for Montgomery cross country should be bright with the likes of Regan and fellow soph Andrew Gallagher (119th) along with junior Jason Fung (144th) and freshman Matt Fitch (148th). Waiting in the wings is another freshman, K.C. Cody, who finished on the heels of Matt in nearly every meet, including taking the runner-up spot in the NBL JV championship. The boys claimed 12th place among the 21 D-II schools competing at state, avenging two earlier losses to NCS rival Granada and finishing as the 3rd-best NCS team on the day. Apologies for not having a camera out on the course at the state meet so no photos of the boys' day.

Boys Div II Results
Complete Results
---
The Final Chapter: STATE CHAMPIONS! Editors note: Over the next two weeks I will be adding Bei's run to the Nationals
Twenty years ago today . . .
November 25, 2000: California State Championship Meet, Woodward Park, Fresno, California
The Montgomery High School girls cross country team had earned the top spot in the rankings by defeating all other Division II teams at California's most competitive venue, the Mt. SAC Invitational on October 21. They had completely dominated their competition in six other invitationals this fall and ran away with the North Bay League title. These Viking girls were a proven bunch.
The day of the North Coast Section Championships planted seeds of doubt in my mind. The Montgomery girls were facing San Ramon Valley, the state's 3rd-ranked team. Although the Vikings were victorious again, they trailed until the final half-mile of the course and won the title by a mere two points over a team they had defeated handily in two earlier meetings. Later I looked up the results of the Southern Sections meet to find that Sultana High School's girls had defeated Canyon HS – at the time the 2nd-ranked D-II team in California – by nearly 40 points. Another team, Foothill of Santa Anita, had also beaten Canyon. At the Mt. SAC meet Montgomery had edged out Canyon by just seven points. Six of our seven girls had run their best race of the season at Mt. SAC.
How could we hope to beat Sultana? On paper they had three girls in front of Sarah Bashel, our number two girl. All five of Sultana's scoring runners were now faster than our number three girl, Elisa Pedersen, and Elisa had just had a sub-par performance in our section meet, dropping back to the number six spot on our team. Our number four girl, Joy Terribilini, was fighting a groin injury that forced her to find alternative training methods for the better part of three weeks. In light of these circumstances, our top ranking looked somewhat dubious. How could I tell these girls that they had done a fantastic job at shooting for the stars but I hoped they could be happy in settling for the moon?
Of course I never told them that. I described to them the race that Sara Bei had in her freshman year at the state meet. How she was so far back in the pack at the mile mark (46th, someone told me later) that I stopped counting before I spotted her. How she had moved all the way up to third place by the two-mile mark. How Sara, a virtual unknown around the state at the time, had come back to win and set the wheels in motion for an unprecedented achievement that would culminate three years later. I asked the girls to remember how they became ranked first in the state. It was at Mt. SAC, against the toughest competition any of them (except Sara) had faced in their lives, where they proved to everyone watching that they could do it again here at the state meet. In the back of my mind, I thought about what I might say after the meet to make these girls feel good about taking 2nd or 3rd place.
Oh, sure, one of the girls could come through with the race of a lifetime. Maybe even two girls could do that on the same day, who knows? But those kinds of performances are often balanced out by one or two team members who have an off day. The idea that five, six or all seven of the team members could have their best races on the same day in the most important meet of their lives was something that never entered my mind.
Once every few years in this sport I am reminded that dreams, however unlikely, can indeed come true. As the race progressed and I watched the Montgomery girls wind their way up through the crowded river of runners, it became clear by the second mile mark that this was no ordinary day for these Vikings. While Sara Bei battled for her personal place in history up front, the rest of the team positioned themselves close enough to the Sultana pack to make a run for glory in the final mile.
Sara Bei, who twice lost battles with Ukiah's Amber Trotter earlier in November, tailed Trotter around the course, allowing a gap of five to ten meters most of the way. When I saw them again only 250 meters remained in the race and they were side-by-side. There was no doubt how this showdown would end. Don't get me wrong – Amber is one tough cookie – but she is no match for Sara at the end of a race. And with the opportunity to become the first runner in state meet history to earn four cross country titles, Sara was going to be invincible. She put eight seconds between herself and Amber over the final 200 meters, running the fastest time of her life, a 17:13.
Sarah Bashel, in her final high school cross country race, was traveling through time, turning the clock back two years to a sensational sophomore season that had her ranked among the state's best runners. Sarah had struggled through her junior season in 1999 and, although putting together a fine senior season, had not come within a minute of her best sophomore times this fall. She ran at the back of a pack of five as they reached the grass just 80 meters from the finish line. At the front of this pack was the first Sultana runner. Sarah stepped on the gas and moved past them all, finishing 14th and breaking her sophomore PR by eight seconds with an 18:38. Am I dreaming? Is that clock right? How is this possible?
By the time I looked up from Sarah's unbelievable finish I saw junior Elisa Pedersen and freshman Kim Conley in front of me, part of a pack of six runners, including two from Sultana. Elisa is a big finisher and she came up with the biggest finish of her life to lead this pack in, taking 25th in 19:02. Kim was also having a dream of a race and finished 29th, just two seconds behind Elisa. Before the race began I was hoping they might both break 19:40. Did they ever!
Another Sultana runner followed closely behind Kim so now both teams had four runners across the finish line. Ten seconds later the fifth Sultana runner went by and now it was all up to Joy Terribilini. There was a pretty large gap, more than 30 runners, between Kim and Joy at the two-mile mark and gaps like that tend to grow as the race goes on.
It seemed like minutes went by, but it was only 15 seconds and 17 runners after Sultana's final scorer that Joy appeared, driving for the finish line. I had wanted her to break 20 minutes here. She finished in 19:32 and placed 55th. Freshman Christy Sweaney was having an "off" day for the Vikings – she "only" broke her personal record by 12 seconds, finishing just six seconds behind Joy in 65th place. Of the 120 teams who competed at the state meet this day (all divisions), only one team had a number six runner faster than Christy.
Junior Amelia Thomas put an exclamation point on the team win with an all-out sprint to the finish, taking 150th place in 21:01. It was 40 seconds faster than she had ever run before.
As I jogged down to the end of the finish chute I didn't know which team had won the race. I didn't care. The Montgomery girls had performed like champions and a 2nd-place finish could not diminish their efforts. There they were, hopping up and down, smiling, screaming, hugging, laughing and crying. Parents and coaches were doing the same thing. It was contagious so I joined right in. They had already heard the announcer report that Montgomery had won the meet by nine points over Sultana. Sweet dreams are made of these.
Girls Div II Results
Complete Results, including Girls Div II
Article: BEI, VIKES SWEEP
Article: Bei, Montgomery run to state title
Article: 'Miracle' effort by Vikings' girls
---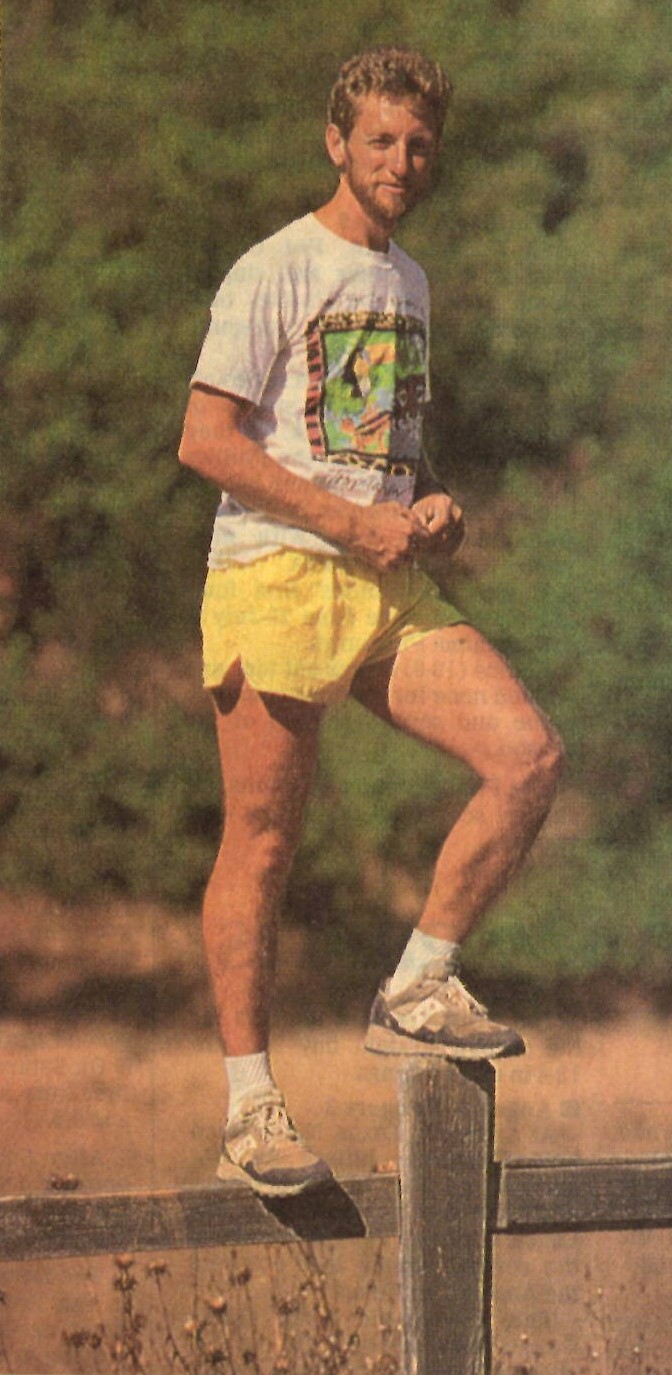 ---