Spring Lake Regional Park is the home to one of the areas best known prep cross country courses.
That course was established back in 1987.
Here is my coverage of the Spring Lake courses.
Part 1 1963-1986
Part 2: The new course
Part 4: Girls on the course
During that 1987 season other races, including North Bay League finals, were run on a different Spring Lake course that started in the Oak Knolls area.
But two races hosted by Montgomery ran the current course that year.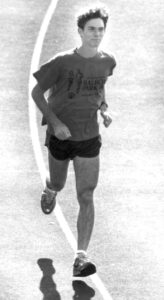 The first race was September 23, a dual meet, Montgomery vs. Casa Grande. In that race the very first course record was established by Montgomery's Mike Contos winning the boys race in 16:32.
The other meet that year was October 14th, a dual meet, Montgomery vs. Piner, which saw Montgomery's Randall Watkins running 15:48 and crossing ahead of Contos (15:58).
Along with this new course Meredith also created the 2.0 mile course that has been used for the Viking Opener.
Contos set the first boys record at 10:14 at the first Viking Opener in 1987.
Contos would end the season with a Div. I 29th place at state, still the 3rd best div I place ever.
From 1988 on all prep races run at the lake used these two courses.
1988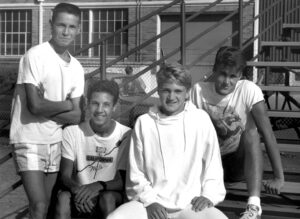 First full year of the longer course saw Santa Rosa High's fastest team ever.
The Panthers were lead by sophomore Steve Guerrini 15:38, taking 20 seconds off course record in winning the North Bay League finals.
That SRHS team still holds the ninth fastest team time ever at 79:41, a 15:56 average. They would go on to place 14th at State in division I.
Their Spring Lake time would hold as the team record for 19 years.
(Steve Guerrini 15:38, Salvador Zabala 15:55, Dan Held 15:57, Andy Price 16:01, Jim Macken 16:10)
Only three other schools have ever run the course faster since.
1989
Guerrini lowered the course record to 15:28 as a junior.
Covenant Christian's Caleb Skandera would set a Coastal Mountain Conference course best at Spring Lake in 16:10. Caleb is the father of Daniel Skandera who has set many age group world records in Track.
Casa Grande's Ricky Esponda set a freshman class record this year at 16:44.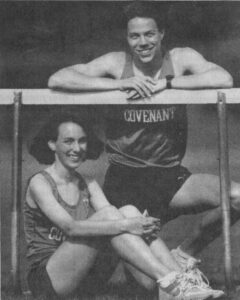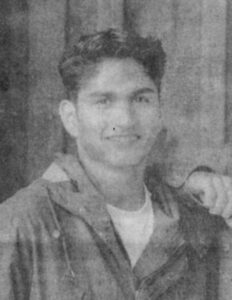 .
.
.
.
.
.
.
1990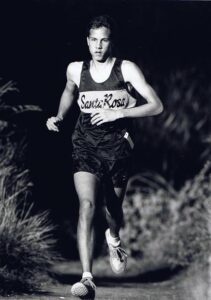 Guerrini would lower the Viking Opener CR down to 10:07.
During the season he clocked 15:30 as a senior, then later place 10th at State in division I.
.
.
.
.
.
1991
Eureka's Matt Creason lowered the Viking Opener sophomore record down to 10:37.
Santa Rosa's Juanjo Soriano would run the fastest time of the year on the longer course in 15:41 to win the NBL finals.
1992
In the final NBL dual meet Montgomery came within 4 seconds of the team course record running 79:45. This is still the Viking record.
That team consisted of Jason Selby 15:32, David Toomey 15:38, Tim Sanborn 15:59, Josh Hinkle 16:05 and Nat Bisbee 16:31.
In that race Santa Rosa's Zach Barrett would break the sophomore class record finishing in 15:34.
The Vikings would win the NBL finals and place 8th at State in division II.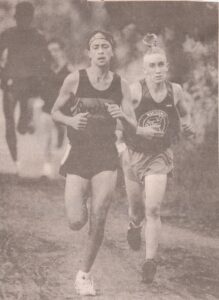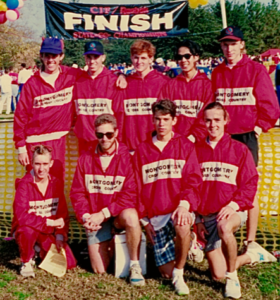 .
.
.
.
.
.
.
.
1993
Creason would be the first to break 10 at the Viking Opener with a 9:54 win.
As a senior Toomey would break the course record on the longer course in 15:26.
1994
As a senior Barrett would lower the course record to 15:21.
1995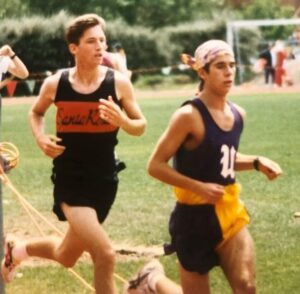 Ukiah's Ryan Mack broke the freshman record on the V.O. 2 miler with a 10:44.
Santa Rosa's Amadu Kamara would win the NBL finals held at Anderson Marsh, he would also run the fastest Spring Lake time of the year at 15:40 before that.
1996
Mack would come within one second of the sophomore class record by winning the NBL finals on the longer course in 15:35.
1997
Both Mack (15:31) and Maria Carrillo's Steve Laurie (15:32) both came close to Guerrini's junior class record in the final NBL dual meet before the finals.
1998
This years Viking Opener had two amazing races.
In the Frosh/Soph race Maria Carrillo's Jordan Kinley (10:24) and Eureka's Shaun Lyle (10:29) had what is still the two fastest freshman times ever.
In the Senior race three broke the 10 minute barrier with Mack (9:54) defeating Elsie Allen's Celedonio Rodriguez (9:59) and Laurie (9:59).
The NBL finals this year was one of the greatest showdown's in NBL history.
When the smoke cleared three runners all destroyed the old CR of 15:21, with one being the first under 15 minutes.
Mack's time of 14:50 was an almost unbelievable feat. He was pushed by Laurie (15:01) and Rodriguez (15:05).
All three still hold their school records, for the Spring Lake course to this day.
Only two runners in the last 23 years have bettered Rodriguez's mark.
Laurie would win the NCS III title over Rodriguez.
Mack would WIN the State division II finals, while Rodriguez would WIN the State division III finals.
Kinley would break the freshman record this year with a 15:45.
Ukiah's school record was also set in winning the NBL finals at 80:45 this season.
That Wildcat team was Ryan Mack 14:50, Herman Fuentes 16:18, Tony Leon 16:19, Joe Graham 16:39, Casey Chadd 16:41.
1999
Similar to last years Viking Opener race Kinley (9:59) and Lyle (9:59) had what is still the two fastest sophomore times ever.
After 7 years Kinley would break the sophomore record with a 15:33 on the longer course at the NBL finals for the win.
2000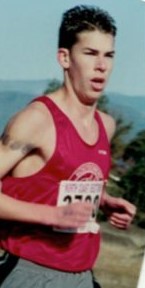 Castro Valley's Beau Bettinger took down the Viking Opener Junior Class record of 10:08 by Eureka's Matt Creason from 1992 with a 10:04, 22nd All-Time.
Montgomery's Nick Millar had the fastest time of the year on the longer course in winning the NBL finals in 15:51.
.
.
.
.
2001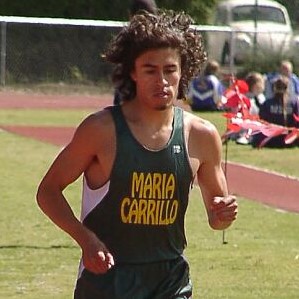 Kinley won the senior boys race at V.O. in 10:05 and the NBL finals in 15:40 for fastest times of the year.
.
.
.
.
.
2002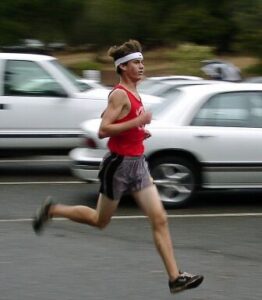 Montgomery's Matt Fitch broke the Junior Class record this year at 15:27 at the big tri-meet on Oct 23rd and later, shown here, won NBL title.
.
.
.
.
.
2003
Piner's Dawit Tesfasilassie still holds the Junior Class record from his V.O. win this year at 9:53.
2004
Tesfasilassie ran the longer course in 15:31 for the fastest time of the year to win the NBL finals.
2005
Lower Lake's Mike Perez would win the CMC finals at Spring Lake in 15:48 for a new CMC course record.
2006
Montgomery's Blake McDowall still has the Viking record and one of the ten best times ever with his NBL finals win in 15:09.
St. Helena's Brian Cole broke Perez's CMC course record in early October with a 15:28 time.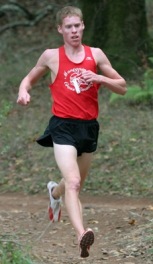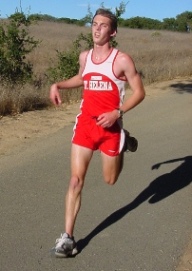 .
.
.
.
.
.
2007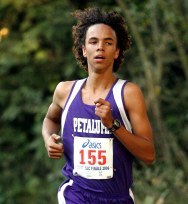 At the Super Septo in September the Petaluma team finally took down the record set by Santa Rosa back in 1988 with a 79:16 time.
That team was lead by Sterling Lockert with a 15:13 to move to 5th individual All-Time and a new Junior Class record.
The Trojans went even faster to to win the SCL finals with a 78:58. Still number six All-Time.
(Sterling Lockert 15:30, Devin Lockert 15:41, Brandon Felipe 15:48, Cole Yungert 15:51, Hugh Dowdy 16:08)
.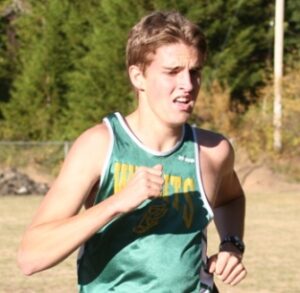 Willits' Kenny Smith would set what is still the CMC Championship Meet Record at Spring Lake at 15:36. Kenny is the current Willits coach following in his dads foot prints.
.
.
.
.
.
2008
With four of the members back from last years record team Petaluma took the top six spots in the SCL League Championship. There number six runner finished in 15:58.
Sterling Lockert again lead the team with what is still the number nine time ever at 15:08. It is still the NBL Redwood/SCL League Championship Meet Record.
Sterling became the first boy in Redwood Empire history to win three XC league championships.
The 2008 Trojans finished in 77:49, a 15:34 average.That mark is still the NBL Redwood/SCL League Championship team Meet Record
(Sterling Lockert 15:08, Devin Lockert 15:27, Hugh Dowdy 15:34, Brandon Felipe 15:49, Benjamin Stern 15:51)
2009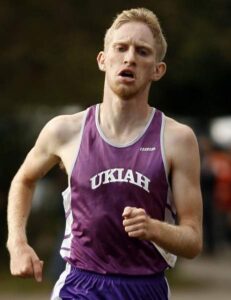 Novato's Erik Olson would win the V.O. this year in 9:40. He would be the State Div. III champion this year.
The NBL finals this year produced a real barn burner.
Ukiah's Andrew Zellman took the win with =#5 All-Time mark as of today at 15:05 with Santa Rosa's new record holder Reesey Byers right behind in 15:06, eighth All-Time.
In third was Piner's Luis Luna with a new Sophomore Class record at 15:20.
.
.
2010

Luna would become only the second runner ever to break 15 on the course with a 14:59 win in the finals which still lists as the Junior Class record.
.
.
2011
Luna's 9:46 at the V.O. is still only the second sub 9:50 on the course.
At the NBL finals both Luna and his team would crush the course records.
Luna's 14:43 still stands as the course record on the 2.97 mile course.
The Prospector's team ran a new CR in 76:59.
(Luis Luna 14:43, Jaime Silva 15:13, Efren Reyes 15:27, Jason Saler 15:48, Epi Nunez 15:48)
In the NBL race Cardinal Newman would get their school record from Alexi Taylor's 4th place 15:19.
In the SCL finals Sonoma Valley would get their school record from Alex Conner as he won in 15:15.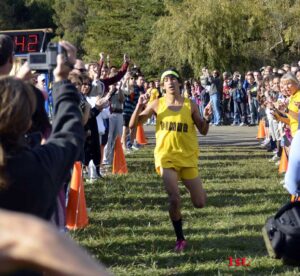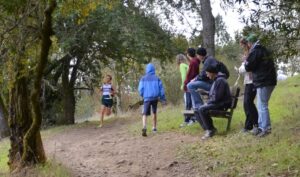 .
.
.
.
.
.
.
2012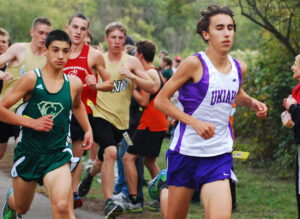 Ukiah's Paul Holden ran the #4 All-Time mark in winning the NBL finals in 15:01.
Maria Carrillo's Ryan Anderson ran 15:13 in second.
In third Casa Grande's Matt Salazar broke the Freshman Class record at 15:42.
.
.
.
2013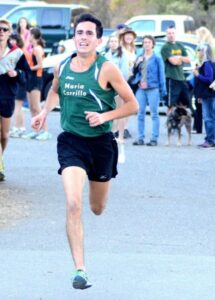 Anderson ran 15:15 twice this year including winning NBL finals.
.
.
.
.
.
.
2014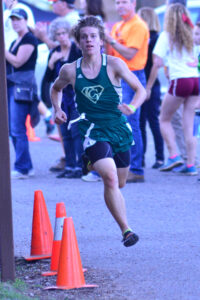 Casa Grande's Nicholas Rauch lead his team to become the sixth fastest school ever in winning the NBL finals.
Rauch won the meet in 15:21 but even though the Gaucho's school record time of 80:04 was faster than Maria Carrillo's the Puma's won the meet on a tie breaker as both teams scored 40 points.
(Nicholas Rauch 15:21, Matt Salazar 15:36, Zachary Nussdorfer 15:44, Adam Harwood 16:36, Zachery Esponda 16:47)
.
.
.
2015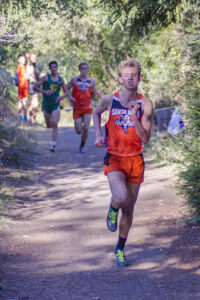 Santa Rosa's Daniel Pride had best time of the year winning NBL finals in 15:20.
.
.
.
.
.
.
2016
One incredible two mile battle at the V.O. with both Luca Mazzanti of Santa Rosa (9:51) and Brian Schulz of El Molino (9:53) breaking the old course record.
Rincon Valley Christian's Westley Methum missed the CMC course best by four seconds in 15:32 in an October league meet.
Schulz set his school's record in winning his third SCL finals in 15:26.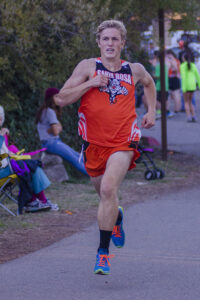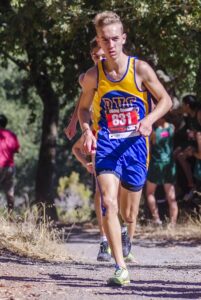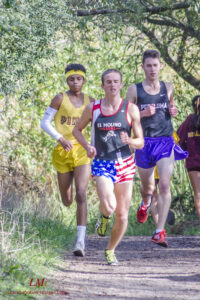 .
.
.
.
.
.
.
2017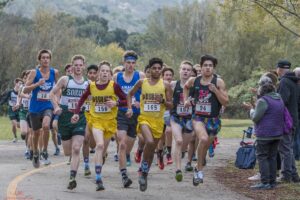 Piner's Jonny Vargas had the quickest time of the year at 15:35 in winning the SCL finals.
.
.
.
.
2018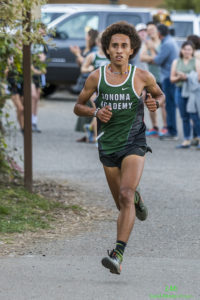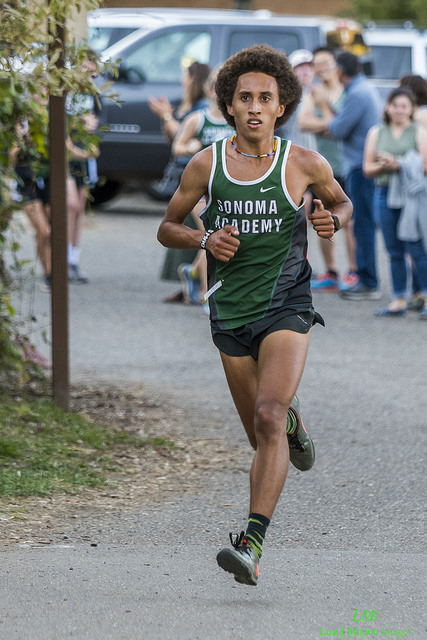 Because of unsafe air quality from fires all Championship races at Spring lake were cancelled this year.
Fastest time of the year came in September in a CMC league meet when Sonoma Academy's Andre Williams ran 15:24 to also break the CMC course record.
.
.
.
.
2019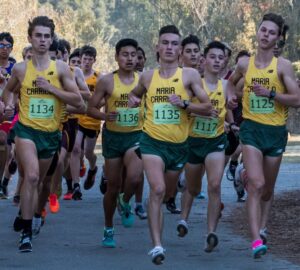 Last years fires seemed to have set one under Maria Carrillo as they had an historic year.
The team lead by Colton Swinth's 15:05 =5th All-Time mark produced the fastest team time ever eclipsing Piner's record by one second in 76:58 .
(Colton Swinth 15:05, Rory Smail 15:21, Pierce Kapustka 15:24, Omar Alvarez-Hernandez 15:29, Patrick Phillip 15:39)
So strong was the team that Swinth and teammate Smail went one-two at State in division III with the team taking the silver medal.
.
2020
The pandemic closed down Spring Lake and most of the season.
2021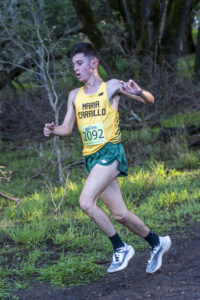 The great flood of 2021 only allowed the NBL "Oak" to race their finals at Spring Lake but Maria Carrillo's Jacob Donohue turned in a fine 15:21 for the win and the fastest time of the year.
And finally Part 4: Girls on the course
compiled by Jim Crowhurst