May 14, 1966
On this date at the NBL finals Montgomery's Bob Waldon ran the 2 mile in 9:23.8, while teammate Mel Gray had a long jump out to 24-3¼.
May 13, 1967
Montgomery's Mel Gray tied the Empire record in both sprints in the NBL combine meet running 9.5 and 20.9.
May 13, 1973
Montgomery's Geoff Ramsey took 2 full seconds off the NBL 880 meet record in 1:54.9.
May 11, 1974
Petaluma's Jon Sisler set the current NBL meet record in the 8 lapper over 49 years ago running 2 miles in 9:15.6.
An amazing 880 saw Vintage's Mark Hadley beating Petaluma junior Dan Aldridge 1:54.8 to 1:55.7.
May 15, 1975
This SCL meet finals produced six Meet Records listed below.
120yd High Hurdles Larry Richardson, El Molino 14.2
Long Jump Larry Richardson, El Molino 22-7¾
330yd Low Hurdles Larry Richardson, El Molino 37.3
220 Jerry Robinson, Cardinal Newman 21.9
High Jump Bob Montgomery, Analy 6-5
Pole Vault Dan Cole, Healdsburg 13-6
Larry Richardson: It's So Easy To Take Him For Granted
Jerry Robinson was a linebacker in the NFL for thirteen seasons. He also won the SCL 100y 10.0, 220 21.9 and the 440 50.6 on this date.
May 15, 1976
Vallejo's Ron Austin won the NBL finals long jump at 22-11.
May 12, 1977
Piner sprinting sensation James Burrell destroyed the competition winning the SCL 100 in 9.7 and 220 in 22.2 plus a 440 relay anchor for 43.3.
Teammate Tony Barton flew over the hurdles taking the high's in 14.2 and the 330 low's in 38.4.
Analy's John Balletto not only broke the shot put Empire record with a 59-10 toss but it is still the meet record. In second was teammate Rick Mohr at 55-6. Balletto also edged a fine discus group with a 161-3 winner.
May 11, 1978
This was an era of great triple jumpers.
In the SCL finals Piner's Marvin Colter set the current meet record going 47-0¼.
Analy's Chris Sorenson also set a meet record in the discus at 162-10, and added a shot win at 53-5½.
Piner runner, and now coach, Jim Flores broke the meet record in the long jump sailing to 22-8¼ to go with a 300LH win in 38.3 and a second place in the 100.
Piner's Armand Moreno had the other two meet records this day at 4:23.2 and 9:36.1.
SCL Story
May 12, 1978
Santa Rosa's Ray Marchbanks had double wins in the TJ 46-7½ and LJ 22-0½.
Petaluma's Rudi Balli ran the mile in 4:21.8 and the 880 in 1:57.1 yet placed second to teammates Greg Clark 1:56.4, who also won the 440 50.2, and Dave Royal 4:19.6, who also won the 2 mile 9:40.8.
Montgomery still won the finals championship, in small part to a surprise pole vault winner in Jim Crowhurst at 13-6. I, I mean Crowhurst, also had the distension of having the longest triple jump in meet history to only get 7th place at 39-8. Why am I mentioning this kid, no reason.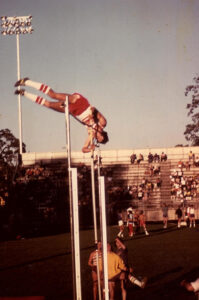 NBL boys story
In the girls meet Montgomery's Deanne Neff tied the Empire record in the high jump clearing 5-6 to break the old MR of 4-8½. She also had meet records in the 440 59.9 and long jump 17-9.
NBL girls story
May 12, 1979
Best 8 lap battle in NBL history may have been this one as Petaluma's Dave Royal needed a 9:27.0 2 mile to hold off Montgomery's Jim Noonan who was second in 9:29.4. With a kid from Rancho Cotate named Greg Fogg in third at 9:47.7
May 15, 1981
Lots of big marks in ths year NBL finals.
Santa Rosa's Dennis DeSoto destroyed the shot put meet record with a 63-10½ mark that is still the Empire Record. His 166-1 discus toss gave him second place behind Montgomery's Chris Day's winning mark of 173-8.
A huge triple jump battle saw Petaluma's Rob McCorkel setting the current meet record at 47-5. The next two spots went to Petaluma's Jeff Johnson 45-6¾ and Rancho Cotate's Robin Colter 45-0.
May 13, 1982
Analy's Dave Swanson produced the current SCL high jump meet record on this date at 6-10½, it also equaled the Former Empire record.
May 15, 1982
Montgomery's Larry Plinski set the current NBL meet record in the discus this day at 175-0.
Petaluma's Rob McCorkel had a big day with three wins, TJ 46-1 , LJ 22-7½, 300LH 40.0.
May 12, 1984
Piner's Tammy Wessendorf had a great triple jump at the NCS 2A meet landing at 36-4½.
May 15, 1986
Piner's Becky Barragan produced an Empire record int eh shot at the SCL Finals with a 42-11¼ toss.
May 16, 1986
Santa Rosa's Wendi Simmons showed her power at the NBL Finals breaking the Empire record in the 300 hurdles at 44.7 and adding meet records in the 400 (58.0) and long jump (18-4).
May 14, 1987
El Molino's Sharon Polley tied the Empire record in the 100 at the SCL finals at 12.1 and then broke the Empire record in the 200 with a 24.9.
May 15, 1987
Santa Rosa's boys 1600 relay team still holds the NBL meet finals record with their 3:21.5 win this day.
May 13, 1988
Santa Rosa's Gabe Manville took the NBL high jump at 6-8.
May 12, 1990
Rancho Cotate's Amey Mitchell soars in the NBL finals long jump at 19-4¼ to go with both 100 wins in 12.4 & 15.1 in the hurdles.
May 10, 1991
Santa Rosa's Steve Guerrini set the current NBL meet record in the 1600 running 4:15.6.
Results and story.
May 15, 1992
Santa Rosa girls 400 relay clock 49.7 at the NBL finals.
May 13, 1994
Piner's Pat Leonard broke the high jump NBL meet record clearing 6-9.
Petaluma's Rene Loraine broke the pole vault SCL meet record clearing 14-10.5.
Story of meets
May 13, 1995
Rancho Cotate's Corey Nelson had easy wins in the 400 49.10 and 200 21.98.
Montgomery's Chris Barnsdale took both hurdles in 14.4 and 40.11.
Santa Rosa's Julia Stamps once again broke the Empire record in the 3200 running 10:16.96. This was after a meet record in the 1600 at 4:55.10.
May 11, 1996
Cardinal Newman's Jeff Poisson set the current NBL finals meet record in the high jump at 6-10.
Teammate Brian Chase had some big throws winning the shot at 61-3 and the discus at 167-3.
Montgomery's Chris Barnsdale had a workhorses day beating Elsie Allen's Michael Sturgeon in the high hurdles 14.70 to 14.95, taking the 100 at 11.10, just getting edge in the 300 hurdles to Rancho Cotate's Jason Andrews 38.91 to 38.92, fastest non-winning time ever, plus taking 2nd in the long jump.
Santa Rosa's Katie Schukle broke the Empire record in the trials of the high hurdles in 14.83 and also won the finals of the 300 hurdles in 45.04.
May 16, 1997
Analy's Rose Criss flies at the SCL finals finishing in 55.8 for the 400 and 24.9 in the 200.
May 15, 1998
Healdsburg's Faith Matranga has a nice double at the SCL Finals taking the shot at 42-3 and the discus at 120-7.
May 11, 2002
A near unbelievable pole vault battle takes place.
Montgomery's Matt Tillinghast wins on misses over Maria Carrillo's Jake Arnold with both over 14-9. Matt's brother Mike takes third at 14-0 and Rancho Cotate's Joe Callinan in 4th at 13-0.
May 13, 2005
Montgomery girls took down the NBL 1600 relay record running 4:00.51.
May 14, 2009
Petaluma's Sterling Lockert put on a show at the SCL finals winning the 1600 4:23.9, 800 1:55.4, current meet record and the 3200 10:01.
May 15, 2010
Healdsburg's Claire Bingham dominated the SCL finals with four wins.
400 relay 50.26, 100HH 15.00 -2.2, 100 12.83 -1.7, 300LH 46.13.
May 13, 2011
One heck of a 400 relay battle as Cardinal Newman won in 43.42 with Rancho Cotate running the fastest ever non-winner at 43.76 and Montgomery getting third in 43.95.
The girls meet started off with a meet record in the 400 relay by Santa Rosa in 49.50 2011 bettering the fastest non winning time ever by Montgomery in 49.66.
Watch the race here
A good portion of that Viking speed came from Alyssa Page who won the 100 in 12.24 +1.7 before breaking the Empire 200 record in 24.79 +1.7.
May 14, 2011
Anderson Valley's Mike Blackburn set the CMC finals meet record in the 100 at 10.95.
May 11, 2012
At the NBL meet Rancho Cotate's David Forman clocked fast 10.97, 22.14 and part of a 43.05 relay team.
Meanwhile at the SCL meet Casa Grande's Adam Lundquist ran 14.91 into a -3.8 headwind over the high hurdles. Headded wins in the 300 hurdles 39.55 and 400 relay 44.11.
May 10, 2013
Lots of great sprint feats at the NBL meet here.
42.70 Maria Carrillo (Dontae Garcia, Darian Galindo, Alex Netherda, Herbie Polk), current meet FAT record
43.17 Rancho Cotate (Tariq Burton, Juwan Morales, Brett Silveri, David Forman)
48.34 Herbie Polk, Maria Carrillo
22.29 Herbie Polk, Maria Carrillo +1.2
22.29 Hugh Pegan, Ukiah +1.2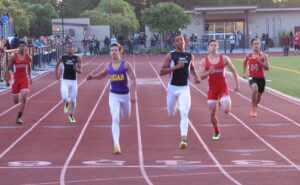 On the girls side Santa Rosa's Morgan Bertsch won the high jump at 5-6 in the photo below.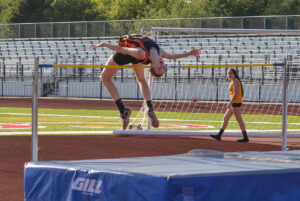 May 11, 2013
Healdsburg's Andrew Kozel toar up the track and set SCL meet records that still stand.
He set the 200 FAT meet record in the trials at 22.05.
In the finals he broke the 400 record with a 48.60 and the 200 legal record at 22.06 +1.7. Plus anchoring both winning relays ( 43.87, 3:28.16).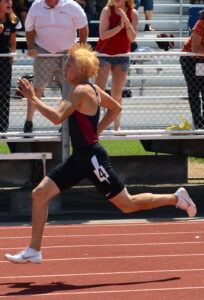 May 16, 2014
Ukiah's Hugh Pegan tied the Meet FAT best Record by David Forman, Rancho Cotate 2012, running 10.97. Pegan returned to win the 200 in 22.16.
Rancho Cotate junior Justin Zinnerman ran second in both (11.12/22.88) and was just below the meet record in the high jump winning at 6-8.
The Windsor girls 400 relay took the win at 49.91.
May 16, 2014
Piner's Connor Celeri the current SCL meet record in the high hurdles running 14.81 +1.1.
May 16, 2015
At the SCL finals Petaluma's Allison Scranton won the discus at 141-11, which at the time was the number three performance all-time. She added a shot win at 36-7.
St. Helena's Julia DeVencenzi had a CMC finals meet record in the high hurdles at 15.53.
Sonoma Academy freshman Rylee Bowen had three meet records running 5:01.70, 2:19.67 & 11:14.06.
May 13, 2016
Maria Carrillo's Ian Herculson was the sprint champion as he clocked fast times of 10.8 and 21.6.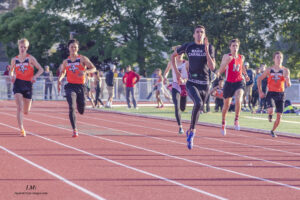 May 10, 2017
Santa Rosa's Kirsten Carter ran an Empire record in the 100 and became the first girl ever to break 12 seconds with automatic timing running a wind legal 11.99 +0.9 in the NBL trials. That was only part of an amazing day, read more here.
Finals
May 11, 2018
It was a speed meet at this years NBL finals as the Maria Carrillo team of Demetrie Coffey, Cameron De Latorre, Tyler VanArden, Severin Ramirez won the 400 relay in 43.02. Montgomery's Jaymes Tischbern blazed the 400 in 48.99 .
Santa Rosa girls 1600 relay comes within .89 seconds of their school record, breaking the magic 4 barrier with a 3:59.99 time.
It was also a meet record taking down the 4:00.51 by Montgomery from 2005.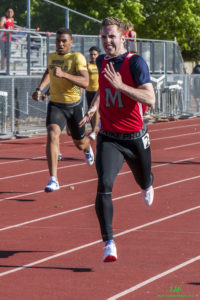 3:59.99 2018 Santa Rosa 5/11 NBL
May 11, 2019
At the NCS Redwood meet Petaluma's Sydney Dennis breaks the meet record in the triple jump landing at 37-5¼.
Healdsburg's Gabrielle Peterson dominates the distances with a 4:47.90/10:42.12 double.
A super battle in the boys 200 as American Canyon's Croix Stewart beat Casa Grande's Matthew Mason 21.78 to 21.92 +0.6 with Croix taking the 100 in 10.81 +1.6.
Watch a video of the meet and more here.
Meanwhile at the NCS 1A meet a great 100 battle took place as St. Helena's Ryan Searl edges Technology's Cameron Orloff in a very fast 10.88 to 10.92 +1.4.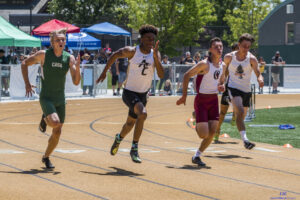 May 14, 2022
Some great marks at the North Coast Section Redwood Area Regional Championships this day including an Empire record by Lily Mulligan of Maria Carrillo as she also breaks the mmet reocrd in the pole vault clearing 13-2½.
Montgomery freshman Hanne Thomsen puts on a show winning the 1600 and 3200 at 4:46.80 and 10:24.96.
Santa Rosa's Kassidy Schroth takes both sprints in 12.26 +1.7 and 26.02 +0.7.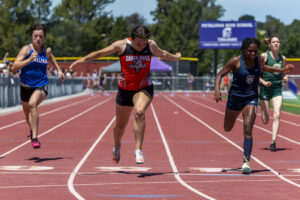 In this new weekly tidbit column, "Blast from the Past", I'm going to take a look at some special performances that happened during the week we are on.
Other Blast from the Past stories