5/10/17 at Santa Rosa HS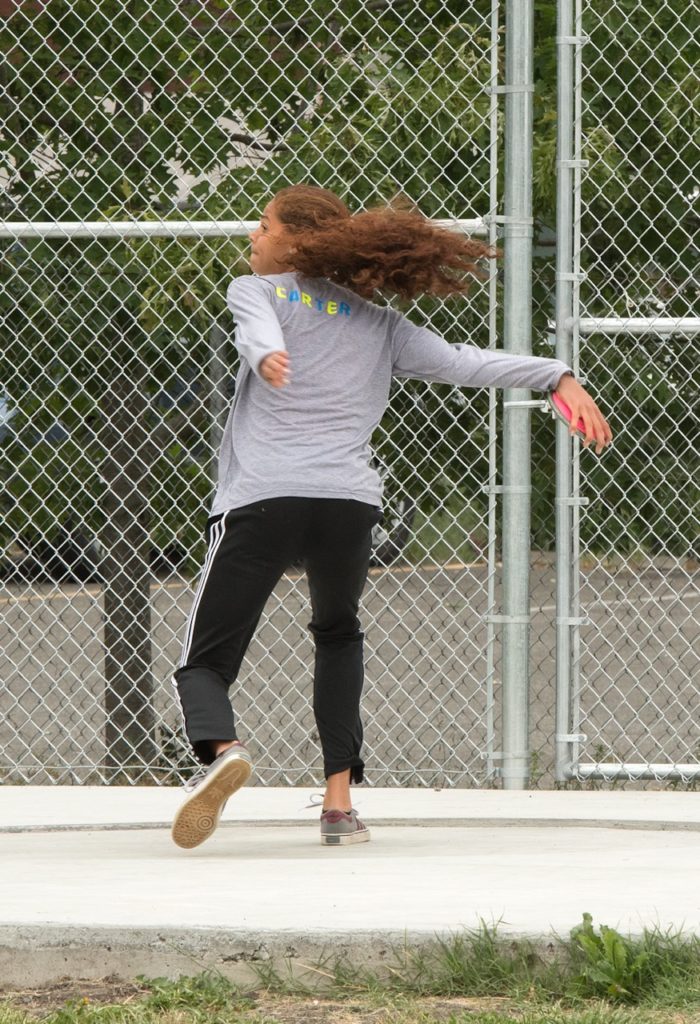 What do real stars do when the big meets come along.
They do what Santa Rosa's Kirsten Carter did.
First up for Carter was the discus.
Carter looks nothing like what you would picture a thrower looking like but we all know how quick she is and she has a great wing span which is a big positive in the discus.
Carter's first round throw today was a dismal 68-1 while pre-meet favorite Alexia Onate of Montgomery also bombed her first at 70-5.
Onate second round toss was a beauty at 107-7 to lock up a spot in the finals. Carter however fouled her second and was one throw away from not making the finals.
Carter first impressed the Empire in this event her freshman year when she cranked out a 102-10 which she had never bettered.
Until her third throw which just kept sailing far beyond what anyone in the Empire has done this year crashing into the earth at 121-9.
That mark moves her all the way to 34th All-Time and number eight for juniors. She now trails the SR school record by just 3 foot 1 inch.
That was something to be awfully pleased with but next she ran the 100 and destroyed again her own Empire record and became the first girl ever to break 12 seconds with automatic timing running a wind legal 11.99.
For her third event of the day ALL she could muster was a junior class record at 24.74 +1.9 in the 200. Second in her heat was a finals qualifying time that was nearly 3 seconds back. Carter now holds the six fastest 200 ever.
Carter fell to mere mortal standards in the shot put qualifying on in fourth at 31-11.
Maria Carrillo's Amani Baker is helping lead the way for her team with the top long jump of the day at 18 feet 1/4 of an inch. She also won her heat of the 100 with only Carter's time faster as she finished in a near PR of 12.39 +2.2.
Baker was even better in the 200 winning her heat in 25.31 +0.8.
That moves her to 4th All-Time wind legal, 9th All-Time all conditions
Maria Carrillo's Habibah Sanusi 15.12 high hurdle time, with a just wind legal 2.0, gives her the fastest time since 14.74 Claire Bingham, Healdsburg 2010.
She is now 4th All-Time and also moves her to 2nd Junior All-Time
Montgomery's Emma Orosz took over soul position of the NBL triple jump best jumping the 40th All-Time mark at 34-8.75.
Other top seed marks for Fridays final established today were
400 Assata Polk, Maria Carrillo 59.70
300LH Lucy Segraves, Maria Carrillo 48.78
Shot Put Caitlin Grace, Santa Rosa 33′ 9″