North Bay League "Oak" Championship 11/3/23
2.97 mile Spring Lake County Park course, since 1988
Photos by Michael Lucid
Lucid's NBL Oak Finals Varsity Girls photos
As expected Maria Carrillo's incredible depth pulled off the win today to earn a share of this years pennant with Montgomery.
Also as expected Montgomery's super trio ran away from the field with two time state cross country champion Hanne Thomsen taking her third straight NBL title at 16:30. Viking Seelah Kittelstrom had a huge performance moving into the All-Time top 10 on the course with a 17:18 finish followed by teammate Amrie Lacefield (17:36).
Thomsen's win sets her up for the possibility of being only the second girl in NBL history to win four league titles. The only other was Santa Rosa's Delaney White 2012-2015.
Maria Carrillo however took the team title placing their entire top 7 runners in the top 11. This is their 20th pennant.
The Puma's were led by freshman sensation Ashlin Mallon who placed 4th in 18:44 for the 8th fastest Freshman time in course history.
To further demonstrate how strong the Puma team is they took the top 12 places in the Junior Varsity race.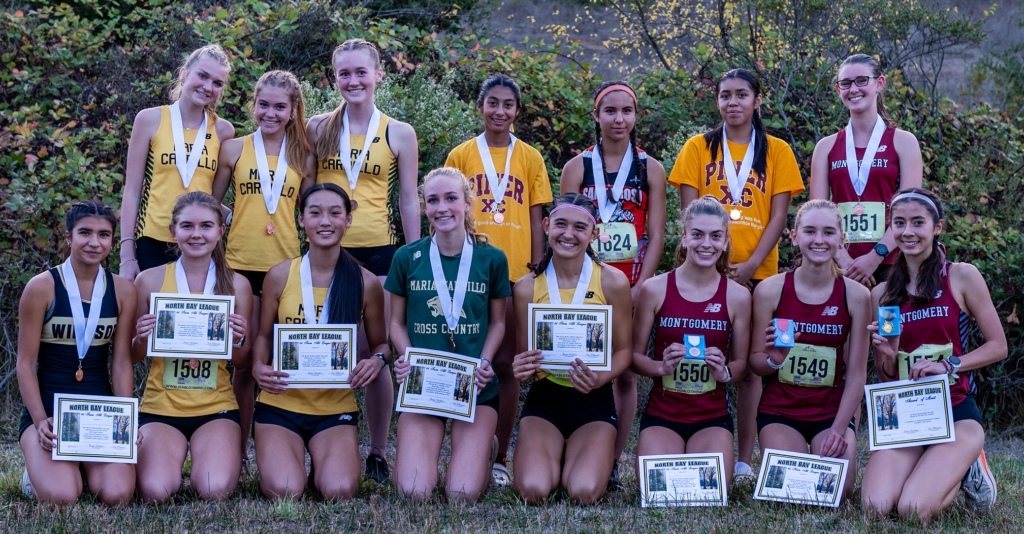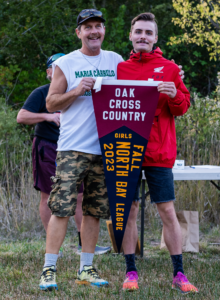 Meet History
League Championship Meet Record Times for Spring Lake
Individual: 16:18 Julia Stamps, 1994
Team: 92:23 Maria Carrillo, 2001

Varsity
1	Maria Carrillo 	30	4-5-6-7-8(9)(10)	 95:51	19:10	1:25.7, 26th All-Time
2	Montgomery  	36	1-2-3-14-16(17)(26)	 94:19	18:52	5:20.3
3	Santa Rosa  	88*	12-15-19-20-22(23)(24)	110:35	22:07	2:12.4
4	Piner   	88*	11-13-18-21-25(27)	109:41	21:56	3:21.5
5       Windsor  Incomplete

1	Thomsen, Hanne	JR	1554	Montgomery (NC)	1	16:30	---	5:33.0
2	Kittelstrom, Seelah JR	1549	Montgomery (NC)	2	17:18	48.4	5:49.3, =10th All-Time, =6th Junior
3	Lacefield, Amrie JR	1550	Montgomery (NC)	3	17:36	1:06.7	5:55.5
4	Mallon, Ashlin	FR	1500	Maria Carrillo (NC)4	18:22	1:52.5	6:10.9, =44th All-Time, 8th Freshman
5	Moe, Kira	SR	1501	Maria Carrillo (NC)5	18:49	2:19.0	6:19.8
6	Choe, Katherine	JR	1487	Maria Carrillo (NC)6	19:19	2:48.9	6:30.2
7	Trenam, Gracie	SR	1508	Maria Carrillo (NC)7	19:33	3:03.7	6:34.9

8	Boardman, Isabella JR	1673	Windsor (NC)	--	19:40	3:10.5	6:37.2
9	Szczekocki, Brooke JR	1505	Maria Carrillo (NC)8	19:48	3:18.2	6:39.7
10	Fogg, Andi	SO	1494	Maria Carrillo (NC)9	19:49	3:19.7	6:40.3
11	Schubert, Carley JR	1503	Maria Carrillo (NC)10	19:57	3:27.2	6:42.8
12	Olvera, Kamila	FR	1578	Piner (NC)	11	20:03	3:33.6	6:44.9
13	Sarraf, Tiare	FR	1624	Santa Rosa (NC)	12	20:48	4:18.5	7:00.1
14	Uraje, Jocelyn	SO	1581	Piner (NC)	13	20:55	4:25.3	7:02.3

15	Morthole, Cora	SO	1551	Montgomery (NC)	14	21:05	4:35.3	7:05.7
16	Sarraf, Yasmine	JR	1625	Santa Rosa (NC)	15	21:05	4:35.3	7:05.7
17	Sallee, Pia	JR	1677	Windsor (NC)	--	21:30	5:00.1	7:14.1
18	Pell, Kendall	JR	1676	Windsor (NC)	--	21:40	5:10.6	7:17.6
19	Karres, Serena	SO	1548	Montgomery (NC)	16	21:50	5:20.3	7:20.8
20	Stroud, Sydney	JR	1552	Montgomery (NC)	17	22:12	5:42.7	7:28.4
21	Ramirez Luna, Perla JR	1579	Piner (NC)	18	22:19	5:48.9	7:30.8
22	Geffner, Gavriella JR	1613	Santa Rosa (NC)	19	22:46	6:16.6	7:39.8
23	Smith, Kristi	SR	1626	Santa Rosa (NC)	20	22:56	6:26.4	7:43.1
24	Oliva, Scarlett	JR	1577	Piner (NC)	21	22:59	6:29.4	7:44.1
25	Arseneau, Cooper JR	1605	Santa Rosa (NC)	22	23:00	6:29.9	7:44.6
26	Blake, Zoey	SO	1607	Santa Rosa (NC)	23	23:09	6:38.9	7:47.7
27	Tonelli, Gabriela SR	1630	Santa Rosa (NC)	24	23:15	6:44.9	7:49.7
28	Choe, Emma	JR	1571	Piner (NC)	25	23:25	6:55.1	7:52.8
29	Thomas, Katherine JR	1553	Montgomery (NC)	26	25:14	8:44.0	8:29.4
30	Caballero-Luna, Jasmine SR 1570	Piner (NC)	27	25:21	8:51.8	8:32.1
31	North, Ashlyn	SO	1675	Windsor (NC)	--	26:09	9:38.9	8:48.3

Junior Varsity
1	Maria Carrillo 	15	1-2-3-4-5(6)(7)	        108:11	21:38	1:13.7
2	Santa Rosa  	57	8-9-12-13-15(16)(17)	124:56	24:59	2:18.8
3	Piner   	72	10-11-14-18-19	        132:04	26:25	4:09.3

1	Gross, Isabelle	SO	1497	Maria Carrillo (NC)1	20:49	---	7:00.5
2	Graziani, Keeley SO	1496	Maria Carrillo (NC)2	21:35	45.7	7:15.9
3	Feng, Natalie	JR	1493	Maria Carrillo (NC)3	21:47	57.3	7:19.8
4	Dajalos, Isabella SO	1489	Maria Carrillo (NC)4	21:57	1:07.7	7:23.3
5	Tribbey, Joslyn	FR	1509	Maria Carrillo (NC)5	22:03	1:13.7	7:25.3
6	Staroba, Marian	FR	1504	Maria Carrillo (NC)6	22:05	1:15.7	7:26.0
7	Trenam, Carlie	SO	1507	Maria Carrillo (NC)7	22:08	1:18.3	7:26.9

8	Fogg, Savannah	SO	1495	Maria Carrillo (NC)--	22:13	1:23.3	7:28.5
9	Donohue, Aliyah	JR	1492	Maria Carrillo (NC)--	22:30	1:40.8	7:34.4
10	Bisbee, Catherine JR	1483	Maria Carrillo (NC)--	23:09	2:19.5	7:47.5
11	Brodt, Ruby	FR	1484	Maria Carrillo (NC)--	23:26	2:36.3	7:53.1
12	Dave, Anuja	JR	1490	Maria Carrillo (NC)--	23:37	2:47.6	7:56.9
13	Cena, Cheyann	JR	1608	Santa Rosa (NC)	8	23:47	2:57.5	8:00.3
14	Barrow, Sophie	SO	1482	Maria Carrillo (NC)--	24:12	3:22.1	8:08.9
15	Eakle, Mariana	SR	1612	Santa Rosa (NC)	9	24:29	3:39.1	8:14.6
16	Lustberg, Rachel JR	1499	Maria Carrillo (NC)--	24:43	3:53.8	8:19.2
17	Taylor, Abby	SR	1506	Maria Carrillo (NC)--	24:44	3:54.8	8:19.5
18	Morales, Ashley	FR	1576	Piner (NC)	10	24:50	4:00.2	8:21.4
19	Heaps, Myrea	SR	1498	Maria Carrillo (NC)--	24:52	4:02.7	8:22.2
20	Le, Stacy	JR	1573	Piner (NC)	11	24:59	4:09.1	8:24.7
21	Weinert Bardell, Claire FR 1631	Santa Rosa (NC)	12	25:05	4:15.2	8:26.4
22	Corey, Lee	JR	1611	Santa Rosa (NC)	13	25:29	4:39.8	8:34.7
23	Hansen, Paige	FR	1572	Piner (NC)	14	25:34	4:44.1	8:36.5
24	Delaney, Madeline SO	1491	Maria Carrillo (NC)--	25:38	4:48.2	8:37.5
25	Orozco Abonce, Jasmin JR 1619	Santa Rosa (NC)	15	26:06	5:16.3	8:47.0
26	Phillips, Gabriella FR	1622	Santa Rosa (NC)	16	26:20	5:30.5	8:51.8
27	Paris, Maya	JR	1502	Maria Carrillo (NC)--	26:37	5:47.4	8:57.5
28	Campos Carmona, Dalila JR 1486	Maria Carrillo (NC)--	26:45	5:55.4	9:00.2
29	Peyton, Dylan	SO	1621	Santa Rosa (NC)	17	26:58	6:08.4	9:04.5
30	May, Ruby	JR	1617	Santa Rosa (NC)	--	27:13	6:23.8	9:09.7
31	Mateos Buenrostr, Ximena SO 1574 Piner (NC)	18	27:42	6:52.4	9:19.4
32	Loare, Natalie	FR	1615	Santa Rosa (NC)	--	28:02	7:12.1	9:26.3
33	Sowerby, Shayla	SR	1627	Santa Rosa (NC)	--	28:21	7:32.0	9:32.7
34	Constantine, Eva SO	1610	Santa Rosa (NC)	--	28:52	8:02.5	9:42.9
35	Meza, Vanessa	SO	1575	Piner (NC)	19	28:59	8:09.4	9:45.3
36	Muro, Jaiden	JR	1618	Santa Rosa (NC)	--	29:18	8:28.1	9:51.9
37	Bannister, Alexa SO	1606	Santa Rosa (NC)	--	30:50	10:00.1	10:22.9
38	Heuer, MB	JR	1614	Santa Rosa (NC)	--	31:12	10:22.2	10:30.0
39	Maples, Leah	FR	1616	Santa Rosa (NC)	--	37:46	16:57.0	12:42.9