At Rancho Cotate HS, 8/26/22
3 miles
Viking runner Hanne Thomsen not only had a big win at the Rancho Invitational but her time over the new 3 mile course was amazing.
Thomsen clocked a blazing 16:11 to surpass all of our past superstars minus Julia Stamps. That's a 5:24 mile pace.
Amazing times
Amazing Times Part 2
300+ Varsity Rancho Photos by Michael Lucid
JV photos from Rancho Invit.
All-Time Redwood Empire 3 mile bests
Girls
15:54 Julia Stamps, Santa Rosa 1995 S.F. Zoo
16:11 Hanne Thomsen, Montgomery 2022 Rancho Invitational
16:15 Amber Trotter, Ukiah 2001 Hayward
16:24 Harper McClain, St. Helena 2019 Woodbridge
16:43 Sara Bei, Montgomery 1998 Spring Lake
16:51 Sarah Sumpter, Healdsburg 2007 Spring Lake
16:59 Lori Shanoff, Petaluma 1981 Sierra College, Rocklin
17:02 Julie Nacouzi, Montgomery 2009 Hayward
17:04 Trina Cox, Santa Rosa 1998 Spring Lake
17:06 Jenny Aldridge, Maria Carrillo 2001 Spring Lake
Complete List
Old Course bests
Photos by Michael Lucid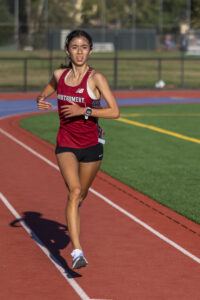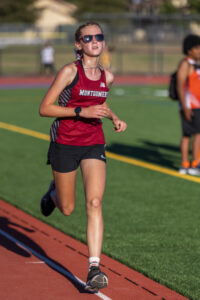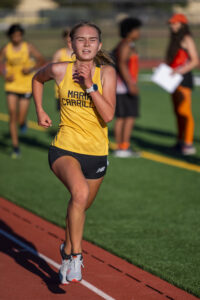 Casa Grande, Healdsburg, Maria Carrillo, Montgomery, Rancho Cotate, Santa Rosa, Sonoma Academy, Technology, Windsor

PLACE	NAME	SCHOOL	TIME
1	H. Thompsen	M 	16:11
2nd removed by request of school
3	S. KittelStrom	M 	18:25
4	G. Trenam	MC	18:36
5	A. Lacefield	M	18:50
6	H. Martin	M	19:06
7	R. Taylor	MC	19:36
8	B. Szczekocki	MC	19:38
9	K. Moe	        MC	19:47
10	L. Cederborg	SR	19:47
11	A. Codington	CG	20:07
12	B. Boardman	W	20:10
13	C. JimenEZ	MC	20:16
14	K. Choe	        MC	20:29
15	N. McGarva	MC	20:34
16	E. Bendzick	CG	20:41
17	E. Nolen	W	20:52
18	V. Scuz	        Tech	20:53
19	C. Trenam	MC	20:56
20	E. Chong	MC	21:03
21	C. Shubert	MC	21:12
22	A. Glen	        SA	21:19
23	K. Smith	SR	22:00
24	P. Sallee	W	22:04
25	S. Alvarenga	CG	22:06
26	E. Vestnys	CG	22:11
27	K. Carter	RC	22:20
28	Z. Blake	SR	22:41
29	S. Gamble	SR	22:54
30	D. Garcia	RC	22:55
31	S. Karres	M	22:57
32	A. Fields	CG	23:00
33	M. Johnson	W	23:03
34	L. Ratliff	W	23:11
35	C. Morthole	M	23:22
36	K. Zheng	Tech	24:03
37	S. Anderson	H	24:09
38	A. Mulerath	SA	24:09
39	M. Eakle	SR	24:28
40	L. Corey	SR	24:31
41	C. Logue	W	25:09
42	L. Grant	SA	29:31
43	V.Rodriguez	SA	30:22
44	B. Scott	H	30:59

JV GIRLS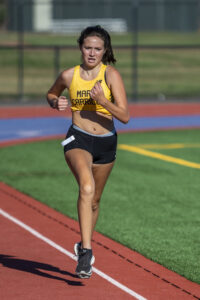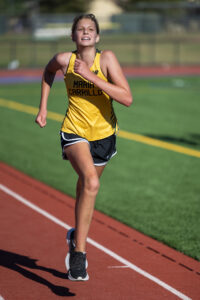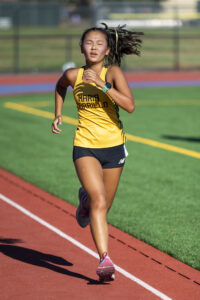 PLACE	NAME	SCHOOL	TIME
1	G. Gunderson	MC	20:52
2	S. Barrow	MC	20:57
3	N. Feng	        MC	21:17
4	A. Fogg	        MC	21:24
5	R. Lustberg	MC	21:36
6	I. Gross	MC	21:46
7	K. Graziani	MC	22:02
8	C. Marron	MC	22:24
9	A. Donohue	MC	22:25
10	M. Heaps	MC	22:34
11	C. Arseneau	SR	23:03
12	I. Dajalos	MC	23:50
13	C. Bisbee	MC	23:54
14	A. Dave	        MC	24:00
15	Y. Sarraf	SR	24:21
16	L. Blakley	CG	24:26
17	B. Belt	        MC	24:37
18	D. Howe	        SR	24:40
19	A. Taylor	MC	24:44
20	B. Dalton	W	24:49
21	M. Garcia	CG	25:03
22	E. Ricci	RC	25:08
23	C. Parsons	MC	25:13
24	B. Daye	        CG	25:23
25	S. Garcia	CG	25:26
26	A. North	W	25:27
27	C. Cena	        SR	25:30
28	D. Campos	MC	25:56
29	L. Von Artsaalen W	25:59
30	C. Fafpman	CG	26:12:00
31	Z. Thompson	SR	26:43:00
32	A. Strykowski	H	26:44:00
33	J. Orazco	SR	26:46:00
34	S. Rager	SR	27:28:00
35	D. Fair	        CG	27:34:00
36	M. Heuer	SR	28:10:00
37	S. Fogg	        MC	28:10:00
38	S. Rolleri	W	28:11:00
39	B. Henry	W	28:45:00
40	G. Tonelli	SR	28:50:00
41	D. Peyton	SR	28:51:00
42	J. Miles	Tech	29:20:00
43	K. Burgo	?	29:22:00
44	R. MAy	        SR	29:33:00
45	S. Sowervy	SR	29:42:00
46	F. Huevel	H	29:59:00
47	E. Wokcott	?	30:04:00
48	S. Cruz	        CG	30:08:00
49	G. Pettinelli	CG	31:57:00
50	I. Gonzalez	RC	31:47:00
51	Y. Ojeda	SR	37:58:00
52	D. Cruz	        CG	39:36:00