Viking runners Hanne Thomsen and Jude Devries not only had big wins at the Rancho Invitational but their times over the new 3 mile course were amazing.
Thomsen clocked a blazing 16:11 to surpass all of our past superstars minus Julia Stamps. That's a 5:24 mile pace.
Teammate Devries was timed in 14:52 for a 4:57 mile pace to equal the 10th fastest time ever.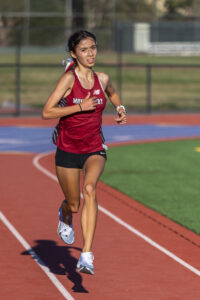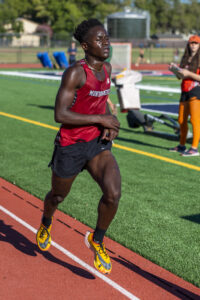 Photos by Michael Lucid
.
.
.
.
.
All-Time Redwood Empire 3 mile bests
Girls
15:54 Julia Stamps, Santa Rosa 1995 S.F. Zoo
16:11 Hanne Thomsen, Montgomery 2022 Rancho Invitational
16:15 Amber Trotter, Ukiah 2001 Hayward
16:24 Harper McClain, St. Helena 2019 Woodbridge
16:43 Sara Bei, Montgomery 1998 Spring Lake
16:51 Sarah Sumpter, Healdsburg 2007 Spring Lake
16:59 Lori Shanoff, Petaluma 1981 Sierra College, Rocklin
17:02 Julie Nacouzi, Montgomery 2009 Hayward
17:04 Trina Cox, Santa Rosa 1998 Spring Lake
17:06 Jenny Aldridge, Maria Carrillo 2001 Spring Lake
Complete List
Boys
14:41 Jacob Donohue, Maria Carrillo 2021 Woodbridge
14:43 Luis Luna, Piner 2011 Spring Lake
14:45 Randy Palmer, Piner 1969 Lafayette Reservoir
14:48 Andre Williams, Sonoma Academy 2018 Hayward
14:48 Colton Swinth, Maria Carrillo 2019 Woodbridge
14:49 Mike Biando, Piner 1976 W. Valley College Story
14:50 Dan Aldridge, Petaluma 1972 Lafayette Reservoir
14:50 Ryan Mack, Ukiah 1998 Spring Lake
14:51 Lucas Chung, Windsor 2018 Hayward
14:52 Ben Lawson, Maria Carrillo 2017 Woodbridge
14:52 Rory Smail, Maria Carrillo 2018 Woodbridge
14:52 Jude Devries, Montgomery 2022 Rancho Cotate
14:53 Dave Bullano, Piner 1976 W. Valley College
14:54 Jon Sisler, Petaluma 1972 Lafayette Reservoir
14:54 Armand Moreno, Piner 1976 W. Valley College
34th 15:08 Tiernan Colby, Sonoma Academy 2022 Rancho Cotate
Complete List