Coastal Mountain Conference Finals 11/8/23
2.97 mile Spring Lake County Park course, since 1988
Photos by Michael Lucid
Lucid's CMC XC Finals Varsity Boys photos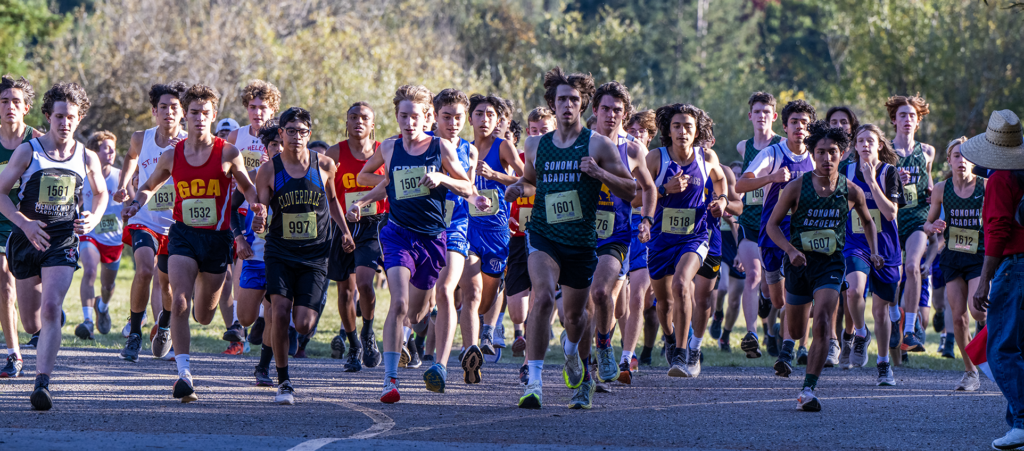 Sonoma Academy's depth paid off for the win over Grace Christian Academy.
Grace Christian Academy had a 10 point lead as they placed their top four in the top 15 finishers but by the time the 32nd overall runner crossed the line Sonoma Academy had a lock on the pennant.
Individually Grace Christian Academy's sophomore Grant Methum was the winner running a school record 16:57.
Methum was followed by St. Helena's Diego Sanchez, Technology's Aaron Derango, Credo's Castle Schlueter and Sonoma Academy's Cole Cline.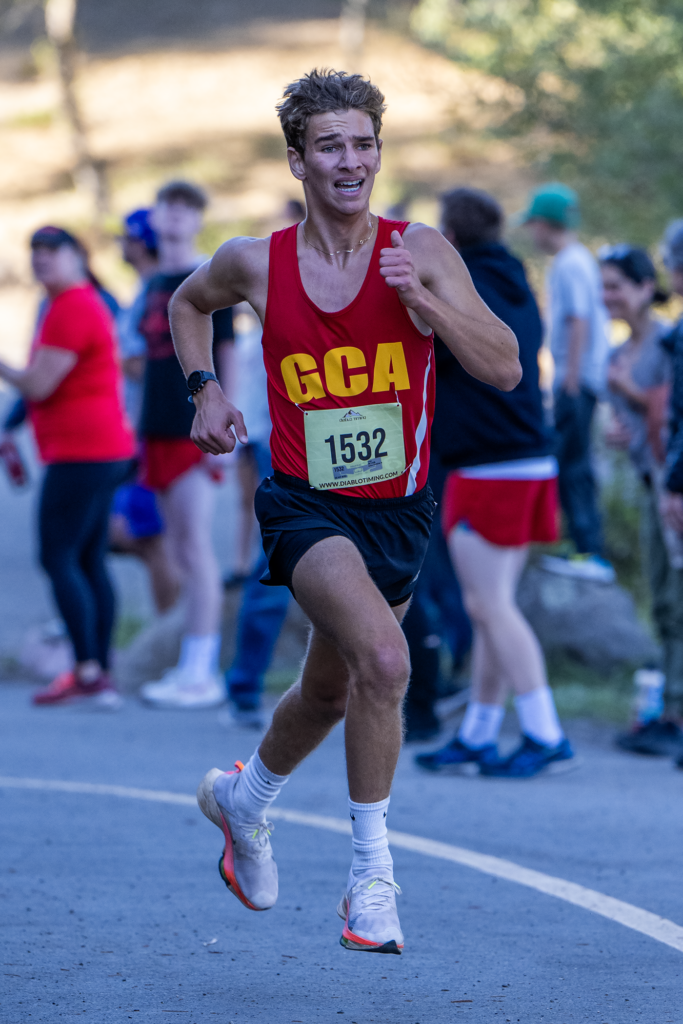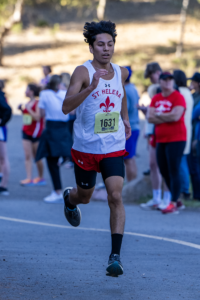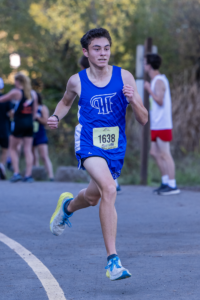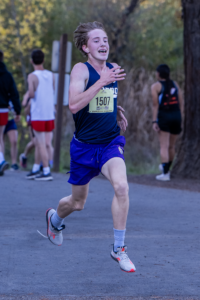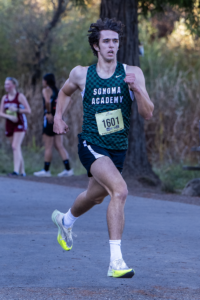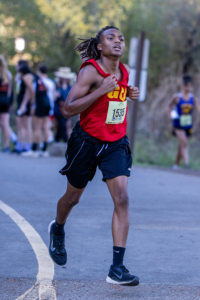 Meet History
Varsity
1	Sonoma Academy  	  61	5-11-13-14-18(19)(27)	 91:38	18:20	1:39.5	NCL II
2	Grace Christian Academy	  80	1-6-9-15-49(56)(59)	 93:47	18:45	5:29.4	NCL II
3	Credo High School  	  87	4-10-12-26-35(37)(42)	 93:26	18:41	2:59.2	NCL II
4	St. Helena         	 105	2-16-17-29-41(44)(50)	 95:10	19:02	3:55.3	NCL I 1st
5	Technology      	 115	3-20-25-33-34(46)(48)	 95:23  19:05	2:58.9	NCL II
6	Middletown      	 134	7-22-24-38-43(45)(55)	 98:19	19:40	4:06.3	NCL I
7	Kelseyville     	 177	28-30-32-36-51(52)(65)	101:29	20:18	3:13.6	NCL I
8	Fort Bragg               212	8-40-53-54-57(63)	108:06 21:37	5:37.3	NCL I
9	Cloverdale       	 215	23-31-39-58-64	        110:56	22:11	8:08.4	NCL I
10	Roseland University Prep 251	21-47-60-61-62	        119:53	23:59	8:02.3	NCL II

1	METHUM, Grant	SO	1532	Grace Christian Academy	16:57, School Record
2	SANCHEZ, DIEGO 	JR	1631	St. Helena (NC)	2	17:04    6.7	5:44.8
3	Derango, Aaron	SO	1638	Technology (NC)	3	17:08	10.7	5:46.1
4	Schlueter, Castle JR	1507	Credo High School 	17:11, School Record
5	Cline, Cole	SR	1601	Sonoma Academy 	5	17:14	16.8	5:47.8
6	Tillis, Ishmael	SR	1535	Grace Christian Academy 17:21	24.4	5:50.4
7	Murray, Quinn	JR	1576	Middletown (NC)	7	17:46	48.9	5:58.6

8	Alanis, Hector	SR	1556	Mendocino (NC)	--	18:07	1:10.5	6:05.9
9	ISLAND, CHRIS 	JR	1518	Fort Bragg (NC)	8	18:10	1:13.3	6:06.8
10	Lane, Cole	SO	1657	Willits (NC)	--	18:11	1:13.7	6:07.3
11	Andre, Luke	SR	1530	Grace Christian Academy 18:15	1:17.8	6:08.4
12	Taboryski, Peter SR	1508	Credo High School 10	18:18	1:21.5	6:09.6
13	Dexter, Coe	SO	1603	Sonoma Academy (NC)11	18:24	1:27.6	6:11.7
14	Dickson, Logan	FR	1500	Credo High School (12	18:27	1:30.6	6:12.7

15	Macievich, Walter FR	1612	Sonoma Academy (NC)13	18:31	1:34.3	6:13.9
16	Fuette, Zachary	SR	1606	Sonoma Academy (NC)14	18:36	1:39.3	6:15.6
17	Hernandez, Jose	SR	1551	Lower Lake (NC)	--	18:43	1:46.3	6:18.0
18	Thomas, Matthew	JR	1534	Grace Christian Academy 18:48	1:50.8	6:19.5
19	Jeworowski, Lukas SR	1627	St. Helena (NC)	16	18:48	1:51.0	6:19.5
20	Garrett, Charlie JR	1626	St. Helena (NC)	17	18:50	1:53.4	6:20.4
21	Flocco, Koen	JR	1605	Sonoma Academy (NC)18	18:53	1:56.3	6:21.3

22	Hernandez B, Javier JR	1607	Sonoma Academy (NC)19	18:55	1:57.9	6:21.9
23	Matticola, Harrison FR	1644	Technology (NC)	20	18:57	2:00.3	6:22.7
24	Figueroa, Alexis SR	1587	Roseland University Prep 19:05  2:07.9	6:25.2
25	Clark, Dominick	SR	1572	Middletown (NC)	22	19:06	2:08.9	6:25.6
26	Lopez, Gael	8	997	Cloverdale (NC)	23	19:06	2:09.1	6:25.6
27	Ramos, Richard	JR	1579	Middletown (NC)	24	19:08	2:11.1	6:26.3
28	Ledoux, Giovanni SR	1642	Technology (NC)	25	19:15	2:17.9	6:28.6
29	Barberio, James	JR	1496	Credo High School 26	19:20	2:22.7	6:30.5
30	Dale, Leo	JR	1602	Sonoma Academy (NC)27	19:21	2:24.2	6:30.7
31	Fossa, Joshua	JR	1544	Kelseyville (NC)28	19:21	2:24.4	6:30.8
32	Joy, Cole	SO	1628	St. Helena (NC)	29	19:28	2:30.9	6:33.0
33	Fordham, Alex	JR	1543	Kelseyville (NC)30	19:32	2:34.9	6:34.3
34	Garcia, Bryan	JR	995	Cloverdale (NC)	31	19:41	2:44.3	6:37.5
35	Ramirez, Salvador JR	1547	Kelseyville (NC)32	19:51	2:54.0	6:40.8
36	Wade, Teddy	SO	1650	Technology (NC)	33	19:56	2:59.3	6:42.6
37	Melendez, Santiago FR	1645	Technology (NC)	34	20:07	3:10.6	6:46.3
38	Ostoj, Cameron	FR	1506	Credo High School 35	20:10	3:13.0	6:47.1
39	DuBois, Gavin	SR	1541	Kelseyville (NC)36	20:10	3:13.3	6:47.2
40	McKenna, Zach	JR	1504	Credo High School 37	20:12	3:14.9	6:47.8
41	Gotz, Caden	JR	1573	Middletown (NC)	38	20:27	3:29.8	6:52.8
42	Carpizo, Aksel	SO	994	Cloverdale (NC)	39	20:35	3:38.5	6:55.7
43	Lopez, Damien	JR	1519	Fort Bragg (NC)	40	20:47	3:50.0	6:59.6
44	Cutting, Fred	JR	1622	St. Helena (NC)	41	21:00	4:03.0	7:04.0
45	Church, Jake	JR	1498	Credo High School (42	21:32	4:34.8	7:14.7
46	Kuinsland, Knute JR	1560	Mendocino (NC)	--	21:50	4:52.9	7:20.8
47	Norris, Elijah	SO	1578	Middletown (NC)	43	21:52	4:55.2	7:21.6
48	Rocha, Gerald	SR	1630	St. Helena (NC)	44	21:58	5:01.2	7:23.6
49	Cadwallader, Aiden JR	1571	Middletown (NC)	45	22:02	5:04.9	7:24.8
50	Miller, James-Paul JR	1646	Technology (NC)	46	22:03	5:06.2	7:25.3
51	Ojeda, David	JR	1589	Roseland University Prep 22:06  5:09.5	7:26.4
52	Heuer, William	FR	1640	Technology (NC)	48	22:07	5:09.9	7:26.5
53	Smith, Joey	SR	1659	Willits (NC)	--	22:15	5:18.6	7:29.4
54	Swehla, Jerome	FR	1533	Grace Christian Academy 22:26	5:29.4	7:33.1
55	Baxter, Thomas	SR	1621	St. Helena (NC)	50	22:27	5:30.2	7:33.3
56	Holmes, Austin	JR	1545	Kelseyville (NC)51	22:35	5:37.9	7:35.9
57	Vences, Bryan	JR	1548	Kelseyville (NC)52	22:38	5:41.6	7:37.2
58	Lopez, Nathan	SO	1520	Fort Bragg (NC)	53	22:39	5:42.1	7:37.4
59	Aycock, Walker	FR	1514	Fort Bragg (NC)	54	22:43   5:46.1	7:38.7
60	Suarez, Darli	FR	1660	Willits (NC)	--	22:51	5:54.1	7:41.4
61	Cramer, Nick	FR	1656	Willits (NC)	--	23:05	6:08.6	7:46.3
62	Martin Del Campo, Marlon JR	Middletown (NC)	55	23:19	6:22.2	7:50.9
63	Aguilar, Memo	SO	1529	Grace Christian Academy 23:42	6:45.6	7:58.7
64	Castaneda Cervera, Wilberth SR	Fort Bragg (NC)	57	23:47	6:50.5	8:00.4
65	Orozco, Diego	JR	999	Cloverdale (NC)	58	24:20	7:23.3	8:11.4
66	Oatney, Max	SO	1561	Mendocino (NC)	--	24:45   7:48.4	8:19.9
67	Carranza, Rodrigo SO	1531	Grace Christian Academy 24:46	7:48.8	8:20.0
68	Grove, Graham	JR	987	Calistoga (NC)	--	24:59	8:02.6	8:24.7
69	Ruiz, Jose	SR	1553	Lower Lake (NC)	--	24:59   8:01.7	8:24.7
70	Perez, Giovanni	SR	1592	Roseland University Prep 25:17  8:20.6	8:30.7
71	Perez, Angel	FR	1591	Roseland University Prep 26:18  9:20.7	8:51.3
72	Lim, Yohan	SR	991	Clear Lake (NC)	--	27:05	10:08.0	9:06.9
73	Pena, Isaac	SR	1590	Roseland University Prep 27:07 10:10.2 9:07.6
74	Garza-Hillman, Ronan	FR	1516	Fort Bragg 63	27:14	10:16.8	9:09.9
75	Munoz, Tony	SO	998	Cloverdale (NC)	64	27:14	10:17.5	9:10.1
76	Ison, Johnathan JR	1546	Kelseyville 65	        28:04	11:06.7	9:27.0

Junior Varsity
1	Sonoma Academy 	20	2-3-4-5-6(17)(24)	1:38:37	19:44	0:52.6	1st NCL II
2	St. Helena  	56	7-9-10-11-19	        1:52:47	22:34	5:10.9	1st NCL I
3	Technology  	63	1-12-13-16-21(23)(25)	1:55:10	23:02	8:39.8	2nd NCL II
4	Credo   	75	8-14-15-18-20(22)(26)	1:59:52	23:59	4:36.5	3rd NCL II

1	Quin, Leon	SR	1648	Technology (NC)	1	18:24	---	6:11.7
2	Macievich, Paul	JR	1611	Sonoma Academy (NC)2	19:19    54.9	6:30.1
3	Ebling, Theo	FR	1604	Sonoma Academy (NC)3	19:27	1:02.1	6:32.9
4	Kraus, Kalev	FR	1609	Sonoma Academy (NC)4	19:44	1:19.8	6:38.5
5	Alton, Tokay	FR	1600	Sonoma Academy (NC)5	19:56	1:31.8	6:42.6
6	Kahlow, Preston	FR	1608	Sonoma Academy (NC)6	20:12	1:47.5	6:47.8
7	Penterman, Justice SR	1625	St. Helena (NC)	7	20:26	2:01.7	6:52.6, 1st NCL I
8	Mielock, Vadim	JR	1505	Credo High School (NC)8	21:45	3:20.1	7:19.4
9	Sanchez, Hugo	SR	1632	St. Helena (NC)	9	21:53	3:28.8	7:22.0
10	Flamson, Gio	SR	1624	St. Helena (NC)	10	22:14	3:49.8	7:29.1
11	Nguyen, My	FR	1577	Middletown (NC)	--	22:35	4:10.8	7:36.1
12	Joy, William	SR	1629	St. Helena (NC)	11	22:39	4:14.5	7:37.4
13	Waller, Jaeden	SR	1651	Technology (NC)	12	22:40	4:15.9	7:37.8
14	Erdosi-Szucs, Frici JR	1639	Technology (NC)	13	22:41	4:16.6	7:38.1
15	Luu, Felix	FR	1502	Credo High School (NC)14 22:53  4:29.0	7:42.2
16	Zimbler, Rory	FR	1509	Credo High School (NC)15 23:40  5:15.4	7:57.8
17	Mulonde, Joel	FR	1647	Technology (NC)	16	24:22	5:57.4	8:12.0
18	Stiger, Chase	FR	1613	Sonoma Academy (NC)17	24:43	6:18.1	8:19.3
19	Belcher, Takumi	JR	1497	Credo High School (NC)18 25:14 6:49.2	8:29.5
20	Feeney, James	SO	1623	St. Helena (NC)	19	25:37	7:12.5	8:37.3
21	Ely, Izeah	FR	1542	Kelseyville (NC)--	25:45	7:20.8	8:40.1
22	Dalton, Darren	SR	1499	Credo High School (NC)20 26:22  7:57.5	8:52.4
23	Degan, Robert	FR	986	Calistoga (NC)	--	27:03	8:38.4	9:06.2
24	Uang, Avery	FR	1649	Technology (NC)	21	27:04	8:39.8	9:06.7
25	Hundley, Alex	SO	1501	Credo High School (NC)22 27:05  8:40.6	9:06.9
26	Martin, Dante	JR	1643	Technology (NC)	23	27:38	9:13.3	9:18.0
27	Lang, Andrew	FR	1610	Sonoma Academy (NC)24	27:45	9:20.2	9:20.3
28	Kumar, Neeraj	FR	1641	Technology (NC)	25	34:52	16:27.3	11:44.1
29	Malakhov, Sava	FR	1503	Credo High School (NC)26 39:33  21:09.0 13:19.0