SRJC Cross Country battle a tough field at NorCal Preview Meet at Sierra College
After a bye week, the Bear Cub Cross Country team returned to action at Sierra College for the Northern California Championship Preview. With top competition from the entire Northern California Regional, it was a great day to test the strength of the squad. The Sierra College course features rolling hills and difficult switchback sections that made for a challenging day for all.
The Men kicked it off with a solid performance finishing 5th overall in the invitational section of the meet. Paden Collard lead the charge with a 14th place finish and a time of 22:28 for 4 miles. Andrew Engel debuted with a respectable 23:38 and a 32nd place finish. Nathan Hayes, Luke Baird, and Jimmy Carreras rounded out the top 5 with 42nd, 46th, and 55th place finishes respectfully.
The Women, lead once again by Madi Monroe (34th, 23:30), did not have a full squad but showed some grit as the rain started to fall mid race to add another element of difficulty to the meet. Milla Gentry finished 40th with a time of 24:03 over 5 kilometers. Maddison Denny and Isabela Calderon finished 50th and 52nd to round out the team.
In the Men's Overflow Race, Conor Schott bounced back from the disappointment of last race with a solid 13th place finish with a time of 26:00 for the 4 mile race. Peadar Kileen ran his first collegiate race and finished 23rd with a time of 28:02, while Isaac Magallon finished 24th with a time of 28:20
"We learned a lot today", said Head Coach David Wellman, "It was a shock to the system, but now we know where we need to be when we get another shot". The Northern California Championships will be held at the same Sierra College Course on November 5th.
The Bear Cubs will again take a bye week and race again at the Chabot Twilight Meet on Sep. 24th.
Also former CMC runner Grace Southern took 5th for Shasta in women's race
Complete Results
Men's Invitational Team Results
1st, Hartnell – 36 points
2nd, American River – 37 points
3rd, Delta College – 117 points
4th, Clovis CC – 121 points
5th, Santa Rosa – 153 points
6th, Chabot – 190 points
7th, De Anza – 197 points
8th, Redwoods – 227 points
9th, DVC – 245 points
10th, Butte – 258 points
11th, San Mateo – 270 points
12th, Sac City – 312 points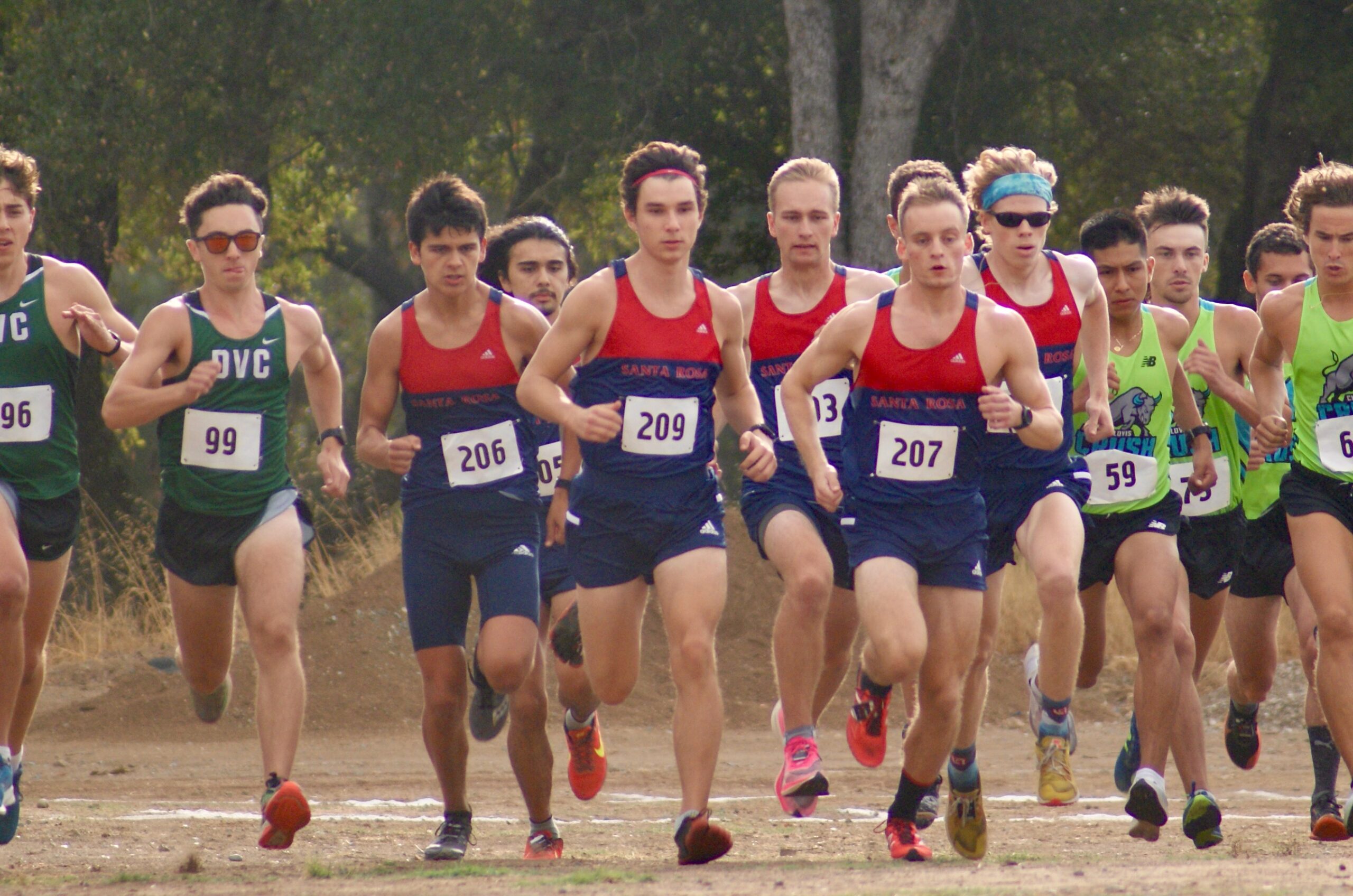 SRJC Men's Invitational Individual Results
14th, Paden Collard – 22:28.85
32nd, Andrew Engel – 23:38.04
41st, Nathan Hayes – 24:12.73
46th, Luke Baird – 24:26.72
55th, Jimmy Carreras, 25:08.89
Women's Team Results
1st, Hartnell – 30 points
2nd Clovis CC – 53 Points
3rd, De Anza – 67 points
4th, Delta College – 111 points
5th, Sierra – 132 points
6th, Sac City – 149 points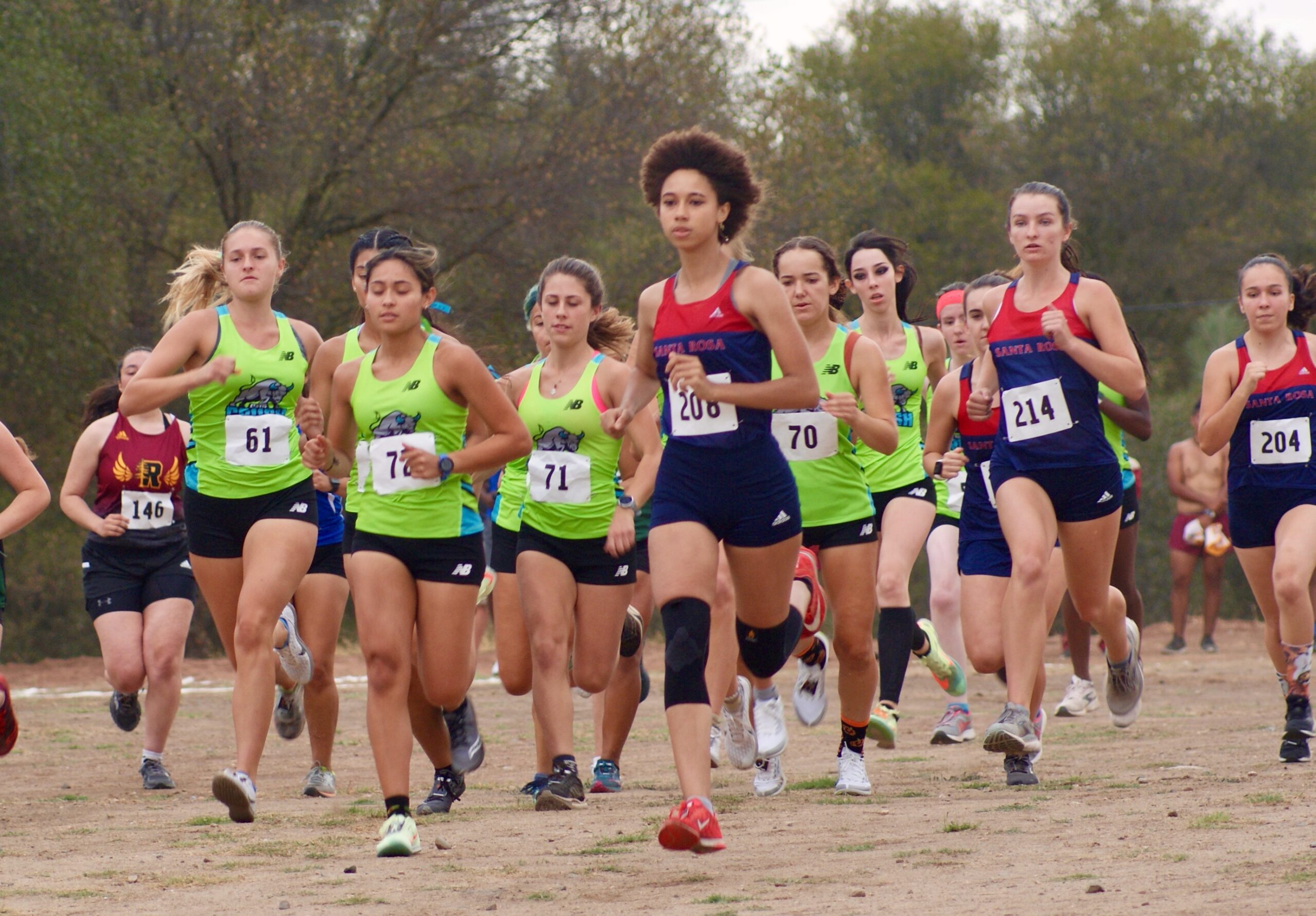 SRJC Women's Individual Results
34th, Madi Monroe – 23:30.25
40th, Milla Gentry – 24:03.55
50th, Maddie Denny – 25:30.34
52nd, Isabella Calderon – 26:49.85
Men's Overflow Race Team Results
1st, American River – 22 points
2nd, Hartnell – 38 Points
3rd, Chabot – 84 Points
SRJC Men's Overflow Individual Results
13th, Conor Schott – 26:00.80
23rd, Peadar Kileen – 28:02.9
24th, Isaac Magallon – 28:20.8