Boys Track & Field Bests
Girls Track & Field Bests
Barton Williams And The Fabulous 1975 Season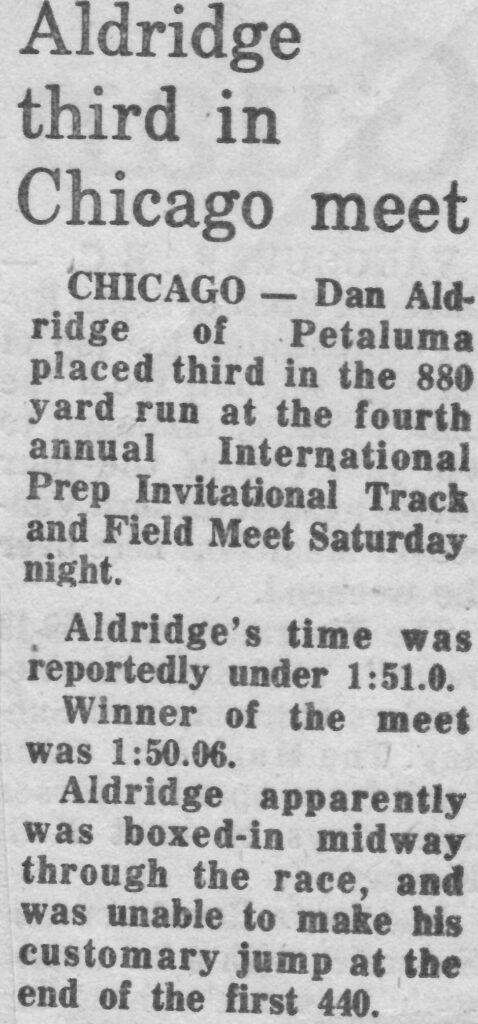 Amazing combo feats of 1975
1:49.31 (950 pts) 4:15.45 (843) 9:48.81 (727) 2520 pts Dan Aldridge, Petaluma, held as best all around distance for the Redwood Empire until 2006.
1:49.31 (950 pts) 4:15.45 (843) 1793 pts Dan Aldridge, Petaluma 1:49.7y, 4:16.7y, still Best 800/1600 Runner ever.
23-1 (821 pts) 45-7½ (769) 1590 pts Larry Richardson, El Molino, Best Horizontal Jumper until 1978.
4 x Mile Relay 18:34.5 Petaluma Dave Hanson 4:37.5, Mike Brandner 4:35.8, Frank Paula 5:03.0, Dan Aldridge 4:18.2, =1600m 18:28.28*
Little tiny Middletown earned the Empire's first girls track medal at State by Kathy Pipes long jumping 17-4½ for 6th. She went 17-6¾ in the trials, which is still their school record.
El Molino's Yvette Richardson had watched her brother, Larry, tearing up the track for years. He still holds the Sonoma County League Championships high hurdle record to this day at 14.2. Now it was Yvette's chance as she blazed the 100 yard dash in 11.6 and the 220 in 26.3 (=26.39-200). Her half lap mark along with her sister Annette's (26.99-200) is still the fastest known sister duo for our area.
Ukiah's Leannetta Eddens was another 1975 star to kick things off, running the 440 in 60.2 (=60.10-400).
Ukiah girls won the first four North Bay League track pennants but a second place in 1985 is the only other time they have been in top two since. Sonoma Valley won the first SCL final over Casa Grande.
School Records in 1975 that still stand today as of 2/2022
Boys
200m 21.92 21.8y Larry Richardson, El Molino
400m 50.75 50.9y Larry Richardson, El Molino
800m 1:49.31* Dan Aldridge, Petaluma
110HH 14.98 14.7y Tim McDonald, St Helena 1975-76
1600R 3:30.02* 1975 El Molino Larry Richardson, Mark Fairbank, Charlie Heintz, Dan Dee
PV 13-6 Dan Cole, Healdsburg
LJ 23-1¾ Jerry Robinson, Cardinal Newman
LJ 23-1 Larry Richardson, El Molino
TJ 45-7½ Larry Richardson, El Molino
1600m Sprint Medley (400,200,200,800) 3:34.59* Ukiah 3:35.6y
High Jump Relay 17-4 Analy
Long Jump Relay 62-2¾ Sonoma Valley
Triple Jump Relay 120-4½ Ukiah
Girls
LJ 17-6¾ Kathy Pipes, Middletown
Sprint Medley (100,100,200,400) 1:55.07* Ukiah-Bushby, Farnsworth, Leannetta Eddens, Jody Garrard
Discus Throw Relay 275-7 Ukiah-Cindy Chapman, Kim Hanes, Debbie Deason
Prep Track's Dream Team
DeSoto, Byrd NCAA Finals
State finals results
State finals story
Troy's Aldridge Reaches Lofty Plateau
880 2nd Dan Aldridge, Petaluma 1:51.5y
LJ 6th Kathy Pipes, Middletown 17-4½
State trials
880 1st 1:51.8 Dan Aldridge, Petaluma
LJ 6th 17-6¾ Cathy Pipes, 12, Middletown
330LH 12th 37.7 Larry Richardson, El Molino
HJ 15th 6-4 Bob Montgomery, Analy
440 16th 50.0 Barton Williams, Vallejo
LJ 19th 21-11½ Larry Richardson, El Molino
440 ?DNS Leannetta Eddens, Ukiah
Larry Richardson: It's So Easy To Take Him For Granted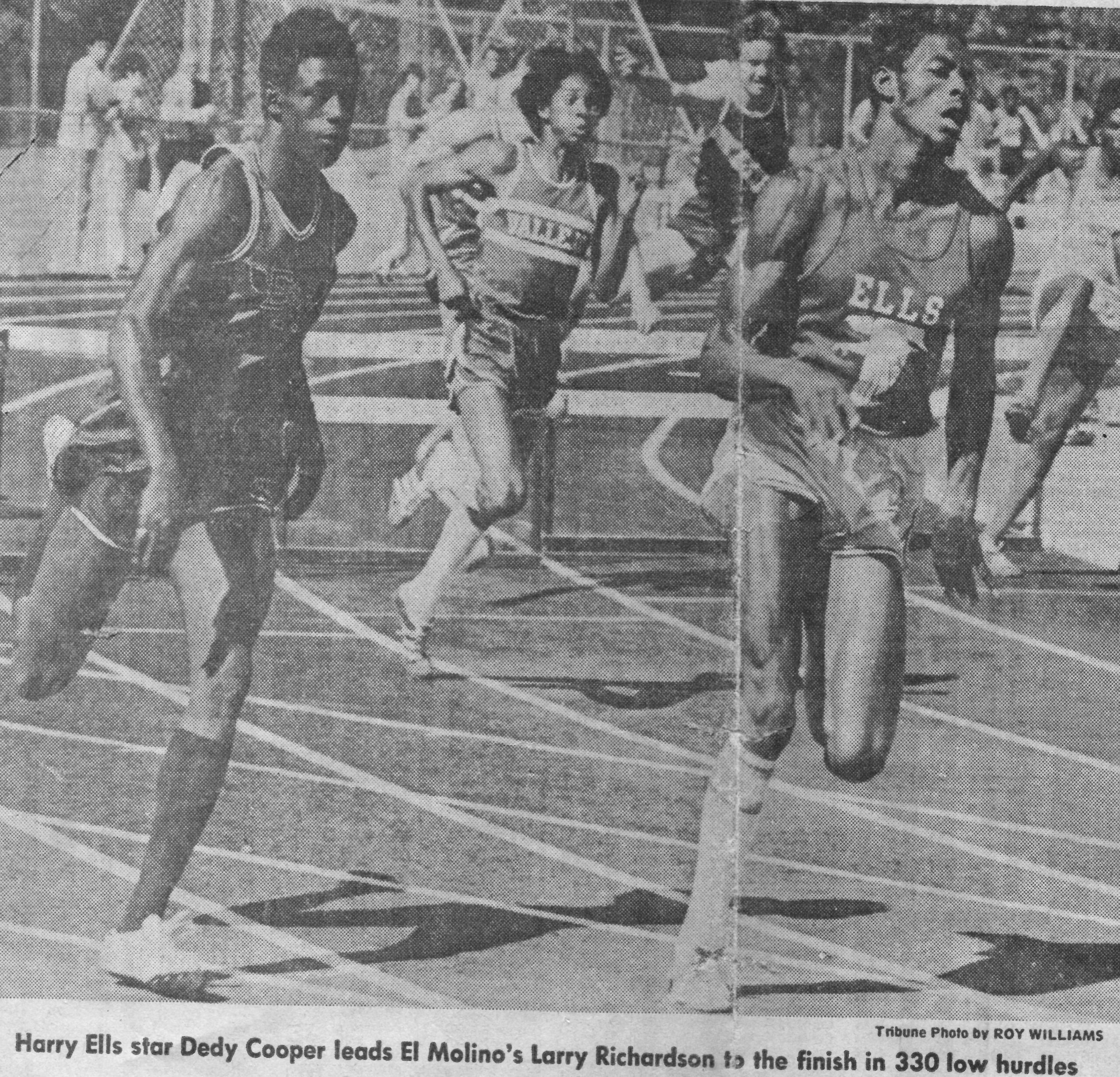 NCS MOC results and story
NCS MOC Preview story
NBL Boys Finals
Meet Records
880 Dan Aldridge, Petaluma 1:52.3 =*1:51.89 800m, still record
330yd Low Hurdles Bart Williams, Vallejo 38.1
Mile Relay Vallejo 3:22.9, = 1600R in 3:21.97
NBL Girls Finals
First year, all marks are Meet Records
SCL Boys Finals
Meet Records
220 Jerry Robinson, Cardinal Newman 21.9
120yd High Hurdles Larry Richardson, El Molino 14.2
330yd Low Hurdles Larry Richardson, El Molino 37.3
High Jump Bob Montgomery, Analy 6-5
Pole Vault Dan Cole, Healdsburg 13-6
Long Jump Larry Richardson, El Molino 22-7¾
SCL Girls Finals
First year, all marks are Meet Records
CMC
Boys team champions
NCL I St. Helena
NCL II Calistoga
NCL III Round Valley
5/13/75: Vikings Win Dual Title
Willits Invitational
Track Notes
Aldridge Wins 880 In 1:52.8
Petaluma Girls' Track Team Wins
Cardinal Newman Protests Lose
May 5th SCL meets
May 5th NBL meets
May 3rd meets
April 28th meets
4/26 Invits
4:16.7 by Aldridge at Chico
Sonoma Relays
Ukiah Girl Tie For 2nd
Meet Stopped By Snow
Clear Lake Relays
Santa Rosa Relays
National Hurdle Record Could Fall Here
Hogan Fields Girls Track Squad