MOC is always one of the most exciting meets you can ever witness as kids are giving it their all for one of the precious three spots to state.
Here are a few of yesterdays big moments.
In the girls shot put Rancho Cotate's Siolo Lua's PR going into the meet was 37-0.5.
After her first 3 attempts she was only at 7th place at 36-3.25, barely making the final three attempts. She fouled her 4th attempt.
Then had a huge PR in the 5th round at 38-7.25 to move into 4th place before hitting her 38-9.25 state qualifier on her very last attempt.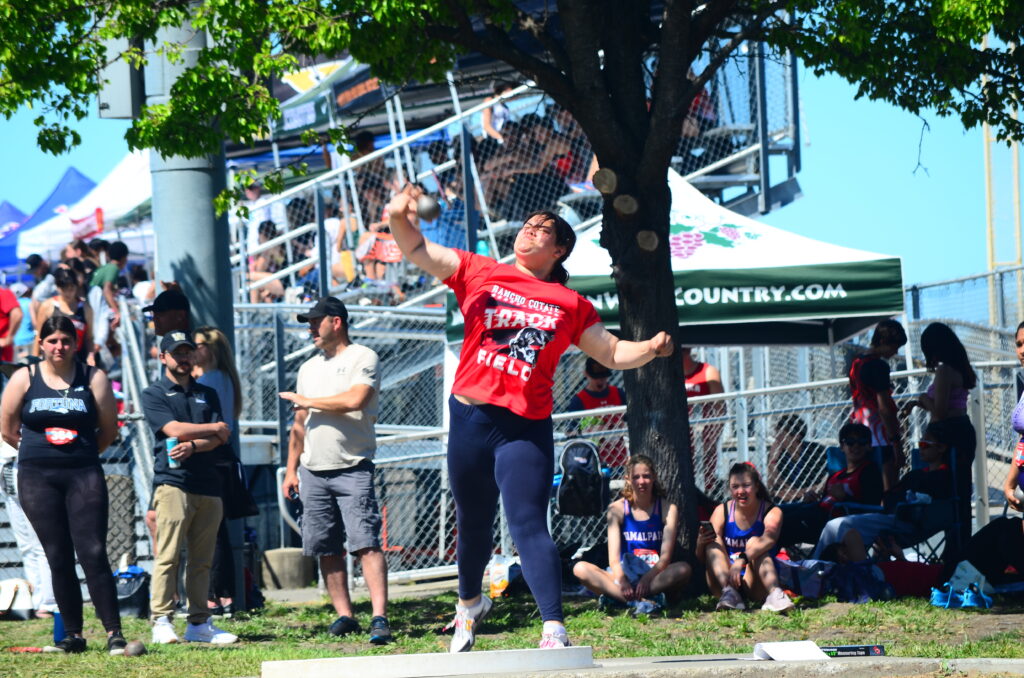 This is the first year of the 4X800 relay being a state qualifying event.
Montgomery girls got the baton to Hanne Thomsen in 5th place after the first 3 legs, 5.51 seconds behind the 2nd place team. Thomsen anchored with a 2:12.58 to move the team all the way to second place with the top five team all breaking the old meet record. I don't know the order but the other Viking splits were 2:26.22, 2:28.10, 2:23.85.
Locals who came up with PR's at the meet.
Boys Day 1 results
1600 4:28.05 Gavin Hahn, 12, Mendocino
110HH 14.83 +1.1 Sai Vadrawale, 12, Rancho Cotate, Prep best
110HH 16.32 +0.6 Erick Gutierrez, 12, Healdsburg
400R 43.30 Maria Carrillo, Oak leader
PV 12-6 NJ Robert, 12, Piner, =NBL leader
TJ 41-08.25 Caden Devries, 11, Montgomery
Girls Day 1 results
100 12.51 +2.8 Kathryn O'Malley, 12, Maria Carrillo, Prep best
1600 5:08.42 Amrie Lacefield, 10, Montgomery
HJ 5-1 Anastacia Mikhailova, 12, Rancho Cotate, Redwood leader
TJ 36-1 Tatiana Avila, 12, Analy, NBL leader
TJ 33-2.75 Sadie Sanders, 10, Montgomery
SP 34-3.75 Airiana Adams, Ukiah
SP 34-1 Mariel Caballero-Emana, 11, Justin-Siena, VVAL leader