Here are some thoughts about the meet in no particular order.
Maria Carrillo doubled the number of MOC champions they have had after this meet with Hunt's and Mulligan's wins.
Alexis Hunt, 12, Maria Carrillo HJ 5-6
Lily Mulligan, 12, Maria Carrillo PV 12-7
The others were
2002 Jennie Aldridge, 4:50.18 1600
2013 Kathleen Durand, 140-4 Discus
Elianah DeMange making it to state in the 400 and Mulligan both are returning to state from last year. If you thought DeMange 58.03 for second was good she had a 57.75 anchor for their 1600 relay team and is also on their state bound 400 relay team.
That Puma squad is only the second Empire team to make state, the other being the 1991 Montgomery team that ran 50.67 at the state trials.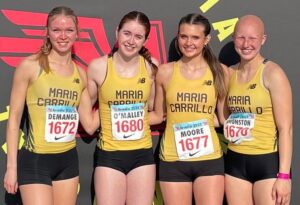 Montgomery's Hanne Thomsen is one of the few girls in NCS to ever win two 3200 titles.
Thomsen is the first to win both 1600/3200 titles in the same year since 2011 by Campolindo's Carrie Verdon, 4:51.80/10:41.50
Montgomery's Sara Bei actually had double wins 1600/3200 all four of her years, 1998-2001.
Thomsen is the returning state champ at 3200 when she won in 10:06.89. She has the possibility of becoming a four time winner.
Other local state winners
1st Julia Stamps, Rincon Valley JH 10:26.51 1994
1st Julia Stamps, Santa Rosa 10:15.27 1995
1st Julia Stamps, Santa Rosa 10:15.17 1997
1st Sara Bei, Montgomery 10:31.06 1998
1st Sara Bei, Montgomery 10:11.11 2001
1st Hanne Thomsen, Montgomery 10:06.89 2022
It's almost unbelievable the girls distance talent we have in this area.
Thomsen destroy's the field in the 1600 with a great 4:51.77 time and it doesn't even make our areas top ten for this one single meet.
Empire's All-Time MOC 1600 bests
4:42.79 Julia Stamps, Santa Rosa 5/31/97 MOC, Current Empire record
4:43.92 Rylee Bowen, Sonoma Academy 5/30/15 MOC
4:46.17 Sara Bei, Montgomery 5/26/01 MOC
4:48.54 Gabrielle Peterson, Healdsburg 5/18/19 MOC
4:48.91 Gabrielle Peterson, Healdsburg 5/26/18 MOC
4:49.09 Sara Bei, Montgomery 5/27/00 MOC
4:49.38 Rylee Bowen, Sonoma Academy 5/28/16 MOC
4:50.18 Jenny Aldridge, Maria Carrillo 5/25/02 MOC
4:50.56 Jacque Taylor, Casa Grande 5/30/09 MOC
4:51.42 Rylee Bowen, Sonoma Academy 5/27/17 MOC
Maria Carrillo's Lily Mulligan toughest competition in the vault was probably the wind. To make a good vault the vaulter must run over 100 feet and plant their takeoff foot within a few inches of the perfect spot.
To show what the winds were like, during the boys long jump competition the wind readings ranged from +4.5 to -2.2. That makes hitting the board very difficult as the top nine long jumpers had a total of 15 foul jumps and I'm sure many legal jumps were they didn't even hit the board.
Mulligan was the only vaulter to clear 11-11, 12-3 and 12-7.
Mulligan has a shot at earning the best Empire place ever at state as only two girls have ever placed in the top 8 for us.
Tie 7th Michelle Stone, Ursuline 11-10 2009
8th Amy Bei, Montgomery 10-10 1998
Maria Carrillo's Alexis Hunt guaranteed her ticket to the state meet in the high jump once she cleared 5-4. She went on to clear 5-5 and then the winning 5-6 before attempting a new PR height of 5-8.25. Sonoma Valley's Mindi Wiley still owns a portion of the meet record at 5-11.
The last girl from the Empire to place in the high jump top 8 at state was 8th Kiana Herold, Sonoma Academy 5-6 2013.
Justin-Siena's Liliana Hobaugh will be competing in the long jump and will try and be her schools first girl to crack the top 20 in any event.
Their best is 21st by Gianna Troppy, 2019 high jump 5-2.
Analy's Tatiana Avila has a shot at the Empire's best ever triple jump place currently held at 13th.
13th Suzie Green, Upper Lake 36-7¾ 1989
13th Beth Fernlund, Maria Carrillo 36-11½ 2000
Rancho Cotate's Siolo Lua is her schools first state qualifier since 2015 after improving by nearly 7 feet from last year with the last 2 feet coming in the MOC meet.
Vintage's Sophia Notaro is the only girl besides Thomsen who qualifed in two individual events, both hurdles. In the high hurdles Notaro had a +4.3 wind at her back which can help but also can hurt if it pushes you to close to the next hurdle.