Sunday March 6, 2022 Ron Kamaka went to be with the Lord.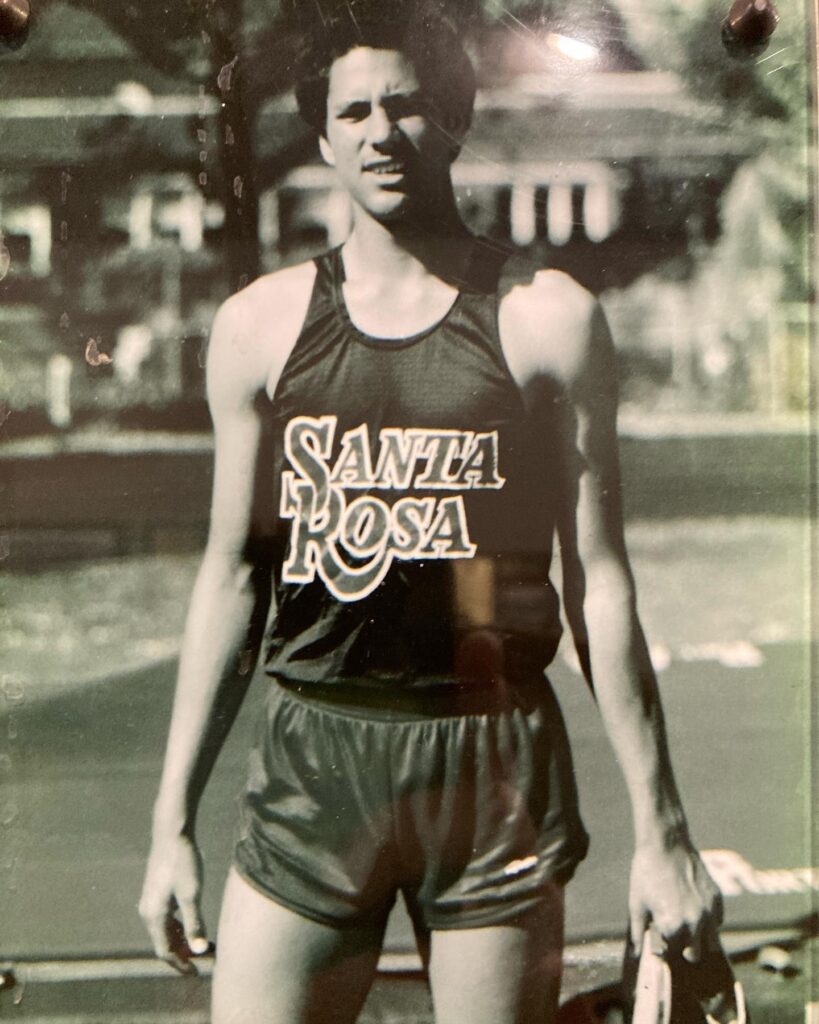 Ron is one of the best high jumpers this area has ever produced and he went on after a tragic accident struck him to inspire others to greatness as well.
I have written below a number of his athletic feats but please watch and read the two links below.
Video 2016: Ron Kamaka, "Never give up!"
Story 1997: Clearing All Hurdles : Titan Coach Kamaka Refuses to Let Tragic Accident Keep Him Down
He graduated from Rancho Cotate in 1981.
He set many records that year and finished the season with the Redwood Empire Prep Best over a number of other super jumpers.
1981 Boys Track & Field Bests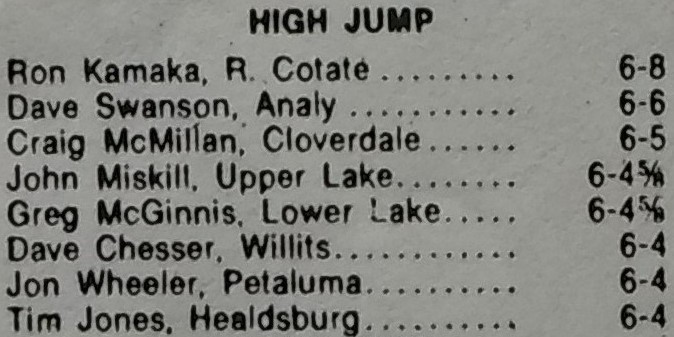 Ron's best prep jump came at the Santa Rosa Relays on April 11th when he cleared 6-8.
At the North Bay League finals that year he would break the eight year old meet record held by Montgomery's Tom Buzzard of 6-6¾ from 1973 with a 6-7 win.
That meet record would hold up until 1988 when Gabe Manville of Santa Rosa would clear 6-8.
At the conclusion of the 1981 season Ron's 6-8 jump would be second All-Time in the Empire to only Buzzard's 6-8½ leap from 1973.
While competing for the Santa Rosa Junior College Ron was the state champion with a best of 7-2.
He also won the gold medal at the World Junior Championships that year.
At Arizona State University Ron cleared 7-3½ (2.22m) in 1984 for them, still 4th on their All-Time list.
Ron went on to be the head track & field coach at Mt. Sac College and also coached at Cal State Fullerton.
All-Time Redwood Empire Adult High Jump
7-3½ Ron Kamaka, Arizona State Univ. (Rancho Cotate '81, SRJC '83) (2.22m) 1984
7-2½ Jon Willison, SRJC (Montgomery) 2001
7-0¼ Pat Leonard, Piner 5/6/95
7-0 Dave Swanson, SRJC (Analy '82) 1983
7-0 Arnold Silva, SRJC 1985
All-Time Redwood Empire Prep High Jump
7-0¼ Pat Leonard, Piner #1 1995
7-0 Gabe Manville, Santa Rosa #1 1989
6-10½ Dave Swanson, Analy #1 1982
6-10 Jim Reis, Sonoma Valley #1 1984
6-10 Jeff Poisson, Cardinal Newman #1 1996
6-9¼ Paul Maloney, St. Vincent #1 1989
6-9 Craig McMillan, Cloverdale #1 1983
6-9 Dan Littlefield, Sonoma Valley #2 1999
6-9 Mike Tracy, Windsor #1 2009
6-9 Justin Zinnerman, Rancho Cotate #1 2014
6-8½ Tom Buzzard, Montgomery #1 1973
6-8 Bob Montgomery, Analy #2 1975
6-8 Al Sullivan, Sonoma Valley #3 1977
6-8 John Williams, Piner #2 1979
6-8 Ron Kamaka, Rancho Cotate #2 1981 4/11/81
6-8 Eric Birkenes, Piner #3 1989