I am so excited that it looks like we will have our first complete season since 2019.
Normally we know who all the big stars of the upcoming season will be but never has that been less true than this year.
When you look over the Returning 2021 All-Redwood Empire Running Track & Field picks you will see who some of the stars will be.
But I'm sure there will be a number of athletes not on these lists who will breath new life and excitement into the coming year.
I will mention four boys who all had top marks in the Redwood Empire last year.
Rancho Cotate's Jacob Pruitt was only a freshman last year but ran the fastest sprints of the year at 22.27 +0.9 and 11.11 -0.2.
We also have three seniors this season who had the best marks in their events in 2021.
Jacob Donohue, Maria Carrillo 3200m 9:19.89.
Ben Feldstein, Vintage shot put 49-4.
Tristan Hug, Napa triple jump 43-4¾.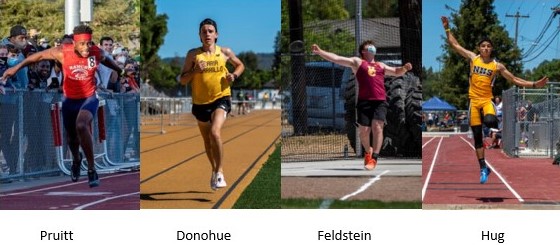 Returning 2021 All-Redwood Empire Running Track & Field
2022 Boys Track & Field Bests
2022 Meet Schedules
Meets so far