At this years Saint Francis Invitational this year's Puma team of Bailey Bronston, Sydney Moore, Kathryn O'Malley and Elianah DeMange had a huge day.
In their opening race the 4 x 200m Relay they came within 0.4 seconds of breaking the All-Time Redwood Empire record.
This year's team ran 1:46.78 just short of the record of 1:46.32 record.
One of the members, Sydney Moore, has an extra incentive to try and break the record. Her mom, Cari "Stenger" Moore is a member of that 1990 Montgomery record team.
Cari hopes her daughter gets another chance at the record. Sydney is only a junior but the other members of the team are all seniors. Unlike the 4 x 100m the 4 x 200m is rarely run as an event at most meets.
Cari ran on both the 1988 and 1990 teams that won NBL titles in the 4 X 100 relay plus she was the 1988 200 individual champion.
The 2023 Puma's may get another shot at the record at either the Stanford Invitational or Arcadia.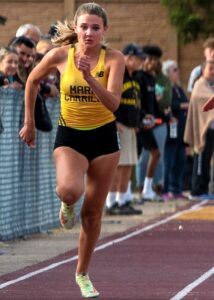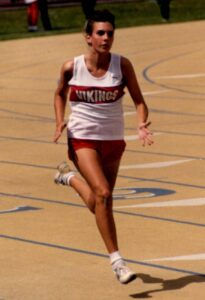 .
.
.
.
.
.
.
Here is a video of the 400 Relay race at Saint Francis click here
4 x 200m Relay
1:46.32* Montgomery 1990 Lombardo, Stenger, MacPherson, Park, avg 26.6, 1:46.7y
1:46.52* Santa Rosa 1992, 1:46.9y
1:46.78 Maria Carrillo 2023 Bailey Bronston, Sydney Moore, Elianah DeMange, Kathryn O'Malley
1:46.89 Piner 2011 Tami Lynch, Ivy Campbell, Dezirae Johnson, Kyra Johnson
1:47.12* Montgomery 1992, 1:47.5y
1:47.34 Santa Rosa 1985, 1:47.97y
1:47.55 Maria Carrillo 2022 Bailey Bronston, Sydney Moore, Elianah DeMange, Kathryn O'Malley
1:47.94+ Maria Carrillo 2006, 1:47.7
1:48.01* Montgomery 1991 K. Lombardo, L. Stephens, M. MacPherson, N. Park, 1:48.4y
1:48.01* Ursuline 1992, 1:48.4y
1:48.10 Maria Carrillo 2004
800m Sprint Medley (100,100,200,400)
1:49.04 Analy 2006
1:50.44+ Santa Rosa 1992
1:51.02 Piner 2011 Tami Lynch, Ivy Campbell, Dezirae Johnson, Kyra Johnson 58.0
1:51.09 Maria Carrillo 2023 Bailey Bronston, Sydney Moore, Kathryn O'Malley, Elianah DeMange
1:52.24+ Montgomery 1991 K. Lombardo, Lindsay Stephens, N. Park, M. MacPherson
1:52.54+ Santa Rosa 2012 Raya Llopis, Sakile Wuhlbrecht, Darci Whyte, Sadia Ibrahim
1:52.91 Casa Grande 2015
1:52.94+ Santa Rosa 1991
1:53.26 Maria Carrillo 2022 Bailey Bronston, Kathryn O'Malley, Dylan Moore, Elianah DeMange
1:53.34+ Casa Grande 1992 Kerri Woolheater
4 x 100m Relay
48.24 2017 Maria Carrillo #1 Amani Baker, Assata Polk, Sarah Aanenson, Habibah Sanusi
49.10 2016 Casa Grande #1 Hannah Barlow, Destiny Williams, Annie Gallo, Jordan Boehning
49.10 2018 Maria Carrillo #2 Shanti Adams, Assata Polk, Sarah Aanenson, Habibah Sanusi
49.24 2022 Maria Carrillo #3 Lily Mulligan, Bailey Bronston, Sydney Moore, Kathryn O'Malley
49.32 1985 Santa Rosa #1 B. Northen, Wendi Simmons, S. Bailey, Kim Carlson
49.34 1984 Santa Rosa #2 J. Romero, Kim Carlson, S. Thompson, S. Bailey
49.34 2003 Analy #1 Tracy Webster, Katie Franci, Krista Prescott, Ashley Perlman
49.35 2012 Santa Rosa #3
49.36* 1976 Hogan
49.39 2019 Santa Rosa #4 Izzy Zamora, Bria Keelty, Kassidy Schroth, Ana Wong
49.44 2023 Maria Carrillo #4 Mulligan, DeMange, S. Moore, O'Malley