By Jim Crowhurst
Photos by Brian Tucker
It was great at the beginning of this season to know we got to have some type of track meets, even if limited.
At first it sounded like just dual meets, which is better than nothing but really would have only wet our whistles.
As the season progressed I for one was very disappointed that there would be no post season and all the great stuff that happens during those meets.
I personally can't say how thankful I am that a small group battled their way through all the red tape needed that we were able to close the season with the Redwood Empire Area Track & Field Showcase meet.
The joy I saw on so many faces was well worth the effort of those that made this happen.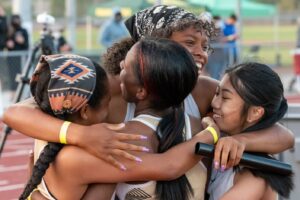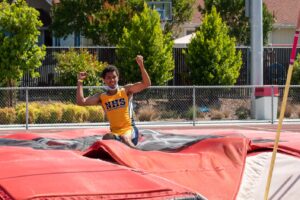 I could tell some of the athletes even surprised themselves by what they were able to do here. And I am not just talking about the medal winners but competitors in lower places that had major personal bests for there efforts.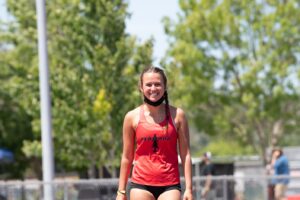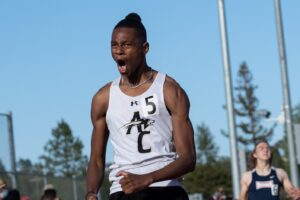 And the elite athletes, well, they made the name showcase a good one for this meet.
Here were a few performances that took a few breathes away from those watching.
Lily Mulligan of Maria Carrillo, yes only a sophomore, dazzled the crowd with a 12-8 vault that was more than a foot higher than any other girl in the NCS has done this year and is the #2 performance ever from the Empire behind the 13 footer she cleared recently.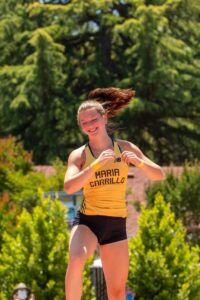 The boys vault saw a battle for the win with the top vaulters setting personal bests. Napa's Liam Wallace-Harper raised his best a couple of times here with a 13-4 jump. But not to be out done Montgomery's Orion Dowdall went one better with a clearance of 13-8. A little Viking vault bragging, this gives them a dozen vaulters over 13-6 in the schools history.
Santa Rosa's Kassidy Schroth put on a sprint show running away from some other great sprinters winning the 100 by 0.33 seconds and the 200 by a whopping 0.67 seconds with quick times of 12.44 and 25.73, both wind legal.
What an amazing and gruelling day for Fort Bragg's Russel Gordon. Check out his workhorse day.
5:54 PM 110m Hurdles huge 0.58 win in 14.87 for a Prep best.
6:39 100m 5th 11.29.
7:17 300m Hurdles bigger 2.45 second win in 38.71. This performance would have gotten him to state for sure.
7:34 200m 6th 23.24.
And then on the seventh day he rested.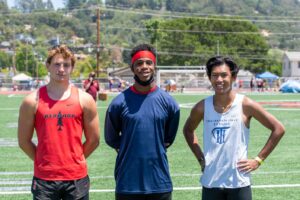 When Rancho Cotate's Jacob Pruitt started off the year he was running in the slow heats since he was a freshman. But by the end of the year no one could touch him. He began the day with a first jump in the long jump at 20-08.50 into a strong -1.7 head wind. That stood up as his first meet win. In the 100 and 200 he was just as non-stoppable with blazing times of 11.11 and 22.27.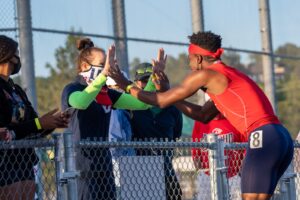 The girls 400 saw a super sophomore battle between Maria Carrillo's Elianah Demange (59.34) and St Helena's Eva Bowen (60.35).
Analy junior Carolina Dawson was one of the many kids a saw full-filling a dream this day. After ending her freshman year of 2019 at 2:20.09 in the 800 and losing the 2020 season she had been chasing a sub 2:20 all year to no avale. But no more as she ran a near solo race to win by almost six seconds in 2:19.98.
There's nothing like a senior ending their high school career on big note and that is what El Molino's Audrey Serrano did in the 300 hurdles as she hit the finish line first in a PR of 48.94.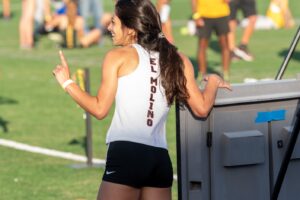 Healdsburg's Jack Vanden Heuvel had an impressive year in the middle distances and he was not going to let his season end in any other way but on a high note.
Running against one of the top 800 runners in the NCS, Tamalpais' Caden Carney, Vanden Heuvel took the lead from the start and even though Carney finished with the number three NCS 800 time of the year (1:56.54) he still finished behind Vanden Heuvel crossing in 1:56.32.
A somewhat similar race happened in the boys 1600 as Casa Grande's Owen Hite bolted to the lead in the first lap of 62.8 and was never challenged finishing in 4:23.08.
Maria Carrillo girls have a lot to look forward to in the 400 relay as an all frosh/soph team of Bailey Bronston, Sydney Moore, Carlyana Kwong and Lily Mulligan took the win in an Empire best of 50.45.
I love the way track & field athletes give it their all to be number one yet can be thrilled for their opponents when they see how well they did.
I saw this at the aftermath of the girls 1600 relay when I saw the American Canyon foursome running over to the winning Justin-Siena team after they had produced a super win in 4:15.85.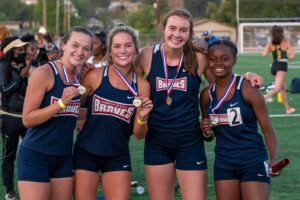 El Molino junior Ellie Roan didn't give her competition much of a chance as within her first two throws in both events she put up marks no one could come close to this day ending with 118-8 discus win and a 36-0½ shot victory.
They may only be juniors but Windsor's Valentino Bugica (400 51.67) and Napa's Tristan Hug (TJ 43-10) each produced Prep bests with their wins.
Best of the high jumpers were Montgomery's Gabriel Tucker, 6-2 and Maria Carrillo's Alexis Hunt, 5-2.
After his 6-2 jump Tucker had the bar raised to 6-9 to try and take down the Vikings 58 year old school record of 6-8½ by Tom Buzzard from 1973. Tucker has a 6-6 best this year and may be looking for more meets to go after it.
Nolan Hosbein of Casa Grande took the lead in the 3200 after two laps and was never challenged after that winning in 9:25.76.
Editors Note: Marks come up short
Big battle in the girls long jump with Marin Catholic's Millie Weitz at 18-4* with Windsor's Emily Johnson taking second based on her number two longest of the day both at 17-8* with Maria Carrillo's Lily Mulligan also reaching 17-8*.
Terra Linda's Marie Jones had a huge 38-3* mark to win the triple jump over Johnson's at 35-10*.
Marin Catholic's Kai Davidson had no problem winning the shot with a monster 51-2¾ mark.
Redwood sophomore's took the long distances with Hailey Connery (1600 5:04.44) and Audrey Maclean (3200 11:34.43).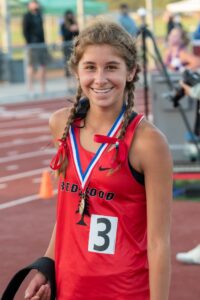 A PR earned the win in the discus for Benjamin Feldstein of Vintage going 140-9.
Drake's Caroline Donohew was the first over the high hurdles at the last hurdle to finish in 17.26.
Boys relay winners were Terra Linda (400R 43.94) and Tamalpais (3:33.29).