Jennifer Vucinich graduated from Montgomery in 2010.
She didn't do much track while in high school but she has become a pretty good runner since then.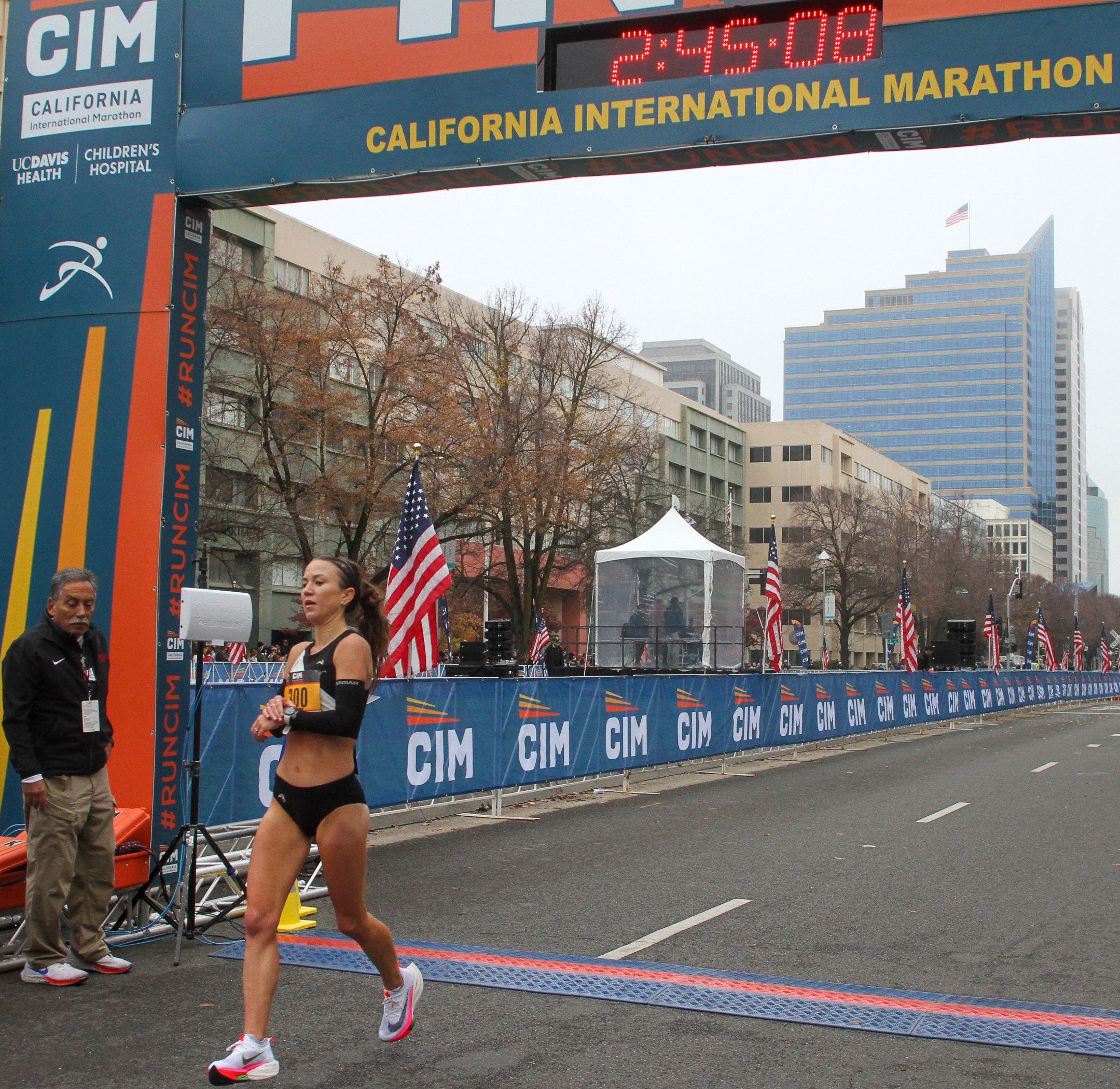 Vucinich placed 39th out of more than 3,000 female runners at the California International Marathon in 2:45:04 last December.
More recently she placed 2nd in the Napa Valley Half Marathon in 1:16:14.
These times put her in with some pretty elite runners.
MARATHON
2:20:32, 2:22:01 Sara "Bei" Hall, (Montgomery '01) at the The Marathon Project 12/20/2020, London Marathon 10/4/2020
2:30:41 Alia Gray (Maria Carrillo '07) The Marathon Project 12/20/2020
2:39:10 Nicole Lane, SRA (El Molino '12) California International Marathon 12/5/21 in Sacramento
2:41:38 Kim Conley (Montgomery '04) NYC Marathon 11/6/16
2:44:07 Julia Stamps, NY Athletic Club (Santa Rosa HS '96) Olympic trials, Houston 1/14/12
2:45:04 Jennifer Vucinich, (Montgomery '10) California International Marathon 12/5/21
2:50:12 Sarah Hallas, (Ursuline '98) Boston Marathon 4/15/19
HALF-MARATHON
1:07:15 Sara "Bei" Hall, (Montgomery '01) 1/16/22 Houston Half Marathon
1:09:44 Kim Conley (Montgomery '04) USATF Half Marathon Championships 1/18/15
1:12:48 Alia Gray (Maria Carrillo '07) Houston Marathon 1/17/16
1:15:38 Nicole Lane, SRA Elite (El Molino '12) Sacramento 12/6/20
1:16:14 Jennifer Vucinich, (Montgomery '10) Napa Valley Marathon 3/6/22
1:17:08 Julia "Stamps" Mallon, (Santa Rosa HS '96) AFC Half Marathon, San Diego 8/18/13
10,000 METERS
31:21.90 Sara "Bei" Hall, ASICS (Montgomery '01) at Irvine 5/14/21
31:48.71 Kim Conley, New Balance (Montgomery '04) at Stanford 5/4/2014
31:59.23 Alia Gray, Roots Running Project (Maria Carrillo '07) at Peyton Jordan Invit 5/1/16
33:19.77 Sarah Sumpter, UC Davis (Healdsburg '08) Stanford Invitational 4/6/2012
33:33.81 Chris Boyd, Adidas (Empire Runners '93) in 1995
34:51.69 Nicole Lane, SRA Elite (El Molino '12) Portland Track Festival 6/10/17
35:45.80 Kathy Lenno, SSU at San Francisco State 5/11/01
36:28.41 Shannon Rich, Chico State (Rancho Cotate) at Mt. SAC Relays 4/15/10
36:30.02 Jennifer Vucinich, PDC (Montgomery '10) Portland Track Festival 5/28/21
36:31.31 Ashley Moffett, Univ. San Francisco (Casa Grande '13) Mt. SAC Relays 4/15/16