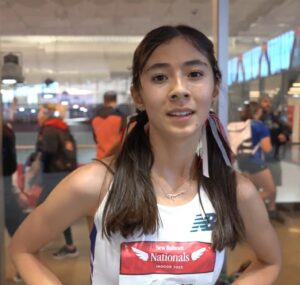 Montgomery's Hanne Thomsen blazed her two mile race in 10:07.06 at the New Balance Nationals Indoor.
But that is just one of the times in that race that we are going to look at.
Going into this meet, Hanne held the Redwood Empire record from her state meet win last year in 10:06.89.
But as we all know the standard distance run for 8 laps outdoors these days in California is 3200 meters.
It is rare to see a race in yards with the exception being some meets that run the mile or 2 mile.
Except for the US and Great Britain, the more common distance used internationally for secondary school runners is 3000 meters.
In big meets like Arcadia they will often have a second timing device at the 3000 meter mark of their 3200 meter races.
They call the time registered at that 3000m mark the enroute time.
It is not uncommon for the winner of a 3200m race to be in second or 3rd place as the runners cross the 3000m mark.
To calculate what a runner's time is for 3200m when they actually ran a 2 mile race, what is done is to multiple the 2 mile time times the ratio of the distance of 3200m.
A calculator will tell that number is 0.9941963786396908 but since track times are only measured to hundreds of seconds you only need to use 0.9942.
This has been done with many of the past great runs as seen in these examples.
The first number is the converted 3200 time with the second being the actual 2 mile time marked with a y for yards.
9:04.66*i Luis Luna, Piner, 9:07.83y 2/25/12 Seattle
9:11.03* Armand Moreno, Piner, 9:14.0y 5/27/78 MOC
9:11.82* Jon Sisler, Petaluma, 9:14.8y 6/2/74 State
9:12.12* Bob Waldon, Montgomery, 9:15.1y 5/28/66 MOC
9:12.42* Dave Royal, Petaluma 4/14/79 Modesto Inv
When applying this to Thompsen's time her 2 mile time converts to 10:03.54.
Which is what I originally reported as the new Redwood Empire 3200 record.
I had also reported her 3000 enroute time of 9:28.85.
That time is second All-Time to an actual 3000m race by Julia Stamps, Santa Rosa 1996 in 9:19.63.
The TRACK at New Balance includes a 200m hydraulically banked indoor track.
Often tracks may incorporate banked curves in an attempt to compensate for body lean presumably to enhance running performance and / or reduce lower limb injuries.
This I'm sure was Thomsen's first time on a banked track which takes some getting use to.
Inside The TRACK at the New Balance
Photos are screen grabs from the video. Click on any photo to enlarge.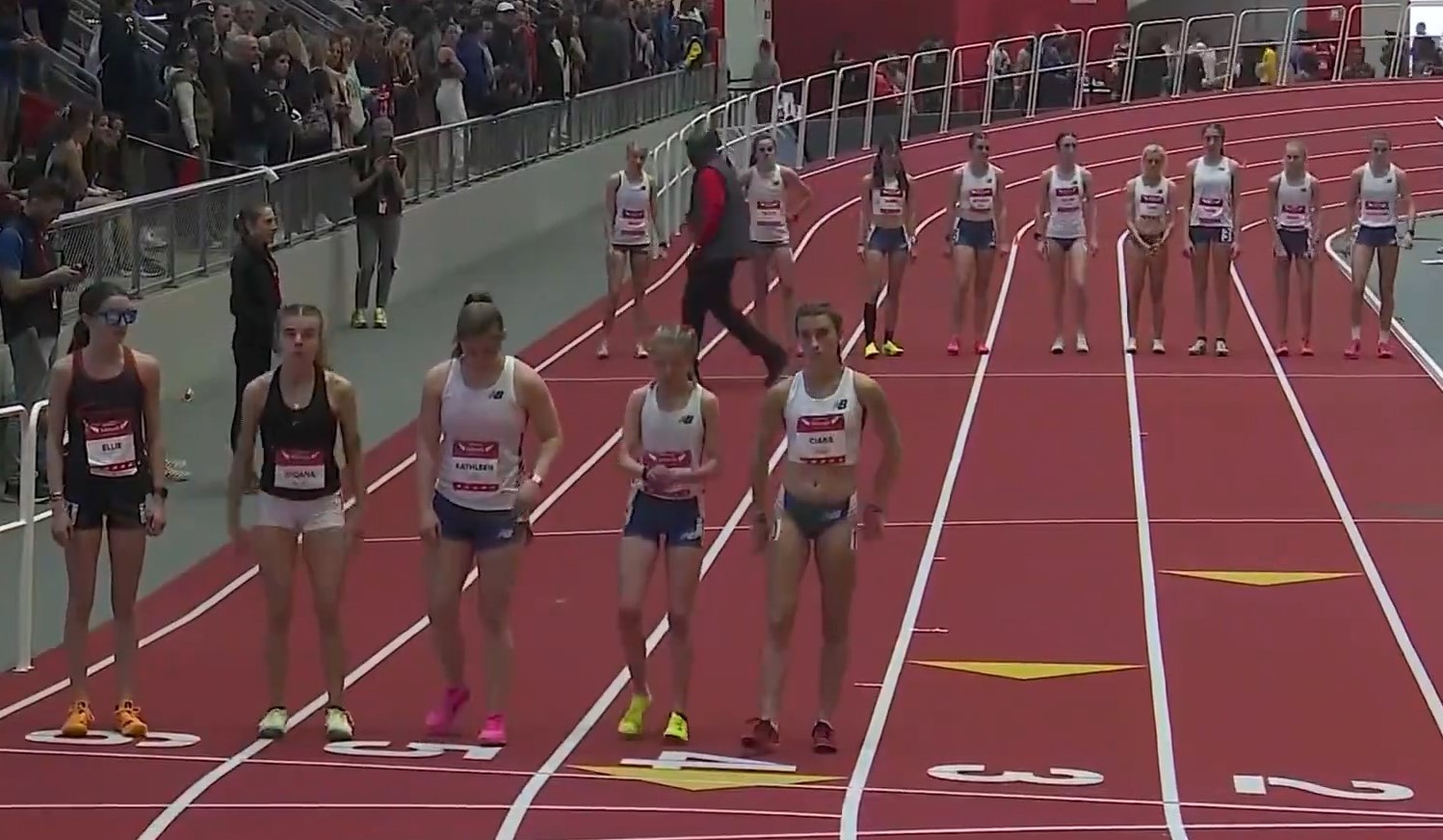 Here is where things get tricky and change.
Patrick Donohue directed me to a web site I had not seen before that shows all the girls' splits EVERY 100 meters.
The timing company involved, Prime Time Timing, is one of the most advanced timing companies in the industry. They have a technology they call ATLAS that they developed. https://pttiming.com/services-atlas.php The technology is based around hardware made by isolynx https://isolynx.finishlynx.com/ . Each athlete wears an active chip attached to their bib that is triangulated by antennas placed around the track. This tech provides highly accurate and fast location data when placed on a track overlay.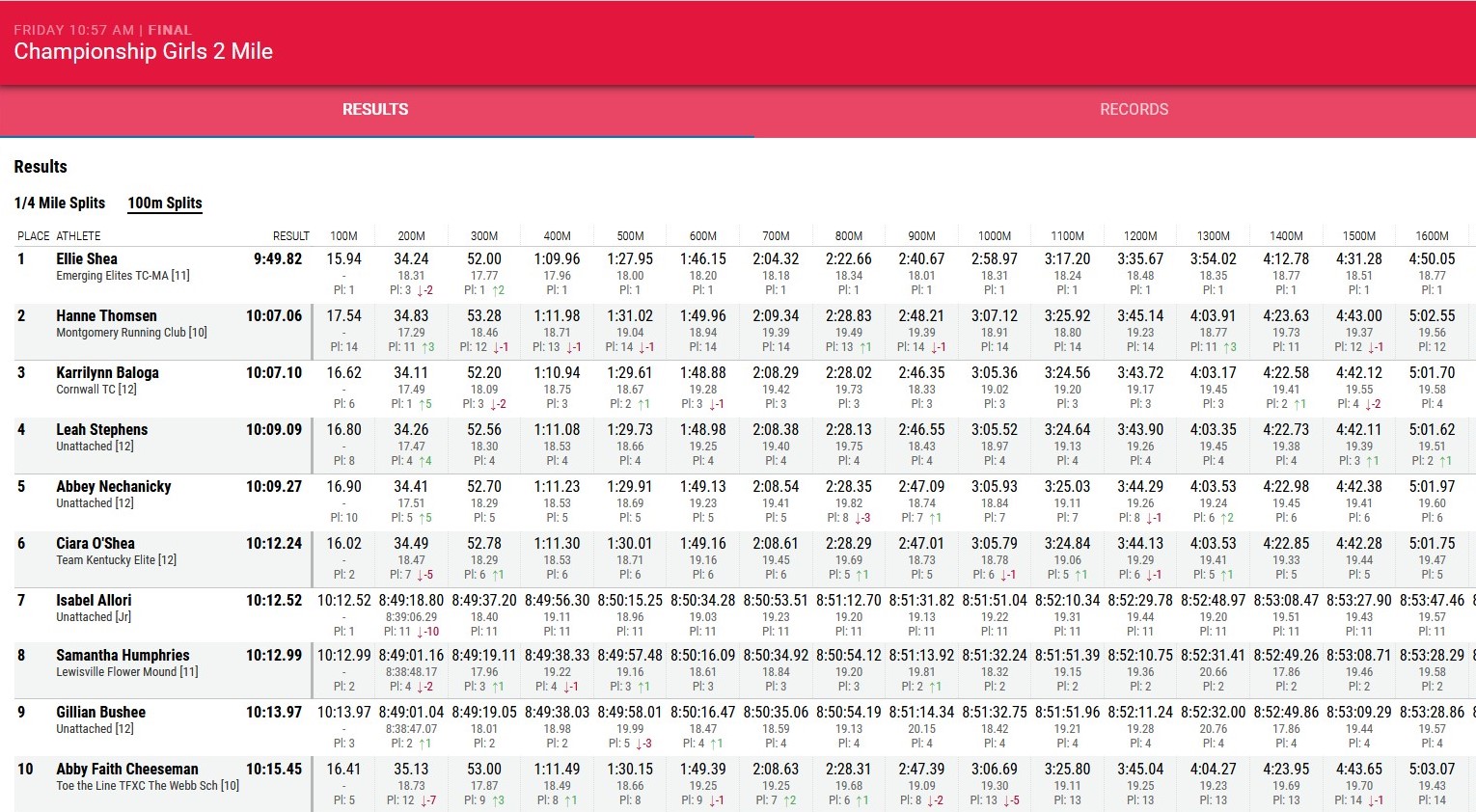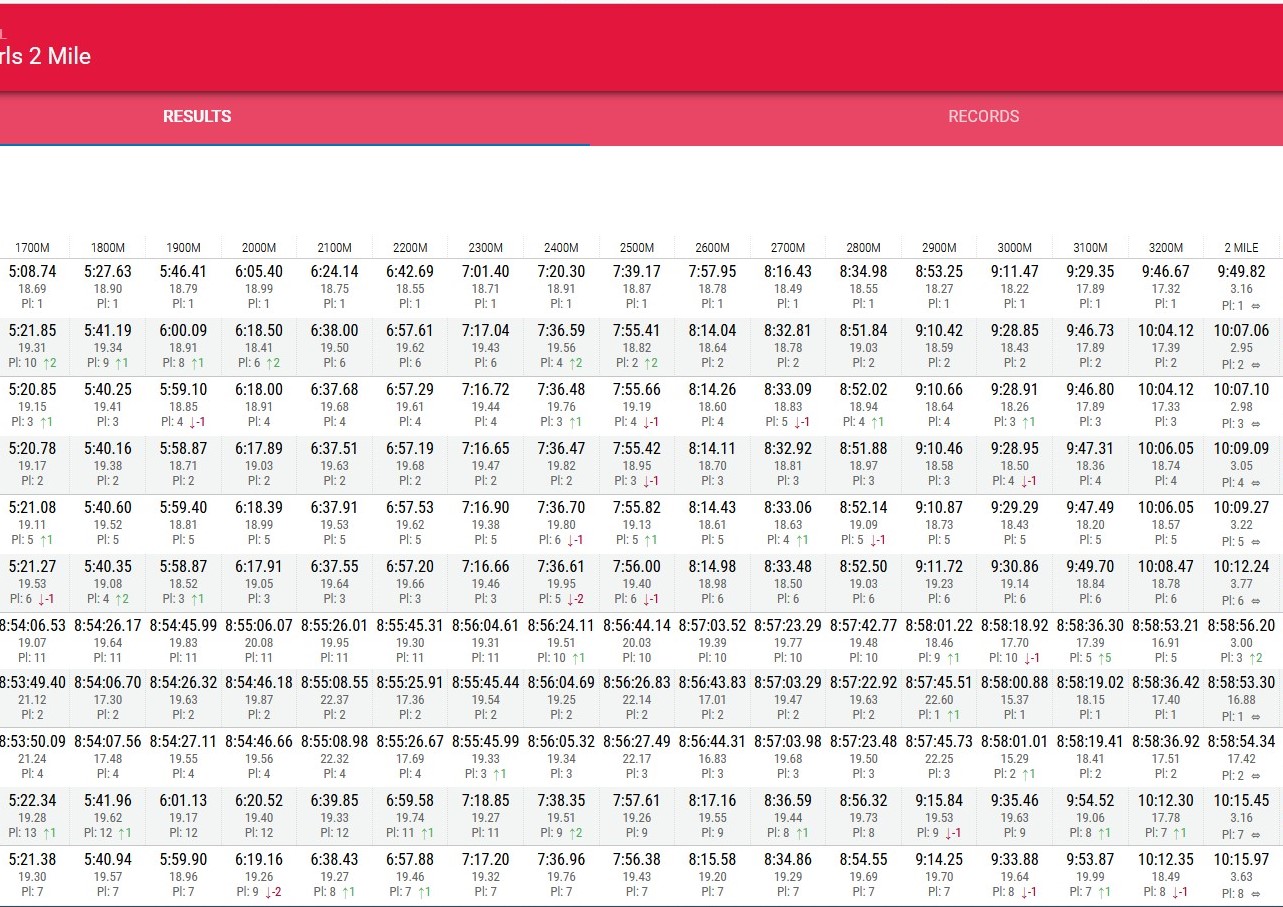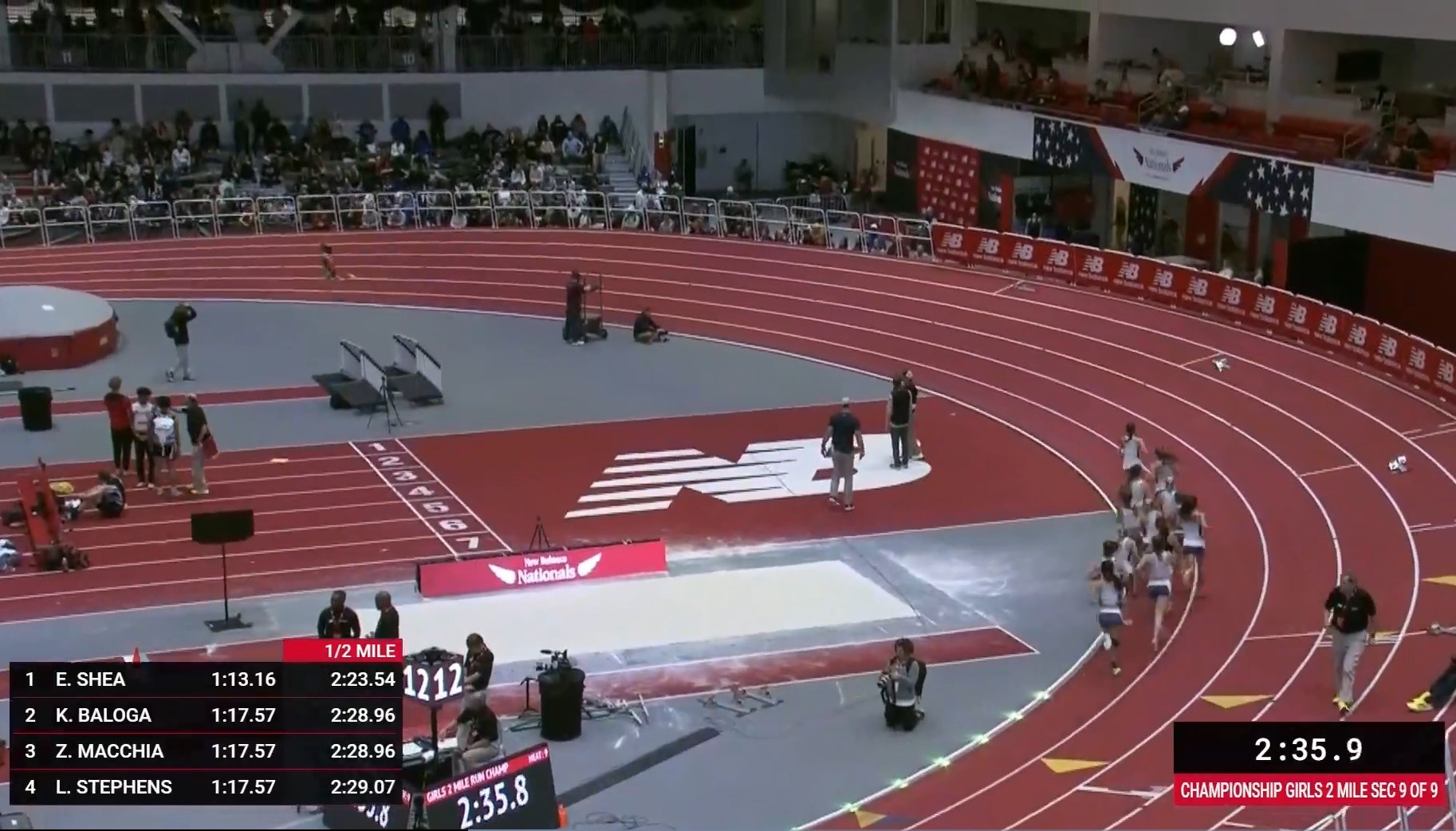 Another thing this meet had was pacing lights.
They have lights set up all along the inside of the track that the runners can see.
They set the lights to flash as the runners went along at a 10:00.00 pace.
The girls stayed ahead of that pace thru about 3/4 of a mile before not being able to keep up with the lights.
Now back to the odd timing situation, since they were timing every 100m they actually timed Hanne at the 3200m mark of the race.
She crossed that at 10:04.12 for an enroute time with a 2.95 second sprint to the finish line, fastest of all the runners.
The reason the 10:04.12 time is slower than the 10:03.54 average pace she ran is that her final 18.68 meters of the race are not counted and if you took a middle 18.68 meters of her race where she was running slower, the time would come out more like her 10:03.54 estimate.
But since we have an accurate 3200 enroute time it seems right to count that as her official 3200 time.
Now this would be a real bummer, not getting credit for 10:03.54, if this was her last race as a senior but I have little doubt that this year or some time in her prep career we are going to see her dip under the 10 flat mark anyway.
You can watch the race here but you will only see the field through about 3 minutes and 40 seconds into the race before the cameras only show the winner.
Watch here
If you made it to the end of this post and half way understood most of what I am saying you can be classified as a track nut.
Jim
Updates were made to this story.
New Tech, Old Reporter