Sometimes it almost seems unfair, to the rest of the world, how our area keeps coming up with these mind blowing girl distance runners.
Hanne Thomsen is our latest wonder and I thought it would be fun to look at how our other amazing girls did their freshman years.
First what Thomsen has done already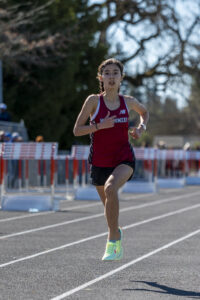 Thomsen was golden in her freshman cross country season winning the California State division III championship.
On March 5th Thomsen opened up her high school track season with a nice triple win at the Big Cat with marks of 4:53.59, 2:18.12, 10:40.67.
I believe only two of Julia Stamps 1600's, this early in the season, are faster than what Hanne did.
March 19th she was 1st at the Dublin Distance Fiesta at 10:14.46 after running 4:49.02 for 1600 meters earlier in the day.
Only one freshman, Rylee Bowen, has ever run a faster 1600 for our area as a freshman.
April 1st Thomsen was 2nd at Stanford in the 3200 at 10:16.76.
April 9th was her latest taking 4th at Arcadia in 3200 at 10:12.03. Only Sara Bei's Senior year win at state is faster, Watch Thomsen's race
Next major chance to see her run will be on April 23rd in the Viking Track Classic at Montgomery High.

2022 US National 3200 bests
1.	12	Dalia Frias		 9:55.50	CA	Mira Costa	Apr 09	Arcadia
2.	12	Eva Klingbeil		10:00.26	CO	Niwot	        Apr 09	Arcadia
3.	 9	Sadie Engelhardt	10:00.60	CA	Ventura	        Mar 05	Don Green
4.	12	Caroline Wells		10:10.81	FL	Winter Springs	Mar 26	FSU 
5.	11	Kate Peters		10:11.14	OR	Lake Oswego	Apr 09	Arcadia 
6.	 9	Hanne Thomsen		10:12.03	CA	Montgomery	Apr 09	Arcadia
7.	12	Ella Borsheim		10:12.84	WA	Bellarmine Prep	Apr 09	Arcadia
8.	12	Sophia Nordenholz	10:14.32	CA	Albany	        Apr 09	Arcadia 
9.	10	Bethany Michalak	10:14.70	CO	Air Academy	Apr 09	Arcadia

Freshman Years
Fastest 3200 time
10:12.03 Hanne Thomsen, Montgomery 2022
10:26.51 Julia Stamps, Rincon Valley JH 1994
10:29.61 Rylee Bowen, Sonoma Academy 2015
10:31.06 Sara Bei, Montgomery 1998
10:34.39 Jacque Taylor, Casa Grande 2007
Fastest 1600 time
4:43.92 Rylee Bowen, Sonoma Academy 2015
4:49.02 Hanne Thomsen, Montgomery 2022
4:49.21 Sara Bei, Montgomery 1998
4:54.42 Julia Stamps, Rincon Vly JH 1994
4:58.61y Jacque Taylor, Casa Grande 2007
Julia Stamps, our first of many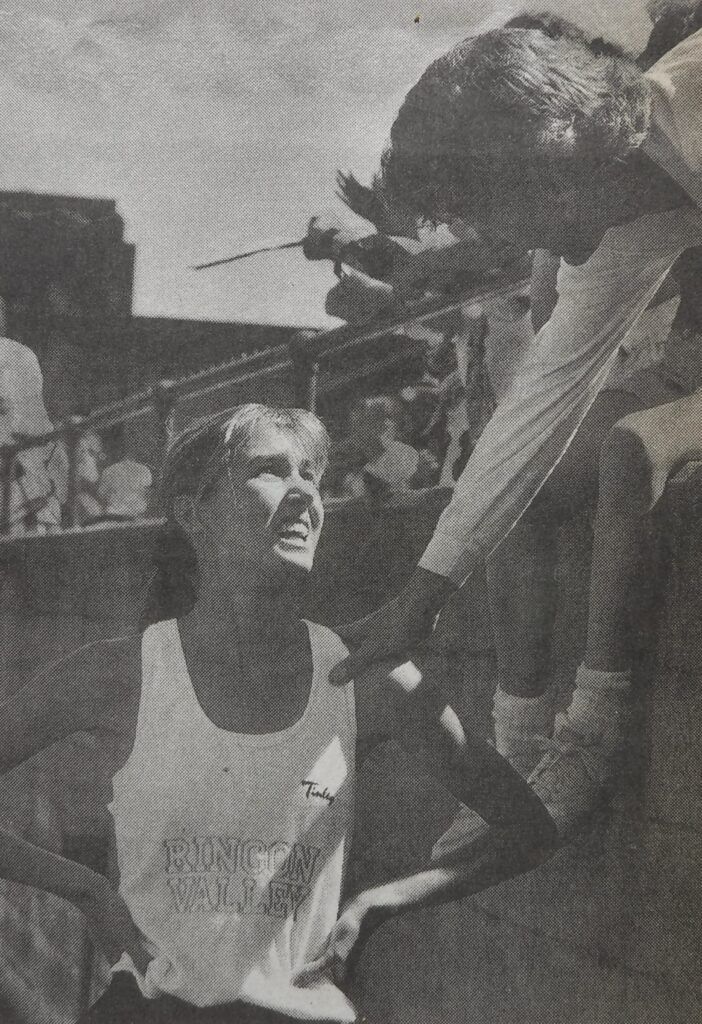 Our first golden girl was Rincon Valley Junior High's Julia Stamps.
She was possible the best high school runner in the nation her freshman year of cross country demolishing course records before an appendicitis kept her from winning the state championship.
In track she would be allowed to run for RVJH in the full high school season of track meets.
She kicked off the 1994 track season at the Sunkist Invitational. She would set the National Indoor freshman record there at the L.A. Sports Arena and take down the Empire record with a 10:30.2 two mile.
She would take down the NCS 1A meet record to kick things off in the post season. Even with a burst blister on her bloody foot she would run 10:45.11.
Stamps would rule the NCS MOC meets winning all four years, winning in 1994 at 10:28.49.
She easily won the State finals that year winning by 24 seconds in another Empire record of 10:26.51.
After state she would win the Golden West Invite (10:30.25) and then beat college runners to win her first USA Junior National 3,000m (9:28.50) Championship.
That 3,000 time was also a National freshman record.
She was voted the best 3000/3200 prep in the nation that year, the first frosh to ever get that honor.
Following her freshman year she would win the National cross country championship, now at Santa Rosa High, winning the Footlocker Nationals over the best in the United States by a whopping 31 seconds. Watch the race
In cross country she would win state division I title her final three years holding the course record on every course she toed the line on except San Diego's Balboa Park were her 16:41.9 5K National winning time was only 2.6 seconds off of Colorado's Melody Fairchild's mark in winning the 1990 Nationals.
Stamps never ran the Spring Lake course as a freshman but still holds all three of the other class records there.
In the 3200 held the Redwood Empire class record for all four grade levels. She held the freshman mark until this year.
In the 1600 Stamps held the Redwood Empire freshman record and still holds the older three class records.
Stamps still holds the NCS Redwood Empire meet record at 10:12.20 from 1996. Watch the race
She would win three more state track titles 3200m 10:26.51 1994, 10:15.27 1995, 10:15.17 1997, 1600m 4:44.78 1997.
Stamps would go on to run for Stanford and after college would run 2:44:07 at the 2012 Olympic Marathon trials.
After that she got into Ultra Marathons.
I was convinced after Stamps finished high school we would never see anyone ever come even close to what she did.
ENTER Sara Bei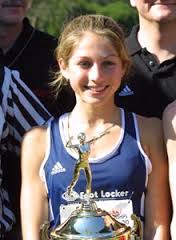 Montgomery's Sara Bei of course came into her first high school year of track having already won the Division III State cross country title. She would go on to become the first girl in California state history to win four individual state XC titles, plus a bonus team title.
Bei would take over a minute off the freshman Spring lake record at 17:09, previously held by Trina Cox of Santa Rosa at 18:26 from 1995.
Thomsen would come close to that at 17:17, ahead of Jacque Taylor (17:19) and Rylee Bowen's (17:36) freshman marks.
Bei's freshman track season would be just as glorious.
She would have many big victories including the Stanford 3,000 and Sac MOC at 10:38.7.
At NBL's she won the 1600, 400, 3200 (10:58.11) and Mile Relay.
At NCS MOC she would win her first 3200 title at 10:41.72, after already winning the 1600 earlier.
State would be no different again winning both events posting 4:49.21 and 10:31.06 times.
Only Stamps had run a faster 3200 time as a freshman in the Empire.
Here is a video of the her freshman state 1600 win. View here
She would again win the state 3200 title in 2001 in the one and only time faster than what Thomsen just ran at 10:11.11.
Bei would win our second National cross country championship, winning the Footlocker Nationals over the best in the United States. Watch the race
Like Stamps she would go on to run for Stanford.
Post college she has had a career that is still going strong including winning the 3000 meter steeplechase at the 2011 Pan American Games and is the current holder of the American half marathon record along with her husband who holds the men's.
Jacque Taylor added to our glory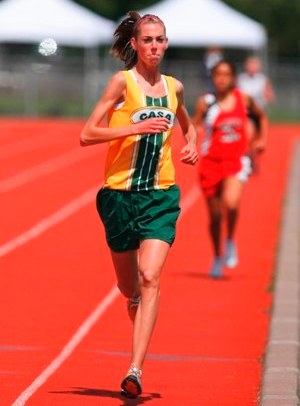 Casa Grande's Taylor was the Redwood Empire Runner of the Year for cross country and Co-Runner of the Year for track her freshman year.
NCS II Champion and 5th at State her freshman year was a great start and concluded her season with a Junior Olympic National title.
In track she would have such highlights as 7th at Arcadia in the 3200 in 10:36.30 and 4th at STATE 10:34.39.
Her talent belies her freshman status
Her 10:34.39 state meet time was less than 8 seconds short of Stamps freshman record.
She would go on to be the Cross Country Division II Champion in 2009.
And they kept coming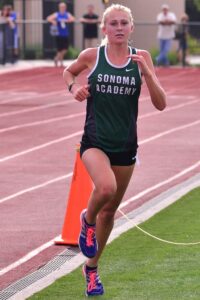 Sonoma Academy's Rylee Bowen was yet our next freshman to come into her first track season having already won a state cross country title. (2014 Division V)
In XC she was also the National USATF Jr. Olympic 15-16 year old Division Champion.
Rylee would run her first 2 miler at the New Balance Nationals Indoor in New York.
She would win her heat in 10:37.13. Just seven seconds off of Stamps National indoor freshman record.
Later she would run the fastest time for a freshman in the nation for 3000m at 9:49.61 with her Stanford win.
Rylee would take over as our second fastest freshman ever ahead of Bei at the Arcadia with a 10:29.61 for 16th.
She would also win the NCS 1A (11:16.25) and take 4th at NCS MOC (10:44.88).
Fourth wasn't bad considering she had already won the 1600 at 4:43.92.
It wasn't a 3200 but she also gets credit for a National Freshman Record & CA HS record winning the 2,000m Steeplechase in 6:41.26 at the National Youth Championships. Watch the race.
Bowen was the 2016 Girls All-Empire Track & Field ATHLETE OF THE YEAR and Co-ATHLETE OF THE YEAR in 2017.
Her 2016 Arcadia 3200 win was one of her major accomplishments. Watch the race
And these were just are best girls as freshman.
That list does not even include girls who could not make our top five freshman lists in the distance's.
Like National Champion Amber Trotter or future Olympian Kim Conley.
Or these state champions.
Harper McClain, St. Helena
Cross Country Division V 2019
Gabrielle Peterson, Healdsburg
Cross Country Division V 2018
Sarah Sumpter, Healdsburg
Cross Country Division IV 2007
Jenny Aldridge, Maria Carrillo
1600m 4:49.63 2000
Trina Cox, Santa Rosa
Cross Country Division I 1997
So we now get to enjoy a few more years of seeing what Thomsen produces and then I guess we will see who the next one will be after her.