St Helena's Harper McClain competing at the Sundown Track Series Meet #2 in Mesa, Arizona took to the track on February 27, 2021 for a 10:39.52 3200 meter race.
The race was won by another Californian Mia Barnett who ran the fastest time in the nation at 10:15.82.
McClain's time was her third best behind her 10:29.68 for 7th place at the 2019 State meet and her 10:33.87 at NCS MOC that year.
McClain has verbally committed to the University of Oregon.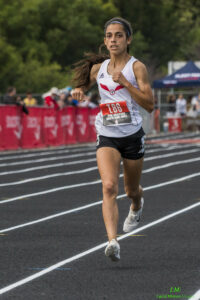 More action at the Sundown Track Series #2 meet.
Results
McClain's time moved her to 7th on the Senior Class Records list.
10:11.11 Sara Bei, Montgomery 2001
10:15.17 Julia Stamps, Santa Rosa 1997
10:20.64 Amber Trotter, Ukiah 2002
10:23.85 Gabriel Peterson, Healdsburg 2019
10:37.78 Sherri Minkler, Analy 1985, 11:03.64 '84, 11:21.14 '83
10:38.75 Shelby Leland, Ukiah 2004
10:39.52 Harper McClain, St Helena 2021
10:40.32*i Jenny Aldridge, Maria Carrillo 2002
10:41.82 Delaney White, Santa Rosa 2016
10:46.35 Trina Cox, Santa Rosa 1999
10:49.96 Jacque Taylor, Casa Grande 2010