Sat, Mar 19, 2022
Santa Rosa junior CoCome McKamey had glorious day in gloomy weather.
McKamey won four events at the 9th Annual Eddie Hart Invitational.
And none of these were photo finishes as the closest anyone came to her marks was the long jump were she won by over seven inches.
She now holds the Prep best in all four of these events plus she has the PB in the high jump but the CIF only allows preps to do four events in a single meet.
And her marks today, wow!
Check out the long jump list below. Only three of the best athletes we have ever had have longer jumps than McKamey's 18-4.
All-Time
19-8 Amey Mitchell, Rancho Cotate #1 1990
18-11¼ Wendi Simmons, Santa Rosa #1 1985
18-11 Kirsten Carter, Santa Rosa #2 2015
18-4 CoCome McKamey, Santa Rosa #3 2022
18-2¼ Dee Peary, Petaluma #1 1982
18-2¼ Amani Baker, Maria Carrillo #1 2017
18-2 Lily Mulligan, Maria Carrillo #2 2021
18-1½ Denise Adiego, Petaluma #2 1982
18-1¼ Maggie Farrar, Petaluma #3 2002
18-0¼ Melissa MacPherson, Montgomery #1 1992
To my knowledge this was her first attempt at the triple jump and she soared out to the =14th All-Time mark, =8th Junior with her winning 36-0½.
Her 47.28 300 hurdle win moves her to 35th All-Time.
She also won the high hurdles by a full second into the wind at 16.44.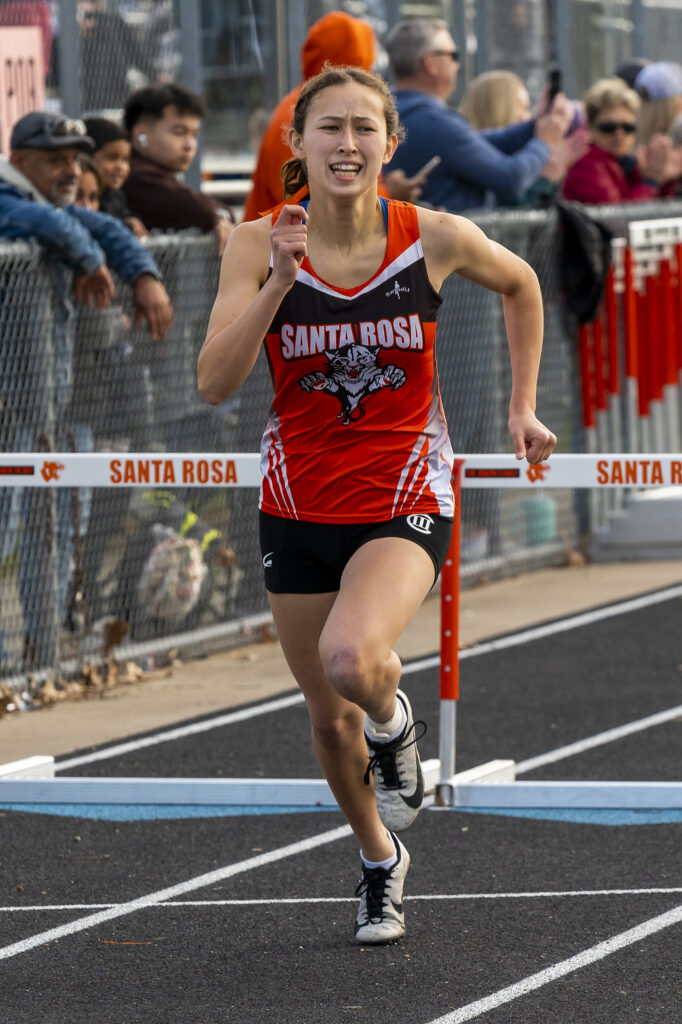 100 Meters Varsity - Finals
5.	12	Kassidy Schroth		12.76a (-0.1)	Santa Rosa	
12.	10	Lily Desmond		13.56a (-0.6)PR	St Helena	
16.	10	Mia Hernandez		13.85a (-2.3)	St Helena	
17.	11	Angela Acero		13.95a (-0.6)	American Canyon	
25.	11	Caroline Comer		14.29a (-0.4)	Fort Bragg	
32.	11	Isabella Balmaceda	14.55a (-2.3)	Justin-Siena	
38.	11	Hannah Spare		14.61a (-0.3)	Justin-Siena	
42.	12	Jazmyn Namvar		14.78a (-1.8)	Fort Bragg	
43.	11	Jenna Curti		14.81a (-1.8)	Fort Bragg	
48.	10	Lauren Clark		15.28a (-1.5)PR	Casa Grande	
49.	11	Laniese Lopez		15.29a (-0.4)	Lower Lake	
51.	10	Taylor Beaube		15.35a (-1.9)PR	Casa Grande	
52.	12	Audrey Reposa		15.67a (-1.5)SR	Casa Grande	
56.	11	Alexi Eaton		16.73a (-1.5)	Lower Lake	
59.	12	Andrea Vaquero		19.25a (-0.3)PR	Lower Lake	

100 Meters Frosh/Soph - Finals
7.	9	Haley Pham		13.97a (-0.6)PR	Justin-Siena	
8.	10	Leyna Stein		13.99a (1.0)PR	Vintage	
11.	9	Lauren King		14.17a (0.0)	American Canyon	
18.	9	Kaylee Costella		14.49a (0.8)PR	Vintage	
22.	9	Samantha Carey		14.62a (1.7)	Justin-Siena	
28.	9	Julia Dolph		14.97a (-1.0)PR	Healdsburg	
29.	9	Skylar Williams		14.98a (1.7)	Justin-Siena	
35.	10	Jaymielle Mendoza	15.33a (2.0)PR	Casa Grande	
44.	9	Katie Ohlander		16.87a (1.0)PR	Casa Grande	
46.	10	Deisy Perdomo		17.04a (1.0)PR	Casa Grande	

200 Meters Varsity - Finals
4.	12	Kassidy Schroth		26.35a (1.4)	Santa Rosa	
6.	10	Mia Hernandez		27.85a (0.6)PR	St Helena, CMC leader	
8.	11	Eva Bowen		27.94a (1.1)SR	St Helena	
9.	10	Lily Desmond		28.20a (0.7)PR	St Helena	
11.	11	Sadia Diouf		28.45a (1.7)PR	American Canyon	
16.	9	Lauren King		29.50a (2.2)PR	American Canyon	
17.	10	Lauren Clark		30.14a (-0.1)PR	Casa Grande	
19.	12	Jazmyn Namvar		30.72a (1.1)SR	Fort Bragg	
23.	12	Audrey Reposa		31.56a (1.1)SR	Casa Grande	
29.	11	Alexi Eaton		34.04a (1.7)PR	Lower Lake	

200 Meters Frosh/Soph - Finals
7.	10	Anayiah Brown		29.35a (0.4)	American Canyon	
10.	11	Saniyah Farris		29.58a (0.4)PR	American Canyon	
14.	9	Kyla Piggott		30.25a (-1.2)PR	Vintage	
17.	10	Sophie Nassiri		30.56a (-1.8)SR	Vintage	
21.	10	Taylor Beaube		31.45a (0.3)PR	Casa Grande	
26.	10	Jaymielle Mendoza	32.51a (-1.2)PR	Casa Grande	

400 Meters Varsity - Finals
4.	11	Eva Bowen		1:02.00a SR	St Helena, CMC leader	
9.	11	Angela Acero		1:06.80a 	American Canyon	
12.	11	Sadia Diouf		1:07.95a 	American Canyon	
15.	12	Juliana Catalan		1:08.97a SR	Vintage	
18.	11	Saniyah Farris		1:12.12a 	American Canyon	
20.	11	Lilla Kasper		1:13.44a PR	Vintage	
24.	11	Tanner Henry		1:16.07a PR	Vintage	
26.	12	Mya Leon-Guerrero	1:24.18a PR	Justin-Siena	

400 Meters Frosh/Soph - Finals
2.	9	Blake Wilsey		1:05.13a PR	Justin-Siena	
3.	12	Audrey Reposa		1:05.17a SR	Casa Grande	
7.	10	Anayiah Brown		1:06.48a PR	American Canyon	
9.	9	Kyla Piggott		1:08.29a PR	Vintage	
10.	10	Leyna Stein		1:08.40a PR	Vintage	
13.	10	Tatum Newell		1:09.37a 	Justin-Siena	
14.	10	Sophie Nassiri		1:09.55a SR	Vintage	
29.	9	Julia Dolph		1:18.11a PR	Healdsburg	

800 Meters Varsity - Finals
1.	12	Maizie Martin		2:30.30a PR	Fort Bragg, CMC leader	
2.	10	Eva Williams		2:36.62a PR	St Helena	
7.	11	Maggie Trebilcock	3:03.61a SR	Healdsburg	

800 Meters Frosh/Soph - Finals
2.	9	Kari Aguirre		2:49.02a PR	American Canyon	
9.	9	Natalie Krystal		3:12.30a 	Justin-Siena	
11.	9	Kathryn Spiegel		3:19.03a PR	Justin-Siena	
12.	9	Maddie Chiu		3:22.69a PR	Vintage	
14.	10	Brenna Scott		3:28.39a SR	Healdsburg	

1600 Meters Varsity - Finals
3.	12	Natasha Beitz		6:08.93a SR	Vintage	
4.	12	Maggie Chapin		6:10.10a 	Vintage	
5.	11	Maggie Trebilcock	6:22.77a SR	Healdsburg	

1600 Meters Frosh/Soph - Finals
2.	9	Eliza Chapin		6:51.57a 	Vintage	

100m Hurdles - 33" Varsity - Finals
1.	11	Cocome McKamey		16.44a 	        Santa Rosa	
4.	11	Sophia Notaro		18.04a 	        Vintage	
10.	12	Isabella Sarao		18.97a (-0.8)	Vintage, VVAL legal leader	
11.	12	Katherine Heffernan	19.18a (-0.8)	Justin-Siena	
15.	12	Emily Nadeau		20.15a (-0.8)	Fort Bragg	
24.	10	Abigail Busch		28.90a PR	Casa Grande	
26.	11	Caroline Comer		29.30a 	        Fort Bragg	

100m Hurdles - 33" Frosh/Soph - Finals
8.	9	Nadia Sousa		20.59a (-0.9)PR	Justin-Siena	
11.	9	Taylor Stoppello	21.28a (-0.9)	Justin-Siena	
13.	10	Gisele Gamez		25.95a 	        Casa Grande	

300m Hurdles - 30" Varsity - Finals
1.	11	Cocome McKamey		47.28a 	Santa Rosa, 35th All-Time	
3.	11	Sophia Notaro		49.88a 	Vintage, VVAL leader	
9.	10	Abigail Busch		53.45a 	Casa Grande	
10.	12	Emily Nadeau		54.12a 	Fort Bragg	
12.	10	Reyana Valentine	54.94a 	American Canyon	
16.	12	Isabella Sarao		57.23a 	Vintage	
17.	10	Lana Watchorn		57.88a 	American Canyon	

4x100 Relay Varsity - Finals
2.	51.76a 	Justin-Siena
11 	Isabella Balmaceda
11 	Liliana Hobaugh
11 	Gabriella Davis
12 	Sydney Thweatt
		 	
9.	53.93a 	American Canyon
11 	Saniyah Farris
11 	Angela Acero
11 	Kennedy Brown
11 	Sadia Diouf
		 	
11.	55.84a 	American Canyon
10 	Anayiah Brown
9 	Egypt Hodge
10 	Beyah Matteo
9 	Lauren King
		 	
12.	56.67a 	Vintage
12 	Juliana Catalan
11 	Sophia Notaro
12 	Isabella Sarao
11 	Tanner Henry
		 	
13.	58.41a 	Lower Lake
10 	Maya Holland
10 	Yamilet Saucedo
11 	Gabby Pelcastre
11 	Laniese Lopez
		 	
4x100 Relay Frosh/Soph - Finals
3.	55.74a 	Justin-Siena
9 	Samantha Carey
9 	Haley Pham
9 	Skylar Williams
9 	Blake Wilsey
		 	
9.	58.70a 	Justin-Siena
9 	Sophia Dominici
9 	Nadia Sousa
9 	Tanmaya Ravi
9 	Taylor Stoppello
		 	
4x200 Relay Frosh/Soph - Finals
1.	1:53.66a 	Justin-Siena
9 	Samantha Carey
9 	Natalie Krystal
9 	Taylor Stoppello
10 	Constanz Rojas Carvajal
		 	
8.	2:09.31a 	Vintage
9 	Gabriella Martin
9 	Maddie Chiu
9 	Kaylee Costella
9 	Graciela Escobedo
		 	
High Jump Varsity - Finals
9.	12	Grace Pastene		4-04.00 	Healdsburg	
9.	12	Jazmyn Namvar		4-04.00 SR	Fort Bragg, =CMC leader	

High Jump Frosh/Soph - Finals
2.	9	Skylar Williams		4-00.00 PR	Justin-Siena	
2.	10	Lana Watchorn		4-00.00 	American Canyon	
2.	10	Reyana Valentine	4-00.00 	American Canyon	

Pole Vault Varsity - Finals
2.	11	Jenna Curti		8-00.00 	Fort Bragg	

Pole Vault Frosh/Soph - Finals
1.	10	Sophie Nassiri		6-06.00 SR	Vintage	
1.	9	Kathryn Spiegel		6-06.00 PR	Justin-Siena	
3.	9	Kari Aguirre		6-00.00 	American Canyon	

Long Jump Varsity - Finals
1.	11	Cocome McKamey		18-04.00 PR	Santa Rosa, 4th All-Time, 3rd Junior AT
6.	11	Sophia Notaro		16-10.50 	Vintage	
8.	11	Kennedy Brown		15-02.00 	American Canyon	
23.	12	Grace Pastene		12-10.00 PR	Healdsburg	

Long Jump Frosh/Soph - Finals
4.	9	Haley Pham		14-08.50 PR	Justin-Siena	
6.	10	Lana Watchorn		14-02.50 	American Canyon	
10.	9	Samantha Carey		13-05.00 	Justin-Siena	
11.	9	Julia Dolph		13-03.00 PR	Healdsburg	
13.	9	Sophia Dominici		12-11.50 	Justin-Siena	
14.	9	Gabriella Martin	12-05.00 PR	Vintage	

Triple Jump Varsity - Finals
1.	11	Cocome McKamey		36-00.50 PR	Santa Rosa, =14th All-Time, =8th Junior
3.	11	Kennedy Brown		32-05.00 PR	American Canyon, VVAL leader	
4.	12	Katherine Heffernan	32-04.00 SR	Justin-Siena	
5.	11	Emery Messenger		31-07.50 	Justin-Siena	
12.	12	Isabella Sarao		28-03.50 SR	Vintage	
14.	9	Julia Dolph		27-11.00 PR	Healdsburg, Redwood leader

Shot Put - 4kg Varsity - Finals
18.	11	Ellie Kennedy		24-00.25 PR	Vintage	
19.	12	Aubriana Medina		23-05.25 	Vintage	
25.	11	Evelyn Campbell		19-00.00 	Lower Lake	

Shot Put - 4kg Frosh/Soph - Finals
6.	9	Natalie Russell		23-04.00 	Vintage	
13.	10	Brenna Scott		18-03.75 PR	Healdsburg	
16.	10	Victoria Gartner	15-11.25 	Healdsburg	

Discus - 1kg Varsity - Finals
11.	11	Ellie Kennedy		78-07 	Vintage	
16.	12	Aubriana Medina		68-08 	Vintage	
16.	12	Bella Wright		68-08 	Justin-Siena	
23.	12	Pryanka Shanker		58-11 	Justin-Siena	

Discus - 1kg Frosh/Soph - Finals
5.	9	Natalie Russell		69-03 	Vintage	
11.	10	Victoria Gartner	50-04 	Healdsburg	
13.	10	Brenna Scott		48-04 	Healdsburg	
17.	10	Juliana Giovannoni	45-04 	Justin-Siena