If you have never taken the time to watch the throwing events I challenge to put it on your to do list.
Many times the throw rings are not within view of the bleachers for the track races but there is just as much excitement and action going on there as around the oval.
If you want a good time to see them head to Santa Rosa High on Saturday, March 19th for the Santa Rosa Field Jamboree. There are no races going on on the track in the Empire that day.
For the girls shot put things kicked off, or launched, in 1975 with the girls using an eight pound shot put.
In the Sonoma County League finals Casa Grande's Roxanne Stewart set the first meet record at 34-3.
In the North Bay League finals Napa's Stacey Erickson would not only set their first meet record but her mark was our first Redwood Empire record at 35-9½.
In 1976 Erickson would improve both records again with a 36-7¼ toss.
Clear Lake's Sandi Binns took the Empire record away from Erickson in 1977 with a 37-9 mark but it would be her senior year, 1978, that would be really exciting.
She upped the NCL I league finals meet record winning at (38-7¼) and then set the North Coast Section 1A record at 38-11.
At the NCS Meet Of Champions meet she found a new level producing our first 40 foot shot put.
Binns placed fourth and qualified for the state meet with 40-2¾. At state she did not make the final as it took 41-6.
Her 40-2¾ distance would be worth about 36-7¾ for today's 4 kilo shot and is still the best ever from Clear Lake High.
Clear Lake also set the first Empire record in the shot put relay.
In field event relays the total of three teammates throws are added together for the team total.
Clear Lake went 99-5 with 8lb shots equal to about 90-6¾ for the 4k.
Over in the SCL Analy's Tina Vale was the dominate thrower.
Vale would be the SCL's first three time finals winner taking 1977 (34-11 meet record), 1978 (34-2) and 1979 (35-6½ MR).
In 1980 as the running events were going from yard races to meters the girls shot was changed from 8 lbs to 4 kilograms (8 lbs 13.1 onces).
There is no true conversion for this but I estimate the difference to be about 3 1/2 feet or 8 pound distance times 0.911 = 4k distance.
The real problem for the next ten years or so was it was hard to tell the two apart. Many shots had no markings on them and even today very few meets do weigh-ins to check to see if an implement is heavy enough.
This meant, especial early on, some marks may have been accomplished with 8 pounders. Not necessarily from anyone trying to cheat but often just by accident.
Cloverdale's Sandy McMillan, sister of basketball and high jump star Craig McMillan, set the 220 yard record at 26.2 in 1979, then in 1980 she set the Empire shot put record with the current 4 kilo shot at 39-9. That mark came from a 4-way CMC meet on March 26th. She would have other throws over 37 and qualified for MOC trials where she threw 35-2½.
In the NBL Rancho Cotate's Lynette Colter would set the first NBL meet record with a 4k at 34-3½.
In the SCL Piner's Jennifer Evans would do the same at 32-8½.
Casa Grande's Dawn Bettinell improved the SCL mark to 33-8¼ in 1981.
In the NBL Colter would be the first, in the Redwood Empire, to break 40 feet with the 4 kilo shot at 40-2¾ and a new NBL meet record.
In 1983 Colter would throw 44-0½ for the Santa Rosa JC team.
How about the best Husband/Wife marks ever?
83-6½ 1984 Santa Rosa High grads
51-10 Paul Troppy
31-8½ Therese Hughes
During the next two years the Empire had some great shot put battles..
1985 saw Ukiah's Lisa Jordan won both throw titles at the NBL finals and produce a new Empire record in the shot at 41-3 on 4/20/85 at Upper Lake.
Jordan missed the NBL meet record by ¼ inch at 34-3¼, her 41-3 best is the oldest mark still in top 50 performances.
Meanwhile in the SCL Casa Grande's Rene James broke the meet record in the shot at 34-11½. James broke the junior class record, at the time, at 38-8 during that same year.
Then in 1986 Piner's Becky Barragan and James had an epick season of back and fourth battles. Barragan exploded at the SCL finals when she landed one at 42-11¼ breaking the Empire record which still stands as the SCL Meet Record today.
It would hold up as the Empire record for seven years.
Some speculated that this record may have come from an 8 pound shot as there was no weight check at the SCL Finals at Piner. We will never know.
At the NCS MOC trials, with weigh-ins, James would unleash her biggest throw at 41-8¼, also father than Jordan's previous Empire record.
James would win the NCS MOC title at the finals at 40-8¾ and then become the Empires first ever top 8 finisher at state with a 7th place (37-9) finish.
1986 Season
Bold is head to head

James  Barragan 
35-10  35-1   3/20/86, prep best James
40-5¼  dnc    3/27, prep best James
dnc    37-6   4/3
39-0   dnc    Oakland Relays
40-0¾  39-4¼  SR Relays
36-3½  37-8¼  4/18
dnc    39-11  4/24
dnc    39-1   SR All-City
37-0   40-7   4/31/86, prep best Barragan
dnc    40-1   5/7/86
???    40-0   5/9/86 vs James at SSU 
40-6¾  42-11¼ SCL Finals, Empire record Barragan
36-8   37-6½  NCS 2A
41-8¼  40-3¾  MOC trials, James farther than old Empire record
40-8¾  39-7¾  MOC finals
40-10½ 37-8¼  State trials
37-9   dnc    State finals, 7th place 
The next year was a new record for the shot relay as a Willits trio went 91-8 in 1987.
The NBL would have it's first 3 time finals winner by Ukiah's Dorya Harjo who would win the 1986 (32-6¾), 1987 (36-8) and 1988 titles (35-11).
That was followed a couple of years later by Petaluma's Nikka DeWitt who become the SCL's only 4 time winner.
1990 (31-0), 1991 (32-8), 1992 (34-9), 1993 (36-6½). She set her PR at 37-10¾ in 1993.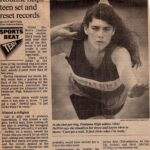 Click on photo to see her story
Santa Rosa's Karin McCall was the top thrower in 1991.
McCall would win the NBL finals at 37-4¼ and break the sophomore class record that year with a 38-11 best.
In 1992 McCall would be a junior. But two new juniors to the sport would make this season even more exciting.
Competing for the first time for Ukiah were the DeLosSantos twins, Coreen and Chris.
That first year Coreen would break James' Junior class record with a 41-4¾ toss. She would also win the NBL finals at 39-0¼.
The following year (1993) would produce a lot of fireworks as Coreen and McCall had some incredible battles.
At the Sunkist Invitational at the L.A. Sports Arena McCall would set our indoor shot record at 38-11.
Coreen would have her best throw ever in April at the Chico Inviational breaking the Empire record with a 43-1¾ put.
Coreen and Karin matched up with both surpassing 41 feet three times as they went head to head.
The first was a dual meet in May as Coreen threw 41-6 and Karin 41-4½.
The weekend following Coreen won the Viking Classic at 42-2.
At the NBL finals Coreen set the still standing meet record at 42-0¼ with Karin passing the old record by a foot and a half at 41-10¼. No one has beat 39-6 in this meet since.
The NCS MOC trials would see the pair again top 41 together as Karin went 41-4½ and Coreen 42-2¾.
In the finals both would qualify for state with Coreen taking 2nd at 42-1 and Karin taking 4th at 40-2¾.
Coreen ended her career with eight of the top 37 throws ever.
With what sister Chris was able to do in the shot the DeLosSantos' are still the best ever Sisters we have ever had in the event.
79-0¼ DeLosSantos, Ukiah
43-1¾ Coreen 1993
35-10½ Chris 1993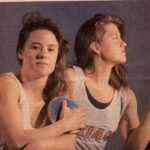 McCall would throw 44-1½ for Azusa Pacific in 1995.
Marissa Wilson only competed one year at Santa Rosa High and one year at Montgomery but she sure added her name to a lot of lists in that short time.
As a Freshman in 1995 she broke the class record for Santa Rosa at 33-3¼.
She would transfer to Montgomery in 1996 and win the NBL title at 38-9.
Her 40-7 best that year is still the only Sophomore class mark over 40 feet and still the Montgomery record.
It would be her last year competing but her mark still remains in the Empire's All-Time top ten.
Healdsburg's Faith Matranga would be the Empire's next star.
She would win the SCL finals in both 1996 (35-2) and 1997 (38-9) but her senior year was by far her best.
Matranga opened the 1998 season on March 14th at the Leprachaun Classic with a huge 41-6½ put.
She would equal that mark again on April 22nd at Healdsburg before her break through mark of 42-7 on 4/29 at Casa Grande.
At the time only a single throw by both Coreen DeLosSantos and Becky Barragan had ever gone farther than her 42-7. To this day it is still the number nine performance ever.
She then had one of the best post seasons any Empire female thrower has ever had.
She won her third SCL title at 42-3 and the NCS Redwood meet at 41-1.
At MOC trials she threw 40-11¼ then took 3rd at the finals with 41-2¾.
At state she went 41-11 at both the trials and the finals equaling the best place ever in this event finishing in 7th.
Her nine throws at 40-11¼ and beyond gave her over a third of the top 23 marks at the time and all still in top 50.
Piner's Marcella Whitemore would win her first NBL title in 1999 at 35-5 breaking the previous freshman Empire record.
In 2000 she would win again at 35-9¼ and have a seson best of 36-5¾.
As a junior she would win her third NBL title at 36-3¾. Her PR would happen this year at 38-10.
Then in 2002 she would become the NBL's only four time champion at winning at 37-9.
The 2001 Ursuline (Cardinal Newman) team of Catherine Gravelle 31-8, Toni Freeman, 31-1½ and Krista Durand 29-5¼ broke the relay record with a distance of 92-2¾.
Potter Valley's Brianne Ferris reached 37-0 in 2001 and placed 5th at NCS MOC at 36-6½.
She would go on to throw 44-8¾ for Chico in 2004.
Sonoma Valley's Melissa Van Paris didn't start throwing in high school until her sophomore year year but quickly became our best ever.
That first year (2002) Van Paris threw 39-5½, still the 3rd sophomore mark of all-time. She would also win the SCL title at 37-5½ and qualify for state.
It was a great year for the Empire in this event with only three other seasons having a deeper group.
2002 four at 36-0½ or farther
39-5½ Melissa Van Paris, 10, Sonoma Valley, SCL Champion, NCS Redwood Champ, 4th NCS
37-9 Marcella Whitmore, 12, Piner, NBL Champion, 2nd NCS Redwood
36-3½ Lauren Ruhl, 12, Rancho Cotate
36-0½ Theresa Belton, 11, Ukiah
35-11¼ Jamie Reese, 11, Casa Grande
35-4 Nora McAuley, 10, Petaluma
Van Paris' junior year saw her fall just 2¼ inches short of DeLosSantos class record when she threw 41-2 and 41-2½ to win the Woody Wilson Relays.
She would again top 41 with a 41-0½ at the Sac MOC Invitational.
Van Paris would win her 2nd SCL title at 39-6½ and become only the second girl to win the NCS MOC title at 40-8 to make her second trip ti state.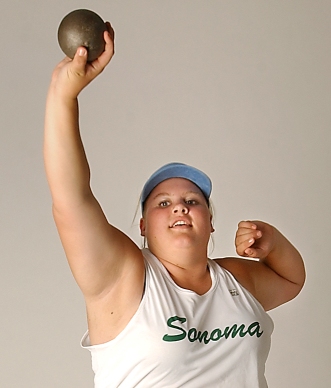 In a rare Shot Put Relay event Van Paris's 42-0 mark along with what teammates Addie Maushardt and Marion Everidge put them as the best relay team ever at 98-3.
She would go on to win her third SCL title at 41-10, only Barragan's Meet Record is farther in this meet.
She would win her second NCS Redwood in a still standing NCS Redwood Meet Record of 42-5.
At MOC she would defend her title with an Empire record of 43-10.
This made her our first girl to ever hold both the Empire's Shot and Discus records.
Van Paris became our best girls medalist ever at state in this event with a 5th place finish at 43-9.
She was the 2004 Athlete of the Year
Here is Van Paris' 2004 Season
42-0 Eagle Classic
42-3 3/24/04
42-1½ 4/3/04 Oakland Relays
42-5 4/9/04
42-4 4/16/04 Woody Wilson
41-4 4/28/04 at Sonoma Valley
42-0 2004 Sac MOC
41-10 SCL Finals
42-5 5/22/04 NCS Redwood
42-7¼ 5/28/04 MOC, #8 Empire Performance Ever
43-10 5/28/04 MOC, Empire record
42-8¼ 6/4/04 State trials, #6 Empire Performance Ever
41-11½ 6/4/04 State trials
43-9 6/5/04 State, #2 Empire Performance Ever
41-10¼ 6/5/04 State
41-8 6/5/04 State
Van Paris would go on to reach 45-11 competing for the Sanra Rosa JC team in 2005.
During the time Van Paris was dominating the throws results another of our greatest was working her way towards the top.
Maria Carrillo's Jean Lightfoot won the NBL finals as a freshman in 2003 at 33-4¼.
Lightfoot would reclaim that title in 2005 at 39-4¼ and 2006 (38-10¾).
Here are her eight 2006 marks on the All-Time performance list.
41-0½ 3/22/06 Special Relays
41-0½ 5/3/06 at Maria Carrillo
41-4¼ 5/20/06 NCS Redwood
42-8 5/27/06 MOC, 7th best performance ever
41-9¼ 6/2/06 State trials
42-2¾ 6/3/06 State
42-6 6/3/06 State, 10th best performance ever
42-9½ 6/3/06 State, 5th best performance ever
At State her 42-9½ throw would place her 7th.
She would go on to hold our adult record at 48-5¾ competing for UC Santa Barbara in 2011.
Sonoma Valley's Mindi Wiley is known as our greatest high jumper ever, but as soon as teammate Van Paris graduated she also became the best shot putter in the SCL. Wiley would win both the 2005 (34-6½) and 2006 (36-2¾) championships.
2006 was the 2nd deepest year ever with four at 36-2¾ or farther.
42-9½ Jean Lightfoot, 12, Maria Carrillo, NBL Champion, NCS Redwood Champ, 2nd NCS, 7th State
36-10½ Corrine Rich, 10, Montgomery, 2008 NBL & NCS Champ
36-8 Jaimee Windlinx, 11, Fort Bragg, CMC Champion
36-2¾ Mindi Wiley, 12, Sonoma Valley, SCL Champion, 2nd NCS Redwood
35-10 Katie Conroy, 11, Casa Grande
Coming off the heals of Lightfoot the Empire had two standouts to keep excitement happening in the rings.
Fort Bragg's Jaime Windlinx became the CMC's only known three time league champion in this event taking the 2005 (31-7), 2006 (33-4½) and finally in the still standing Meet Record of 38-3 (2007).
Meanwhile over in the NBL Montgomery's Corinne Rich won both the 2007 (38-3½) league title and the 2008 (39-1½) meet.
In 2008 she would also win both the NCS Redwood (39-9) and the MOC (40-4½) to be named the 2008 Co-Athlete of the Year from her shot dominance and also throwing the discus at 136-4 which gave her 3 of the 4 longest throws ever in Empire history at the time.
Casa Grande's Elaine Weaver would become a three time SCL champion taking the 2009 (33-3), 2010 (37-9½) and 2011 (38-0) titles.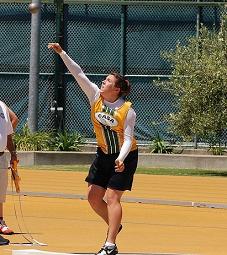 Photo by Michael Lucid
Petaluma's Allison Scranton would destroy the 13 year old freshman class record in 2012 with a 37-3¾ put.
2013 was the deepest quality year we have ever had with six girls at 36-8 or farther.
39-10½ Allison Scranton, 10, Petaluma, SCL Champion
38-4 Kathleen Durand, 12, Maria Carrillo
38-1 Louise Shurvinton-Bradley, 12, Santa Rosa, NBL Champion
37-8½ Allyson Milone, 11, Ukiah, 4th NCS
36-8 Nicole Purter, 12, Windsor
36-8 Laura Ryzanych, 12, Cardinal Newman

2013 was also a record year for families as the Brother/Sister and Mother/Daughter records were set.
Brother/Sister
89-6½ Scranton's 2013
49-8 Teddy
39-10½ Allison
Mother/Daughter
68-8½
30-4½ Alycia Yacoboski
38-4 Kathleen Durand 2013
Durand would go on to throw 45-10 for Sacramento St in 2017.
Allison Scranton would be a three time SCL champion winning 2013 (34-10½), 2014 (35-9½) and 2015 (36-7) meets.
Scranton was 2014 and 2015 ATHLETE OF THE YEAR for the Redwood Empire off her shot putting and medaling at state in the discus.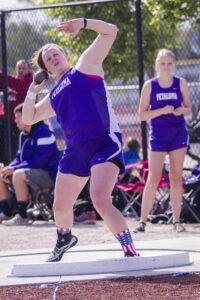 Casa Grande's Lillian McCoy set the Vine Valley Athletic Leagues Meet record in 2019 at 39-03 and then went on to win the NCS MOC meet at 40-5.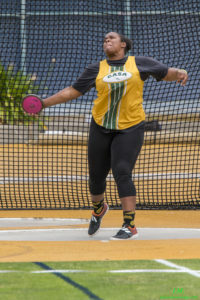 Danielle Cunningham (2019) is the seventh girl from Ukiah to have a mark in the current top 50 performers giving that school the highest total for any school.
Sadly Cunningham, Lilly McCoy and Kassidy Sani all lost the opportunity to improve on their marks from their junior years because of the COVID pandemic which halted their senior year of 2020 before some of them ever stepped into the ring.
2019 was the 3rd best year ever with four at 36-1½ or farther
40-5 Lilly McCoy, 11, Casa Grande, VVAL Champion, NCS Redwood Champ, NCS Champ
37-11½ Danielle Cunningham, 11, Ukiah, 2nd NCS Redwood, 4th NCS
36-9½ Caitlin Grace, 12, Santa Rosa
36-1½ Kassidy Sani, 11, El Molino, NBL Champion

---
Most marks in the top 50 Performances
19 throws between 43-10 and 41-0½ Melissa Van Paris, Sonoma Valley
9 42-7 40-11¼ Faith Matranga, Healdsburg
8 43-1¾ 41-4¾ Coreen DeLosSantos, Ukiah
8 42-9½ 41-0½ Jean Lightfoot, Maria Carrillo
3 41-10¼ 41-4½ Karin McCall, Santa Rosa
1 42-11¼ Becky Barragan, Piner
1 41-8¼ Renee James, Casa Grande
1 41-3 Lisa Jordan, Ukiah
ADULT SHOT PUT
48-5¾ Jean Lightfoot, UC Santa Barbara (Maria Carrillo '06) at UW Invitational 1/28 – 1/29/11
45-11 Melissa Van Paris, SRJC (Sonoma HS) 4/23/05
45-10 Kathleen Durand, Sacramento St (Maria Carrillo '13) at Aggie Open 2017
44-8¾ Brianne Ferris, Chico (Potter Valley '01) at Sac State 4/24/04
44-1½ Karen McCall, Azusa Pacific (Santa Rosa H.S. '93) in 1995
44-0½ Lynette Colter, SRJC 1983
43-2½ Shannon Hartnett, SSU 1989
43-2¼ Keely Borck, SSU 2003
43-1¾ Coreen DeLosSantos, Ukiah 4/24/93
42-11¼ Becky Barragan, Piner 5/15/86

Empire's Best Combination Throwers
shot put     / discus       / Total
39-10½ (616) / 149-4  (777) / 1393 Allison Scranton, Petaluma 2013,2015
43-10  (689) / 135-4  (690) / 1379 Melissa Van Paris, Sonoma Valley 2004
38-4   (587) / 144-3  (745) / 1332 Kathleen Durand, Maria Carrillo 2013
42-9½  (670) / 129-10 (656) / 1326 Jean Lightfoot, Maria Carrillo 2006
40-6¾  (628) / 136-4  (696) / 1324 Corrine Rich, Montgomery 2008
42-7   (665) / 125-9  (631) / 1296 Faith Matranga, Healdsburg 1998
42-11¼ (672) / 120-10 (601) / 1273 Becky Barragan, Piner 1986
36-1½  (546) / 140-10 (724) / 1270 Kassidy Sani, El Molino 2019 2020
40-7   (629) / 126-0  (632) / 1261 Marissa Wilson, Montgomery 1996
41-10¼ (652) / 121-2  (603) / 1255 Karen McCall, Santa Rosa 1993
38-10½ (597) / 127-5  (641) / 1238 Makayla Mix, Fort Bragg 2015
39-5   (607) / 124-11 (625) / 1232 Allyson Milone, Ukiah 2014
35-10  (541) / 134-8  (686) / 1227 Tia DeSoto, Montgomery 1998-99
38-11¼ (598) / 125-3  (627) / 1225 Elaine Weaver, Casa Grande 2011
36-9½  (559) / 125-11 (631) / 1190 Caitlin Grace, Santa Rosa 2019/18
37-8½  (575) / 122-11 (613) / 1188 Lola Paul, Montgomery 1981
34-1   (508) / 132-8  (674) / 1182 Lee Plevney, Lower Lake 1981
37-7½  (574) / 120-4  (597) / 1171 Nicole Purter, Windsor 2012