Complete Results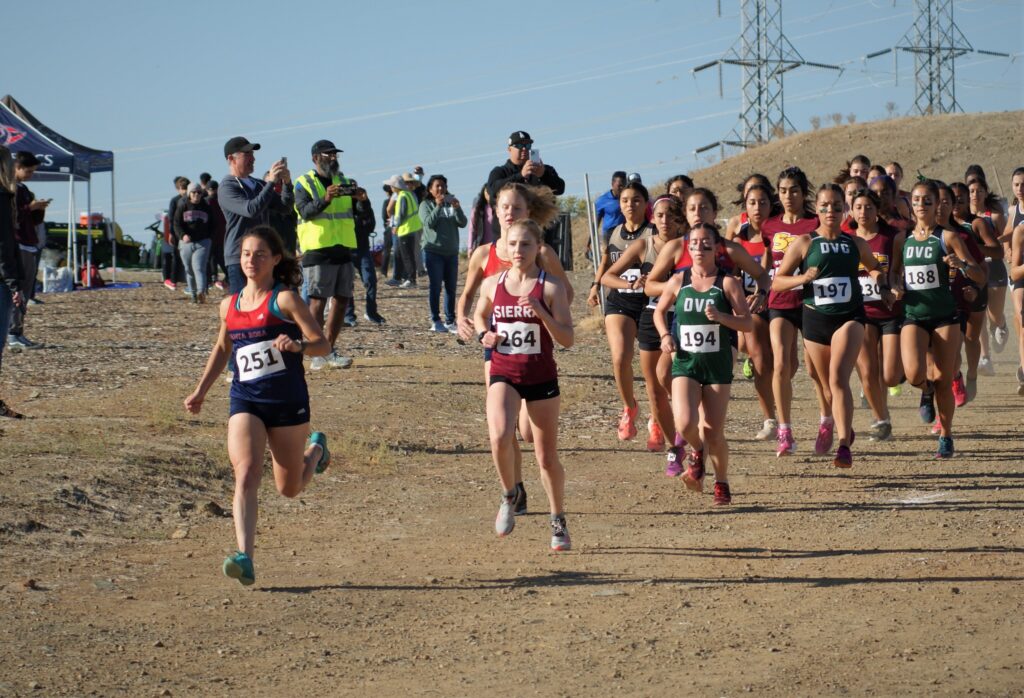 Women's Team Scores:
Santa Rosa JC – 44
Sierra – 55
DVC – 81
Modesto JC – 90
SJ Delta – 91
Sacramento – 129
American River – 166
SRJC Individual Results:
Angelina Law – 1st – 19:18.2
Alexandra Van Holt – 2nd – 19:47.5
Elisa Quintero Cantu – 5th – 20:16.9
Olivia House – 9th – 20:35.5
Alyssa Fletcher – 27th – 23:43.4
Men's Team Scores:
American River – 26
Modesto – 64
SJ Delta – 79
DVC – 86
Santa Rosa JC – 118
Sacramento – 160
SRJC Individual Results:
Peadar Killeen – 23rd – 23:18.6
Tallen Theiss – 26th – 23:46.8
Dylan Phillips – 27th – 23:49.3
Ben Kvamme – 28th – 23:50.5
Dylan Mooney – 34th – 24:31.4
James Schott – 38th – 24:59.1
Ruben Cano – 45th – 27:22.4
SRJC Women win 3rd Big 8 Cross Country Title in 4 Seasons
In only their second race as a full squad, the SRJC Women's Cross Country team came together at the right time to snatch the Big 8 Conference Team Championship.
Heading into the meet, the Bear Cubs were projected second, behind Sierra College by only 4 points. It was going to take something special to overcome the gap. "We made the game plan of attacking the race early and putting the pressure on Sierra", said Coach David Wellman. "The team showed up and achieved something great today".
The race was led wire to wire by Sophomore Angelina Law who never looked like giving up her lead from the gun. Law crossed the finish line with a season best of 19:18.2 for 5k. Alexandra Van Holt was holding 4th place through 2 miles behind Sierra College's Sephora Wontor and Delta College's Frida Rodriguez. In the final hill, Van Holt made a huge move to pass both Wontor and Rodriguez to finish second with a season's best of 19:47.5.
Stuck in a pack of Sierra College runners for most of the first mile, Elisa Quintero Cantu and Olivia House were confident that they find their way through. At the 1 Mile marker, House made a move that stretched the pack. Quintero Cantu followed shortly after. Quintero Cantu used the hills to pass the group and finish with a lifetime PR of 20:18.4. House finished close behind with a season best of 20:35.5. The 5th and final runner for the Bear Cubs, Alyssa Fletcher, was able to hold off Sierra's number 6 and 7 to pull off the upset. In the final Mile, Fletcher was able to pass multiple runners, moving up 4 crucial spots and finishing with a season best of 23:43.4.
The Bear Cubs ultimately beat Sierra by 11 points and were crowned Big 8 Conference Champions for the 3rd time in 4 Seasons.
The Bear Cubs will travel to Fortuna on November 5th for the NorCal Championships.