Hard to believe but it was 27 years ago we had an eighth grader making distance news named Julia Stamps.
See article here.
About at week after that article she ran the 1500 meter race in about 4:36, which is around a 4:54 for a 1600 meter race.
As we all know she went on to be the National cross country champion and won many state track and cross country titles.
She of course still holds the Empire's Prep 1600 record at 4:42.79.
We have had a number of other national and state champions since then.
Switching gears for a moment.
In 2017 Montgomery had a star hurdler.
Thomas Thomsen, 12, Montgomery
110HH
1st NBL 15.07
1st Windsor Relays 15.32 -0.6
1st SR Twilight 15.40 +0.5
1st Viking Classic 15.43
1st NCS Redwood 15.52 -2.8
3rd NCS MOC 15.13 -1.3
3rd Golden West 15.43 -2.0
State meet qualifier
1st 2017 15.07 38th All-Time, 15.13 -1.3
300IH
4th 2017 40.98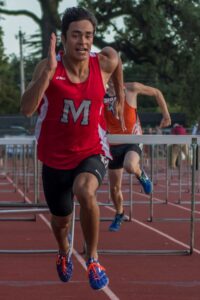 Thomas has a sister named Hanne.
Also note the winner of the local Showcase meet was 5:04.44 and the fastest girl in the NCS this year was at 4:53.26.
Here is what Larry Meredith wrote about her recently.
Slater Middle School 8th-grader Runs 4:51.5 for 1600 Meters. Spoiler Alert: It's a Girl!
Sorry video needs permission which I am working on
Watch her race now or when you get down to it below in the story.
THE BACKSTORY
A year-and-a-half ago Hanne Thomsen, then a 12-year-old 7th-grader at Herbert Slater Middle School, was coming off a cross country season in which she was utterly dominant among local junior high runners. As a member of the Empire Runners Club she then raced through the winter, quietly turning in outstanding performances in small, local races. Hanne won the 2019 McGuire's Breakfast Run 3K (1st overall) in November, was the first female and 2nd overall in December's Final 2-Mile and then, in stunning fashion, ran the 2nd-fastest time ever for females on the Valley Ford Relay 2.75-mile course in February of 2020, an event that has been held annually for 30 years. Hanne was primed for a record-setting junior high track season.
The pandemic. 2020 track season cancelled. 2020 cross country season cancelled. All local running events cancelled. All the while Hanne kept training with her dad, Niels, an outstanding senior runner who was beginning to have trouble keeping up with her. Three times a week they would join the small band of masked and socially-distanced Empire Runners on trails, streets and track, logging miles in hopes that racing would soon resume. When the city schools cancelled all 2021 middle school spring sports it signaled the end of Hanne's chance to re-write the record books at this level.
WHAT IF . . .
In March, facing six more months without competition, I offered to break the monotony by guiding Hanne through a 12-week simulated track season in which she would focus her training on track events and perform a series of time trials along the way, culminating in a grand finale 1600-meter effort in late May. I warned her that it would get tough in the latter stages. Hanne responded with an enthusiastic, "That sounds great! It would be good for me to have a goal. I was hoping that I could run a 1600m in 5:00-5:10 this spring if that works."
We agreed on a goal of 5:04 and that she could call the whole thing off at any point in the season, no questions asked. Any sign of injury would automatically end this project and she could get back to thinking about the upcoming cross country season.
A SEASON LIKE NO OTHER
Hanne, having run an average of 40 miles per week through the winter, came into the training in much better condition than most high schoolers and it took me a couple of weeks to gauge how much speed and volume she could handle on the track. It was impressive from the start. We made adjustments to the workouts and settled into a routine that built into ever-faster repeats.
The first time trial was set for 1600 meters at the end of four weeks of training. Perhaps the most fortunate circumstance for Hanne's season was the availability of a pair of top local runners to pace her through the time trials. For this initial effort Robert Pedersen, who may currently be the top distance runner in the county and is a frequent training partner as part of the Empire Runners training group, offered his services. I just wanted to start with a sub-5:16 effort so I had Robert pull Hanne through the 800 at 2:38 and then let her set the pace on lap 3. She covered the final 800 in 2:29 for a new personal best of 5:07.7. Hanne's pre-season goal of 5:04 now seemed a bit soft.
THIS GIRL'S FOR REAL
Workouts did indeed get tough but Hanne persevered through periods of fatigue to meet every challenge set before her. At the end of week 7 she faced an 800-meter time trial on Thursday followed by another 1600 on Saturday. This time Robert was joined in pacing duties by Dave White, a phenomenal 56-year-old track man who was already running sub-5-minute miles on a regular basis in solo training. With a goal of 2:22, the pacers brought Hanne through lap 1 in 71.5 seconds. They stepped on the gas and Hanne followed, blistering the final 400 in 67.8 for another PR of 2:19.3. Two days later the trio took to the track again and the magic happened. A slow-ish first lap of 77 seconds put this run in doubt early on but then came a 75.6, a 74.5 and finally, burnishing Hanne's reputation as a big finisher, a 68.8 scorcher to stop the clock at 4:56.0! Electricity filled the air. What will she do when those laps are evened out? Time would tell.
TAKING CARE OF BUSINESS
There was a single trial set for the distance of 3200 meters at the end of week 9. Dave was there to handle the pacing duties, fresh off a 10:23 2-mile race a week before. Hanne's pre-season goal of 10:56 was on the line. She was not feeling particularly energetic on this morning and there was a look of deep worry on her face as she stepped to the start. I wasn't sure what was going on through the first 6 laps as Dave paced them out at 79-82-84 and then an identical 79-82-84. I learned later that Hanne told him on lap 2 that she felt like throwing up so Dave had to manage a balancing act to get her to the finish. When lap 7 went by in 81.5 Hanne was set up for a PR if she could just hang on to the pace. Once again, she did much more than that over the final lap, closing in 71.5 to crush yet another goal, finishing in 10:44.6. This is what Hanne does on a "bad" day.


Week 11 came, Hanne turned 14 years of age and it was clear that she was both peaking in strength and growing weary of the pressures placed on her with the time trials. She had another Thursday 800/Saturday 1600 on the schedule. We agreed that this would be the final chapter and that week 12, which ended with a last shot at the 1600, would only be completed if Hanne felt disappointed and wanted another try. On a very windy afternoon on the ragged, hard, old track surface at Sonoma State University, Robert led the way on an attempt at another 800 PR. His pacing was flawless, bringing Hanne around in 68.7 and then speeding down the backstretch. For a moment it looked as if Hanne was faltering and losing the pace but then she showed her mettle, pouring it on to finish in 2:17.3, the final lap in 68.6. She expressed great relief in getting this one behind her. I expressed great admiration in the effort, to both Hanne and Robert.
THE FINAL TEST
It has been the windiest spring season I can ever remember and so when dawn broke with just a light breeze on the morning of Saturday, May 22, 2021, I was grateful to Mother Earth for giving us a break. Clear and cool, there would be no weather-related excuses today. Some of Hanne's biggest fans were in attendance including Empire Runners training buddies Margaret Pedersen (Robert's sister), Chris Gardina (with kids Beñat and Carmen) and former MHS coach Tori Meredith, who would be ringing the cowbell at the end of lap 3. The atmosphere was turned up a notch when Montgomery High School coach Bryan Bradley brought out his display clock and starter's pistol. And then, 15 minutes before the start of the time trial, another surprise. Montgomery grad Kim Conley, the 2-time Olympian at 5000 meters, appeared with her husband and long-time coach, Drew Wartenburg. She was in town for the week and Tori invited her to Hanne's final time trial. Hanne met Kim once before, as a 4th-grader when Kim came to run a public workout on the Montgomery track in 2017.
Pressure is a force that can be either crippling or empowering and I wasn't certain which form it would take with Hanne on this day. It was clear that she felt it but, until the run started, there was no way to judge its effect.
Robert was here again to cover pacing duties. He had just run a 5K an hour-and-a-half earlier, the first Empire Runners event in 15 months. He covered the course in under 16 minutes and then sped over to help Hanne in her quest for a season-ending PR. An ultra-marathoner, he has shown a tremendous range in his running talent.
Bryan fired the gun and they were off, Hanne tucking in close to Robert's heels. Stopwatch in hand, I noted that the first 200 was perfectly paced. Then the next 200. And every 200 after that. Robert pulled Hanne around the track in 73, then 75, then 74, crossing 1200 meters in 3:42. It was all up to Hanne at that point. Speeding down the backstretch the pair covered the next 200 in under 35 seconds. It was happening. Hanne's big finish wiped out any thoughts of trying again next week. A 69.8-second last lap resulted in final time of 4:51.5, a mark that, even now, is difficult to register in the brain.
Watch her race here.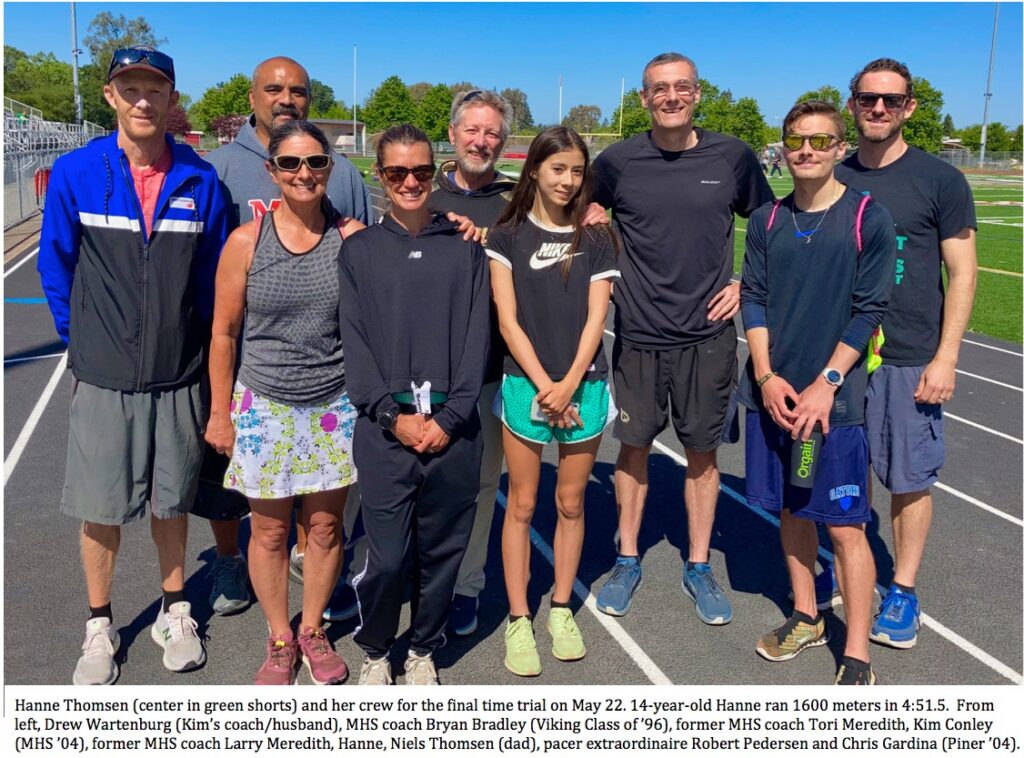 NEXT STOP: MONTGOMERY HIGH SCHOOL CROSS COUNTRY
It can be difficult to predict the future of young phenoms. The vibes I get from Hanne make me feel that her running career will be long and full of great moments. I expect this is just the first of many. Time will tell. Tune in this coming September
Redwood Empire Fastest 9th grade 1600m runners
4:43.92 Rylee Bowen, Sonoma Academy 2015
4:49.21 Sara Bei, Montgomery 1998, now Sara Hall
4:54.42 Julia Stamps, Rincon Vly JH 1994, now Julia Stamps Mallon
4:58.61y Jacque Taylor, Casa Grande 2007
4:59.68 Kate Bowen, Sonoma Academy 2017
4:59.99 Amy Robinson, Maria Carrillo 2002
5:01.53 Ashton LeSieur, Casa Grande 2002
5:07.24 Kelly Rogers, Healdsburg 2000, now Kelly Blanchard
5:07.65 Lori Shanoff, Petaluma 1979
5:08.74 Trina Cox, Santa Rosa 1996
5:11.69 Kim Conley, Montgomery 2001