In a project I am currently working on I noticed that a lot of school records had been set before 1980 and have not been surpassed since.
Check them out.
Ten schools had their discus record set more than 40 years ago.
Nine schools had their Mile Relays and long jumps set more than 40 years ago.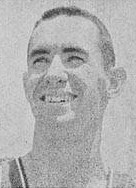 Jerry Siebert above set Willits 2 lap record back in 1956.
Sonoma Valley's Frank Freeman set their long jump record in 1939 at 23-10.
Schools with five or more records set before 1980.
11 of Analy's 16 events has their school records being established before 1980.
By Event
100 meters 6
10.54 9.4y Mel Gray, Montgomery #1 1967, ran 9.4 four times
10.69 10.69 James Burrell, Piner #1 1977 also 10.6w & 9.6y
10.76 9.6y Joe DeDora, Santa Rosa #1 1971
10.87 9.7y Bob (Butch) Paris, Calistoga #1 1949
10.97 9.8y Ken Miller, Analy =#1 1972
10.97 9.8y Allen Kuhn, Cloverdale #1 1978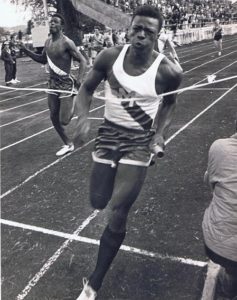 200 meters 8
20.82 20.7y Mel Gray, Montgomery #1 1967 ran 20.9y 4 times
21.22 20.8ysw Sherman Miller, Napa #1 1950
21.24 21.0w James Burrell, Piner #1 1976
21.72 21.6y Joe DeDora, Santa Rosa #1 1970
21.92 21.8y Larry Richardson, El Molino #1 1975
22.12 21.7ys Dave Barnes, Kelseyville #1 1957
22.21 22.1y Ken Miller, Analy #1 1972
22.31 22.2y Ron Culpepper, Cloverdale #1 1979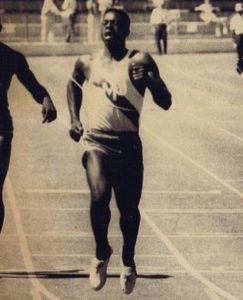 400 meters 8
47.27 47.3y Joe DeDora, Santa Rosa #1 1971
48.06 48.1y Sherman Miller, Napa #1 1950
48.56 48.6y Curtis Byrd, Cardinal Newman #1 1973
48.96 49.0y Jose Martinez, Petaluma #1 1974
50.65 50.7y Doug Gross, Analy #1 1976
50.75 50.9y Larry Richardson, El Molino #1 1975
51.15 51.2y Zeke John, Clear Lake #1 1970
51.34 51.5y Roy Woolridge, Kelseyville #1 1970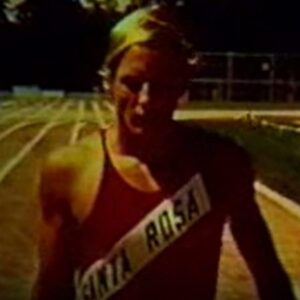 800 meters 4
1:49.31* Dan Aldridge, Petaluma #1 1975
1:53.38* Jerry Siebert, Willits #1 1956
1:53.78* Antoine Shired, Casa Grande #1 1977
1:57.86* Kevin Farrell, Rancho Cotate #1 1978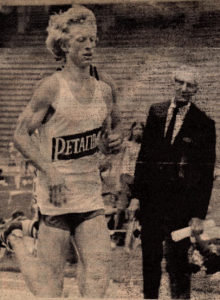 1,600 meters 3
4:13.66* Dave Royal, Petaluma #1 1979
4:18.93* Butch Alexander, Sonoma Valley #1 1971
4:23.90* Paul Phillip, Analy 1972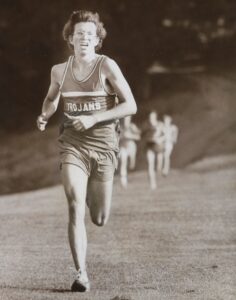 3,200 meters 4
9:12.52* Bob Waldon, Montgomery #1 1966
9:15.60* Mike Stone, Lower Lake #1 1965
9:30.72* Greg Fogg, Rancho Cotate #1 1979
9:35.39* Charles Hernandez, Geyserville #1 1974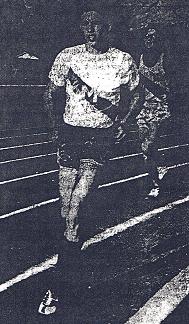 110 meter High Hurdles 4
14.28 14.0y Kraig Fisher, El Molino #1 1968
14.58 14.3y Jerry Johnson, Santa Rosa #1 1967
14.88 14.6y Jim Sweet, Sonoma Valley #1 1956
14.98 14.7y Tim McDonald, St Helena #1 1975-76
300m Intermediate Hurdles
Event was not run back then
39.14 38.9 Mike Koellsted, Calistoga #1 1985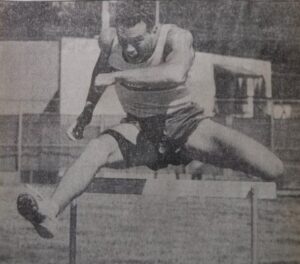 400 meter Relay 6
42.59 42.6y 1967 Montgomery #1 Wes Dickison, Ken Graham, Joe Stender, Mel Gray
42.59 42.6y 1971 Cardinal Newman #1 Perry Grogans, Dan Randolph, Jim Wilkey, Bill Price
42.99 43.0y 1970 Petaluma #1 Ken Tegnell, Barry Groves, Lance Barlas, Ralph Saragina
43.19 43.2y 1970 Analy #1
43.29 43.3y 1977 Piner #1 M. Trudeau, M. Steiven, Marvin Colter, Jim Burrell
43.69 43.7y 1978 Cloverdale #1 Allen Kuhn
1600 meter Relay 9
3:16.70* 1970 Santa Rosa #1 Carl Sagon, Wayne Praeder, Ken Borbe, Joe DeDora
3:20.67* 1973 Cardinal Newman #1 Kevin Konicek, Dan Randolph, Gill Proctor, Curtis Byrd
3:20.67* 1973 Montgomery =#1 Mark Thomas, Gary Gomes, Mark Howlett, Geoff Ramsey
3:20.67* 1979 Montgomery =#1 Mike Rose, Steve Gullikson, John Rhodes, Dave Rodriquez
3:23.26* 1971 Sonoma Valley #1 Butch Alexander, S. Klaus, C. Stalley, Sean Martin 3:24.2y
3:24.15* 1974 Petaluma #1
3:27.33* 1976 Analy #1
3:27.63* 1978 Ukiah #1
3:30.02* 1975 El Molino #1 Larry Richardson, Mark Fairbank, Charlie Heintz, Dan Dee
3:39.14+ 1977 Willits #1 Craig Doty, Dean Cook, Glen Myers, Lance Piercson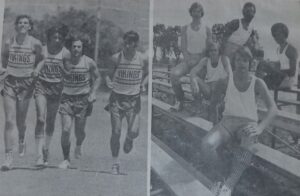 High Jump 4
6-8½ Tom Buzzard, Montgomery #1 1973
6-6 Darryl Wienke, Upper Lake #1 1978
6-5½ Clem Houg, Healdsburg #1 1963
6-1 Candillo, Potter Valley #1 1953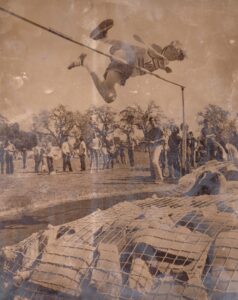 Pole Vault 5
14-9¾ Tim McDonald, St. Helena #1 1976
13-7½ Rick Garrison, El Molino #1 1970
13-7¼ Mike McGuire, Analy #1 1965
13-6 Dan Cole, Healdsburg #1 1975
13-1½ Mike Dunlop, Clear Lake #1 1971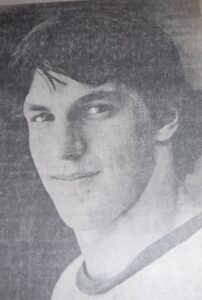 Long Jump 9
25-7¼ Mel Gray, Montgomery #1 1967
23-10 Frank Freeman, Sonoma Valley #1 1939
23-1¾ Jerry Robinson, Cardinal Newman #1 1975
23-1½ Steve Beardsley, Santa Rosa #1 1961
23-1 Larry Richardson, El Molino #1 1975
23-0 Marvin Colter, Piner #1 1978
22-8½ Byron Whitlock, Analy #1 1973
22-7½ Doug Heightmeyer, Fort Bragg #1 1969
21-5½ Mike Jordan, Kelseyville #1 1957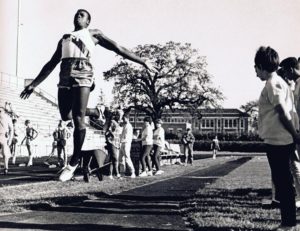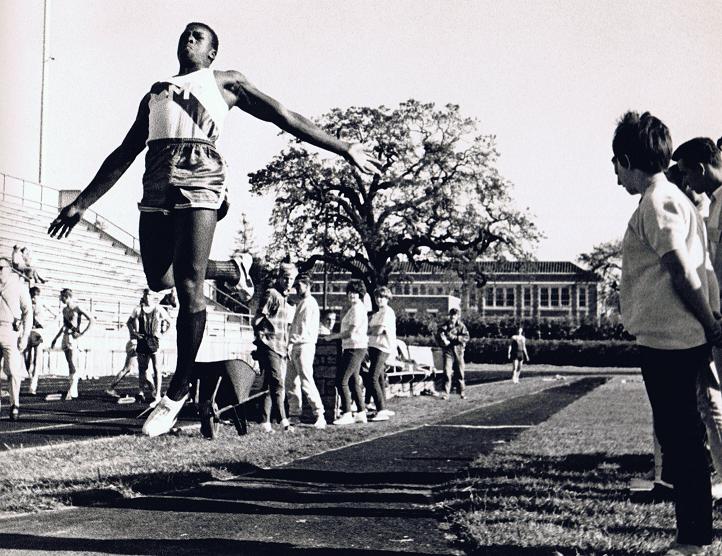 Triple Jump 7, event did not even start until 1971
48-7 Marvin Colter, Piner #1 1978
47-9 Ray Marchbanks, Santa Rosa #1 1978
46-11½ Allen Kuhn, Cloverdale #1 1978
46-3 Tyree Gray, Montgomery #1 1973
45-7½ Larry Richardson, El Molino #1 1975
44-6¾ Fred Simpson, Analy #1 1973
43-11½ Dave Langdale, Healdsburg #1 1977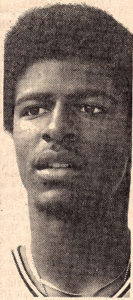 Shot Put 6
59-10 John Balletto, Analy #1 1977
58-8½ Dan Hook, Ukiah #1 1966
55-7¼ Matt Reinhard, Willits #1 1977
55-5 Steve Lytle, Clear Lake #1 1976
53-7 Brian Smith, St. Helena #1 1971
53-5½ Ruben Plevney, El Molino #1 1977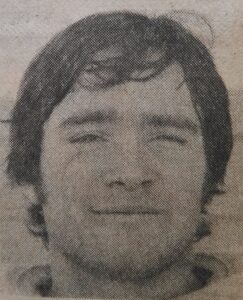 Discus 10
170-9 Dave Albritton, Piner #1 1976
169-10 Brian Smith, St. Helena #1 1971
169-8½ John Balletto, Analy #1 1977
168-2 Ken Good, Petaluma #1 1962
167-8½ Brian Lake, Casa Grande #1 1978
166-8 Bill Hook, Ukiah #1 1958
162-11 Jerry Riley, Sonoma Valley #1 1972
162-3 Steve Jones, Calistoga #1 1978
161-0 Kennith Daniel, Fort Bragg #1 1977
160-4 John Harpe, Laytonville #1 1978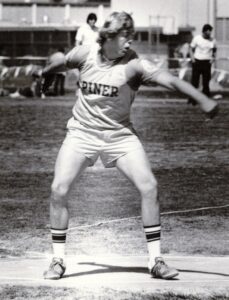 11 Analy
10.97 9.8y Ken Miller, Analy =#1 1972
22.21 22.1y Ken Miller, Analy #1 1972
50.65 50.7y Doug Gross, Analy #1 1976
4:23.90* Paul Phillip, Analy 1972
43.19 43.2y 1970 Analy #1
3:27.33* 1976 Analy #1
13-7¼ Mike McGuire, Analy #1 1965
22-8½ Byron Whitlock, Analy #1 1973
44-6¾ Fred Simpson, Analy #1 1973
59-10 John Balletto, Analy #1 1977
169-8½ John Balletto, Analy #1 1977
Of Analy's other five records four were before 1987.
1:57.64+ Mike Peters, Analy #1 1980
15.24 15.0 Steve Pardini, Analy #1 1982
6-10½ Dave Swanson, Analy #1 1982
40.84 40.6 Jason Bravos, Analy #1 1986
9:26.70 Ruben Mora-Roman, Analy #1 2003
8 El Molino
21.92 21.8y Larry Richardson, El Molino #1 1975
50.75 50.9y Larry Richardson, El Molino #1 1975
14.28 14.0y Kraig Fisher, El Molino #1 1968
3:30.02* 1975 El Molino #1 Larry Richardson, Mark Fairbank, Charlie Heintz, Dan Dee
13-7½ Rick Garrison, El Molino #1 1970
23-1 Larry Richardson, El Molino #1 1975
45-7½ Larry Richardson, El Molino #1 1975
53-5½ Ruben Plevney, El Molino #1 1977
8 Montgomery
10.54 9.4y Mel Gray, Montgomery #1 1967, ran 9.4 four times
20.82 20.7y Mel Gray, Montgomery #1 1967 ran 20.9y 4 times
9:12.52* Bob Waldon, Montgomery #1 1966
42.59 42.6y 1967 Montgomery #1 Wes Dickison, Ken Graham, Joe Stender, Mel Gray
3:20.67* 1973 Montgomery =#1 Mark Thomas, Gary Gomes, Mark Howlett, Geoff Ramsey
3:20.67* 1979 Montgomery =#1 Mike Rose, Steve Gullikson, John Rhodes, Dave Rodriquez
6-8½ Tom Buzzard, Montgomery #1 1973
25-7¼ Mel Gray, Montgomery #1 1967
46-3 Tyree Gray, Montgomery #1 1973
7 Santa Rosa
10.76 9.6y Joe DeDora, Santa Rosa #1 1971
21.72 21.6y Joe DeDora, Santa Rosa #1 1970
47.27 47.3y Joe DeDora, Santa Rosa #1 1971
14.58 14.3y Jerry Johnson, Santa Rosa #1 1967
3:16.70* 1970 Santa Rosa #1 Carl Sagon, Wayne Praeder, Ken Borbe, Joe DeDora
23-1½ Steve Beardsley, Santa Rosa #1 1961
47-9 Ray Marchbanks, Santa Rosa #1 1978
6 Piner
10.69 10.69 James Burrell, Piner #1 1977 also 10.6w & 9.6y
21.24 21.0w James Burrell, Piner #1 1976
43.29 43.3y 1977 Piner #1 M. Trudeau, M. Steiven, Marvin Colter, Jim Burrell
23-0 Marvin Colter, Piner #1 1978
48-7 Marvin Colter, Piner #1 1978
170-9 Dave Albritton, Piner #1 1976
6 Petaluma
48.96 49.0y Jose Martinez, Petaluma #1 1974
1:49.31* Dan Aldridge, Petaluma #1 1975
4:13.66* Dave Royal, Petaluma #1 1979
42.99 43.0y 1970 Petaluma #1 Ken Tegnell, Barry Groves, Lance Barlas, Ralph Saragina
3:24.15* 1974 Petaluma #1
168-2 Ken Good, Petaluma #1 1962
5 Sonoma Valley
4:18.93* Butch Alexander, Sonoma Valley #1 1971
14.88 14.6y Jim Sweet, Sonoma Valley #1 1956
3:23.26* 1971 Sonoma Valley #1 Butch Alexander, S. Klaus, C. Stalley, Sean Martin 3:24.2y
23-10 Frank Freeman, Sonoma Valley #1 1939
162-11 Jerry Riley, Sonoma Valley #1 1972