It has been three years since the North Bay League has had a Championship meet.
This meet has been going on since 1921 yet a number of meet records may be broken this week.
Most of those will be on the girls side were the meet started in 1975 for them.
The meet will begin at 4PM on Wednesday at Piner with finals in the boys pole vault and the girls high jump at 5PM. The rest of the Varsity finals being on Friday at 4PM.
Montgomery freshman sensation Hanne Thomsen may take a crack at two meet records.
She has a personal best in the 1600 meter run of 4:49.02 which is just under the meet record of 4:49.34 by Gabrielle Peterson of Healdsburg that happened in the last meet held in 2019.
Later in the meet she will toe the line in the 3200 were her 10:12.03 best has only been bettered once by an Empire athlete (10:11.11 Sara Bei, Montgomery 6/2/01 State) with the meet record being 10:16.96 by Julia Stamps of Santa Rosa from 1995.
She will probably also run a leg on the Vikings 1600 Relay team were they are the third seed behind Santa Rosa.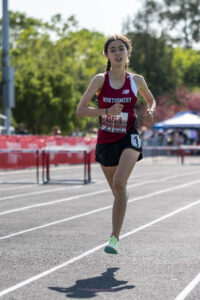 Santa Rosa junior CoCome McKamey also has a shot at two meet records and the possibility of winning four events.
In the 100m High Hurdles she has the prep best of 15.25 +2.0 which is under the wind legal meet record of 15.45 -2.1 by Habibah Sanusi of Maria Carrillo from 2018.
The other meet record that might be within her reach is the triple jump held by Wendi Simmons of Santa Rosa from 1987 at 36-9½. McKamey has the prep best at 36-0½
She also has the yearly lead in the long jump at 18-04 and is a member of the 1600 relay with another prep best of 4:05.39.
Wendi Simmons won four individual events in 1987; 400, 300LH, long jump, triple jump.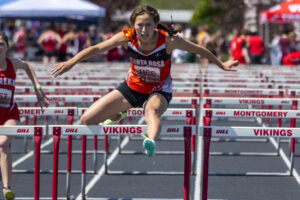 Maria Carrillo junior Lily Mulligan holds the Empire record in the pole vault but is getting her first opportunity to go after the NBL meet record.
The record is at 11-6 by Siobhan Anderson of Maria Carrillo from 2012
Mulligan is so dominate for our area that she is closing in on jumping higher than that nearly three dozen times already.
She will be McKamey's main challenger in the long jump having spanned 17-11 this year.
Before that Mulligan will probably be a member of one of the areas faster ever 400 relay teams as they ran 49.24 last Wednesday tying them for 6th fastest performance ever.
Empire's Best 400m Relay Performances
48.24 2017 Maria Carrillo 5/26/17 MOC trials, Empire record
48.64 2017 Maria Carrillo 5/20/17 NCS Redwood, Former Empire record
49.10 2016 Casa Grande 5/21/16 NCS Redwood, Former Empire record
49.10 2018 Maria Carrillo 5/25/18 MOC trials
49.17 2018 Maria Carrillo 5/26/18 MOC
49.24 2017 Maria Carrillo 4/1/17 Stanford
49.24 2022 Maria Carrillo 4/27/22 at MC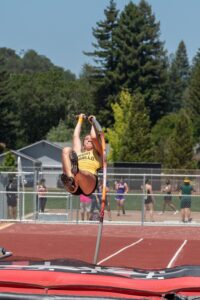 West County's Ellie Roan has a shot at Maria Carrillo's Kathleen Durand's discus meet record of 129-2 from 2013.
Roan has a best of 127-9 and also is the best shot putter in the Empire at 37-10½.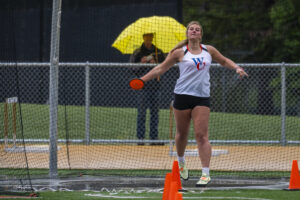 It looks like there is only one boys record that might fall and that is in the 110 high hurdles.
The wind legal record in that event is 15.27 -1.2 by Cameron De La Torre of Maria Carrillo from 2018.
Santa Rosa's Alexander Manning set the prep best this year at the Viking Classic in 14.89 +1.0 so if the wind behaves he could take that down.
Manning is the number two seed in the 300 hurdles at 42.04 behind West County's Ethan Dierke at 40.33.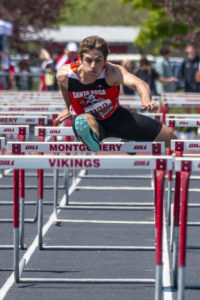 All photos by Michael Lucid