Four local preps competed for West Coast Striders on Feb 19, 2023 at the Arizona Indoor Classic at Flagstaff, AZ,
All competed in the 17-18 year old divisions with two winning championships.
Montgomery senior Elizabeth Beiswanger won the 400 meters in a new Redwood Empire Indoor Record of 59.33.
Beiswanger also took down the Empire Record in the 200 with a 26.65.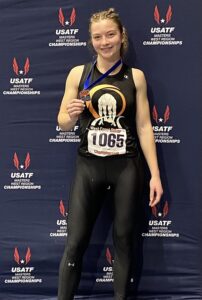 Viking teammate Nathan Fifer was the other winner taking the High Jump with a 6-00.75 clearance and also took 4th in the Long Jump at 18-05.25.
The other Viking, Joey Bowser eclipsed two Empire Records. He broke the 200 meter record taking 4th (22.62) in the finals and tied the Empire record in the 60m taking 5th (7.27).
The West Coast Striders are coached by the new Petaluma High coach and Rancho Cotate great Corey Nelson.
Complete Results
Empire Indoor Records Boys, Girls
Girls
Elizabeth Beiswanger, 12, Montgomery
400 Meters 1st 59.33, old Empire Record by 60.3 Jenny Aldridge, Maria Carrillo 2/2/02 at Reno
200 Meters 9th 26.65, old Empire Record by 27.47 Assata Polk, Maria Carrillo 2018 Washington
Boys
Nathan Fifer, 12, Montgomery
High Jump 1st 6-00.75
Long Jump 4th 18-05.25
Joey Bowser, 12, Montgomery
200 Meters 4th 22.62, old Empire Record by 23.19 Severin Ramirez, Maria Carrillo 2018 Washington
60 Meter Dash
7th 7.28 Prelims
5th 7.27 Finals, ties Empire Record by 7.27 Severin Ramirez, Maria Carrillo 2018 Washington
Ryder Wilson, 11, Petaluma HS
200 Meters 22nd 25.24
400 Meters 13th 55.78