North Bay League "Redwood" Championship 11/2/23
2.97 mile Spring Lake County Park course, since 1988
Photos by Michael Lucid
Lucid's NBL Redwood Varsity Girls Finals photos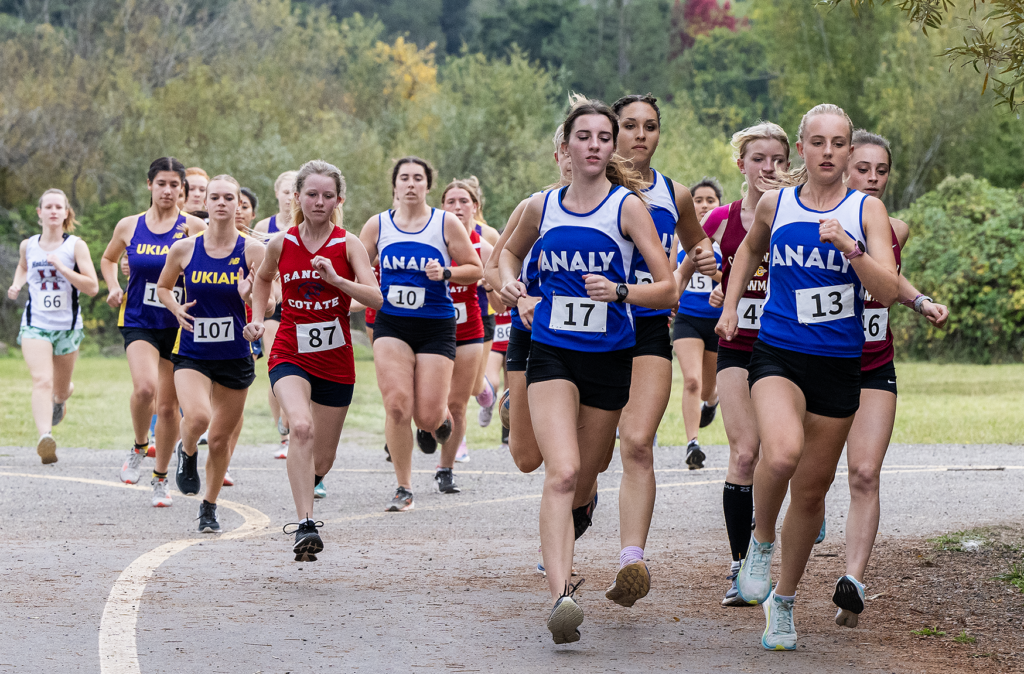 Analy dominated this meet scoring less than have of second place Rancho Cotate's score 19-44 and took the top two individual spots.
Analy sophomore Stella Finley edged out her teammate Rosemary Harris by a mere four seconds finishing in 19:04.
This earned Analy their 12th pennant and the 13th time they took the individual win.
Rancho Cotate's second place finish equals their best finals placing ever.
Analy's team time of 103:31 is it's second best team time ever behind their 1988 team of 102:59.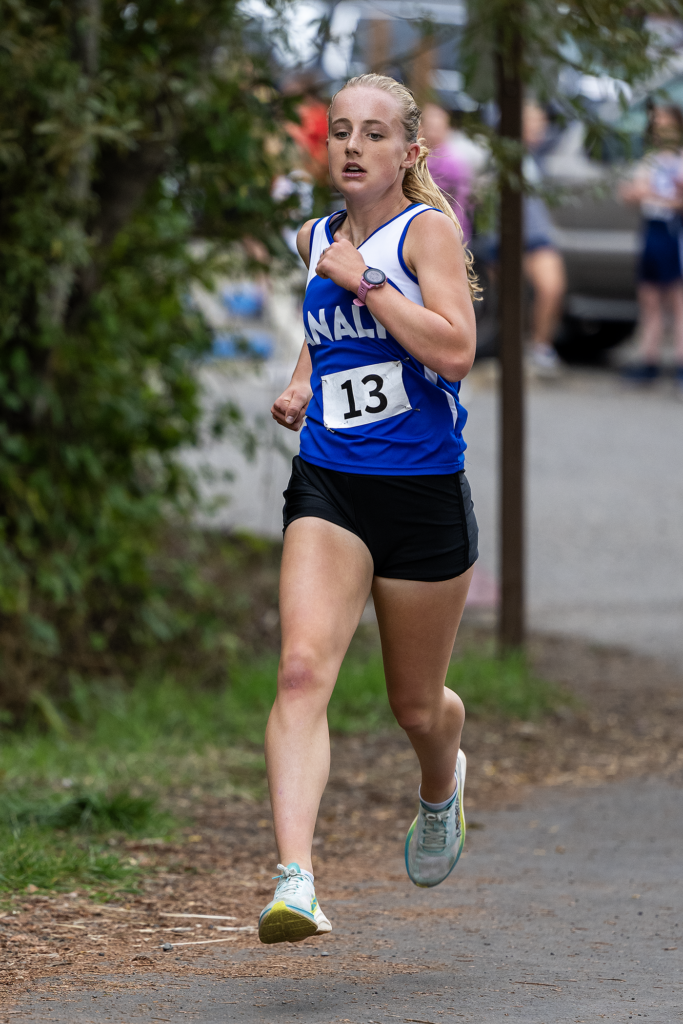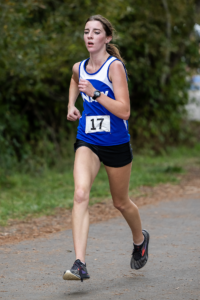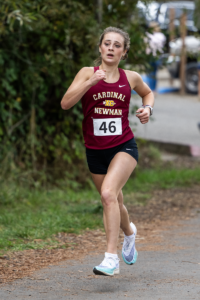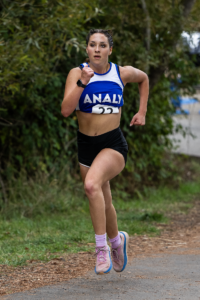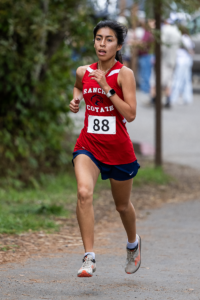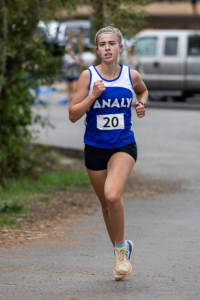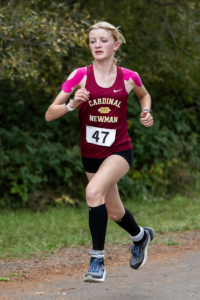 Meet History
League Championship Meet Record Times for Spring Lake
Individual: 16:51 Sarah Sumpter, Healdsburg 2007
Team: 95:50 Casa Grande 2009

Varsity
1 Analy          19    1    2    3    5    8   15   19   Total Time: 103:31   Average: 20:42                                                    
2 Rancho Cotate  44    4    7    9   10   14   16   18   Total Time: 118:30   Average: 23:42                                                    
3 Ukiah          59    6   11   12   13   17             Total Time: 126:42   Average: 25:20
  Cardinal Newman, Healdsburg, St. Vincent, Elsie Allen Incomplete

  1 Finley, Stella            10 Analy                 19:04    1             
  2 Harris, Rosemary          12 Analy                 19:08    2             
  3 Brockett, Gwen            11 Cardinal Newman       19:28                  
  4 Woods, Sakina             11 Analy                 20:53    3             
  5 Garcia, Deisy             11 Rancho Cotate         21:20    4             
  6 Morasch, Karis            12 Analy                 21:30    5             
  7 Campbell, Ava              9 Cardinal Newman       22:14                  
  8 Huff, Molly               10 Ukiah                 22:32    6             
  9 Johnson, Kenzie            9 Rancho Cotate         22:43    7             
 10 Avila, Cassidy            12 Analy                 22:56    8             
 11 Anderson, Sierra          11 Healdsburg            23:03                  
 12 Carter, Kate              11 Rancho Cotate         23:57    9             
 13 Ricci, Emily              10 Rancho Cotate         24:10   10             
 14 Kozubal, Joie             11 Healdsburg            24:13                  
 15 Leonard, Briley           10 Ukiah                 24:42   11             
 16 Doherty, Shanty           10 Ukiah                 25:12   12             
 17 Reed, Ashley              11 Ukiah                 26:09   13             
 18 Castillo, Valeria         10 Rancho Cotate         26:20   14             
 19 Mansell, Milla            11 Analy                 26:36   15             
 20 Huebel, Fia               10 Healdsburg            27:11                  
 21 Gonzales, Isabella        11 Rancho Cotate         27:22   16             
 22 Bogner, Josie             11 Ukiah                 28:07   17             
 23 Cecil, Evelyn              9 Rancho Cotate         28:12   18             
 24 Gutierrez, Angelita       11 Analy                 33:49   19             
 25 Scott, Brenna             12 Healdsburg            34:26  

Junior Varsity
  1 Gutierrez, Enalicia       10 Analy                 34:25        
  2 DelMonte, Elia             9 Analy                 34:30