CIF State Cross Country Championships
November 27, 2021 Woodward Park 5K Course, Fresno CA
Montgomery's Hanne Thomsen became the Redwood Empire's 10th girl to win a CIF State cross country championship.
She was the #2 freshman in the state, #3 NCS runner and 13th fastest out of the 977 finishers.
No underclassman in division III finished within 26 seconds of her.
Video interview of hanne after the race
Story
North Coast Section Represents In Banner Day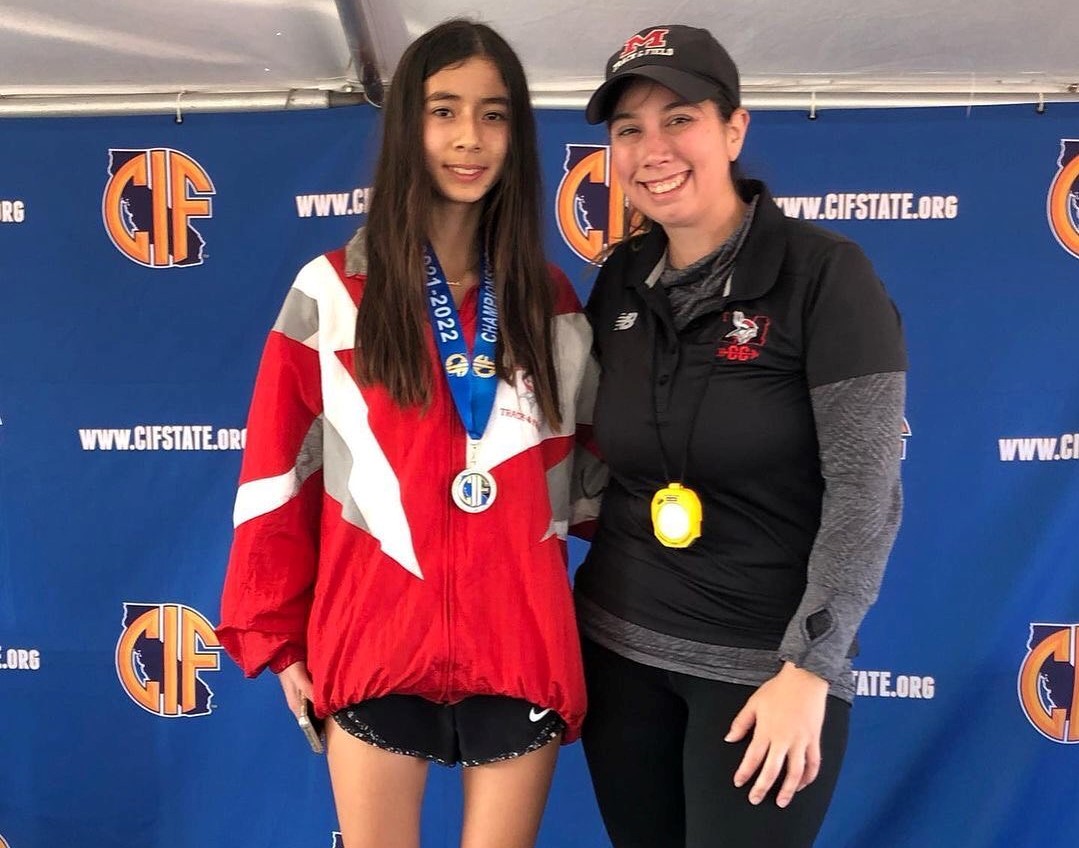 Ashley Busienei of Maria Carrillo was the Empires next best finisher placing 11th in the same race.
Her 18:23 time has only been bettered for her school by Jenny Aldridge back in 2000 at 18:13.
The Puma team placed 7th this year and only six local teams have ever run faster.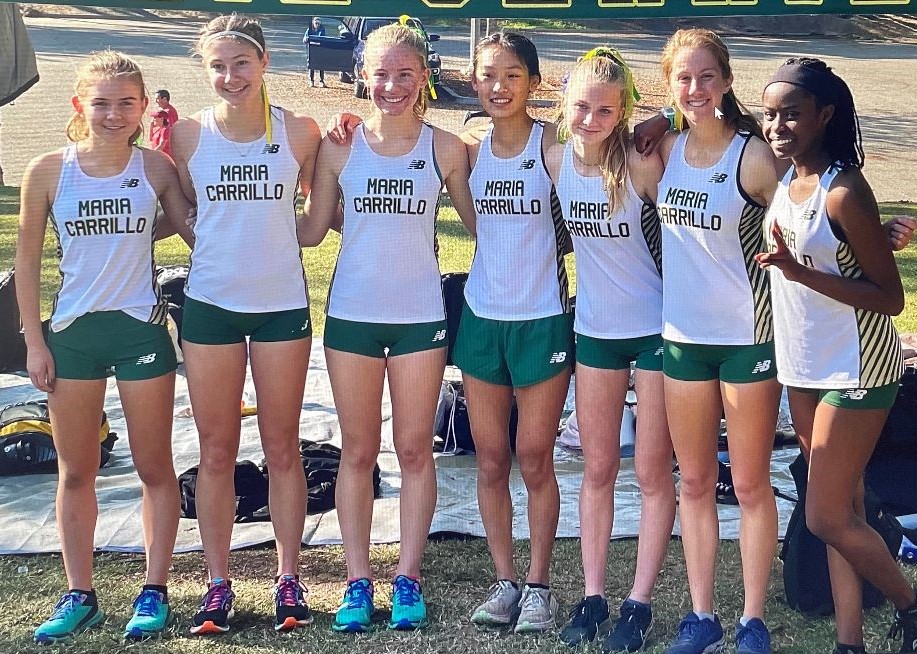 The next best place in the meet came from Sonoma Academy's Lucy Gott who placed 18th in division V.

Top Empire by time
THOMSEN, Hanne	FR	 Montgomery     17:38.0, 7th All-Time, photo, photo, photo, photo, photo, photo, photo, photo, photo, photo, photo, photo, photo
BUSIENEI, Ashley SR	 Maria Carrillo 18:22.3, 21st All-Time, photo, photo, photo
HEDDEN, Avery	JR	 Maria Carrillo 19:10.5
KITTELSTROM, Seelah FR	 Montgomery     19:16.7
HOUSE, Olivia	SR	 Santa Rosa     19:16.7
GOTT, Lucy	SR	 Sonoma Academy	19:27.5, photo, photo
TAYLOR, Rebekah	JR	 Maria Carrillo 19:33.4
TRENAM, Gracie	SO	 Maria Carrillo 20:02.6
GARRITY, Hannah	SO	 Clear Lake	20:07.8
SZCZEKOCKI, Brooke FR	 Maria Carrillo 20:16.3, photo
CHOE, Katherine	FR	 Maria Carrillo 20:20.2
CREGAN, Brooke	SR	 Maria Carrillo 20:27.8	

Maria Carrillo 1:37:28, 7th All-Time

Top Empire by place
1	THOMSEN, Hanne	FR	 Montgomery 
11	BUSIENEI, Ashley SR	 Maria Carrillo 
18	GOTT, Lucy	SR	 Sonoma Academy
36	GARRITY, Hannah	SO	 Clear Lake
37	HEDDEN, Avery	JR	 Maria Carrillo
45	KITTELSTROM, Seelah FR	 Montgomery
46	HOUSE, Olivia	SR	 Santa Rosa 
55	TAYLOR, Rebekah	JR	 Maria Carrillo 
87	TRENAM, Gracie	SO	 Maria Carrillo
102	SZCZEKOCKI, Brooke FR	 Maria Carrillo 
109	CHOE, Katherine	FR	 Maria Carrillo 
115	CREGAN, Brooke	SR	 Maria Carrillo 

7	Maria Carrillo 226 pts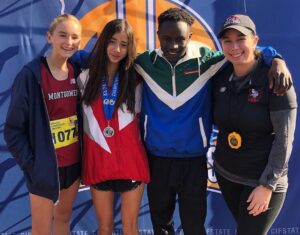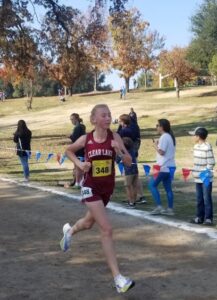 State Meet Bests
By division
By school
By year
By time for Woodward Park, Fresno

Division III
Final Standings	                Score	Scoring Order	                Total	Avg.	Spread
1	Campolindo-NCS	        109	2-8-20-35-44(107)(161)	        1:34:20	18:52	1:33.0
2	Del Oro-SJS	        120	1-14-32-33-40(89)(105)	        1:34:13	18:51	1:45.5
3	Cathedral Catholic-SDS	157	22-23-25-41-46(51)(81)	        1:36:07	19:14	0:45.7
4	Tamalpais-NCS	        163	13-17-27-42-64(94)(138)	        1:36:02	19:13	1:20.5
5	Palos Verdes-SS	        167	10-15-34-39-69(72)(98)	        1:36:00	19:12	1:31.9
6	La Costa Canyon-SDS	197	7-30-36-59-65(71)(120)	        1:36:51	19:23	1:32.8
7	Maria Carrillo-NCS	226	6-29-43-68-80(87)(90)	        1:37:25	19:29	1:54.0
8	South Torrance-SS	252	24-47-48-57-76(109)(115)	1:38:24	19:41	1:11.0
9	Oak Park-SS	        261	5-49-53-62-92(118)(128)	        1:38:10	19:38	2:16.3
10	Brea Olinda-SS	        290	28-45-50-79-88(93)(99)	        1:39:09	19:50	1:13.8
11	Chico-NS	        300	11-16-55-108-110(145)(152)	1:39:04	19:49	2:28.3
12	University City-SDS	314	31-61-70-75-77(112)(121)	1:39:45	19:57	1:01.4
13	Santa Margarita-SS	351	4-67-78-100-102(119)(160)	1:39:52	19:59	2:30.7
14	Northgate-NCS	        356	37-66-74-84-95(127)(130)	1:40:26	20:06	1:13.3
15	Our Lady of Peace-SDS	363	18-38-85-97-125(131)(141)	1:40:42	20:09	2:45.7
16	Dos Pueblos-SS	        387	26-56-96-103-106(117)(122)	1:41:07	20:14	1:49.7
17	Torrance-SS	        392	12-54-91-111-124(129)(134)	1:41:21	20:17	2:51.9
18	Highland-CS	        442	3-9-132-140-158(167)(172)	1:43:56	20:48	5:09.2
19	Aptos-CCS	        453	52-83-101-104-113(153)(162)	1:42:40	20:32	1:18.2
20	Oakdale-SJS	        491	19-58-123-144-147(148)(149)	1:44:36	20:56	3:27.2
21	Canoga Park-LAS	        541	60-63-116-137-165(166)(175)	1:47:32	21:31	4:23.6
22	Nevada Union-SJS	544	21-73-139-155-156(168)(174)	1:47:17	21:28	4:20.3
23	Notre Dame (SJ)-CCS	651	114-126-133-136-142(146)(154)	1:48:40	21:44	1:00.1
24	Wasco-CS	        696	86-143-151-157-159(164)(170)	1:51:49	22:22	3:03.7
25	Skyline-OS	        699	82-135-150-163-169(171)(173)	1:53:51	22:47	4:44.1

Individual Results
Athlete	Yr.	#	Team	Score	Time	Gap	Avg. Mile	Avg. KM	1M	2.05M
1	THOMSEN, Hanne	FR	1078	Montgomery-NCS	--	17:38.0	---	5:40.2	3:31.6	5:36.0 (7)	12:09.6 (1)
2	CHAMBERLAIN, Riley	SR	488	Del Oro-SJS	1	17:41.0	3.0	5:41.1	3:32.2	5:36.2 (9)	12:12.2 (6)
3	MCCORKLE, Georgia	SR	35	Agoura-SS	--	17:52.3	15.3	5:44.8	3:34.5	5:35.6 (1)	12:11.1 (4)
4	CHAVEZ, Mia	SR	311	Chino-SS	--	17:55.0	17.0	5:45.7	3:35.0	5:36.3 (10)	12:09.8 (3)
5	BUCKLEY, Ellie	JR	180	Campolindo-NCS	2	18:04.5	27.5	5:48.7	3:36.9	5:35.7 (2)	12:09.6 (2)
6	ROME, Sydney	JR	2000	Yorba Linda-SS	--	18:09.5	32.5	5:50.3	3:37.9	5:35.9 (5)	12:13.1 (7)
7	TORRECILLAS, Mia	SO	755	Highland-CS	3	18:10.2	33.2	5:50.5	3:38.0	5:36.0 (6)	12:11.9 (5)
8	POLAY, Sophie	FR	1511	Santa Margarita-SS	4	18:11.8	34.8	5:51.0	3:38.3	5:36.2 (8)	12:20.4 (8)
9	PARRONE, Madison	SR	1178	Oak Park-SS	5	18:14.2	37.2	5:51.8	3:38.8	5:38.0 (16)	12:23.3 (10)
10	COMPTON, Sophie	SR	1326	Point Loma-SDS	--	18:21.0	43.0	5:54.0	3:40.2	5:35.7 (3)	12:20.4 (9)
11	BUSIENEI, Ashley	SR	962	Maria Carrillo-NCS	6	18:22.3	45.3	5:54.4	3:40.4	5:37.8 (15)	12:35.1 (14)
12	COMPTON, Kyra	SR	804	La Costa Canyon-SDS	7	18:26.7	49.7	5:55.8	3:41.3	5:36.7 (11)	12:25.2 (11)
13	VOLKMER, Shea	SO	185	Campolindo-NCS	8	18:31.4	54.4	5:57.4	3:42.3	5:35.9 (4)	12:25.5 (12)
14	GUERRA, Lianna	JR	752	Highland-CS	9	18:31.4	54.4	5:57.4	3:42.3	5:41.3 (21)	12:35.0 (13)
15	WANG, Natalie	SO	1281	Palos Verdes-SS	10	18:32.2	55.2	5:57.6	3:42.4	5:39.0 (18)	12:41.1 (23)
16	MOLINA, Della	SR	294	Chico-NS	11	18:32.3	55.3	5:57.6	3:42.4	5:37.5 (14)	12:36.0 (15)
17	GONZALES, Sequoia	SR	1751	Torrance-SS	12	18:36.2	59.2	5:58.9	3:43.2	5:48.7 (44)	12:38.8 (17)
18	DJOMBY ENYAWE, Melisse	SO	418	Corona del Mar-SS	--	18:38.0	1:00.0	5:59.5	3:43.6	5:41.1 (20)	12:39.4 (18)
19	DUNMIRE, Emma	SR	1726	Tamalpais-NCS	13	18:38.7	1:01.7	5:59.7	3:43.7	5:47.8 (40)	12:50.3 (30)
20	GUTIERREZ, Angeline	SO	490	Del Oro-SJS	14	18:39.6	1:02.6	6:00.0	3:43.9	5:43.3 (25)	12:40.0 (20)
21	NIKMEHR, Michelle	FR	1277	Palos Verdes-SS	15	18:41.1	1:04.1	6:00.5	3:44.2	5:47.6 (39)	12:44.2 (26)
22	WARDLE-STACEY, Amelia	JR	573	El Cerrito-NCS	--	18:42.2	1:05.2	6:00.8	3:44.4	5:42.1 (23)	12:43.7 (25)
23	MOLINA, Iresh	SR	295	Chico-NS	16	18:44.9	1:07.9	6:01.7	3:45.0	5:38.2 (17)	12:39.5 (19)
24	MCINNIS, Briana	SR	1728	Tamalpais-NCS	17	18:46.8	1:09.8	6:02.3	3:45.4	5:46.8 (32)	12:48.7 (28)
25	MORITZ, Winter	SO	1239	Our Lady of Peace-SDS	18	18:48.3	1:11.3	6:02.8	3:45.7	5:53.6 (60)	12:55.6 (33)
26	HUMBLE, Haleigh	SR	1194	Oakdale-SJS	19	18:48.9	1:11.9	6:03.0	3:45.8	5:37.0 (12)	12:38.3 (16)
27	WEBERSKI, Makena	SO	186	Campolindo-NCS	20	18:50.5	1:13.5	6:03.5	3:46.1	5:40.9 (19)	12:45.3 (27)
28	PARNOW, Morgan	FR	1108	Nevada Union-SJS	21	18:50.8	1:13.8	6:03.6	3:46.2	5:45.5 (30)	12:40.9 (22)
29	PENA, Alexandria	SO	254	Cathedral Catholic-SDS	22	18:54.3	1:17.3	6:04.7	3:46.8	5:42.0 (22)	12:43.4 (24)
30	ARAMBULO, Lexi	SR	249	Cathedral Catholic-SDS	23	18:57.4	1:20.4	6:05.7	3:47.5	5:44.4 (27)	12:51.2 (31)
31	PEREZ-ZOGHBI, Isabel	SR	1022	Merced-SJS	--	19:01.7	1:24.7	6:07.1	3:48.3	5:37.1 (13)	12:40.3 (21)
32	ESPONDA, Chloe	SO	1625	South Torrance-SS	24	19:01.9	1:24.9	6:07.2	3:48.4	5:44.5 (29)	12:53.3 (32)
33	RALL, Keira	JR	255	Cathedral Catholic-SDS	25	19:05.2	1:28.2	6:08.2	3:49.0	5:52.4 (53)	13:00.8 (42)
34	WOLF LYONS, Phoebe	JR	501	Dos Pueblos-SS	26	19:05.6	1:28.6	6:08.3	3:49.1	6:00.2 (82)	12:58.9 (36)
35	GARDNER, Emma	FR	1727	Tamalpais-NCS	27	19:05.6	1:28.6	6:08.4	3:49.1	5:53.0 (56)	13:03.2 (45)
36	DEBARROS, Taylor	JR	145	Brea Olinda-SS	28	19:09.4	1:32.4	6:09.6	3:49.9	5:47.5 (37)	12:58.1 (34)
37	HEDDEN, Avery	JR	965	Maria Carrillo-NCS	29	19:10.5	1:33.5	6:09.9	3:50.1	5:47.0 (33)	13:00.7 (40)
38	LOPIZZO, Gioana	SO	806	La Costa Canyon-SDS	30	19:11.3	1:34.3	6:10.2	3:50.3	5:47.6 (38)	12:58.9 (37)
39	O'BEIRNE, Jenna	JR	1783	University City-SDS	31	19:12.1	1:35.1	6:10.4	3:50.4	5:52.2 (52)	13:00.7 (41)
40	ANGLERO, Isabel	SO	487	Del Oro-SJS	32	19:12.1	1:35.1	6:10.4	3:50.4	5:47.4 (36)	13:01.3 (43)
41	CHAMBERLAIN, Karrissa	SO	491	Del Oro-SJS	33	19:14.0	1:36.0	6:11.1	3:50.8	5:50.3 (48)	13:00.2 (39)
42	GUZMAN, Angelina	JR	909	Livermore-NCS	--	19:14.8	1:37.8	6:11.3	3:50.9	5:47.1 (34)	13:04.1 (46)
43	BARRETT, Emilie	SR	1275	Palos Verdes-SS	34	19:15.9	1:38.9	6:11.7	3:51.2	5:45.8 (31)	12:59.3 (38)
44	PENNEY, Daisy	SO	184	Campolindo-NCS	35	19:16.4	1:39.4	6:11.8	3:51.3	5:44.4 (28)	12:58.9 (35)
45	KITTELSTROM, Seelah	FR	1077	Montgomery-NCS	--	19:16.7	1:39.7	6:11.9	3:51.3	6:08.1 (108)	13:19.5 (61)
46	HOUSE, Olivia	SR	1529	Santa Rosa-NCS	--	19:16.7	1:39.7	6:11.9	3:51.3	5:48.1 (41)	13:01.8 (44)
47	BIESINGER, Sophia	JR	803	La Costa Canyon-SDS	36	19:18.3	1:41.3	6:12.4	3:51.7	5:52.9 (55)	13:07.7 (48)
48	MALLOY, Megan	JR	1156	Northgate-NCS	37	19:20.9	1:43.9	6:13.3	3:52.2	5:50.2 (47)	13:12.2 (55)
49	VALDERRAMA, Alexis	FR	1242	Our Lady of Peace-SDS	38	19:25.6	1:48.6	6:14.8	3:53.1	6:00.7 (84)	13:26.1 (73)
50	MCKENNY, Trinity	FR	1276	Palos Verdes-SS	39	19:26.2	1:49.2	6:15.0	3:53.2	5:55.8 (66)	13:08.4 (50)
51	MERZ, Emilie	SR	492	Del Oro-SJS	40	19:26.5	1:49.5	6:15.0	3:53.3	5:53.4 (58)	13:10.7 (54)
52	DEVLIN, Eva	JR	1661	St. Ignatius-CCS	--	19:27.0	1:49.0	6:15.2	3:53.4	5:51.8 (50)	13:19.1 (59)
53	HOBROCK, Elaine	JR	251	Cathedral Catholic-SDS	41	19:29.7	1:52.7	6:16.1	3:53.9	5:57.5 (70)	13:10.4 (53)
54	BARNES, Ellery	SO	1724	Tamalpais-NCS	42	19:31.0	1:53.0	6:16.5	3:54.2	5:48.6 (42)	13:08.1 (49)
55	TAYLOR, Rebekah	JR	967	Maria Carrillo-NCS	43	19:33.4	1:56.4	6:17.3	3:54.7	5:52.7 (54)	13:19.6 (62)
56	MCLEAN, Trinity	SO	774	Independence-CS	--	19:34.1	1:57.1	6:17.5	3:54.8	5:54.7 (63)	13:14.0 (57)
57	TROCHE JONES, Tea	SR	1954	Will C Wood-SJS	--	19:35.5	1:58.5	6:18.0	3:55.1	6:02.9 (98)	13:25.3 (69)
58	MCCOOL, Caroline	JR	183	Campolindo-NCS	44	19:37.4	2:00.4	6:18.6	3:55.5	5:48.7 (43)	13:13.3 (56)
59	PAINTER, Kendra	SR	147	Brea Olinda-SS	45	19:38.6	2:01.6	6:19.0	3:55.7	5:58.0 (73)	13:19.3 (60)
60	BONOMI, Chiara	FR	250	Cathedral Catholic-SDS	46	19:39.9	2:02.9	6:19.4	3:56.0	5:53.2 (57)	13:17.6 (58)
61	CHUNG, Katie	SR	1623	South Torrance-SS	47	19:40.2	2:03.2	6:19.5	3:56.0	6:01.1 (88)	13:21.5 (64)
62	MUMMERY, Maddie	FR	1626	South Torrance-SS	48	19:40.3	2:03.3	6:19.5	3:56.1	5:47.2 (35)	13:04.6 (47)
63	CREASON, Tate	FR	1176	Oak Park-SS	49	19:40.5	2:03.5	6:19.6	3:56.1	5:57.9 (72)	13:24.2 (66)
64	APAHIDEAN, Cassie	SR	143	Brea Olinda-SS	50	19:41.2	2:04.2	6:19.8	3:56.2	6:01.8 (94)	13:30.3 (78)
65	MARTIN, Scarlett	SO	253	Cathedral Catholic-SDS	51	19:42.0	2:04.0	6:20.0	3:56.4	6:01.2 (89)	13:26.1 (72)
66	WILLOUGHBY, Brooke	JR	72	Aptos-CCS	52	19:45.4	2:08.4	6:21.1	3:57.1	5:54.6 (62)	13:20.8 (63)
67	MODRZEJEWSKI, Katarina	FR	1177	Oak Park-SS	53	19:45.5	2:08.5	6:21.2	3:57.1	5:57.2 (68)	13:24.3 (67)
68	PRIOLEAU, Ryan	JR	1755	Torrance-SS	54	19:45.5	2:08.5	6:21.2	3:57.1	5:54.2 (61)	13:09.1 (52)
69	REEVES, Nicole	SR	603	Esperanza-SS	--	19:47.0	2:09.0	6:21.7	3:57.4	6:12.6 (123)	13:39.3 (95)
70	GRIFFITH, Una	SR	291	Chico-NS	55	19:47.7	2:10.7	6:21.9	3:57.5	5:51.9 (51)	13:09.0 (51)
71	GLEASON, Elliot	JR	497	Dos Pueblos-SS	56	19:48.0	2:10.0	6:22.0	3:57.6	6:15.4 (132)	13:39.5 (96)
72	WHITMORE, Olivia	JR	1627	South Torrance-SS	57	19:48.6	2:11.6	6:22.2	3:57.7	6:00.9 (86)	13:31.2 (79)
73	FMURA, Kassidy	JR	1193	Oakdale-SJS	58	19:48.8	2:11.8	6:22.2	3:57.7	5:55.0 (64)	13:28.9 (76)
74	MEDINA, Araceli	JR	1299	Pioneer Valley-CS	--	19:52.9	2:15.9	6:23.5	3:58.6	5:49.7 (46)	13:21.9 (65)
75	ALCHIN, Chloe	JR	1318	Pleasant Valley-NS	--	19:54.4	2:17.4	6:24.0	3:58.9	6:02.4 (96)	13:28.9 (77)
76	NIEDNAGEL, Rebekah	SR	807	La Costa Canyon-SDS	59	19:55.2	2:18.2	6:24.3	3:59.0	5:55.3 (65)	13:34.2 (84)
77	VALLADARES, Angelina	SO	200	Canoga Park-LAS	60	19:57.4	2:20.4	6:25.0	3:59.5	5:49.5 (45)	13:26.2 (74)
78	DEREPENTIGNY, Peyton	SR	894	Lincoln-L-SJS	--	19:57.7	2:20.7	6:25.1	3:59.5	5:56.3 (67)	13:25.1 (68)
79	LEWIS-MUSSA, Alexandra	SO	1782	University City-SDS	61	19:58.5	2:21.5	6:25.3	3:59.7	5:59.4 (78)	13:28.8 (75)
80	PINON, Alexa	SO	1179	Oak Park-SS	62	19:58.8	2:21.8	6:25.4	3:59.7	5:57.4 (69)	13:34.0 (82)
81	GONZALEZ, Dulce	SR	195	Canoga Park-LAS	63	19:59.1	2:22.1	6:25.5	3:59.8	5:43.7 (26)	13:25.8 (71)
82	ZINK, Yasha	SR	1730	Tamalpais-NCS	64	19:59.2	2:22.2	6:25.6	3:59.8	6:08.5 (109)	13:45.3 (101)
83	STANFORD, Emma	SR	809	La Costa Canyon-SDS	65	19:59.4	2:22.4	6:25.6	3:59.9	6:03.1 (99)	13:36.2 (89)
84	BRIGNARDELLO, Myla	SR	218	Capuchino-CCS	--	20:00.2	2:23.2	6:25.9	4:00.0	5:58.7 (74)	13:37.4 (90)
85	KOPPER, Ella	SO	1155	Northgate-NCS	66	20:00.6	2:23.6	6:26.0	4:00.1	6:06.1 (104)	13:37.9 (92)
86	BARBER, Brooke	FR	1507	Santa Margarita-SS	67	20:01.6	2:24.6	6:26.4	4:00.3	6:02.7 (97)	13:34.5 (86)
87	TRENAM, Gracie	SO	968	Maria Carrillo-NCS	68	20:02.6	2:25.6	6:26.7	4:00.5	6:01.4 (90)	13:33.5 (81)
88	TERRELL, Anna	SR	1280	Palos Verdes-SS	69	20:04.1	2:27.1	6:27.1	4:00.8	5:58.9 (75)	13:43.6 (98)
89	MERRILL, Elizabeth	FR	1583	Shasta-NS	--	20:04.9	2:27.9	6:27.4	4:01.0	5:59.8 (81)	13:34.2 (83)
90	VILLARREAL, Araceli	JR	1383	Reedley-CS	--	20:05.3	2:28.3	6:27.5	4:01.1	6:00.3 (83)	13:33.5 (80)
91	KERSEG, Deia	SO	715	Half Moon Bay-CCS	--	20:05.4	2:28.4	6:27.6	4:01.1	5:59.7 (79)	13:35.0 (87)
92	DORRESTEIN, Tatiana	SO	1779	University City-SDS	70	20:08.4	2:31.4	6:28.5	4:01.7	6:04.7 (101)	13:35.1 (88)
93	LARNER, Kira	JR	805	La Costa Canyon-SDS	71	20:10.1	2:33.1	6:29.1	4:02.0	5:53.5 (59)	13:25.7 (70)
94	NORRIS, Greta	SR	1278	Palos Verdes-SS	72	20:10.8	2:33.8	6:29.3	4:02.2	6:02.1 (95)	13:37.8 (91)
95	METZ-THOMPSON, Chloe	SO	1106	Nevada Union-SJS	73	20:11.0	2:33.0	6:29.4	4:02.2	6:20.5 (145)	13:56.8 (120)
96	MANNING, Gabi	SO	1157	Northgate-NCS	74	20:11.9	2:34.9	6:29.7	4:02.4	6:21.3 (147)	13:50.7 (110)
97	GARCIA, Marie	JR	1780	University City-SDS	75	20:12.2	2:35.2	6:29.7	4:02.4	6:01.4 (91)	13:38.9 (93)
98	CHOI, Ellie	SO	1622	South Torrance-SS	76	20:12.9	2:35.9	6:30.0	4:02.6	6:11.8 (119)	13:45.8 (104)
99	RAY, Darcy	FR	1784	University City-SDS	77	20:13.4	2:36.4	6:30.1	4:02.7	6:00.9 (85)	13:39.1 (94)
100	MELLOTT, Savannah	JR	1510	Santa Margarita-SS	78	20:14.4	2:37.4	6:30.5	4:02.9	6:08.7 (110)	13:44.8 (100)
101	MADDOX, Gwen	JR	146	Brea Olinda-SS	79	20:15.8	2:38.8	6:30.9	4:03.2	6:05.9 (103)	13:46.7 (107)
102	SZCZEKOCKI, Brooke	FR	966	Maria Carrillo-NCS	80	20:16.3	2:39.3	6:31.1	4:03.2	6:08.8 (111)	13:45.8 (103)
103	KISIR, Sophia	SR	252	Cathedral Catholic-SDS	81	20:16.7	2:39.7	6:31.2	4:03.3	6:06.7 (105)	13:51.1 (112)
104	KAMBOURIDIS, Silvia	SR	1588	Skyline-OS	82	20:17.5	2:40.5	6:31.5	4:03.5	6:04.4 (100)	13:49.1 (109)
105	HOOPS, Rachel	SO	69	Aptos-CCS	83	20:18.1	2:41.1	6:31.7	4:03.6	6:08.9 (113)	13:53.5 (115)
106	CARCAMO, Sophia	SO	1153	Northgate-NCS	84	20:18.2	2:41.2	6:31.7	4:03.6	6:13.4 (124)	13:50.8 (111)
107	BRIGIDA, Sofia	JR	1236	Our Lady of Peace-SDS	85	20:19.2	2:42.2	6:32.0	4:03.8	6:18.5 (140)	13:56.6 (119)
108	RAYA, Priscilla	SO	1916	Wasco-CS	86	20:19.9	2:42.9	6:32.2	4:04.0	5:59.0 (76)	13:46.0 (105)
109	CHOE, Katherine	FR	963	Maria Carrillo-NCS	87	20:20.2	2:43.2	6:32.3	4:04.0	6:09.1 (114)	13:45.4 (102)
110	NIP, Elizabeth	SR	1409	Sacred Heart Cathedral-CCS	--	20:22.1	2:45.1	6:32.9	4:04.4	6:01.7 (92)	13:44.3 (99)
111	ARMENTA, Laci	SO	144	Brea Olinda-SS	88	20:23.2	2:46.2	6:33.3	4:04.6	6:05.9 (102)	13:40.5 (97)
112	COVINGTON, Avery	JR	489	Del Oro-SJS	89	20:24.9	2:47.9	6:33.8	4:05.0	6:21.6 (148)	14:03.6 (129)
113	YANILETTE, Montano	JR	1386	Reseda-LAS	--	20:26.2	2:49.2	6:34.2	4:05.2	6:01.8 (93)	13:46.6 (106)
114	JONES, Sienna	SO	960	Manteca-SJS	--	20:27.3	2:50.3	6:34.6	4:05.5	5:51.6 (49)	13:34.3 (85)
115	CREGAN, Brooke	SR	964	Maria Carrillo-NCS	90	20:27.8	2:50.8	6:34.8	4:05.6	6:12.0 (120)	13:54.4 (116)
116	ANDERSON, Amber	JR	1750	Torrance-SS	91	20:29.4	2:52.4	6:35.3	4:05.9	6:17.5 (138)	13:48.3 (108)
117	RHODE, Jeanne	SR	1180	Oak Park-SS	92	20:30.5	2:53.5	6:35.6	4:06.1	6:31.0 (164)	14:06.0 (131)
118	AMMERMANN, Nikki	SR	142	Brea Olinda-SS	93	20:30.9	2:53.9	6:35.8	4:06.2	6:08.8 (112)	13:52.2 (113)
119	CONCANNON, Alana	SR	1725	Tamalpais-NCS	94	20:32.7	2:55.7	6:36.4	4:06.5	6:19.8 (143)	14:06.8 (135)
120	HARLOW, Macey	JR	1154	Northgate-NCS	95	20:34.1	2:57.1	6:36.8	4:06.8	6:11.5 (117)	13:55.6 (118)
121	DENT, Sarah	JR	496	Dos Pueblos-SS	96	20:34.7	2:57.7	6:37.0	4:06.9	6:09.9 (115)	13:58.1 (121)
122	HAMMES, Annie	SO	1237	Our Lady of Peace-SDS	97	20:34.9	2:57.9	6:37.0	4:07.0	6:18.5 (141)	14:02.6 (127)
123	SHERRY, Kate	FR	1279	Palos Verdes-SS	98	20:38.2	3:01.2	6:38.1	4:07.6	6:14.1 (128)	14:02.4 (126)
124	WERNLI, Emily	SR	148	Brea Olinda-SS	99	20:38.9	3:01.9	6:38.3	4:07.8	6:11.6 (118)	13:59.2 (122)
125	EKIZIAN, Kate	FR	1509	Santa Margarita-SS	100	20:41.0	3:03.0	6:39.0	4:08.2	6:07.8 (106)	14:03.1 (128)
126	EIKEMEYER, Annie	SR	67	Aptos-CCS	101	20:41.9	3:04.9	6:39.3	4:08.4	6:12.2 (121)	14:01.5 (124)
127	GAEBE, Carmen	SO	574	El Diamante-CS	--	20:42.3	3:05.3	6:39.5	4:08.5	6:01.0 (87)	13:52.7 (114)
128	THOMAS, Mia	SO	1512	Santa Margarita-SS	102	20:42.5	3:05.5	6:39.5	4:08.5	6:08.1 (107)	13:55.3 (117)
129	WAHLBERG, Reese	JR	500	Dos Pueblos-SS	103	20:43.1	3:06.1	6:39.7	4:08.6	6:17.8 (139)	14:00.2 (123)
130	MULLEN, Mairin	SR	71	Aptos-CCS	104	20:50.6	3:13.6	6:42.1	4:10.1	6:13.4 (125)	14:06.7 (134)
131	WOOD, Charlotte	FR	493	Del Oro-SJS	105	20:51.2	3:14.2	6:42.3	4:10.2	6:20.7 (146)	14:06.6 (133)
132	CHAHINE, Samsara	JR	495	Dos Pueblos-SS	106	20:55.2	3:18.2	6:43.6	4:11.0	6:20.4 (144)	14:13.7 (138)
133	GUTHRIE, Quinn	JR	181	Campolindo-NCS	107	20:58.1	3:21.1	6:44.5	4:11.6	5:59.3 (77)	14:02.1 (125)
134	CLEMENTE, Dot	JR	290	Chico-NS	108	20:58.3	3:21.3	6:44.6	4:11.6	6:16.5 (134)	14:14.5 (139)
135	DEIERLING, Kaylee	FR	1624	South Torrance-SS	109	21:00.0	3:22.0	6:45.1	4:12.0	6:14.4 (129)	14:04.7 (130)
136	MACKAY, Tori	SR	293	Chico-NS	110	21:00.5	3:23.5	6:45.3	4:12.1	6:16.7 (136)	14:17.6 (143)
137	PARKER, Briana	SO	1301	Pioneer-SJS	--	21:01.0	3:23.0	6:45.5	4:12.2	6:15.0 (130)	14:15.9 (140)
138	OKADA, Maya	SO	1754	Torrance-SS	111	21:01.3	3:24.3	6:45.6	4:12.3	6:28.4 (158)	14:22.2 (148)
139	HALTER, Olivia	JR	1781	University City-SDS	112	21:02.0	3:24.0	6:45.8	4:12.4	6:15.1 (131)	14:06.2 (132)
140	SANDRIDGE, Molly	JR	1385	Reseda-LAS	--	21:03.1	3:26.1	6:46.1	4:12.6	6:24.0 (152)	14:19.0 (145)
141	MORENO, Malia	SO	70	Aptos-CCS	113	21:03.5	3:26.5	6:46.3	4:12.7	6:18.9 (142)	14:17.1 (142)
142	FLOYD, Emily	FR	1170	Notre Dame (SJ)-CCS	114	21:06.7	3:29.7	6:47.3	4:13.3	6:12.5 (122)	14:20.9 (147)
143	AGUAYO, Ashley	SR	1621	South Torrance-SS	115	21:12.8	3:35.8	6:49.3	4:14.6	6:14.1 (127)	14:16.5 (141)
144	LOPEZ, Angelina	FR	196	Canoga Park-LAS	116	21:13.0	3:35.0	6:49.3	4:14.6	6:15.9 (133)	14:19.0 (144)
145	WAHLBERG, London	SR	499	Dos Pueblos-SS	117	21:14.3	3:37.3	6:49.7	4:14.8	6:27.6 (156)	14:23.3 (149)
146	MEDRANO, Samantha	SR	1859	Verdugo Hills-LAS	--	21:14.9	3:37.9	6:49.9	4:15.0	6:22.8 (149)	14:25.1 (150)
147	SADAHIRO, Lily	FR	1182	Oak Park-SS	118	21:15.4	3:38.4	6:50.1	4:15.1	6:29.6 (159)	14:27.7 (152)
148	VONGIERKE, Sophia	JR	1513	Santa Margarita-SS	119	21:16.6	3:39.6	6:50.5	4:15.3	6:24.5 (153)	14:28.6 (153)
149	PATYNA, Georgia	SR	808	La Costa Canyon-SDS	120	21:18.9	3:41.9	6:51.2	4:15.8	6:10.7 (116)	14:20.8 (146)
150	KASMI, Suki	SO	1605	Soquel-CCS	--	21:20.1	3:43.1	6:51.6	4:16.0	5:59.8 (80)	14:13.2 (137)
151	SANCHEZ, Dalia	JR	1785	University City-SDS	121	21:25.0	3:47.0	6:53.2	4:17.0	6:30.4 (162)	14:32.6 (155)
152	HEINRICH, Ruby	FR	498	Dos Pueblos-SS	122	21:25.7	3:48.7	6:53.4	4:17.1	6:24.0 (151)	14:33.0 (157)
153	BETH NORMAN, Hannah	SR	1190	Oakdale-SJS	123	21:27.5	3:50.5	6:54.0	4:17.5	6:17.2 (137)	14:25.4 (151)
154	SIMON, Sami	JR	1756	Torrance-SS	124	21:28.1	3:51.1	6:54.2	4:17.6	6:29.8 (160)	14:30.8 (154)
155	NEUHS, Keani	FR	1732	Templeton-CS	--	21:29.8	3:52.8	6:54.7	4:18.0	5:57.6 (71)	14:13.0 (136)
156	SCHMIDT, Zara	JR	1240	Our Lady of Peace-SDS	125	21:34.0	3:56.0	6:56.0	4:18.8	6:30.7 (163)	14:32.9 (156)
157	FUNATSU, Rio	FR	1171	Notre Dame (SJ)-CCS	126	21:35.0	3:57.0	6:56.4	4:19.0	6:40.1 (178)	14:41.0 (164)
158	URMSON, Carmen	FR	1158	Northgate-NCS	127	21:38.3	4:01.3	6:57.5	4:19.7	6:35.6 (167)	14:36.5 (159)
159	VILLARREAL, Xenia	JR	103	Bernstein (Helen)-LAS	--	21:40.1	4:03.1	6:58.0	4:20.0	6:41.6 (181)	14:46.2 (167)
160	RUSSILLO, Nina	JR	1181	Oak Park-SS	128	21:43.3	4:06.3	6:59.1	4:20.7	6:24.8 (154)	14:37.9 (162)
161	MOMII, Hailey	JR	1752	Torrance-SS	129	21:45.0	4:07.0	6:59.6	4:21.0	6:28.4 (157)	14:37.8 (161)
162	WRIGHT, Lillian	JR	1159	Northgate-NCS	130	21:48.2	4:11.2	7:00.6	4:21.6	6:42.5 (185)	14:55.8 (173)
163	SHULL, Olivia	SO	1241	Our Lady of Peace-SDS	131	21:49.8	4:12.8	7:01.2	4:22.0	6:35.6 (168)	14:48.6 (168)
164	MIRELES, Lesslie	SO	754	Highland-CS	132	21:50.4	4:13.4	7:01.3	4:22.1	6:35.3 (166)	14:52.6 (169)
165	BITTEL, Brianna	JR	1168	Notre Dame (SJ)-CCS	133	21:52.4	4:15.4	7:02.0	4:22.5	6:42.6 (186)	14:59.6 (177)
166	BOTHWELL, Nicolette	SR	1753	Torrance-SS	134	21:55.0	4:17.0	7:02.8	4:23.0	6:30.1 (161)	14:43.0 (165)
167	FORDE, Kaitlyn	FR	1587	Skyline-OS	135	21:57.9	4:20.9	7:03.7	4:23.6	6:37.0 (170)	14:55.5 (172)
168	PACHECO, Naomi	JR	1173	Notre Dame (SJ)-CCS	136	21:58.9	4:21.9	7:04.1	4:23.8	6:45.2 (190)	14:58.8 (175)
169	PEREZ, Karina	SO	197	Canoga Park-LAS	137	22:00.8	4:23.8	7:04.7	4:24.1	6:36.4 (169)	14:52.6 (170)
170	TEMPERO, Jessica	SR	1729	Tamalpais-NCS	138	22:03.0	4:25.0	7:05.4	4:24.6	6:23.0 (150)	14:38.2 (163)
171	ERGO, Elizabeth	FR	1105	Nevada Union-SJS	139	22:03.3	4:26.3	7:05.5	4:24.6	6:41.5 (180)	14:55.3 (171)
172	VASQUEZ, Jasmine	SO	756	Highland-CS	140	22:04.7	4:27.7	7:05.9	4:24.9	6:16.6 (135)	14:35.0 (158)
173	JONES, Ella	JR	1238	Our Lady of Peace-SDS	141	22:04.9	4:27.9	7:06.0	4:25.0	6:26.7 (155)	14:37.3 (160)
174	MOLZ, Natalie	FR	612	Foothill (Palo Cedro)-NS	--	22:05.9	4:28.9	7:06.3	4:25.2	6:34.2 (165)	14:58.7 (174)
175	SURESH, Rithika	FR	1174	Notre Dame (SJ)-CCS	142	22:06.8	4:29.8	7:06.6	4:25.4	6:45.2 (191)	14:59.4 (176)
176	SANCHEZ, Ixchel	SR	1917	Wasco-CS	143	22:08.4	4:31.4	7:07.1	4:25.7	6:13.9 (126)	14:44.5 (166)
177	SCOTT, Audry	FR	1195	Oakdale-SJS	144	22:14.2	4:37.2	7:09.0	4:26.8	6:43.3 (188)	15:07.4 (182)
178	KINCAID, Eleace	SR	292	Chico-NS	145	22:14.3	4:37.3	7:09.0	4:26.9	6:37.2 (172)	15:00.8 (179)
179	OLES, Roxanne	SR	1172	Notre Dame (SJ)-CCS	146	22:15.5	4:38.5	7:09.4	4:27.1	6:42.5 (184)	14:59.7 (178)
180	VERDUZCO, Karina	JR	1196	Oakdale-SJS	147	22:16.0	4:38.0	7:09.6	4:27.2	6:43.3 (189)	15:09.1 (185)
181	JIMENEZ ZEP, Angela	JR	1384	Reseda-LAS	--	22:21.9	4:44.9	7:11.5	4:28.4	6:41.8 (182)	15:08.0 (184)
182	CALANDRO, Ava	FR	1191	Oakdale-SJS	148	22:31.2	4:54.2	7:14.5	4:30.2	6:37.8 (174)	15:07.5 (183)
183	ELIZONDO, Angelica	JR	1192	Oakdale-SJS	149	22:36.9	4:59.9	7:16.3	4:31.4	6:37.6 (173)	15:02.0 (180)
184	VOGEL, Jessica	SO	1592	Skyline-OS	150	22:38.1	5:01.1	7:16.7	4:31.6	6:37.2 (171)	15:06.0 (181)
185	PEREZ, Karly	SO	1915	Wasco-CS	151	22:44.3	5:07.3	7:18.7	4:32.8	6:38.3 (175)	15:25.1 (186)
186	RUSSELL, Kayti	SR	296	Chico-NS	152	22:45.6	5:08.6	7:19.1	4:33.1	6:42.3 (183)	15:36.6 (190)
187	LONG, Maggie	SO	66	Aptos-CCS	153	22:58.1	5:21.1	7:23.1	4:35.6	6:47.4 (193)	15:36.1 (189)
188	HERNANDEZ, Melia	SR	1169	Notre Dame (SJ)-CCS	154	22:58.6	5:21.6	7:23.3	4:35.7	6:45.6 (192)	15:27.4 (187)
189	SHERR, Delaney	SO	1109	Nevada Union-SJS	155	23:00.3	5:23.3	7:23.8	4:36.1	6:42.7 (187)	15:31.9 (188)
190	BARBER, Evi	FR	1104	Nevada Union-SJS	156	23:11.1	5:34.1	7:27.3	4:38.2	6:54.6 (197)	15:54.7 (195)
191	MACIA, Ruby	SO	1913	Wasco-CS	157	23:13.0	5:35.0	7:27.9	4:38.6	6:38.4 (176)	15:41.7 (191)
192	JOHNSON, Addison	JR	753	Highland-CS	158	23:19.4	5:42.4	7:30.0	4:39.9	6:52.0 (195)	15:44.2 (192)
193	MACIAS, Brianna	SR	1914	Wasco-CS	159	23:23.5	5:46.5	7:31.3	4:40.7	6:39.6 (177)	15:44.2 (193)
194	CHENG, Ashley	SO	1508	Santa Margarita-SS	160	23:24.8	5:47.8	7:31.7	4:40.9	6:40.7 (179)	15:45.9 (194)
195	LIEBEN, Angeni	SR	182	Campolindo-NCS	161	23:31.0	5:53.0	7:33.7	4:42.2	5:43.0 (24)	12:49.7 (29)
196	GARCIA, Ceci	SO	68	Aptos-CCS	162	23:50.1	6:13.1	7:39.8	4:46.0	7:00.2 (199)	16:07.5 (196)
197	LARRIETA CERON, Karina	SO	1589	Skyline-OS	163	23:55.3	6:18.3	7:41.5	4:47.1	7:02.7 (201)	16:08.9 (197)
198	LOPEZ, Vanessa	SR	1912	Wasco-CS	164	24:14.1	6:37.1	7:47.5	4:50.8	6:54.8 (198)	16:20.2 (199)
199	PINEDA, Ashley	JR	199	Canoga Park-LAS	165	24:21.0	6:43.0	7:49.7	4:52.2	6:50.0 (194)	16:18.3 (198)
200	GODINEZ, Sarah	SO	194	Canoga Park-LAS	166	24:26.4	6:49.4	7:51.5	4:53.3	7:01.5 (200)	16:38.4 (203)
201	GARCIA, Chloe	SR	751	Highland-CS	167	24:27.3	6:50.3	7:51.8	4:53.4	7:12.9 (205)	16:29.1 (201)
202	NEAL, Aselin	SO	1107	Nevada Union-SJS	168	24:34.8	6:57.8	7:54.2	4:55.0	7:10.4 (203)	16:26.6 (200)
203	AHSAN, Zara	SO	1586	Skyline-OS	169	25:01.5	7:24.5	8:02.8	5:00.3	6:53.8 (196)	16:37.7 (202)
204	HERNANDEZ, Julissa	SR	1911	Wasco-CS	170	25:03.2	7:26.2	8:03.3	5:00.6	7:03.3 (202)	16:51.2 (205)
205	RUDENSKY, Helena	SO	1590	Skyline-OS	171	25:14.7	7:37.7	8:07.0	5:02.9	7:11.7 (204)	17:04.9 (206)
206	ALMAGUER, Nicole	JR	750	Highland-CS	172	25:21.2	7:44.2	8:09.1	5:04.2	7:19.3 (207)	16:41.6 (204)
207	SEVEN, Charlotte	SO	1591	Skyline-OS	173	25:32.2	7:55.2	8:12.7	5:06.4	7:27.7 (208)	17:19.8 (208)
208	SULLIVAN, Sara	SO	1110	Nevada Union-SJS	174	25:35.1	7:58.1	8:13.6	5:07.0	7:19.1 (206)	17:06.8 (207)
209	PINEDA, Angie	FR	198	Canoga Park-LAS	175	27:07.2	9:30.2	8:43.2	5:25.4	7:52.1 (209)	18:09.2 (209)

Division V
Final Standings	                Score	Scoring Order	                Total	Avg.	Spread
1	SF University-NCS	100	11-13-20-26-30(33)(34)	        1:39:05	19:49	0:50.8
2	Lick Wilmerding-NCS	103	6-17-24-25-31(43)(58)	        1:39:01	19:49	1:21.6
3	Linfield Christian-SS	146	5-10-12-47-72(104)(113)	        1:39:46	19:58	2:33.5
4	Castilleja-CCS	        178	2-9-15-66-86(88)(133)	        1:40:14	20:03	3:23.1
5	St. Margarets-SS	197	3-32-41-60-61(79)(81)	        1:41:22	20:17	2:28.7
6	Xavier Prep-SS	        221	18-22-28-75-78(119)(124)	1:43:10	20:38	1:56.7
7	Viewpoint-SS	        223	7-36-54-62-64(76)(77)	        1:42:23	20:29	2:07.7
8	Cate-SS	                255	14-44-51-56-90(100)	        1:44:07	20:50	2:47.5
9	The Nueva School-CCS	272	48-49-50-57-68(71)(83)	        1:44:06	20:50	0:27.3
10	La Reina-SS	        274	23-29-46-82-94(135)(154)	1:45:02	21:01	2:31.2
11	Crystal Springs Uplands-CCS 286	4-39-55-70-118(155)	        1:45:32	21:07	5:34.4
12	College Preparatory-NCS	305	27-53-67-74-84(105)(126)	1:45:33	21:07	1:35.3
13	Santa Fe Christian-SDS	366	1-52-96-103-114(121)	        1:48:35	21:43	5:36.2
14	Francis Parker-SDS	371	38-63-87-91-92(97)(101)	        1:48:32	21:43	1:52.4
15	Pacific Ridge-SDS	373	37-42-45-122-127(131)(156)	1:50:57	22:12	4:14.0
16	Urban of SF-NCS	        399	19-35-110-115-120	        1:52:07	22:26	4:30.9
17	Marin Academy-NCS	409	59-73-85-93-99(111)(112)	1:49:26	21:54	1:47.0
18	Branson-NCS	        448	8-89-95-108-148	                1:54:04	22:49	7:55.7
19	Bret Harte-SJS	        453	16-80-102-123-132(141)(143)	1:53:49	22:46	5:21.2
20	New West Charter School-LAS 530	21-107-109-146-147(152)	        1:59:07	23:50	6:38.5
21	Vacaville Christian-SJS	562	69-106-117-134-136(145)(149)	1:58:48	23:46	4:11.0
22	Central Valley Christian-CS 574	40-116-137-139-142	        2:02:04	24:25	5:26.8
23	University Prep-NS	615	65-125-130-144-151	        2:04:02	24:49	6:00.2
24	Liberty (MR)-CS	        633	98-128-129-138-140(150)(153)	2:04:03	24:49	3:20.3

Individual Results
Athlete	Yr.	#	Team	Score	Time	Gap	Avg. Mile	Avg. KM	1M	2.05M
1	SCHMIDT, Revere	JR	1498	Santa Fe Christian-SDS	1	18:19.1	---	5:53.4	3:39.8	5:34.8 (1)	12:21.8 (1)
2	KENNEDY, Samira	JR	232	Castilleja-CCS	2	18:30.2	11.1	5:57.0	3:42.0	5:35.5 (5)	12:36.4 (4)
3	BLAU, Leisel	JR	1686	St. Margarets-SS	3	18:30.4	11.3	5:57.0	3:42.1	5:37.7 (9)	12:35.0 (3)
4	CRAMER, Madeline	SR	129	Bishop's-SDS	--	18:33.3	14.2	5:58.0	3:42.7	5:35.2 (3)	12:39.9 (8)
5	BROOKS, Kaiya	JR	428	Crystal Springs Uplands-CCS	4	18:36.4	17.3	5:59.0	3:43.3	5:35.5 (4)	12:39.8 (7)
6	MAPES, Bethany	SR	876	Liberty Charter-SDS	--	18:38.7	19.6	5:59.7	3:43.7	5:37.7 (10)	12:38.3 (5)
7	BABBITT, Claire	JR	986	Mary Star of the Sea-SS	--	18:49.4	30.3	6:03.1	3:45.9	5:36.1 (6)	12:38.4 (6)
8	BURNS, Ryley	SR	901	Linfield Christian-SS	5	18:52.4	33.3	6:04.1	3:46.5	5:44.7 (13)	12:49.6 (10)
9	MALTZ, Amelie	JR	884	Lick Wilmerding-NCS	6	18:54.9	35.8	6:04.9	3:47.0	5:38.2 (11)	12:49.2 (9)
10	DIAZ, Isis	SR	1585	Sierra Canyon-SS	--	18:55.1	36.0	6:05.0	3:47.0	5:44.8 (14)	12:53.1 (11)
11	MACKEY, JiaLian	JR	1871	Viewpoint-SS	7	18:57.6	38.5	6:05.8	3:47.5	5:35.2 (2)	12:30.7 (2)
12	SAGE, Sanderson	SR	138	Branson-NCS	8	19:01.5	42.4	6:07.0	3:48.3	5:52.9 (26)	13:03.1 (14)
13	HENDERSON, Daniela	JR	231	Castilleja-CCS	9	19:02.3	43.2	6:07.3	3:48.5	5:51.7 (22)	13:03.4 (15)
14	EATON, Aubrey	FR	1345	Providence Burbank-SS	--	19:14.2	55.1	6:11.1	3:50.8	5:51.0 (21)	13:01.6 (13)
15	LAKATOS, Emma	SR	902	Linfield Christian-SS	10	19:23.1	1:04.0	6:14.0	3:52.6	5:52.1 (23)	13:10.5 (16)
16	LAUGHLIN, Lucinda	SO	1571	SF University-NCS	11	19:23.2	1:04.1	6:14.0	3:52.6	6:07.6 (53)	13:15.0 (23)
17	WELSOME, Scarlett	FR	906	Linfield Christian-SS	12	19:23.2	1:04.1	6:14.0	3:52.6	5:54.4 (31)	13:13.6 (20)
18	GOTT, Lucy	SR	1600	Sonoma Academy-NCS	--	19:27.5	1:08.4	6:15.4	3:53.5	5:53.8 (30)	13:11.9 (18)
19	GILES, Mia	JR	1570	SF University-NCS	13	19:30.5	1:11.4	6:16.3	3:54.1	6:07.9 (54)	13:14.9 (22)
20	DISORBO, Anna	SR	244	Cate-SS	14	19:33.7	1:14.6	6:17.4	3:54.7	5:55.0 (33)	13:15.5 (24)
21	MCELHINNEY, Perry	SO	235	Castilleja-CCS	15	19:39.8	1:20.7	6:19.3	3:55.9	5:36.3 (7)	13:10.6 (17)
22	ROLLERI, Kadyn	JR	162	Bret Harte-SJS	16	19:40.9	1:21.8	6:19.7	3:56.2	5:48.3 (18)	13:16.2 (25)
23	DYOGI, Faith	SR	880	Lick Wilmerding-NCS	17	19:43.0	1:22.9	6:20.4	3:56.6	5:58.9 (36)	13:17.3 (26)
24	SCHEIN, Ashleigh	SO	1998	Xavier Prep-SS	18	19:44.4	1:25.3	6:20.8	3:56.9	5:54.5 (32)	13:25.0 (31)
25	GLADDEN, Stella	SR	741	High Tech High (NC)-SDS	--	19:44.4	1:25.3	6:20.8	3:56.9	5:45.5 (16)	13:12.6 (19)
26	GIBSON, Sophia	SR	1801	Urban of SF-NCS	19	19:45.9	1:26.8	6:21.3	3:57.2	5:59.5 (40)	13:18.6 (28)
27	LIM, Nadia	SR	1572	SF University-NCS	20	19:48.0	1:27.9	6:22.0	3:57.6	6:07.5 (52)	13:31.9 (36)
28	GEROLMO, Julia	SR	426	Crossroads-SS	--	19:48.2	1:29.1	6:22.0	3:57.6	5:44.8 (15)	13:14.3 (21)
29	KLEMENT, Maeve	SO	81	Argonaut-SJS	--	19:49.3	1:30.2	6:22.4	3:57.9	5:50.3 (20)	13:19.2 (29)
30	VASQUEZ, Sofia	SR	1710	Summerville-SJS	--	19:49.7	1:30.6	6:22.5	3:57.9	5:59.8 (42)	13:31.3 (35)
31	NASCIMENTO, Gabriela	SO	1116	New West Charter School-LAS	21	19:50.3	1:31.2	6:22.7	3:58.1	5:52.2 (24)	13:29.1 (33)
32	CARILLO, Laurissa	SR	1994	Xavier Prep-SS	22	19:53.5	1:34.4	6:23.7	3:58.7	5:53.3 (28)	13:22.3 (30)
33	RAY, Kaitlyn	SR	836	La Reina-SS	23	19:55.9	1:36.8	6:24.5	3:59.2	5:52.4 (25)	13:27.3 (32)
34	KREUTZEN, Cate	SR	882	Lick Wilmerding-NCS	24	20:02.0	1:41.9	6:26.5	4:00.4	5:59.3 (38)	13:34.1 (38)
35	SHLIPAK, Kaira	SR	885	Lick Wilmerding-NCS	25	20:04.2	1:45.1	6:27.2	4:00.8	5:58.8 (35)	13:18.0 (27)
36	GARRITY, Hannah	SO	348	Clear Lake-NCS	--	20:07.8	1:48.7	6:28.4	4:01.6	5:38.3 (12)	12:58.9 (12)
37	MASON, Maya	JR	1574	SF University-NCS	26	20:09.1	1:50.0	6:28.8	4:01.8	6:10.8 (64)	13:39.9 (41)
38	GREEN, Talia	SO	400	College Preparatory-NCS	27	20:11.6	1:52.5	6:29.6	4:02.3	5:46.6 (17)	13:30.8 (34)
39	SAAS, Natalie	JR	1997	Xavier Prep-SS	28	20:11.9	1:52.8	6:29.7	4:02.4	5:53.6 (29)	13:33.8 (37)
40	REINOSO, Emelia	SR	837	La Reina-SS	29	20:12.9	1:53.8	6:30.0	4:02.6	5:56.1 (34)	13:35.4 (39)
41	CHRISMAN, Poppy	JR	1569	SF University-NCS	30	20:13.9	1:54.8	6:30.3	4:02.8	6:14.8 (72)	13:46.9 (47)
42	TERDIMAN, Joya	SR	886	Lick Wilmerding-NCS	31	20:16.4	1:57.3	6:31.1	4:03.3	5:59.3 (39)	13:36.4 (40)
43	KANG, Amelia	SR	1690	St. Margarets-SS	32	20:18.5	1:59.4	6:31.8	4:03.7	6:04.4 (48)	13:42.3 (42)
44	SAPPENFIELD, Alice	JR	1575	SF University-NCS	33	20:23.5	2:04.4	6:33.4	4:04.7	6:14.6 (71)	13:45.8 (46)
45	JUSTICE, Jenna	JR	604	Etna-NS	--	20:23.9	2:04.8	6:33.5	4:04.8	6:04.6 (49)	13:45.1 (44)
46	LECHNER, McKenna	JR	620	Foresthill-SJS	--	20:26.6	2:07.5	6:34.4	4:05.3	5:59.7 (41)	13:44.0 (43)
47	JOPSON, Mikele	FR	784	John Adams Academy-SJS	--	20:27.3	2:08.2	6:34.6	4:05.4	6:00.4 (43)	13:51.4 (50)
48	LUMPKIN, Marissa	SR	1573	SF University-NCS	34	20:27.8	2:08.7	6:34.8	4:05.6	6:15.5 (73)	13:53.7 (54)
49	MEI ONG, Natasha	JR	1804	Urban of SF-NCS	35	20:29.3	2:10.2	6:35.3	4:05.8	6:18.2 (81)	13:53.7 (55)
50	KATZ, Ella	FR	1870	Viewpoint-SS	36	20:31.4	2:12.3	6:35.9	4:06.3	6:13.9 (67)	13:57.5 (59)
51	STEER, Elsa	JR	1250	Pacific Ridge-SDS	37	20:31.6	2:12.5	6:36.0	4:06.3	6:03.5 (45)	13:51.9 (52)
52	TEATES, Olivia	FR	627	Francis Parker-SDS	38	20:31.9	2:12.8	6:36.1	4:06.4	6:09.8 (61)	14:04.4 (69)
53	WILLIAMS, Charlotte	SR	1771	Tri-City Christian-SDS	--	20:33.0	2:12.9	6:36.5	4:06.6	5:53.1 (27)	13:49.6 (49)
54	PEREZ, Natalie	SR	1676	St. Joseph N.Dame-NCS	--	20:34.0	2:13.9	6:36.8	4:06.8	5:59.0 (37)	13:45.5 (45)
55	SHEEHAN, Reilly	SR	431	Crystal Springs Uplands-CCS	39	20:34.6	2:15.5	6:37.0	4:06.9	6:19.5 (84)	14:12.8 (82)
56	CHEA, Caitlin	JR	272	Central Valley Christian-CS	40	20:35.1	2:16.0	6:37.1	4:07.0	6:14.0 (69)	13:58.9 (61)
57	BENDZICK, Sarah	FR	1685	St. Margarets-SS	41	20:35.6	2:16.5	6:37.3	4:07.1	6:08.1 (55)	13:53.1 (53)
58	MARTINEZ, Ariana	SO	1709	Summerville-SJS	--	20:36.8	2:17.7	6:37.7	4:07.3	6:14.4 (70)	14:03.7 (68)
59	STEER, Clara	JR	1249	Pacific Ridge-SDS	42	20:37.3	2:18.2	6:37.8	4:07.5	6:04.0 (47)	13:58.6 (60)
60	HOEY, Mira	SO	881	Lick Wilmerding-NCS	43	20:37.5	2:18.4	6:37.9	4:07.5	6:19.3 (83)	14:01.7 (65)
61	THORNE, Kendall	JR	248	Cate-SS	44	20:37.8	2:18.7	6:38.0	4:07.5	6:10.0 (62)	13:53.9 (57)
62	BREMNER, Adelaide	FR	1244	Pacific Ridge-SDS	45	20:38.3	2:19.2	6:38.1	4:07.6	6:02.7 (44)	13:51.7 (51)
63	MURPHREE, Tallula	FR	957	Malibu-SS	--	20:38.5	2:19.4	6:38.2	4:07.7	5:49.3 (19)	13:47.9 (48)
64	CARION, Madison	SR	832	La Reina-SS	46	20:40.7	2:21.6	6:38.9	4:08.1	6:14.0 (68)	14:07.6 (74)
65	RUSSELL, Caylyn	FR	903	Linfield Christian-SS	47	20:41.2	2:22.1	6:39.1	4:08.2	6:10.3 (63)	14:00.9 (64)
66	IKLE-MAIZLISH, Anna	SR	1737	The Nueva School-CCS	48	20:41.4	2:22.3	6:39.1	4:08.3	6:05.6 (50)	13:57.4 (58)
67	COCQUYT, Sasha	SO	1734	The Nueva School-CCS	49	20:41.4	2:22.3	6:39.1	4:08.3	6:23.7 (94)	14:08.2 (76)
68	HORNG, Alyssa	SR	1736	The Nueva School-CCS	50	20:41.9	2:22.8	6:39.3	4:08.4	6:16.3 (76)	14:00.4 (63)
69	SUTCH, Francesca	FR	247	Cate-SS	51	20:43.2	2:24.1	6:39.7	4:08.6	6:04.0 (46)	13:53.7 (56)
70	SWORD, Bella	FR	961	Maranatha-SDS	--	20:45.1	2:26.0	6:40.3	4:09.0	6:13.7 (66)	14:02.4 (66)
71	MARTENSON, Eloise	SR	1496	Santa Fe Christian-SDS	52	20:47.7	2:28.6	6:41.2	4:09.5	6:09.1 (58)	14:02.8 (67)
72	ROTMAN, Talia	SR	403	College Preparatory-NCS	53	20:48.6	2:29.5	6:41.5	4:09.7	6:20.4 (90)	14:09.0 (79)
73	BEAZLEY, Erin	JR	1868	Viewpoint-SS	54	20:48.9	2:29.8	6:41.6	4:09.8	6:17.4 (80)	13:59.7 (62)
74	WOHL, Maya	SO	434	Crystal Springs Uplands-CCS	55	20:49.9	2:30.8	6:41.9	4:10.0	6:16.8 (79)	14:06.9 (71)
75	ALLISON, Emily	JR	242	Cate-SS	56	20:51.0	2:30.9	6:42.2	4:10.2	6:15.9 (74)	14:05.2 (70)
76	FELAND, Anna	SO	1735	The Nueva School-CCS	57	20:52.2	2:33.1	6:42.6	4:10.4	6:08.6 (57)	14:07.4 (73)
77	LEE, Saskia	FR	883	Lick Wilmerding-NCS	58	20:53.7	2:34.6	6:43.1	4:10.7	6:19.9 (85)	14:08.5 (78)
78	SAVAGE SCHWARTZ, Chiara	SR	980	Marin Academy-NCS	59	20:56.3	2:37.2	6:43.9	4:11.2	6:16.4 (77)	14:18.0 (86)
79	JOHNSON, Coco	FR	1689	St. Margarets-SS	60	20:58.4	2:39.3	6:44.6	4:11.7	6:09.6 (59)	14:08.4 (77)
80	BOTUCHIS, Ali	JR	1687	St. Margarets-SS	61	20:59.1	2:40.0	6:44.8	4:11.8	6:26.0 (105)	14:17.5 (85)
81	TAPIA, Sofia	JR	1873	Viewpoint-SS	62	20:59.9	2:40.8	6:45.1	4:12.0	6:21.1 (92)	14:09.3 (81)
82	GIBSON, Alexa	SR	622	Francis Parker-SDS	63	21:00.9	2:41.8	6:45.4	4:12.2	6:09.7 (60)	14:08.1 (75)
83	AXE, Stella	SO	1342	Priory-CCS	--	21:04.7	2:45.6	6:46.6	4:12.9	6:19.1 (82)	14:19.8 (87)
84	GUTMAN, Micah	FR	1869	Viewpoint-SS	64	21:05.3	2:46.2	6:46.8	4:13.0	6:16.5 (78)	14:15.5 (83)
85	SCHUSTER, Lyndsey	FR	1790	University Prep-NS	65	21:06.7	2:47.6	6:47.3	4:13.3	6:13.4 (65)	14:09.3 (80)
86	RAMIREZ, Monserrat	SO	1652	St. Francis SCP-CCS	--	21:07.2	2:48.1	6:47.4	4:13.4	6:08.6 (56)	14:07.1 (72)
87	KRENZ, Abigail	SR	233	Castilleja-CCS	66	21:08.0	2:47.9	6:47.7	4:13.6	6:20.0 (87)	14:23.9 (89)
88	FALK, Olivia	FR	399	College Preparatory-NCS	67	21:08.2	2:49.1	6:47.8	4:13.6	6:26.2 (108)	14:17.2 (84)
89	LODWICK, Callisto	SR	1738	The Nueva School-CCS	68	21:08.6	2:49.5	6:47.9	4:13.7	6:24.4 (98)	14:21.6 (88)
90	HUSBY, Katrina	JR	1817	Vacaville Christian-SJS	69	21:09.2	2:50.1	6:48.1	4:13.8	6:25.0 (101)	14:26.9 (91)
91	MIRSEPAHI, Jasmyn	JR	430	Crystal Springs Uplands-CCS	70	21:20.1	3:01.0	6:51.6	4:16.0	6:25.5 (102)	14:28.6 (92)
92	YEDIDIA, Ariane	SO	1740	The Nueva School-CCS	71	21:20.5	3:01.4	6:51.7	4:16.1	6:30.2 (118)	14:35.7 (98)
93	BARBIERI, Hannah	SR	900	Linfield Christian-SS	72	21:25.8	3:06.7	6:53.4	4:17.2	6:25.0 (100)	14:24.7 (90)
94	TAUBE, Mia	SO	982	Marin Academy-NCS	73	21:29.7	3:10.6	6:54.7	4:17.9	6:23.8 (96)	14:32.1 (95)
95	CARPENTER, Sylva	JR	1102	Mt Shasta-NS	--	21:37.2	3:18.1	6:57.1	4:19.4	6:27.9 (115)	14:31.7 (94)
96	DUKE, Celia	SR	398	College Preparatory-NCS	74	21:37.5	3:18.4	6:57.2	4:19.5	6:44.5 (136)	14:49.9 (110)
97	NELSON, Catalina	JR	1995	Xavier Prep-SS	75	21:39.2	3:20.1	6:57.7	4:19.8	6:23.7 (95)	14:40.5 (103)
98	ALVA, Sophia	SO	1867	Viewpoint-SS	76	21:39.6	3:20.5	6:57.8	4:19.9	6:19.9 (86)	14:32.3 (96)
99	SCHUMAN, Aspasia	SO	1872	Viewpoint-SS	77	21:40.1	3:21.0	6:58.0	4:20.0	6:26.0 (106)	14:35.0 (97)
100	AHLGREN, Emily	JR	1993	Xavier Prep-SS	78	21:41.0	3:20.9	6:58.3	4:20.2	6:24.0 (97)	14:41.0 (105)
101	GRIFFIN, Emma	JR	1688	St. Margarets-SS	79	21:42.0	3:21.9	6:58.6	4:20.4	6:26.2 (107)	14:41.7 (108)
102	JODIE, Anika	SR	158	Bret Harte-SJS	80	21:42.0	3:21.9	6:58.6	4:20.4	6:21.3 (93)	14:41.6 (107)
103	ORTIZ, Evangelique	JR	1719	Summit Charter-CS	--	21:43.0	3:22.9	6:59.0	4:20.6	6:20.3 (89)	14:39.8 (101)
104	BENDZICK, Maddie	JR	1684	St. Margarets-SS	81	21:43.3	3:24.2	6:59.0	4:20.6	6:26.2 (109)	14:40.1 (102)
105	LEWON, Lana	SO	835	La Reina-SS	82	21:45.5	3:26.4	6:59.8	4:21.1	6:28.1 (116)	14:38.6 (100)
106	POON, Kelly	SO	1739	The Nueva School-CCS	83	21:46.5	3:27.4	7:00.1	4:21.3	6:20.6 (91)	14:36.2 (99)
107	MAGUIRE, Adelaide	SO	402	College Preparatory-NCS	84	21:46.8	3:27.7	7:00.2	4:21.4	6:31.2 (120)	14:41.2 (106)
108	GOMEZ, Alexa	JR	1718	Summit Charter-CS	--	21:48.0	3:27.9	7:00.6	4:21.6	6:20.1 (88)	14:40.8 (104)
109	BAILEY, Emma	SR	976	Marin Academy-NCS	85	21:50.6	3:31.5	7:01.4	4:22.1	6:25.7 (104)	14:43.3 (109)
110	DUARTE, Lucia	JR	1919	Weed-NS	--	21:50.9	3:31.8	7:01.5	4:22.2	6:16.2 (75)	14:29.9 (93)
111	LEE, Zoe	FR	234	Castilleja-CCS	86	21:53.3	3:34.2	7:02.3	4:22.7	6:28.1 (117)	14:51.7 (112)
112	HABTE, Abigayl	FR	43	AIMS College Prep-OS	--	21:54.1	3:35.0	7:02.5	4:22.8	6:27.1 (112)	14:54.3 (113)
113	HO, Trisha	SO	1204	Oakland Charter-OS	--	22:03.3	3:44.2	7:05.5	4:24.7	6:41.3 (134)	15:08.5 (121)
114	SMITH, Eden	SO	626	Francis Parker-SDS	87	22:12.7	3:53.6	7:08.5	4:26.5	6:27.3 (113)	15:00.7 (114)
115	SANGORAM, Naya	FR	237	Castilleja-CCS	88	22:19.2	4:00.1	7:10.6	4:27.8	6:36.4 (126)	15:06.1 (117)
116	RANGE, Darcie	FR	606	Fall River-NS	--	22:20.7	4:01.6	7:11.1	4:28.1	6:25.6 (103)	14:51.1 (111)
117	ALEXA, Polsky	JR	133	Branson-NCS	89	22:20.9	4:01.8	7:11.1	4:28.2	6:36.4 (127)	15:05.1 (116)
118	KEOHANE, Caroline	SO	245	Cate-SS	90	22:21.2	4:02.1	7:11.2	4:28.2	6:26.8 (110)	15:02.8 (115)
119	CONNOLLY, Emma	SO	638	Fresno Christian-CS	--	22:21.7	4:02.6	7:11.4	4:28.3	6:30.5 (119)	15:11.6 (123)
120	MENDIOLA, Lea	SO	624	Francis Parker-SDS	91	22:22.4	4:03.3	7:11.6	4:28.5	6:38.4 (129)	15:12.3 (124)
121	KELLY, Chiana	JR	623	Francis Parker-SDS	92	22:24.2	4:05.1	7:12.2	4:28.8	6:32.5 (123)	15:18.9 (127)
122	ELLSWORTH YOW, Lily	SR	978	Marin Academy-NCS	93	22:25.7	4:06.6	7:12.7	4:29.1	6:32.5 (122)	15:08.0 (120)
123	CONWAY, Morgan	JR	833	La Reina-SS	94	22:27.1	4:08.0	7:13.1	4:29.4	6:27.9 (114)	15:07.8 (119)
124	BROWN, Imogen	FR	134	Branson-NCS	95	22:33.5	4:14.4	7:15.2	4:30.7	6:48.6 (140)	15:19.0 (128)
125	DUYNSTEE, Kaylin	SO	1494	Santa Fe Christian-SDS	96	22:33.6	4:14.5	7:15.2	4:30.7	6:50.4 (146)	15:28.9 (133)
126	MERTENS, Lara	FR	625	Francis Parker-SDS	97	22:38.3	4:19.2	7:16.7	4:31.6	6:26.8 (111)	15:06.9 (118)
127	DASILVA, Brooke	SO	864	Liberty (MR)-CS	98	22:40.4	4:21.3	7:17.4	4:32.1	6:48.1 (138)	15:11.6 (122)
128	LEIKIN, Raya	FR	979	Marin Academy-NCS	99	22:43.3	4:24.2	7:18.3	4:32.6	6:32.6 (124)	15:18.4 (126)
129	PATRICK, Madeleine	FR	246	Cate-SS	100	22:45.6	4:26.5	7:19.1	4:33.1	6:43.2 (135)	15:30.1 (134)
130	LAURA, Perez	JR	55	Alliance Marc & Eva Stern-LAS	--	22:48.2	4:29.1	7:19.9	4:33.6	6:34.0 (125)	15:27.7 (132)
131	FERNON, Melina	SO	621	Francis Parker-SDS	101	22:48.7	4:29.6	7:20.1	4:33.7	6:38.4 (130)	15:26.5 (130)
132	HEERMANCE, Addison	SO	156	Bret Harte-SJS	102	22:52.1	4:33.0	7:21.2	4:34.4	6:38.7 (131)	15:25.9 (129)
133	WOLTER, Amy	SO	1499	Santa Fe Christian-SDS	103	22:59.3	4:40.2	7:23.5	4:35.8	6:52.0 (150)	15:37.3 (140)
134	SMITH, Maggie	SO	904	Linfield Christian-SS	104	22:59.3	4:40.2	7:23.5	4:35.8	7:11.2 (165)	16:11.5 (151)
135	SALVEKAR, Nalini	JR	404	College Preparatory-NCS	105	23:01.8	4:42.7	7:24.3	4:36.4	6:45.1 (137)	15:27.1 (131)
136	KRULICK, Kara	SO	1818	Vacaville Christian-SJS	106	23:03.4	4:44.3	7:24.8	4:36.7	6:24.7 (99)	15:12.6 (125)
137	SOLANO, Tessa	FR	854	Lakeview Charter-LAS	--	23:05.3	4:46.2	7:25.4	4:37.1	6:51.5 (148)	15:33.1 (135)
138	BRENNINKMEIJER, Isabel	JR	1113	New West Charter School-LAS	107	23:06.4	4:47.3	7:25.8	4:37.3	6:51.6 (149)	15:34.5 (137)
139	CORTES, Saray	JR	26	Academia Avance Chtr-LAS	--	23:09.7	4:50.6	7:26.8	4:37.9	6:50.3 (145)	15:40.3 (142)
140	KATYA, Crawford	JR	137	Branson-NCS	108	23:10.6	4:51.5	7:27.1	4:38.1	6:49.4 (143)	15:35.6 (138)
141	CARDOSA, Zoey	SR	1448	San Joaquin Mem-CS	--	23:12.1	4:53.0	7:27.6	4:38.4	6:38.9 (133)	15:35.8 (139)
142	SIVKOV, Kahri	FR	1117	New West Charter School-LAS	109	23:21.2	5:02.1	7:30.5	4:40.2	6:38.9 (132)	15:37.6 (141)
143	HOE, Dawson	JR	1803	Urban of SF-NCS	110	23:33.4	5:14.3	7:34.5	4:42.7	6:55.6 (152)	15:54.7 (145)
144	YOKEL, Elizabeth	JR	605	Etna-NS	--	23:37.3	5:18.2	7:35.7	4:43.4	6:50.9 (147)	15:49.1 (143)
145	BRAKEBILL, Kelsey	FR	977	Marin Academy-NCS	111	23:39.5	5:20.4	7:36.4	4:43.9	6:58.1 (153)	15:54.0 (144)
146	SCHAUBLE, Isabella	SR	981	Marin Academy-NCS	112	23:40.7	5:21.6	7:36.8	4:44.1	7:01.7 (154)	15:56.0 (146)
147	WARREN, Eryn	JR	905	Linfield Christian-SS	113	23:54.3	5:35.2	7:41.2	4:46.8	7:10.9 (164)	16:12.2 (152)
148	MUN, Olivia	FR	1497	Santa Fe Christian-SDS	114	23:55.2	5:36.1	7:41.5	4:47.0	7:09.0 (159)	16:12.9 (153)
149	FLORES, Esmeralda	SR	1227	Oscar De La Hoya Chtr-LAS	--	23:55.9	5:36.8	7:41.7	4:47.2	7:06.0 (157)	15:59.9 (148)
150	YE, Linda	SO	1807	Urban of SF-NCS	115	24:01.8	5:42.7	7:43.6	4:48.3	6:48.8 (141)	16:00.7 (149)
151	MILLER, Melody	JR	275	Central Valley Christian-CS	116	24:04.6	5:45.5	7:44.5	4:48.9	7:08.3 (158)	16:25.4 (159)
152	EVERETT, Laura	SR	1815	Vacaville Christian-SJS	117	24:07.5	5:48.4	7:45.4	4:49.5	6:49.0 (142)	16:13.9 (154)
153	WANG, Chloe	SR	433	Crystal Springs Uplands-CCS	118	24:10.8	5:51.7	7:46.5	4:50.1	7:13.5 (167)	16:24.1 (158)
154	TRUBEE, Cameron	JR	1999	Xavier Prep-SS	119	24:15.9	5:56.8	7:48.1	4:51.2	7:09.3 (161)	16:27.8 (160)
155	WU, Caroline	SR	1806	Urban of SF-NCS	120	24:16.7	5:57.6	7:48.4	4:51.3	7:02.3 (155)	16:19.9 (156)
156	GREATHOUSE, Sophia	FR	1495	Santa Fe Christian-SDS	121	24:23.8	6:04.7	7:50.7	4:52.7	7:09.1 (160)	16:20.0 (157)
157	CASOLA, Emerson	SR	1245	Pacific Ridge-SDS	122	24:24.1	6:05.0	7:50.8	4:52.8	7:14.2 (168)	16:38.8 (164)
158	O'GENN, Lilly	FR	161	Bret Harte-SJS	123	24:32.1	6:13.0	7:53.3	4:54.4	6:49.5 (144)	15:57.6 (147)
159	QUAID, Madison	SO	1996	Xavier Prep-SS	124	24:37.1	6:18.0	7:54.9	4:55.4	7:22.7 (178)	16:38.3 (162)
160	GARNICA, Nelly	SR	1228	Oscar De La Hoya Chtr-LAS	--	24:37.2	6:18.1	7:55.0	4:55.4	6:31.8 (121)	15:33.8 (136)
161	ROCCA, Amelia	FR	1789	University Prep-NS	125	24:41.8	6:22.7	7:56.5	4:56.4	7:14.7 (169)	16:53.9 (169)
162	JUNG, Emily	FR	401	College Preparatory-NCS	126	24:44.5	6:25.4	7:57.3	4:56.9	7:20.8 (173)	16:34.8 (161)
163	LOPER, Lucy	FR	1247	Pacific Ridge-SDS	127	24:45.5	6:26.4	7:57.6	4:57.1	7:10.1 (163)	16:41.8 (166)
164	RODRIGUEZ, Jenna	SR	867	Liberty (MR)-CS	128	24:51.4	6:32.3	7:59.5	4:58.3	6:48.2 (139)	16:15.2 (155)
165	FEDERICO, Sienna	FR	865	Liberty (MR)-CS	129	24:56.2	6:37.1	8:01.1	4:59.2	7:11.9 (166)	16:42.1 (167)
166	TAYLOR, Zoe	FR	1791	University Prep-NS	130	24:57.1	6:38.0	8:01.4	4:59.4	7:22.2 (176)	16:56.0 (171)
167	MCCULLOUGH, Jaida	JR	1248	Pacific Ridge-SDS	131	24:59.9	6:40.8	8:02.3	5:00.0	7:03.5 (156)	16:38.4 (163)
168	KEIRNS, Sophia	FR	159	Bret Harte-SJS	132	25:02.0	6:41.9	8:03.0	5:00.4	7:22.2 (177)	16:55.4 (170)
169	SULLIVAN, Celia	JR	236	Castilleja-CCS	133	25:04.9	6:45.8	8:03.9	5:01.0	6:52.3 (151)	16:39.5 (165)
170	FERREIRA, Cate	FR	1816	Vacaville Christian-SJS	134	25:07.3	6:48.2	8:04.6	5:01.4	7:09.5 (162)	16:51.9 (168)
171	LAVORATO, Alessia	SO	834	La Reina-SS	135	25:10.2	6:51.1	8:05.6	5:02.0	7:22.9 (179)	17:01.1 (172)
172	STIRES, Zoe	SO	1820	Vacaville Christian-SJS	136	25:20.1	7:01.0	8:08.8	5:04.0	7:19.5 (171)	17:08.5 (174)
173	GOOT, Esther	SR	274	Central Valley Christian-CS	137	25:22.9	7:03.8	8:09.6	5:04.6	7:35.7 (184)	17:27.2 (176)
174	ACHELPOHL, Graicynn	FR	862	Liberty (MR)-CS	138	25:34.1	7:15.0	8:13.3	5:06.8	7:32.0 (182)	17:07.5 (173)
175	BRYANT, Becky	FR	271	Central Valley Christian-CS	139	25:59.1	7:40.0	8:21.3	5:11.8	7:19.2 (170)	17:10.0 (175)
176	BUGG, Hailey	JR	863	Liberty (MR)-CS	140	26:00.6	7:41.5	8:21.8	5:12.1	7:38.7 (186)	17:39.6 (181)
177	INKS, Savannah	SO	157	Bret Harte-SJS	141	26:00.8	7:41.7	8:21.9	5:12.2	7:20.7 (172)	17:56.2 (185)
178	DRAGT, Audrey	SR	273	Central Valley Christian-CS	142	26:01.9	7:42.8	8:22.2	5:12.4	7:50.0 (188)	17:40.9 (182)
179	MCDANIEL, Taylee	SO	160	Bret Harte-SJS	143	26:08.2	7:49.1	8:24.2	5:13.6	7:20.8 (174)	17:38.9 (180)
180	HENRY, Kaia	FR	1788	University Prep-NS	144	26:09.0	7:48.9	8:24.5	5:13.8	7:50.5 (190)	17:56.1 (184)
181	MILLER, Kimberly	SR	1819	Vacaville Christian-SJS	145	26:17.8	7:58.7	8:27.3	5:15.5	7:21.3 (175)	17:32.0 (177)
182	MORSHEDI, Hana	SR	1115	New West Charter School-LAS	146	26:20.0	7:59.9	8:28.0	5:16.0	7:25.3 (180)	17:37.8 (179)
183	LEE, Rachel	JR	1114	New West Charter School-LAS	147	26:28.8	8:09.7	8:30.8	5:17.7	7:25.5 (181)	17:37.7 (178)
184	JONES, Ellie	SR	136	Branson-NCS	148	26:57.1	8:38.0	8:40.0	5:23.4	7:35.5 (183)	17:48.7 (183)
185	WOO, Taylor	SO	1821	Vacaville Christian-SJS	149	27:00.3	8:41.2	8:41.0	5:24.1	8:11.2 (194)	18:33.3 (190)
186	PIEDRA, Emma	SO	866	Liberty (MR)-CS	150	27:04.7	8:45.6	8:42.4	5:24.9	8:05.0 (193)	18:19.5 (188)
187	TUCKER, Arianna	SO	1792	University Prep-NS	151	27:06.9	8:47.8	8:43.1	5:25.4	7:51.6 (191)	18:18.3 (187)
188	TORRO, Luchia	SR	1118	New West Charter School-LAS	152	27:23.2	9:04.1	8:48.3	5:28.6	7:38.3 (185)	18:06.7 (186)
189	WHALEY, Maci Whaley	SO	868	Liberty (MR)-CS	153	27:29.0	9:08.9	8:50.2	5:29.8	7:50.0 (189)	18:24.4 (189)
190	TENNISON, Ruby	FR	838	La Reina-SS	154	27:50.2	9:31.1	8:57.0	5:34.0	7:48.2 (187)	18:35.7 (191)
191	HUH, Allison	FR	429	Crystal Springs Uplands-CCS	155	28:27.4	10:08.3	9:09.0	5:41.5	8:04.8 (192)	19:02.8 (192)
192	ZHAO, Amanda	JR	1246	Pacific Ridge-SDS	156	30:45.0	12:24.9	9:53.2	6:09.0	8:54.5 (195)	20:40.3 (193)
	HARRISON, Talia	SR	1802	Urban of SF-NCS	--	DNF		---	---	6:37.5 (128)	
	SPARKS, Page	SO	1805	Urban of SF-NCS	--	DNF		---	---	6:06.6 (51)	
	ADELINE, Johnson	JR	132	Branson-NCS	--	DNF		---	---	5:37.6 (8)	
	CHAVEZ, Alyana	SO	1406	Roosevelt-CS	--	DNF		---	---	14:57.8 (196)	16:02.2 (150)

Division IV
Final Standings	               Score	Scoring Order	                Total	Avg.	Spread
1	JSerra-SS	        122	11-12-19-38-42(51)(77)	        1:35:41	19:09	0:56.8
2	La Canada-SS	        131*	6-7-22-32-64(82)(92)	        1:35:32	19:07	1:49.4
3	Sage Creek-SDS	        131*	3-24-28-29-47(98)(105)	        1:34:58	19:00	2:12.1
4	Oaks Christian-SS	145	4-8-34-49-50(69)(119)	        1:35:09	19:02	2:14.6
5	Acalanes-NCS	        174	1-25-30-43-75(135)(140)	        1:35:25	19:05	3:25.8
6	Laguna Hills-SS	        179	5-16-20-58-80(116)(138)	        1:36:34	19:19	2:13.9
7	Miramonte-NCS	        180	9-18-36-57-60(72)(99)	        1:37:09	19:26	1:23.0
8	Harvard-Westlake-SS	217*	14-44-48-52-59(66)(86)	        1:38:14	19:39	1:03.5
9	Bishop Amat-SS	        217*	26-39-41-55-56(71)(74)	        1:38:15	19:39	0:42.6
10	South Pasadena-SS	244	15-33-45-73-78(97)(115)	        1:38:50	19:46	1:30.0
11	St. Mary's College-NCS	272	37-40-54-62-79(93)(132)	        1:39:39	19:56	0:52.3
12	Scotts Valley-CCS	295	2-23-89-90-91(102)(112)	        1:38:53	19:47	3:23.2
13	Placer-SJS	        337	27-35-61-103-111(130)(146)	1:41:29	20:18	2:17.3
14	Lowell-SF	        343	10-13-88-114-118(133)(137)	1:41:27	20:18	3:00.6
15	La Jolla-SDS	        376	21-46-96-104-109(113)(123)	1:42:26	20:30	2:22.1
16	Sacred Heart Prep-CCS	378	17-70-84-87-120(141)(159)	1:42:14	20:27	2:51.4
17	Carmel-CCS	        421	67-76-83-94-101(122)(126)	1:43:17	20:40	0:56.5
18	Christian Brothers-SJS	460	63-65-95-110-127(136)(156)	1:44:44	20:57	1:49.7
19	Colfax-SJS	        486	31-81-108-121-145(158)	1:46:13	21:15	3:43.7
20	Clairemont-SDS	        536	68-100-107-117-144(151)	1:47:34	21:31	2:48.8
21	Nipomo-CS	        617	53-106-147-149-162	1:53:52	22:47	6:17.5
22	Orland-NS	        677	85-125-152-155-160(169)	1:56:21	23:17	5:07.2
23	Santa Maria-CS	        681	128-129-134-142-148(150)(157)	1:52:29	22:30	1:14.6
24	Las Plumas-NS	        712	124-131-139-154-164(168)(170)	1:58:17	23:40	5:13.9
25	Mendez-LAS	        785	143-153-161-163-165(166)(167)	2:07:57	25:36	5:10.6

*Tiebreakers
La Canada-SS	6	7	22	32	64	82	92
Sage Creek-SDS	3	24	28	29	47	98	105
 
Harvard-Westlake-SS	14	44	48	52	59	66	86
Bishop Amat-SS	        26	39	41	55	56	71	74
 
Individual Results
Athlete	Yr.	#	Team	Score	Time	Gap	Avg. Mile	Avg. KM	1M	2.05M
1	NORDENHOLZ, Sophia	SR	45	Albany-NCS	--	16:46.0	---	5:23.5	3:21.2	5:16.4 (1)	11:30.8 (1)
2	WILLIAMS, Olivia	SO	31	Acalanes-NCS	1	16:56.2	11.2	5:26.7	3:23.2	5:17.9 (2)	11:32.7 (2)
3	BOOTHBY, Ashlyn	SO	1542	Scotts Valley-CCS	2	17:27.1	42.1	5:36.7	3:29.4	5:21.6 (3)	11:56.1 (5)
4	WALLACE, Stormy	SR	1424	Sage Creek-SDS	3	17:34.0	48.0	5:38.9	3:30.8	5:21.7 (4)	11:55.9 (3)
5	GODSEY, Payton	SO	1211	Oaks Christian-SS	4	17:35.3	50.3	5:39.3	3:31.0	5:21.9 (5)	11:56.0 (4)
6	BARKER, Holly	FR	840	Laguna Hills-SS	5	18:12.5	1:27.5	5:51.3	3:38.5	5:25.2 (7)	12:11.9 (6)
7	QUINTANA, Mahalia	SR	1984	Woodland-SJS	--	18:18.0	1:32.0	5:53.0	3:39.6	5:27.3 (9)	12:26.0 (8)
8	SEARLS, Renae	SO	53	Alhambra-NCS	--	18:19.7	1:34.7	5:53.6	3:39.9	5:31.7 (10)	12:30.1 (9)
9	MCKENZIE, Arielle	SO	799	La Canada-SS	6	18:22.4	1:37.4	5:54.5	3:40.5	5:22.3 (6)	12:12.6 (7)
10	MATARESE, Katelyn	SO	798	La Canada-SS	7	18:24.9	1:39.9	5:55.3	3:41.0	5:44.2 (24)	12:40.2 (13)
11	GEYER, Grace	SO	1210	Oaks Christian-SS	8	18:28.2	1:43.2	5:56.3	3:41.6	5:37.1 (12)	12:30.6 (10)
12	HOLLANDER, Danielle	JR	105	Beverly Hills-SS	--	18:39.2	1:54.2	5:59.9	3:43.8	5:25.3 (8)	12:40.0 (12)
13	RILEY, Kate	SR	1048	Miramonte-NCS	9	18:40.5	1:55.5	6:00.3	3:44.1	5:38.3 (14)	12:40.6 (14)
14	HOLMAN, Jacqueline	JR	927	Lowell-SF	10	18:40.9	1:55.9	6:00.4	3:44.2	5:41.0 (17)	12:43.5 (17)
15	GARCIA, Brynn	FR	786	JSerra-SS	11	18:42.9	1:57.9	6:01.0	3:44.6	5:33.4 (11)	12:35.3 (11)
16	SNODGRASS, Anastasia	JR	791	JSerra-SS	12	18:43.3	1:58.3	6:01.2	3:44.7	5:44.0 (21)	12:44.3 (18)
17	BLACK, Ellie	SR	1290	Piedmont-NCS	--	18:44.0	1:58.0	6:01.4	3:44.8	5:54.5 (59)	12:49.9 (22)
18	GODFREY, Alana	SR	987	Marymount-SS	--	18:50.4	2:05.4	6:03.4	3:46.1	5:47.0 (27)	12:48.8 (20)
19	SATOVSKY, Jenna	SR	932	Lowell-SF	13	18:54.0	2:08.0	6:04.6	3:46.8	5:50.7 (40)	12:42.0 (15)
20	QUINTERO, Daniela	SR	728	Harvard-Westlake-SS	14	18:54.5	2:09.5	6:04.8	3:46.9	5:44.5 (25)	12:50.3 (23)
21	MORROW, Sydney	SR	1611	South Pasadena-SS	15	18:54.8	2:09.8	6:04.9	3:46.9	5:45.4 (26)	12:42.6 (16)
22	MEGOW, Genevieve	JR	844	Laguna Hills-SS	16	18:56.3	2:11.3	6:05.4	3:47.3	5:56.3 (67)	13:01.0 (39)
23	SODERBERY, Julia	JR	1416	Sacred Heart Prep-CCS	17	18:57.3	2:12.3	6:05.7	3:47.4	5:49.6 (33)	12:57.1 (27)
24	KEENAN, Ania	SR	1046	Miramonte-NCS	18	19:00.4	2:15.4	6:06.7	3:48.1	5:49.0 (29)	12:58.2 (32)
25	O'BRIEN, Brooke	SO	790	JSerra-SS	19	19:00.8	2:15.8	6:06.8	3:48.2	5:49.3 (30)	12:58.5 (33)
26	JOHNSON, Sydney	SO	843	Laguna Hills-SS	20	19:01.7	2:16.7	6:07.1	3:48.3	5:55.9 (66)	13:00.2 (37)
27	FISK, Kirra	SO	820	La Jolla-SDS	21	19:03.3	2:18.3	6:07.6	3:48.6	5:39.6 (15)	12:44.7 (19)
28	TOMLINSON, Leah	SR	174	Burroughs (R)-SS	--	19:04.2	2:19.2	6:07.9	3:48.8	5:51.0 (45)	12:59.7 (36)
29	GAUTSCHI, Chloe	SR	575	El Dorado-SJS	--	19:04.4	2:19.4	6:08.0	3:48.9	5:51.0 (46)	13:01.0 (38)
30	VARGAS, Kassidy	SO	230	Castaic-SS	--	19:04.7	2:19.7	6:08.1	3:48.9	5:54.3 (56)	12:57.1 (26)
31	AVILA, Julissa	SR	608	Famersville-CS	--	19:06.6	2:21.6	6:08.7	3:49.3	5:41.5 (19)	12:58.5 (34)
32	DEBROUWER, Maya	FR	796	La Canada-SS	22	19:06.6	2:21.6	6:08.7	3:49.3	5:48.3 (28)	12:57.6 (29)
33	BOOTHBY, Amber	JR	1541	Scotts Valley-CCS	23	19:07.7	2:22.7	6:09.0	3:49.5	5:40.6 (16)	12:59.3 (35)
34	LEUPOLD, Malia	JR	1418	Sage Creek-SDS	24	19:09.6	2:24.6	6:09.6	3:49.9	5:37.9 (13)	12:53.9 (24)
35	YEE, Lauren	SR	32	Acalanes-NCS	25	19:10.0	2:24.0	6:09.8	3:50.0	5:49.8 (35)	13:03.6 (41)
36	ARREDONDO, Emma	JR	120	Bishop Amat-SS	26	19:10.8	2:25.8	6:10.0	3:50.2	5:51.4 (47)	12:56.0 (25)
37	SOARES, Anna	FR	1310	Placer-SJS	27	19:11.6	2:26.6	6:10.3	3:50.3	6:08.2 (101)	13:15.0 (53)
38	SCUBA, Kaya	SO	1422	Sage Creek-SDS	28	19:13.7	2:28.7	6:11.0	3:50.7	5:44.2 (23)	12:57.6 (30)
39	WILD, Annie	JR	1395	Ripon-SJS	--	19:13.8	2:28.8	6:11.0	3:50.7	5:50.8 (41)	13:02.8 (40)
40	PETERS, Gabriella	FR	1420	Sage Creek-SDS	29	19:13.9	2:28.9	6:11.0	3:50.8	5:42.5 (20)	12:58.2 (31)
41	YEE, Megan	SO	33	Acalanes-NCS	30	19:16.6	2:31.6	6:11.9	3:51.3	5:54.4 (57)	13:04.1 (42)
42	VASQUEZ, Angelina	JR	91	Barstow-SS	--	19:22.2	2:37.2	6:13.7	3:52.4	5:41.4 (18)	12:57.4 (28)
43	MCCABE, Carlee	JR	386	Colfax-SJS	31	19:24.4	2:39.4	6:14.4	3:52.9	5:50.3 (37)	13:10.6 (45)
44	MISPAGEL, Catherine	JR	801	La Canada-SS	32	19:25.7	2:40.7	6:14.8	3:53.1	5:52.9 (50)	13:12.7 (49)
45	ERRINGTON, Abigail	FR	1608	South Pasadena-SS	33	19:26.1	2:41.1	6:14.9	3:53.2	5:54.7 (60)	13:10.5 (44)
46	CARR, Audrey	SO	983	Marin Catholic-NCS	--	19:26.3	2:41.3	6:15.0	3:53.3	5:50.9 (42)	13:12.0 (48)
47	SANCHEZ, Gianna	JR	1213	Oaks Christian-SS	34	19:27.4	2:42.4	6:15.3	3:53.5	5:55.3 (63)	13:17.4 (55)
48	O'NEAL, Constance	SR	1308	Placer-SJS	35	19:31.0	2:45.0	6:16.5	3:54.2	5:49.7 (34)	13:11.8 (47)
49	WIRZ, Emma	SR	1050	Miramonte-NCS	36	19:31.5	2:46.5	6:16.7	3:54.3	5:50.0 (36)	13:08.7 (43)
50	JACKSON, Milan	SO	1701	St. Mary's College-NCS	37	19:34.0	2:48.0	6:17.5	3:54.8	5:50.9 (44)	13:13.1 (50)
51	MURPHY, Cameron	JR	789	JSerra-SS	38	19:34.5	2:49.5	6:17.6	3:54.9	5:53.8 (53)	13:13.6 (51)
52	FITT, Ashley	SO	127	Bishop-CS	--	19:36.1	2:51.1	6:18.1	3:55.2	5:54.5 (58)	13:25.1 (63)
53	RUST, Madison	SO	124	Bishop Amat-SS	39	19:38.3	2:53.3	6:18.9	3:55.7	6:03.6 (78)	13:28.9 (67)
54	JACKSON, Khaya	FR	1700	St. Mary's College-NCS	40	19:39.4	2:54.4	6:19.2	3:55.9	6:01.9 (74)	13:24.2 (61)
55	EBINER, Sophia	SO	122	Bishop Amat-SS	41	19:39.6	2:54.6	6:19.3	3:55.9	6:03.4 (77)	13:29.0 (68)
56	JOHNSON, Ellie	JR	788	JSerra-SS	42	19:39.7	2:54.7	6:19.3	3:55.9	5:49.4 (31)	13:14.0 (52)
57	CASSELMAN, Elle	SR	27	Acalanes-NCS	43	19:39.7	2:54.7	6:19.3	3:55.9	5:50.3 (38)	13:11.4 (46)
58	YANG, Helen	SO	730	Harvard-Westlake-SS	44	19:42.7	2:57.7	6:20.3	3:56.5	5:54.8 (61)	13:17.5 (57)
59	GEOFFRON, Amelie	FR	1609	South Pasadena-SS	45	19:44.4	2:59.4	6:20.8	3:56.9	6:04.4 (81)	13:34.5 (75)
60	MAYER, Daphne	SO	822	La Jolla-SDS	46	19:45.8	3:00.8	6:21.3	3:57.1	6:10.7 (110)	13:38.2 (83)
61	MIRACCO, Michela	FR	1419	Sage Creek-SDS	47	19:46.1	3:01.1	6:21.4	3:57.2	6:11.9 (112)	13:33.9 (74)
62	OESTERER, Josephine	SO	1291	Piedmont-NCS	--	19:46.1	3:01.1	6:21.4	3:57.2	6:06.0 (88)	13:33.6 (72)
63	GIBSON, Dakota	SR	229	Casa Roble-SJS	--	19:47.6	3:02.6	6:21.9	3:57.5	6:00.7 (71)	13:29.2 (69)
64	KUMAR, Saisha	FR	726	Harvard-Westlake-SS	48	19:48.2	3:03.2	6:22.0	3:57.6	5:52.7 (49)	13:24.3 (62)
65	COLEBROOKE, Sarah	JR	1209	Oaks Christian-SS	49	19:48.6	3:03.6	6:22.2	3:57.7	5:54.0 (55)	13:17.5 (58)
66	GRANT, Elyse	SO	1212	Oaks Christian-SS	50	19:49.8	3:04.8	6:22.6	3:58.0	5:55.1 (62)	13:28.0 (66)
67	GALLEGOS, Ashlee	SR	785	JSerra-SS	51	19:49.9	3:04.9	6:22.6	3:58.0	5:49.5 (32)	13:15.8 (54)
68	ROSS, Kendra	JR	729	Harvard-Westlake-SS	52	19:50.5	3:05.5	6:22.8	3:58.1	5:52.5 (48)	13:23.7 (59)
69	MURGUIA, Iliana	SR	1149	Nipomo-CS	53	19:50.5	3:05.5	6:22.8	3:58.1	5:50.9 (43)	13:17.4 (56)
70	PUNZ, Annika	SO	1704	St. Mary's College-NCS	54	19:51.9	3:06.9	6:23.2	3:58.4	6:00.1 (69)	13:27.0 (65)
71	SANTOS, Janelle	SR	125	Bishop Amat-SS	55	19:52.7	3:07.7	6:23.5	3:58.5	6:06.9 (93)	13:35.1 (77)
72	SCANZIANI, Lara	FR	1216	Oceana-CCS	--	19:53.3	3:08.3	6:23.7	3:58.6	6:13.5 (114)	13:36.5 (82)
73	ROMO, Camila	FR	123	Bishop Amat-SS	56	19:53.3	3:08.3	6:23.7	3:58.7	6:07.6 (98)	13:35.5 (79)
74	NOLET, Claire	SR	1047	Miramonte-NCS	57	19:53.4	3:08.4	6:23.7	3:58.7	5:53.5 (52)	13:24.0 (60)
75	RUBIO, Giselle	SO	846	Laguna Hills-SS	58	19:57.0	3:11.0	6:24.9	3:59.4	6:08.5 (104)	13:34.8 (76)
76	LEE, Iona	SO	727	Harvard-Westlake-SS	59	19:58.0	3:12.0	6:25.2	3:59.6	5:53.5 (51)	13:29.5 (70)
77	BELL, Grace	SO	1044	Miramonte-NCS	60	20:03.4	3:18.4	6:26.9	4:00.7	6:04.4 (80)	13:35.2 (78)
78	ARSENITH, Addison	SR	1304	Placer-SJS	61	20:05.5	3:20.5	6:27.6	4:01.1	5:58.9 (68)	13:33.7 (73)
79	KATZ, Gabrielle	JR	1722	Sutter-NS	--	20:06.8	3:21.8	6:28.0	4:01.4	6:07.1 (94)	13:45.4 (93)
80	JACKSON, Sofia	JR	1702	St. Mary's College-NCS	62	20:07.8	3:22.8	6:28.3	4:01.5	5:53.9 (54)	13:36.0 (80)
81	PERKINS, Elise	FR	317	Christian Brothers-SJS	63	20:08.6	3:23.6	6:28.6	4:01.7	6:08.2 (100)	13:41.0 (85)
82	MILBRODT, Jenna	SR	800	La Canada-SS	64	20:11.8	3:26.8	6:29.6	4:02.3	6:01.3 (72)	13:33.2 (71)
83	HENDERSON, Elise	FR	313	Christian Brothers-SJS	65	20:12.0	3:26.0	6:29.7	4:02.4	6:10.0 (108)	13:45.9 (95)
84	AHN, Emily	FR	724	Harvard-Westlake-SS	66	20:12.8	3:27.8	6:30.0	4:02.6	6:02.7 (75)	13:42.5 (87)
85	GHIO, Ava	FR	223	Carmel-CCS	67	20:13.9	3:28.9	6:30.3	4:02.8	6:07.5 (97)	13:45.7 (94)
86	NOBLE, Alexis	JR	331	Clairemont-SDS	68	20:15.9	3:30.9	6:31.0	4:03.2	6:15.9 (118)	13:52.8 (101)
87	WALKER, Elizabeth	FR	1214	Oaks Christian-SS	69	20:16.3	3:31.3	6:31.1	4:03.3	6:00.4 (70)	13:43.3 (88)
88	CHEUNG, Sophie	FR	1412	Sacred Heart Prep-CCS	70	20:16.7	3:31.7	6:31.2	4:03.3	6:08.3 (102)	13:45.0 (91)
89	DELGADO, Jasmine	JR	121	Bishop Amat-SS	71	20:19.2	3:34.2	6:32.0	4:03.8	6:06.8 (92)	13:36.1 (81)
90	GREEN, Nathalie	SR	1045	Miramonte-NCS	72	20:19.7	3:34.7	6:32.2	4:03.9	5:55.6 (65)	13:41.1 (86)
91	RODRIGUEZ, Gabriela	SR	1613	South Pasadena-SS	73	20:20.1	3:35.1	6:32.3	4:04.0	6:06.4 (90)	13:48.1 (98)
92	STOCKTON, Micaela	JR	126	Bishop Amat-SS	74	20:21.3	3:36.3	6:32.7	4:04.2	6:07.4 (96)	13:40.6 (84)
93	POWELL, Cameron	FR	30	Acalanes-NCS	75	20:22.0	3:36.0	6:32.9	4:04.4	6:04.5 (82)	13:46.6 (96)
94	KVITEK, Christiana	SO	226	Carmel-CCS	76	20:22.4	3:37.4	6:33.0	4:04.5	6:17.5 (124)	13:58.1 (108)
95	JEANNERET, Georgia	SO	787	JSerra-SS	77	20:24.1	3:39.1	6:33.6	4:04.8	5:44.0 (22)	12:49.8 (21)
96	BYRNE, Saidbh	FR	1607	South Pasadena-SS	78	20:24.7	3:39.7	6:33.8	4:04.9	6:06.4 (91)	13:55.3 (106)
97	LAWSON, Alexa	FR	1703	St. Mary's College-NCS	79	20:26.2	3:41.2	6:34.3	4:05.2	6:05.9 (87)	13:51.1 (99)
98	COULSTON, Nina	SO	841	Laguna Hills-SS	80	20:26.3	3:41.3	6:34.3	4:05.3	6:08.8 (105)	13:45.1 (92)
99	BIITNER, Jade	SO	383	Colfax-SJS	81	20:27.1	3:42.1	6:34.6	4:05.4	5:50.4 (39)	13:25.7 (64)
100	ROEHMHOLDT, Cailtin	JR	802	La Canada-SS	82	20:28.3	3:43.3	6:34.9	4:05.7	6:13.0 (113)	13:52.9 (102)
101	GOMEZ, Maya	SR	911	Livingston-SJS	--	20:31.9	3:46.9	6:36.1	4:06.4	6:01.3 (73)	13:47.4 (97)
102	HOBSON, Marina	JR	224	Carmel-CCS	83	20:33.3	3:48.3	6:36.5	4:06.6	6:11.7 (111)	13:54.7 (105)
103	PAYNTER, Lucy	SR	1415	Sacred Heart Prep-CCS	84	20:33.9	3:48.9	6:36.7	4:06.8	6:04.7 (84)	13:53.0 (103)
104	BATMALE, Daphne	FR	18	A. Riordan-CCS	--	20:34.0	3:48.0	6:36.8	4:06.8	6:09.8 (107)	13:59.9 (109)
105	ESTHER, Paris	FR	1219	Orland-NS	85	20:35.2	3:50.2	6:37.1	4:07.0	6:03.2 (76)	13:44.0 (89)
106	BARRON, Violet	SR	725	Harvard-Westlake-SS	86	20:35.7	3:50.7	6:37.3	4:07.1	5:55.4 (64)	13:44.8 (90)
107	MORGANROTH, Janie	SR	1414	Sacred Heart Prep-CCS	87	20:37.5	3:52.5	6:37.9	4:07.5	6:10.3 (109)	14:07.6 (111)
108	MCTRANG, Lois	SO	930	Lowell-SF	88	20:37.5	3:52.5	6:37.9	4:07.5	6:05.7 (86)	13:52.6 (100)
109	MIYA, Peyton	FR	1217	Orcutt Academy-CS	--	20:38.8	3:53.8	6:38.3	4:07.8	6:06.2 (89)	13:54.2 (104)
110	PUTNAM, Rafaela	JR	1545	Scotts Valley-CCS	89	20:39.1	3:54.1	6:38.4	4:07.8	6:14.7 (116)	14:08.3 (113)
111	BRABO, Dresden	SO	1543	Scotts Valley-CCS	90	20:48.2	4:03.2	6:41.3	4:09.6	6:20.7 (129)	14:08.2 (112)
112	WU, Megan	SR	1546	Scotts Valley-CCS	91	20:50.2	4:05.2	6:42.0	4:10.0	6:13.8 (115)	14:15.8 (124)
113	GHANEH, Yasmine	SO	797	La Canada-SS	92	20:50.9	4:05.9	6:42.2	4:10.2	6:19.9 (127)	14:09.0 (114)
114	GOODE, Leiah	JR	1699	St. Mary's College-NCS	93	20:51.0	4:05.0	6:42.2	4:10.2	6:19.5 (125)	14:10.8 (118)
115	TANG, Grace	SR	1011	Menlo School-CCS	--	20:52.6	4:07.6	6:42.8	4:10.5	6:17.4 (123)	14:11.5 (119)
116	ACOSTA, Leah	SR	1405	Roosevelt-CS	--	20:54.9	4:09.9	6:43.5	4:11.0	6:08.1 (99)	13:56.8 (107)
117	DAVI, Isabella	SO	220	Carmel-CCS	94	20:56.6	4:11.6	6:44.0	4:11.3	6:20.6 (128)	14:18.5 (126)
118	NOEY, Marina	FR	316	Christian Brothers-SJS	95	20:56.6	4:11.6	6:44.0	4:11.3	6:19.6 (126)	14:17.2 (125)
119	WHITE, Hayley	JR	602	Escondido Charter-SDS	--	20:57.3	4:12.3	6:44.3	4:11.4	6:09.4 (106)	14:12.7 (122)
120	SLAGTER, Scarlett	JR	824	La Jolla-SDS	96	20:58.6	4:13.6	6:44.7	4:11.7	6:22.7 (135)	14:09.3 (115)
121	ALLEN, Natalie	SO	1836	Valley Center-SDS	--	20:59.8	4:14.8	6:45.1	4:12.0	6:16.9 (120)	14:21.8 (128)
122	RILEY, Kerrigan	SR	1612	South Pasadena-SS	97	21:00.6	4:15.6	6:45.3	4:12.1	6:04.5 (83)	14:05.6 (110)
123	ROWLETT, Kiaya	SR	1421	Sage Creek-SDS	98	21:01.1	4:16.1	6:45.5	4:12.2	6:21.6 (131)	14:11.7 (120)
124	CHAVEZ, Alyana	SO	1406	Roosevelt-CS	--	21:05.7	4:20.7	6:47.0	4:13.1	6:07.3 (95)	14:10.1 (117)
125	SCHMITT, Zoe	FR	1049	Miramonte-NCS	99	21:07.9	4:22.9	6:47.7	4:13.6	6:05.1 (85)	14:10.0 (116)
126	BURDEN, Allison	SO	327	Clairemont-SDS	100	21:08.8	4:23.8	6:47.9	4:13.7	6:28.7 (148)	14:25.7 (133)
127	DAVI, Sophia	SR	221	Carmel-CCS	101	21:10.4	4:25.4	6:48.5	4:14.1	6:20.8 (130)	14:12.5 (121)
128	FEAGUE, Greta	SR	1544	Scotts Valley-CCS	102	21:10.6	4:25.6	6:48.5	4:14.1	6:34.7 (157)	14:29.0 (136)
129	MYLAN, Augustine	SO	2009	Yreka-NS	--	21:11.1	4:26.1	6:48.7	4:14.2	6:17.0 (121)	14:21.9 (129)
130	BOOTH, Leah	SO	1305	Placer-SJS	103	21:12.3	4:27.3	6:49.1	4:14.5	6:08.5 (103)	14:12.7 (123)
131	LUND, Chloe	FR	821	La Jolla-SDS	104	21:12.5	4:27.5	6:49.1	4:14.5	6:22.4 (134)	14:22.6 (130)
132	SAAVEDRA-SILVA, Roselin	JR	238	Castlemont-OS	--	21:12.7	4:27.7	6:49.2	4:14.5	6:23.5 (136)	14:32.6 (141)
133	SUMWALT, Alisa	JR	1423	Sage Creek-SDS	105	21:19.1	4:34.1	6:51.3	4:15.8	6:21.7 (132)	14:25.2 (132)
134	COTTON, Abigail	SR	1837	Valley Center-SDS	--	21:21.3	4:36.3	6:52.0	4:16.3	6:16.9 (119)	14:25.0 (131)
135	SANDERS, Kayden	JR	1150	Nipomo-CS	106	21:22.6	4:37.6	6:52.4	4:16.5	6:30.2 (149)	14:39.1 (145)
136	WARREN, Taryn	FR	478	Del Lago Academy-SDS	--	21:23.2	4:38.2	6:52.6	4:16.6	6:03.8 (79)	14:19.8 (127)
137	SCOTT, Marley	JR	333	Clairemont-SDS	107	21:24.1	4:39.1	6:52.9	4:16.8	6:28.0 (147)	14:32.2 (139)
138	BIITNER, Gabriella	JR	382	Colfax-SJS	108	21:24.2	4:39.2	6:52.9	4:16.8	6:21.9 (133)	14:29.6 (137)
139	FINLEY, Haven	JR	1449	San Lorenzo Valley-CCS	--	21:24.3	4:39.3	6:52.9	4:16.8	6:24.7 (139)	14:32.3 (140)
140	COURTNEY, Natalie	SR	819	La Jolla-SDS	109	21:25.4	4:40.4	6:53.3	4:17.1	6:25.4 (141)	14:27.6 (135)
141	MOYA, Alexanderia	JR	315	Christian Brothers-SJS	110	21:28.1	4:43.1	6:54.2	4:17.6	6:24.1 (138)	14:40.2 (148)
142	PASSAFIUME, Olivia	FR	1309	Placer-SJS	111	21:28.8	4:43.8	6:54.4	4:17.8	6:32.3 (152)	14:40.0 (146)
143	HILL-RODDICK, Jessica	SR	1540	Scotts Valley-CCS	112	21:32.5	4:47.5	6:55.6	4:18.5	6:34.3 (155)	14:36.2 (143)
144	PLEZIA, Abigail	SO	823	La Jolla-SDS	113	21:32.7	4:47.7	6:55.6	4:18.5	6:23.9 (137)	14:31.8 (138)
145	PARKER, Abigail	SR	931	Lowell-SF	114	21:33.3	4:48.3	6:55.8	4:18.6	6:39.3 (165)	14:43.7 (150)
146	KOYAMA, Mai	SR	1610	South Pasadena-SS	115	21:34.0	4:48.0	6:56.1	4:18.8	6:15.8 (117)	14:26.3 (134)
147	ROE, Naomi	SR	845	Laguna Hills-SS	116	21:35.5	4:50.5	6:56.5	4:19.1	6:25.0 (140)	14:32.7 (142)
148	KINNEY, Rosette	JR	330	Clairemont-SDS	117	21:40.6	4:55.6	6:58.2	4:20.1	6:40.7 (168)	14:44.7 (152)
149	JARDINIANO, Reese	JR	928	Lowell-SF	118	21:41.4	4:56.4	6:58.4	4:20.3	6:39.3 (166)	14:43.7 (151)
150	WEBB, Hannah	SO	1215	Oaks Christian-SS	119	21:48.5	5:03.5	7:00.7	4:21.7	6:17.1 (122)	14:36.7 (144)
151	BEI, Leah	FR	1411	Sacred Heart Prep-CCS	120	21:48.7	5:03.7	7:00.8	4:21.7	6:26.2 (144)	14:42.5 (149)
152	TONER, Morgan	FR	388	Colfax-SJS	121	21:48.9	5:03.9	7:00.9	4:21.8	6:26.9 (145)	14:40.0 (147)
153	KVITEK, Chiara	SO	225	Carmel-CCS	122	21:50.6	5:05.6	7:01.4	4:22.1	6:38.8 (162)	15:01.3 (161)
154	BACKUS, Sasha	SR	818	La Jolla-SDS	123	21:53.2	5:08.2	7:02.2	4:22.6	6:26.0 (143)	14:45.7 (153)
155	ROBERTSON, Madalyn	SO	859	Las Plumas-NS	124	21:54.3	5:09.3	7:02.6	4:22.8	6:34.6 (156)	14:52.0 (157)
156	PHILLIPS, Cameron	SO	1222	Orland-NS	125	21:54.7	5:09.7	7:02.7	4:22.9	6:25.9 (142)	14:49.9 (155)
157	EYJOLFSDOTTIR, Sara	SO	222	Carmel-CCS	126	21:57.5	5:12.5	7:03.6	4:23.5	6:39.0 (163)	15:01.3 (160)
158	JOHL, Ella	FR	314	Christian Brothers-SJS	127	21:58.3	5:13.3	7:03.9	4:23.6	6:36.9 (160)	14:55.8 (158)
159	TELLO, Yadira	SR	1524	Santa Maria-CS	128	22:00.9	5:15.9	7:04.7	4:24.2	6:43.0 (174)	15:08.3 (165)
160	OLEA, Itandehui	SR	1523	Santa Maria-CS	129	22:01.8	5:16.8	7:05.0	4:24.3	6:42.8 (173)	15:09.0 (166)
161	MUELLER, Grace	SO	1307	Placer-SJS	130	22:07.5	5:22.5	7:06.8	4:25.5	6:32.3 (153)	14:51.9 (156)
162	ROBERTSON, Olivia	SO	860	Las Plumas-NS	131	22:07.6	5:22.6	7:06.9	4:25.5	6:39.6 (167)	15:03.2 (164)
163	BOELL, Mallory	SR	1698	St. Mary's College-NCS	132	22:08.7	5:23.7	7:07.2	4:25.7	6:31.5 (151)	14:49.2 (154)
164	SORENSON, Ali	JR	933	Lowell-SF	133	22:12.2	5:27.2	7:08.3	4:26.4	6:39.1 (164)	14:56.4 (159)
165	VEGA, Annais	JR	1525	Santa Maria-CS	134	22:17.1	5:32.1	7:09.9	4:27.4	6:44.9 (179)	15:09.4 (167)
166	HUNT, Emma	JR	29	Acalanes-NCS	135	22:18.7	5:33.7	7:10.4	4:27.7	6:51.4 (187)	15:21.0 (171)
167	UNKNOWN, Unknown	SR	599	Enterprise-NS	--	22:19.5	5:34.5	7:10.7	4:27.9	6:34.2 (154)	15:02.5 (163)
168	STONE, Natalie	SR	318	Christian Brothers-SJS	136	22:19.6	5:34.6	7:10.7	4:27.9	6:45.4 (180)	15:18.3 (169)
169	CARLSON, Hannah	FR	1167	Northridge Academy-LAS	--	22:27.6	5:42.6	7:13.3	4:29.5	6:27.8 (146)	15:01.5 (162)
170	LOSEKOOT, Mikaela	JR	929	Lowell-SF	137	22:39.3	5:54.3	7:17.1	4:31.9	6:43.8 (176)	15:14.6 (168)
171	DELGADO, Riley	SR	842	Laguna Hills-SS	138	22:48.7	6:03.7	7:20.1	4:33.7	6:35.4 (159)	15:18.4 (170)
172	ALLRED, Maizy	JR	855	Las Plumas-NS	139	22:48.7	6:03.7	7:20.1	4:33.7	6:40.8 (169)	15:30.6 (180)
173	CROSSLAND, Caroline	SR	28	Acalanes-NCS	140	22:51.2	6:06.2	7:20.9	4:34.2	6:41.5 (171)	15:21.9 (172)
174	MCDADE, Sophie	FR	1413	Sacred Heart Prep-CCS	141	22:52.7	6:07.7	7:21.4	4:34.5	6:37.3 (161)	15:30.1 (179)
175	ZAMORA, Rocio	JR	1527	Santa Maria-CS	142	22:53.2	6:08.2	7:21.5	4:34.6	6:46.0 (183)	15:25.0 (177)
176	GARCIA, Jasmin	SR	1006	Mendez-LAS	143	22:54.0	6:08.0	7:21.8	4:34.8	6:45.7 (181)	15:24.4 (176)
177	RIZO, Ria	SO	332	Clairemont-SDS	144	23:04.7	6:19.7	7:25.2	4:36.9	6:55.5 (189)	15:42.6 (184)
178	CHRISTIE, Carlotta	FR	2008	Yreka-NS	--	23:05.8	6:20.8	7:25.6	4:37.2	6:43.9 (177)	15:23.3 (175)
179	SUNDING, Sophia	FR	387	Colfax-SJS	145	23:08.0	6:22.0	7:26.3	4:37.6	6:41.1 (170)	15:34.2 (182)
180	GROVE, Emmy	FR	1306	Placer-SJS	146	23:09.0	6:23.0	7:26.6	4:37.8	6:46.5 (184)	15:39.7 (183)
181	BARNETT, Kate	JR	1144	Nipomo-CS	147	23:09.8	6:24.8	7:26.9	4:37.9	6:42.0 (172)	15:23.2 (174)
182	JUAREZ, Vanessa	SR	1522	Santa Maria-CS	148	23:15.5	6:30.5	7:28.7	4:39.1	6:43.1 (175)	15:33.8 (181)
183	ESPARZA, Sophia	FR	1146	Nipomo-CS	149	23:20.8	6:35.8	7:30.4	4:40.1	6:45.9 (182)	15:30.0 (178)
184	HERRERA, Crystal	JR	1521	Santa Maria-CS	150	23:39.9	6:54.9	7:36.5	4:44.0	6:48.9 (186)	15:54.0 (185)
185	DAVIS, Melanie	JR	1357	Rancho Dominguez Prep-LAS	--	23:40.5	6:55.5	7:36.7	4:44.1	6:35.0 (158)	15:57.8 (188)
186	JONES, Zoey	JR	329	Clairemont-SDS	151	23:47.6	7:02.6	7:39.0	4:45.5	6:55.6 (190)	15:57.5 (187)
187	ESQUIVEL, Itzel	JR	1218	Orland-NS	152	23:48.1	7:03.1	7:39.2	4:45.6	6:44.6 (178)	15:56.5 (186)
188	BAUTISTA, Lucia	JR	1004	Mendez-LAS	153	24:11.5	7:26.5	7:46.7	4:50.3	6:55.2 (188)	16:19.6 (191)
189	HERNANDEZ, Hayley	SR	1358	Rancho Dominguez Prep-LAS	--	24:12.2	7:27.2	7:46.9	4:50.4	6:48.0 (185)	16:02.6 (189)
190	MORGADO, Isabella	SO	858	Las Plumas-NS	154	24:18.1	7:33.1	7:48.8	4:51.6	6:56.9 (192)	16:19.2 (190)
191	GARCIA, Arianna	SO	1220	Orland-NS	155	24:20.0	7:34.0	7:49.4	4:52.0	6:57.1 (193)	16:38.3 (195)
192	HARTY, Paige	SR	312	Christian Brothers-SJS	156	24:32.4	7:47.4	7:53.4	4:54.5	6:59.1 (194)	16:22.6 (192)
193	JUAREZ, Jaqueline	SO	547	East Valley-LAS	--	24:39.9	7:54.9	7:55.8	4:56.0	6:56.5 (191)	16:34.2 (193)
194	ZAMORA, Norma	SR	1526	Santa Maria-CS	157	24:43.6	7:58.6	7:57.0	4:56.7	7:20.0 (196)	16:47.0 (196)
195	ZIEGLER, Mari	JR	385	Colfax-SJS	158	24:51.1	8:06.1	7:59.4	4:58.2	7:06.8 (195)	16:35.3 (194)
196	WAGNER, Avery	FR	1417	Sacred Heart Prep-CCS	159	25:15.5	8:30.5	8:07.3	5:03.1	6:31.0 (150)	15:23.0 (173)
197	JOHNSON, Abigail	JR	1221	Orland-NS	160	25:42.3	8:57.3	8:15.9	5:08.5	7:25.7 (201)	17:08.7 (197)
198	GARCIA-SANCHEZ, Magaly	FR	1007	Mendez-LAS	161	25:46.7	9:01.7	8:17.3	5:09.3	7:21.8 (197)	17:23.6 (198)
199	LOPEZ, Annalisse	JR	1148	Nipomo-CS	162	26:08.0	9:22.0	8:24.2	5:13.6	7:25.2 (200)	17:27.1 (199)
200	UVERA, Eridyan	SR	1010	Mendez-LAS	163	26:59.7	10:14.7	8:40.8	5:23.9	8:08.9 (205)	18:34.7 (203)
201	MONTANO, Bella	FR	857	Las Plumas-NS	164	27:08.2	10:23.2	8:43.5	5:25.6	7:21.9 (198)	17:50.2 (200)
202	DE LEON, Micaela	SO	1005	Mendez-LAS	165	28:04.6	11:19.6	9:01.7	5:36.9	7:23.7 (199)	18:33.5 (202)
203	SOLANO, Destheny	FR	1009	Mendez-LAS	166	28:04.6	11:19.6	9:01.7	5:36.9	8:08.7 (204)	18:42.0 (204)
204	NOLASCO, Katelyn	JR	1008	Mendez-LAS	167	28:08.0	11:22.0	9:02.8	5:37.6	7:45.9 (202)	18:28.8 (201)
205	WORDEN, Avielle	JR	861	Las Plumas-NS	168	28:33.1	11:48.1	9:10.8	5:42.6	8:27.1 (207)	19:15.6 (205)
206	ROSS, SeaAnna	SR	1223	Orland-NS	169	29:19.1	12:34.1	9:25.6	5:51.8	8:15.4 (206)	19:42.0 (206)
207	CELENTANO, Ava	SO	856	Las Plumas-NS	170	30:41.3	13:56.3	9:52.0	6:08.2	8:02.4 (203)	19:54.0 (207)

Division II
Final Standings	        Score	Scoring Order	                Total	Avg.	Spread
1	Mira Costa-SS	86	1-3-5-24-53(85)(97)	        1:30:53	18:11	2:29.5
2	Canyon (An)-SS	123	7-15-16-41-44(56)(132)	        1:33:41	18:45	1:07.2
3	Granite Bay-SJS	149	9-19-34-39-48(55)(150)	        1:34:31	18:55	1:01.1
4	St. Francis (MV)-CCS 188 14-31-33-51-59(67)(100)	1:35:37	19:08	1:01.9
5	Poway-SDS	194	8-11-38-43-94(116)(123)	        1:35:01	19:01	2:02.6
6	Granada-NCS	195	17-23-29-46-80(101)(117)	1:35:55	19:11	1:27.7
7	Dana Hills-SS	216	10-30-45-50-81(90)(98)	        1:35:59	19:12	1:48.0
8	St Francis-Sac-SJS 220	4-28-32-70-86(95)	        1:36:06	19:14	2:15.0
9	Sanger-CS	234	25-35-36-42-96(108)(124)	1:36:41	19:21	1:19.7
10	Claremont-SS	259	6-49-58-71-75(83)(136)	        1:36:47	19:22	1:55.8
11	Monte Vista-NCS	284*	21-22-68-84-89(92)(139)	        1:37:58	19:36	1:17.4
12	Redwood-NCS	284*	12-52-54-79-87(114)(122)	1:37:16	19:28	1:50.9
13	Westlake-SS	319	26-65-66-74-88(106)(119)	1:38:37	19:44	1:12.7
14	El Toro-SS	357	40-61-64-93-99(105)(133)	1:38:59	19:48	1:10.8
15	Rio Americano-SJS 372	20-57-72-102-121(137)(152)	1:39:37	19:56	2:02.7
16	Willow Glen-CCS	375	27-47-82-104-115(142)(146)	1:39:27	19:54	1:40.5
17	Ventura-SS	384	2-73-76-113-120(127)(128)	1:38:27	19:42	3:54.1
18	San Ramon Valley-NCS 450 62-63-103-110-112(134)(151)	1:40:56	20:12	0:57.0
19	Mt Carmel-SDS	465	18-37-130-131-149(153)	        1:42:19	20:28	3:20.8
20	A. Mitty-CCS	485	13-107-109-118-138(143)(148)	1:41:46	20:22	3:07.5
21	Scripps Ranch-SDS 502	60-78-91-129-144(145)(147)	1:42:40	20:32	2:06.0
22	Frontier-CS	603	77-125-126-135-140(141)(155)	1:45:16	21:04	1:31.0
23	Eagle Rock-LAS	647	69-111-154-156-157(158)	1:49:38	21:56	3:30.8

*Tiebreakers
Monte Vista-NCS	21	22	68	84	89	92	139
Redwood-NCS	12	52	54	79	87	114	122
 
Individual Results
Athlete	Yr.	#	Team	Score	Time	Gap	Avg. Mile	Avg. KM	1M	2.05M
1	FRIAS, Dalia	SR	1030	Mira Costa-SS	1	16:52.0	---	5:25.4	3:22.4	5:17.2 (1)	11:31.6 (1)
2	ENGELHARDT, Sadie	FR	1847	Ventura-SS	2	16:58.7	7.7	5:27.5	3:23.7	5:17.3 (2)	11:32.5 (2)
3	CALLANAN, Aishling	JR	1289	Peninsula-SS	--	17:35.4	44.4	5:39.3	3:31.1	5:19.3 (3)	11:56.7 (3)
4	PARSLEY, Ella	SR	1034	Mira Costa-SS	3	17:45.5	54.5	5:42.6	3:33.1	5:26.4 (6)	12:04.5 (4)
5	CORNEJO, Tatiana	SR	1629	St Francis-Sac-SJS	4	17:54.6	1:03.6	5:45.5	3:34.9	5:27.7 (11)	12:05.8 (5)
6	CHITTENDEN, Anna	JR	1028	Mira Costa-SS	5	17:57.1	1:06.1	5:46.3	3:35.4	5:32.6 (21)	12:19.9 (14)
7	KOPEC, Katie	JR	1939	Whitney-SJS	--	17:57.3	1:06.3	5:46.4	3:35.4	5:33.7 (26)	12:14.3 (11)
8	CHEN, Jie Yi Denise	SO	334	Claremont-SS	6	18:03.7	1:12.7	5:48.4	3:36.7	5:26.6 (7)	12:07.2 (7)
9	HADLEY, Emma	SR	206	Canyon (An)-SS	7	18:06.2	1:15.2	5:49.3	3:37.2	5:26.1 (4)	12:17.0 (12)
10	PERETTI, Bella	SR	1300	Pioneer-CCS	--	18:08.3	1:17.3	5:49.9	3:37.7	5:26.8 (9)	12:12.4 (10)
11	ROGERS, Mackenzie	SR	1338	Poway-SDS	8	18:09.4	1:18.4	5:50.3	3:37.9	5:26.1 (5)	12:17.6 (13)
12	WIELAND, Natalie	SR	1330	Ponderosa-SJS	--	18:11.2	1:20.2	5:50.9	3:38.2	5:28.9 (18)	12:09.6 (8)
13	FOSTER, Carly	JR	689	Granite Bay-SJS	9	18:15.5	1:24.5	5:52.2	3:39.1	5:34.2 (28)	12:25.9 (18)
14	MARKOW, ALLURA	JR	447	Dana Hills-SS	10	18:17.2	1:26.2	5:52.8	3:39.4	5:28.8 (16)	12:06.2 (6)
15	BUSWELL, Tessa	SO	1334	Poway-SDS	11	18:18.7	1:27.7	5:53.2	3:39.7	5:30.4 (19)	12:27.4 (20)
16	MACLEAN, Audrey	JR	1377	Redwood-NCS	12	18:20.1	1:29.1	5:53.7	3:40.0	5:32.1 (20)	12:25.7 (17)
17	MARHEINEKE, Evie	FR	12	A. Mitty-CCS	13	18:21.3	1:30.3	5:54.1	3:40.3	5:28.8 (17)	12:25.3 (16)
18	WASHINGTON, Hayden	SR	1921	West Ranch-SS	--	18:24.3	1:33.3	5:55.1	3:40.9	5:33.2 (24)	12:26.8 (19)
19	ZANETTO, Sabrina	FR	1644	St. Francis (MV)-CCS	14	18:30.8	1:39.8	5:57.2	3:42.2	5:36.3 (30)	12:33.1 (24)
20	MARSYLA, Elle	SR	1985	Woodside-CCS	--	18:32.9	1:41.9	5:57.8	3:42.6	5:36.4 (31)	12:37.0 (25)
21	SWENSON, Leila	SR	92	Bella Vista-SJS	--	18:33.5	1:42.5	5:58.0	3:42.7	5:28.4 (14)	12:29.3 (22)
22	FRISONE, Isabella	SR	203	Canyon (An)-SS	15	18:34.1	1:43.1	5:58.2	3:42.8	5:28.7 (15)	12:38.8 (26)
23	ZDANAVAGE, Jadyn	JR	1333	Portola-SS	--	18:35.5	1:44.5	5:58.7	3:43.1	5:27.9 (12)	12:31.9 (23)
24	OLIVA, Makena	SO	207	Canyon (An)-SS	16	18:35.9	1:44.9	5:58.8	3:43.2	5:34.1 (27)	12:47.0 (32)
25	BARRON, Jana	SO	673	Granada-NCS	17	18:36.3	1:45.3	5:58.9	3:43.2	5:27.4 (10)	12:28.6 (21)
26	PAUL, Sydney	SR	1092	Mt Carmel-SDS	18	18:38.8	1:47.8	5:59.7	3:43.8	5:37.6 (33)	12:41.5 (27)
27	ALLISON, Emily	SO	687	Granite Bay-SJS	19	18:43.0	1:51.0	6:01.1	3:44.6	5:48.3 (59)	12:46.5 (31)
28	SCHLIEMAN, Olivia	JR	1394	Rio Americano-SJS	20	18:52.2	2:01.2	6:04.0	3:46.4	5:38.0 (34)	12:43.4 (30)
29	BINDER, Sally	JR	1063	Monte Vista-NCS	21	18:53.8	2:02.8	6:04.6	3:46.8	5:36.6 (32)	12:51.0 (35)
30	POGUE, Kinsey	SR	1068	Monte Vista-NCS	22	18:54.8	2:03.8	6:04.9	3:46.9	5:33.3 (25)	12:50.4 (34)
31	MELCHER, Elizabeth	SR	676	Granada-NCS	23	18:55.6	2:04.6	6:05.1	3:47.1	5:33.1 (23)	12:43.0 (28)
32	JENSEN, Heather	JR	1031	Mira Costa-SS	24	18:56.4	2:05.4	6:05.4	3:47.3	5:49.9 (65)	12:57.8 (41)
33	MENDIBLES, Leah	JR	1475	Sanger-CS	25	18:56.8	2:05.8	6:05.5	3:47.3	5:47.7 (54)	13:02.9 (54)
34	CASTAGNA, Laura	SO	1931	Westlake-SS	26	18:58.4	2:07.4	6:06.0	3:47.7	5:45.6 (43)	12:52.9 (37)
35	HOONAERT, Kylie	FR	1343	Prospect-CCS	--	18:58.8	2:07.8	6:06.2	3:47.8	5:26.8 (8)	12:22.4 (15)
36	CHESAREK, Taylor	FR	1955	Willow Glen-CCS	27	18:59.0	2:07.0	6:06.2	3:47.8	5:52.3 (80)	12:57.9 (42)
37	SILVA, Claire	SR	1632	St Francis-Sac-SJS	28	18:59.2	2:08.2	6:06.3	3:47.8	5:53.3 (84)	13:04.1 (58)
38	EDWARDS, Gabriella	SO	674	Granada-NCS	29	19:03.6	2:12.6	6:07.7	3:48.7	5:34.9 (29)	12:50.3 (33)
39	REED, Lindsey	SR	390	College Park-NCS	--	19:04.1	2:13.1	6:07.9	3:48.8	5:47.5 (52)	12:54.6 (39)
40	IVARSSON, Annie	FR	444	Dana Hills-SS	30	19:04.6	2:13.6	6:08.0	3:48.9	5:48.2 (58)	13:06.6 (66)
41	YAMAMOTO, Hinako	JR	1643	St. Francis (MV)-CCS	31	19:05.3	2:14.3	6:08.2	3:49.0	5:50.8 (73)	12:58.9 (44)
42	SUTCH, Kelsey	SO	1633	St Francis-Sac-SJS	32	19:06.6	2:15.6	6:08.7	3:49.3	5:53.9 (88)	13:03.9 (57)
43	ELKINS, Christel	SR	1639	St. Francis (MV)-CCS	33	19:07.0	2:15.0	6:08.8	3:49.4	5:47.4 (51)	13:04.2 (60)
44	BAXTER, Grace	FR	688	Granite Bay-SJS	34	19:07.0	2:15.0	6:08.8	3:49.4	5:45.2 (40)	12:52.7 (36)
45	LAMAS, Nia	SR	1474	Sanger-CS	35	19:07.3	2:16.3	6:08.9	3:49.4	5:45.8 (45)	13:02.9 (55)
46	ALVAREZ, Nereyda	SR	1471	Sanger-CS	36	19:08.3	2:17.3	6:09.2	3:49.7	5:47.7 (55)	13:04.2 (59)
47	TURPIN, Emma	SR	1094	Mt Carmel-SDS	37	19:08.7	2:17.7	6:09.3	3:49.7	5:40.7 (36)	12:57.0 (40)
48	NASH, Avalon	SO	1337	Poway-SDS	38	19:08.9	2:17.9	6:09.4	3:49.8	5:39.9 (35)	12:54.2 (38)
49	HANSEN, Lizzy	FR	691	Granite Bay-SJS	39	19:09.1	2:18.1	6:09.5	3:49.8	5:51.2 (77)	13:01.0 (46)
50	MILLER, Carly	JR	588	El Toro-SS	40	19:09.1	2:18.1	6:09.5	3:49.8	5:54.2 (91)	13:05.5 (62)
51	GUTHRIE, Lindsay	SO	205	Canyon (An)-SS	41	19:11.1	2:20.1	6:10.1	3:50.2	5:53.9 (89)	13:07.4 (69)
52	BIANCHI, Sienna	SR	1472	Sanger-CS	42	19:12.2	2:21.2	6:10.5	3:50.4	5:48.1 (56)	13:03.6 (56)
53	SURBER, Kaitlin	SO	1340	Poway-SDS	43	19:12.3	2:21.3	6:10.5	3:50.4	5:45.6 (44)	13:02.4 (51)
54	CASTELLI, Charlotte	SR	1285	Paso Robles-CS	--	19:13.2	2:22.2	6:10.8	3:50.6	5:50.4 (69)	13:02.5 (52)
55	AITKEN, Kiah	SO	912	Lodi-SJS	--	19:13.4	2:22.4	6:10.8	3:50.7	5:48.6 (61)	13:00.4 (45)
56	POTTER, Keira	JR	208	Canyon (An)-SS	44	19:13.4	2:22.4	6:10.8	3:50.7	5:47.2 (49)	13:01.7 (49)
57	SCHEER, Paige	SO	449	Dana Hills-SS	45	19:14.1	2:23.1	6:11.1	3:50.8	5:48.5 (60)	13:06.5 (65)
58	ROSENBERG, Alexis	JR	677	Granada-NCS	46	19:15.0	2:23.0	6:11.4	3:51.0	5:49.3 (63)	13:01.2 (47)
59	HERNING, Lola	FR	1956	Willow Glen-CCS	47	19:16.4	2:25.4	6:11.8	3:51.3	5:43.0 (37)	12:58.1 (43)
60	MCKENNA, Morgan	SO	693	Granite Bay-SJS	48	19:16.6	2:25.6	6:11.9	3:51.3	5:52.1 (79)	13:05.7 (64)
61	CRUZ, Peyton	SR	336	Claremont-SS	49	19:17.1	2:26.1	6:12.1	3:51.4	5:56.7 (100)	13:08.9 (72)
62	MURPHY, Cooper	SO	448	Dana Hills-SS	50	19:17.4	2:26.4	6:12.2	3:51.5	5:48.6 (62)	13:06.8 (67)
63	KAELBER, Lillian	SO	1641	St. Francis (MV)-CCS	51	19:20.9	2:29.9	6:13.3	3:52.2	5:45.5 (42)	13:01.4 (48)
64	CONNERY, Hailey	SR	1375	Redwood-NCS	52	19:20.9	2:29.9	6:13.3	3:52.2	5:51.2 (76)	13:13.6 (77)
65	FRANZ, Lucca	SR	1029	Mira Costa-SS	53	19:21.5	2:30.5	6:13.5	3:52.3	5:52.9 (83)	13:08.8 (71)
66	JANKU, Helena	SR	1376	Redwood-NCS	54	19:22.3	2:31.3	6:13.7	3:52.4	5:51.3 (78)	13:13.9 (78)
67	MOORE, Sydney	JR	1286	Paso Robles-CS	--	19:23.5	2:32.5	6:14.1	3:52.7	5:50.6 (71)	13:05.5 (63)
68	LOMELI, Hailie	SO	326	Citrus Valley-SS	--	19:24.4	2:33.4	6:14.4	3:52.9	5:43.7 (38)	13:06.9 (68)
69	MCGUCKIN, Grace	SR	692	Granite Bay-SJS	55	19:25.4	2:34.4	6:14.7	3:53.1	5:51.0 (74)	13:01.8 (50)
70	GREENBAUM, Heather	SO	204	Canyon (An)-SS	56	19:26.3	2:35.3	6:15.0	3:53.2	5:54.4 (92)	13:13.1 (76)
71	BARNES, Kaylee	SR	1389	Rio Americano-SJS	57	19:26.7	2:35.7	6:15.1	3:53.3	5:56.8 (101)	13:16.4 (80)
72	COLES, Maddie	SR	335	Claremont-SS	58	19:30.4	2:39.4	6:16.3	3:54.1	5:32.8 (22)	12:43.3 (29)
73	GUINN, Rylee	JR	878	Liberty High-NCS	--	19:32.5	2:41.5	6:17.0	3:54.5	5:45.2 (41)	13:08.5 (70)
74	CILLEY, Caitlin	FR	1638	St. Francis (MV)-CCS	59	19:32.6	2:41.6	6:17.0	3:54.5	5:47.2 (50)	13:02.9 (53)
75	MIRELEZ, Sophia	SO	955	Madera-CS	--	19:33.0	2:41.0	6:17.2	3:54.6	5:46.6 (47)	13:05.4 (61)
76	MARTIN, Michaela	JR	1557	Scripps Ranch-SDS	60	19:33.4	2:42.4	6:17.3	3:54.7	5:53.7 (87)	13:12.6 (75)
77	MEDINA, Darla	SR	587	El Toro-SS	61	19:35.8	2:44.8	6:18.1	3:55.1	5:54.2 (90)	13:10.0 (73)
78	BROWER, Caitlan	SR	1463	San Ramon Valley-NCS	62	19:39.6	2:48.6	6:19.3	3:55.9	5:58.5 (109)	13:21.7 (88)
79	MICHEL, Mackenzie	JR	1467	San Ramon Valley-NCS	63	19:39.7	2:48.7	6:19.3	3:55.9	6:01.2 (118)	13:21.6 (87)
80	BARRERA, Shae	JR	584	El Toro-SS	64	19:42.6	2:51.6	6:20.2	3:56.5	5:55.1 (94)	13:22.3 (89)
81	WOOD, Alyssa	JR	1935	Westlake-SS	65	19:43.6	2:52.6	6:20.6	3:56.7	5:56.2 (96)	13:20.5 (85)
82	TRAVERSA, Kali	JR	1934	Westlake-SS	66	19:44.5	2:53.5	6:20.9	3:56.9	5:53.6 (85)	13:21.6 (86)
83	FAWCETT, Anna	JR	1640	St. Francis (MV)-CCS	67	19:46.6	2:55.6	6:21.5	3:57.3	5:55.4 (95)	13:20.4 (84)
84	ESTRADA, Melissa	JR	1902	Vista-SDS	--	19:46.8	2:55.8	6:21.6	3:57.3	5:52.6 (81)	13:12.3 (74)
85	TURNS, Alyssa	FR	1069	Monte Vista-NCS	68	19:51.0	2:59.0	6:22.9	3:58.2	5:53.7 (86)	13:25.4 (93)
86	MIYAMOTO, Keely	SR	542	Eagle Rock-LAS	69	19:51.6	3:00.6	6:23.1	3:58.3	5:51.1 (75)	13:18.5 (82)
87	GUARDINO, Jessica	JR	1839	Valley Christian-CCS	--	19:52.8	3:01.8	6:23.5	3:58.5	5:57.9 (106)	13:31.0 (96)
88	MITCHELL, Tauren	SO	1936	Westmont-CCS	--	19:55.2	3:04.2	6:24.3	3:59.0	5:46.6 (48)	13:19.8 (83)
89	PEACHER, Lauren	SO	1903	Vista-SDS	--	19:55.5	3:04.5	6:24.4	3:59.1	5:58.1 (107)	13:25.0 (92)
90	WITHERELL, Daphne	JR	1635	St Francis-Sac-SJS	70	19:56.2	3:05.2	6:24.6	3:59.2	6:06.2 (135)	13:48.8 (130)
91	GOSSETT, Alexa	SO	338	Claremont-SS	71	19:56.4	3:05.4	6:24.7	3:59.3	5:45.0 (39)	13:17.3 (81)
92	LARSSON, Kianna	FR	1391	Rio Americano-SJS	72	19:58.3	3:07.3	6:25.3	3:59.7	6:16.5 (163)	13:47.3 (128)
93	OCHOA, Chelsea	JR	1850	Ventura-SS	73	19:58.8	3:07.8	6:25.4	3:59.7	5:50.5 (70)	13:35.4 (103)
94	BRIDGES, Nicole	SO	879	Liberty-CS	--	19:59.2	3:08.2	6:25.6	3:59.8	5:50.4 (68)	13:22.8 (90)
95	NAVARRO, Michelle	FR	1933	Westlake-SS	74	19:59.2	3:08.2	6:25.6	3:59.8	6:00.2 (112)	13:27.7 (95)
96	SHULTZ, Amanda	SR	340	Claremont-SS	75	19:59.4	3:08.4	6:25.7	3:59.9	5:57.5 (105)	13:26.6 (94)
97	LOCHER, Rebecca	SR	1848	Ventura-SS	76	19:59.7	3:08.7	6:25.7	3:59.9	6:03.1 (127)	13:38.3 (107)
98	GOMEZ, Madison	SR	642	Frontier-CS	77	19:59.8	3:08.8	6:25.8	3:59.9	6:09.6 (143)	13:39.5 (111)
99	ELLERMEYER, Chloe	JR	1556	Scripps Ranch-SDS	78	20:00.8	3:09.8	6:26.1	4:00.1	6:00.4 (114)	13:31.5 (97)
100	BAKER, Lulu	JR	1374	Redwood-NCS	79	20:01.9	3:10.9	6:26.5	4:00.4	6:01.2 (117)	13:32.4 (99)
101	EXLINE, Anna	SR	1459	San Pasqual-SDS	--	20:03.8	3:12.8	6:27.1	4:00.8	6:08.5 (139)	13:44.3 (125)
102	SAUDER, Kerrigan	FR	678	Granada-NCS	80	20:03.9	3:12.9	6:27.1	4:00.8	5:49.6 (64)	13:25.0 (91)
103	ANDERSON, Tessa	SO	443	Dana Hills-SS	81	20:05.1	3:14.1	6:27.5	4:01.0	5:48.1 (57)	13:32.1 (98)
104	UNGER, Paige	JR	1961	Willow Glen-CCS	82	20:05.8	3:14.8	6:27.7	4:01.1	5:47.5 (53)	13:39.8 (112)
105	ENDO, Hannah	SR	337	Claremont-SS	83	20:06.7	3:15.7	6:28.0	4:01.3	6:04.7 (133)	13:38.9 (109)
106	DOLAN, Peyton	SO	1064	Monte Vista-NCS	84	20:07.5	3:16.5	6:28.2	4:01.5	5:50.1 (66)	13:36.3 (104)
107	PROKOPOVYCH-SHCHEPETKIN, Lidia	JR	1842	Venice-LAS	--	20:07.7	3:16.7	6:28.3	4:01.5	6:10.7 (147)	13:40.4 (114)
108	MURCH, Nicole	JR	1033	Mira Costa-SS	85	20:09.0	3:17.0	6:28.7	4:01.8	6:11.0 (149)	13:41.6 (119)
109	DUNHAM, Grace	SO	1630	St Francis-Sac-SJS	86	20:09.5	3:18.5	6:28.9	4:01.9	6:06.1 (134)	13:48.8 (129)
110	NOGIEIRO, Sofia	JR	1379	Redwood-NCS	87	20:10.9	3:19.9	6:29.3	4:02.2	6:01.1 (116)	13:41.0 (117)
111	BASILE, Ava	JR	1929	Westlake-SS	88	20:11.0	3:19.0	6:29.4	4:02.2	6:00.2 (111)	13:33.5 (100)
112	MORAN, Abigail	SR	1067	Monte Vista-NCS	89	20:11.1	3:20.1	6:29.4	4:02.2	5:50.3 (67)	13:37.2 (106)
113	LOTT, Quinci	SO	446	Dana Hills-SS	90	20:11.3	3:20.3	6:29.5	4:02.2	5:56.3 (97)	13:38.7 (108)
114	NAUMAN, Samantha	SR	1558	Scripps Ranch-SDS	91	20:11.7	3:20.7	6:29.6	4:02.3	6:00.3 (113)	13:34.6 (101)
115	LEW, Shelby	JR	1066	Monte Vista-NCS	92	20:11.7	3:20.7	6:29.6	4:02.3	5:58.3 (108)	13:42.8 (122)
116	TORRES, Susana	SR	589	El Toro-SS	93	20:11.8	3:20.8	6:29.6	4:02.3	6:02.1 (123)	13:40.8 (115)
117	JUZA, Mackenzie	FR	1335	Poway-SDS	94	20:12.0	3:20.0	6:29.7	4:02.4	6:03.1 (126)	13:41.6 (118)
118	TOWNE, Kayla	SO	1634	St Francis-Sac-SJS	95	20:14.1	3:23.1	6:30.4	4:02.8	6:06.3 (136)	13:48.9 (131)
119	DIAZ, Anayacsi	JR	1473	Sanger-CS	96	20:16.5	3:25.5	6:31.1	4:03.3	5:50.8 (72)	13:40.9 (116)
120	KERSHAW, Kayla	SR	1032	Mira Costa-SS	97	20:17.1	3:26.1	6:31.3	4:03.4	5:56.9 (103)	13:36.9 (105)
121	LOPEZ, ANGIE	JR	445	Dana Hills-SS	98	20:18.6	3:27.6	6:31.8	4:03.7	5:56.6 (99)	13:42.8 (121)
122	LYND, Kasey	SR	586	El Toro-SS	99	20:19.9	3:28.9	6:32.2	4:04.0	6:01.5 (120)	13:43.5 (124)
123	VALDES, Briana	JR	1642	St. Francis (MV)-CCS	100	20:21.8	3:30.8	6:32.8	4:04.3	6:12.8 (155)	13:42.0 (120)
124	RUCKMANN-BARNES, Evelyn	SO	675	Granada-NCS	101	20:24.0	3:32.0	6:33.6	4:04.8	5:52.7 (82)	13:39.1 (110)
125	MILAR, Angelica	SR	141	Bravo (Francisco) MM-LAS	--	20:24.3	3:33.3	6:33.6	4:04.8	5:54.7 (93)	13:45.0 (127)
126	DOYLE, Summer	SO	1390	Rio Americano-SJS	102	20:24.4	3:33.4	6:33.7	4:04.9	6:12.7 (154)	13:57.3 (139)
127	LONG, Simone	SR	1465	San Ramon Valley-NCS	103	20:24.6	3:33.6	6:33.8	4:04.9	6:02.1 (122)	13:35.4 (102)
128	SALINAS, Domnique	SR	1960	Willow Glen-CCS	104	20:25.9	3:34.9	6:34.2	4:05.2	6:08.6 (140)	14:02.0 (144)
129	GREENE, Madison	SR	585	El Toro-SS	105	20:27.4	3:36.4	6:34.6	4:05.5	6:10.0 (144)	13:50.9 (133)
130	FLORES, Ana	SR	1932	Westlake-SS	106	20:29.7	3:38.7	6:35.4	4:05.9	6:01.4 (119)	13:49.7 (132)
131	HALLFORD, Hailey	JR	389	College Park-NCS	--	20:30.3	3:39.3	6:35.6	4:06.0	5:57.2 (104)	13:43.1 (123)
132	SILVER, Natalie	SR	14	A. Mitty-CCS	107	20:31.5	3:40.5	6:36.0	4:06.3	6:09.1 (141)	13:54.4 (137)
133	ALVAREZ, Maleia	SR	1470	Sanger-CS	108	20:31.8	3:40.8	6:36.1	4:06.4	6:10.5 (146)	13:56.1 (138)
134	SPAIN, Abigail	JR	173	Bullard-CS	--	20:33.4	3:42.4	6:36.6	4:06.7	5:46.1 (46)	13:15.9 (79)
135	ZANON, Alexandra	JR	15	A. Mitty-CCS	109	20:33.8	3:42.8	6:36.7	4:06.7	6:01.8 (121)	13:44.3 (126)
136	MILLER, Emily	SR	1468	San Ramon Valley-NCS	110	20:35.3	3:44.3	6:37.2	4:07.1	6:09.5 (142)	13:58.0 (142)
137	CORRIGAN, Celeste	SR	540	Eagle Rock-LAS	111	20:35.3	3:44.3	6:37.2	4:07.1	5:56.5 (98)	13:51.0 (134)
138	LUENGO, Josie	FR	1466	San Ramon Valley-NCS	112	20:36.5	3:45.5	6:37.6	4:07.3	6:00.6 (115)	13:40.3 (113)
139	DAW, Brody	FR	1846	Ventura-SS	113	20:36.5	3:45.5	6:37.6	4:07.3	6:03.2 (128)	13:54.2 (136)
140	NACCO, Marley	FR	1378	Redwood-NCS	114	20:37.1	3:46.1	6:37.8	4:07.4	6:14.0 (159)	14:08.9 (151)
141	DILBECK, Katelynn	FR	1959	Willow Glen-CCS	115	20:39.5	3:48.5	6:38.5	4:07.9	6:03.6 (130)	13:57.5 (141)
142	RUVALCABA, Alina	SR	1339	Poway-SDS	116	20:39.7	3:48.7	6:38.6	4:07.9	6:02.2 (124)	14:02.6 (145)
143	WALKER, Molly	SR	679	Granada-NCS	117	20:40.9	3:49.9	6:39.0	4:08.2	5:56.9 (102)	13:51.2 (135)
144	ZANON, Pascale	JR	16	A. Mitty-CCS	118	20:50.0	3:58.0	6:41.9	4:10.0	6:02.9 (125)	13:57.5 (140)
145	ATKINS, Sophie	JR	1930	Westlake-SS	119	20:50.7	3:59.7	6:42.1	4:10.1	6:12.9 (156)	13:58.7 (143)
146	BURMAN, Bailey	FR	1845	Ventura-SS	120	20:52.7	4:01.7	6:42.8	4:10.5	6:07.7 (138)	14:03.5 (146)
147	PAROD, Josie	SO	1393	Rio Americano-SJS	121	20:54.8	4:03.8	6:43.5	4:11.0	6:18.5 (172)	14:10.1 (155)
148	STROTZ, Tawny	JR	1380	Redwood-NCS	122	20:55.3	4:04.3	6:43.6	4:11.1	6:14.3 (161)	14:09.1 (152)
149	MCINTOSH, Tori	FR	1336	Poway-SDS	123	21:01.1	4:10.1	6:45.5	4:12.2	6:03.8 (131)	14:07.3 (150)
150	GOODSON, Josie	SR	1206	Oakland Tech-OS	--	21:01.5	4:10.5	6:45.6	4:12.3	6:10.9 (148)	14:09.9 (154)
151	VACA, Alexa	FR	1476	Sanger-CS	124	21:02.0	4:10.0	6:45.8	4:12.4	6:18.8 (173)	14:16.5 (158)
152	BOGUE, Brynn	FR	140	Bravo (Francisco) MM-LAS	--	21:06.1	4:15.1	6:47.1	4:13.2	5:59.5 (110)	14:09.6 (153)
153	AGUILAR, Cordelia	SO	641	Frontier-CS	125	21:07.0	4:15.0	6:47.4	4:13.4	6:12.4 (153)	14:15.1 (157)
154	REYES, Jaysi	SR	645	Frontier-CS	126	21:11.3	4:20.3	6:48.8	4:14.2	6:11.9 (151)	14:10.5 (156)
155	PAGE, Malia	SR	1851	Ventura-SS	127	21:13.3	4:22.3	6:49.4	4:14.6	6:13.4 (158)	14:21.4 (160)
156	MCLEOD, Amelia	SO	1849	Ventura-SS	128	21:14.1	4:23.1	6:49.7	4:14.8	6:06.5 (137)	14:06.7 (149)
157	SAVARY, Maddie	JR	1560	Scripps Ranch-SDS	129	21:14.6	4:23.6	6:49.8	4:14.9	6:18.4 (170)	14:21.6 (161)
158	SELBREDE, Breea	JR	1093	Mt Carmel-SDS	130	21:14.7	4:23.7	6:49.9	4:14.9	6:18.0 (169)	14:25.0 (163)
159	HUDSON, Roxy	SR	1091	Mt Carmel-SDS	131	21:17.4	4:26.4	6:50.7	4:15.5	6:17.9 (167)	14:25.4 (164)
160	CARR, Teagan	SR	202	Canyon (An)-SS	132	21:18.2	4:27.2	6:51.0	4:15.6	6:11.8 (150)	14:19.9 (159)
161	VILLASENOR, Lianna	JR	590	El Toro-SS	133	21:19.3	4:28.3	6:51.3	4:15.8	6:04.4 (132)	14:06.3 (148)
162	KNAPP, Avery	SO	1464	San Ramon Valley-NCS	134	21:25.7	4:34.7	6:53.4	4:17.1	6:03.6 (129)	14:04.6 (147)
163	RODRIGUEZ, Alyssa	JR	646	Frontier-CS	135	21:26.5	4:35.5	6:53.7	4:17.3	6:21.1 (176)	14:26.9 (165)
164	NOYES, Emily	SO	339	Claremont-SS	136	21:27.6	4:36.6	6:54.0	4:17.5	6:14.5 (162)	14:22.2 (162)
165	BARNES, Katelyn	SO	1388	Rio Americano-SJS	137	21:27.8	4:36.8	6:54.1	4:17.6	6:26.5 (180)	14:39.7 (173)
166	CARADONNA, Grace	FR	10	A. Mitty-CCS	138	21:28.8	4:37.8	6:54.4	4:17.7	6:10.3 (145)	14:32.0 (167)
167	LEAHEY, Alexa	FR	1065	Monte Vista-NCS	139	21:28.9	4:37.9	6:54.4	4:17.8	6:16.5 (164)	14:38.3 (171)
168	TRUJILLO, Abby	SO	647	Frontier-CS	140	21:30.8	4:39.8	6:55.0	4:18.1	6:19.4 (175)	14:38.1 (170)
169	HIRTZ, Hailey	SO	644	Frontier-CS	141	21:32.8	4:41.8	6:55.7	4:18.5	6:19.1 (174)	14:38.6 (172)
170	MEYER, Haley	SR	1957	Willow Glen-CCS	142	21:33.6	4:42.6	6:55.9	4:18.7	6:12.0 (152)	14:31.0 (166)
171	JULIAN AUSTRIA, Karla	SR	11	A. Mitty-CCS	143	21:38.0	4:46.0	6:57.3	4:19.6	6:14.2 (160)	14:32.5 (168)
172	DUGGAN, Gabriella	SO	1554	Scripps Ranch-SDS	144	21:39.4	4:48.4	6:57.8	4:19.9	6:34.7 (186)	14:42.1 (177)
173	EGOUDINE, Anatasia	SR	1555	Scripps Ranch-SDS	145	21:42.7	4:51.7	6:58.8	4:20.5	6:34.4 (185)	14:41.7 (175)
174	NIETO, Raven	JR	1958	Willow Glen-CCS	146	21:46.2	4:55.2	7:00.0	4:21.2	6:17.3 (165)	14:41.0 (174)
175	RICHARDSON, Addy	FR	1559	Scripps Ranch-SDS	147	21:48.0	4:56.0	7:00.6	4:21.6	6:34.2 (184)	14:41.9 (176)
176	NOWAK, Elin	JR	1841	Venice-LAS	--	21:54.6	5:03.6	7:02.7	4:22.9	6:12.9 (157)	14:36.1 (169)
177	BRODY, Esme	JR	13	A. Mitty-CCS	148	21:54.7	5:03.7	7:02.7	4:22.9	6:23.7 (178)	14:44.8 (179)
178	CUNNINGHAM, Mackenzie	SR	1088	Mt Carmel-SDS	149	21:59.6	5:08.6	7:04.3	4:23.9	6:23.6 (177)	14:44.4 (178)
179	FRANZ, Courtney	SO	690	Granite Bay-SJS	150	22:04.5	5:13.5	7:05.9	4:24.9	6:24.9 (179)	14:52.1 (183)
180	NAVARRO, Marina	SR	1403	Robert F. Kennedy Comm-LAS	--	22:23.3	5:32.3	7:11.9	4:28.6	6:18.0 (168)	14:50.4 (182)
181	LIGOTTI, Sage	SO	1446	San Dieguito-SDS	--	22:27.6	5:36.6	7:13.3	4:29.5	6:17.9 (166)	14:49.0 (181)
182	ROESGEN, Grace	JR	1469	San Ramon Valley-NCS	151	22:27.9	5:36.9	7:13.4	4:29.6	6:18.4 (171)	14:55.0 (184)
183	MONTGOMERY, Meredith	JR	1392	Rio Americano-SJS	152	22:29.7	5:38.7	7:14.0	4:29.9	6:26.5 (181)	14:46.0 (180)
184	EVERTS, Lieke	FR	1090	Mt Carmel-SDS	153	22:31.2	5:40.2	7:14.4	4:30.2	6:37.1 (189)	15:09.5 (186)
185	WILLIAMSON, Marielle	JR	543	Eagle Rock-LAS	154	22:37.2	5:46.2	7:16.4	4:31.4	6:29.5 (182)	15:09.2 (185)
186	GOMEZ, Makaila	FR	643	Frontier-CS	155	23:06.5	6:15.5	7:25.8	4:37.3	6:35.2 (187)	15:42.9 (189)
187	ANDRADA, Kiana	SR	538	Eagle Rock-LAS	156	23:11.5	6:20.5	7:27.4	4:38.3	6:35.9 (188)	15:30.0 (187)
188	CORRIGAN, Elizabeth	SO	541	Eagle Rock-LAS	157	23:22.4	6:31.4	7:30.9	4:40.5	6:32.7 (183)	15:33.5 (188)
189	YETTER, Tory	SO	544	Eagle Rock-LAS	158	23:48.0	6:56.0	7:39.1	4:45.6	6:43.2 (190)	15:50.6 (190)
	JOAQUIN, Cait	SR	1631	St Francis-Sac-SJS	--	DNF		---	---	5:28.0 (13)	12:10.8 (9)

Division I
1	Buchanan-CS	         51	3-4-10-16-18(42)(146)	        1:30:13	18:03	0:52.0
2	Newbury Park-SS	         72	2-8-11-23-28(52)(67)	        1:30:27	18:06	1:28.1
3	Oak Ridge-SJS	        147	17-20-21-27-62(81)(100)	        1:33:22	18:41	1:09.6
4	Dougherty Valley-NCS	176	19-24-36-41-56(107)(138)	1:34:12	18:51	0:59.0
5	Great Oak-SS	        199*	5-31-44-59-60(73)(74)	        1:34:34	18:55	1:24.7
6	Los Altos-CCS	        199*	7-30-32-51-79(92)(95)	        1:34:35	18:55	1:46.3
7	Torrey Pines-SDS	212	12-14-57-58-71(85)(110)	        1:34:50	18:58	1:28.7
8	Clovis North-CS	        220	6-29-35-72-78(88)(114)	        1:35:02	19:01	1:46.6
9	Vista Murrieta-SS	238	9-49-50-64-66(80)(84)	        1:35:45	19:09	1:29.4
10	Redondo Union-SS	252	13-43-53-68-75(86)(94)	        1:35:54	19:11	1:31.3
11	Del Norte-SDS	        259	15-25-54-76-89(117)(120)	1:36:04	19:13	1:47.4
12	Los Gatos-CCS	        301	33-34-37-96-101(119)	        1:37:00	19:24	1:27.4
13	Huntington Beach-SS	331	22-47-63-93-106(129)(131)	1:37:48	19:34	2:00.7
14	Chino Hills-SS	        345	39-40-65-99-102(108)(112)	1:37:59	19:36	1:17.7
15	Santiago (Corona)-SS	350	26-48-77-83-116(133)(135)	1:38:12	19:39	2:08.7
16	McClatchy-SJS	        359	1-38-55-125-140(142)(143)	1:38:49	19:46	5:15.3
17	Clovis East-CS	        427	45-82-90-97-113(123)(128)	1:39:56	20:00	1:37.9
18	Davis-SJS	        452	61-69-87-105-130(134)(141)	1:40:36	20:08	1:48.6
19	Granada Hills Charter   474	46-98-103-109-118(122)(132)	1:41:04	20:13	1:43.1
20	Dublin-NCS	        524	70-104-111-115-124(127)(136)	1:42:19	20:28	1:20.7
21	Palisades Charter-LAS	614	91-121-126-137-139(144)(145)	1:46:24	21:17	2:10.3

*Tiebreakers
Great Oak-SS	5	31	44	59	60	73	74
Los Altos-CCS	7	30	32	51	79	92	95
 
Individual Results
Athlete	Yr.	#	Team	Score	Time	Gap	Avg. Mile	Avg. KM	1M	2.05M
1	MCNATT, Anna	JR	1001	McClatchy-SJS	1	17:07.5	---	5:30.4	3:25.5	5:21.4 (2)	11:40.9 (2)
2	MCDONNELL, Sam	SR	1133	Newbury Park-SS	2	17:08.7	1.2	5:30.7	3:25.7	5:20.1 (1)	11:39.9 (1)
3	SUNDGREN, Sydney	JR	170	Buchanan-CS	3	17:30.4	22.9	5:37.7	3:30.1	5:22.5 (4)	11:49.6 (3)
4	DUARTE, Isabella	SR	1538	Saugus-SS	--	17:34.9	27.4	5:39.2	3:31.0	5:26.1 (12)	12:01.5 (5)
5	FARMER, Jacey	SR	1354	Rancho Bernardo-SDS	--	17:41.4	33.9	5:41.3	3:32.3	5:24.6 (7)	12:09.7 (7)
6	FETTER, Elizabeth	JR	1266	Palo Alto-CCS	--	17:44.5	37.0	5:42.3	3:32.9	5:25.2 (8)	12:10.0 (8)
7	SMITH, Brianne	JR	1353	Quartz Hill-SS	--	17:47.4	39.9	5:43.2	3:33.5	5:22.7 (5)	12:02.4 (6)
8	LOMELI, Elliana	FR	167	Buchanan-CS	4	17:54.0	45.5	5:45.3	3:34.8	5:26.5 (14)	12:10.3 (9)
9	GAFFNEY, Kelli	JR	695	Great Oak-SS	5	17:59.1	51.6	5:47.0	3:35.8	5:28.9 (20)	12:14.9 (13)
10	LEATH, Ashlyn	JR	361	Clovis North-CS	6	18:00.9	53.4	5:47.6	3:36.2	5:35.3 (34)	12:14.2 (12)
11	SOOBRIAN, Lauren	JR	919	Los Altos-CCS	7	18:02.4	54.9	5:48.0	3:36.5	5:32.6 (29)	12:20.0 (18)
12	SAX, Tiffany	FR	1135	Newbury Park-SS	8	18:03.8	56.3	5:48.5	3:36.7	5:26.0 (11)	12:13.6 (11)
13	SMITH, Isabella	SR	1894	Vista Murrieta-SS	9	18:06.2	58.7	5:49.2	3:37.2	5:28.9 (21)	12:16.6 (14)
14	SESOCK, Stefania	SO	169	Buchanan-CS	10	18:06.5	59.0	5:49.3	3:37.3	5:35.5 (35)	12:23.2 (22)
15	HAWKINS, Ailish	JR	1132	Newbury Park-SS	11	18:06.6	59.1	5:49.4	3:37.3	5:26.8 (15)	12:19.7 (17)
16	SALZ, Annika	SR	1761	Torrey Pines-SDS	12	18:10.0	1:01.5	5:50.5	3:38.0	5:31.7 (25)	12:23.0 (21)
17	FEDIO, Lyla	SO	1362	Redondo Union-SS	13	18:12.5	1:05.0	5:51.3	3:38.5	5:27.2 (16)	12:17.6 (15)
18	TAYLOR, Scarlett	SO	1762	Torrey Pines-SDS	14	18:16.0	1:08.5	5:52.4	3:39.2	5:34.9 (32)	12:24.4 (25)
19	RUSSO, Emily	FR	485	Del Norte-SDS	15	18:17.5	1:10.0	5:52.9	3:39.5	5:27.7 (17)	12:22.9 (20)
20	MENDYK, Caroline	JR	168	Buchanan-CS	16	18:19.2	1:11.7	5:53.4	3:39.8	5:37.2 (42)	12:27.4 (27)
21	RUTZ, Kayla	SR	1188	Oak Ridge-SJS	17	18:20.8	1:13.3	5:53.9	3:40.1	5:29.2 (22)	12:23.8 (24)
22	CORNETT, Sierra	FR	164	Buchanan-CS	18	18:22.3	1:14.8	5:54.4	3:40.5	5:35.9 (36)	12:23.4 (23)
23	BRAGANZA, Rhea	SR	509	Dougherty Valley-NCS	19	18:23.3	1:15.8	5:54.7	3:40.6	5:29.5 (23)	12:28.8 (28)
24	LIATY, Samantha	SO	1185	Oak Ridge-SJS	20	18:26.2	1:18.7	5:55.7	3:41.2	5:32.3 (28)	12:26.4 (26)
25	ASIS, Mallory	JR	1043	Mira Mesa-SDS	--	18:26.5	1:19.0	5:55.8	3:41.3	5:29.5 (24)	12:18.1 (16)
26	MAIER, Ava	SR	1186	Oak Ridge-SJS	21	18:27.8	1:20.3	5:56.2	3:41.5	5:33.0 (30)	12:33.0 (33)
27	MCRAE, Makenzie	SO	772	Huntington Beach-SS	22	18:29.2	1:21.7	5:56.6	3:41.8	5:26.5 (13)	12:29.2 (29)
28	VIRAMONTES, Ashlynn	SR	793	Katella-SS	--	18:30.9	1:23.4	5:57.2	3:42.2	5:38.3 (44)	12:37.6 (35)
29	NYGREN, Morgan	SR	1134	Newbury Park-SS	23	18:31.5	1:24.0	5:57.4	3:42.3	5:28.0 (18)	12:22.7 (19)
30	NORIEGA, Sabrina	FR	514	Dougherty Valley-NCS	24	18:32.2	1:24.7	5:57.6	3:42.4	5:25.9 (10)	12:29.9 (30)
31	LORENZ, Katie	JR	1019	Menlo-Atherton-CCS	--	18:32.3	1:24.8	5:57.6	3:42.4	5:46.5 (59)	12:44.2 (37)
32	RIGGINS, Hannah	JR	484	Del Norte-SDS	25	18:35.8	1:28.3	5:58.8	3:43.2	5:23.3 (6)	12:10.4 (10)
33	BLADE, Rylee	FR	1533	Santiago (Corona)-SS	26	18:36.2	1:28.7	5:58.9	3:43.2	5:25.7 (9)	12:35.4 (34)
34	WALKER, Quinn	JR	1189	Oak Ridge-SJS	27	18:36.5	1:29.0	5:59.0	3:43.3	5:32.0 (26)	12:40.7 (36)
35	DARLEY, Lexi	SR	1131	Newbury Park-SS	28	18:36.7	1:29.2	5:59.1	3:43.3	5:32.2 (27)	12:32.9 (32)
36	BOMARITO, Gianna	SR	358	Clovis North-CS	29	18:40.5	1:33.0	6:00.3	3:44.1	5:56.7 (99)	12:45.2 (41)
37	BODKIN, Fiona	JR	913	Los Altos-CCS	30	18:41.4	1:33.9	6:00.6	3:44.3	5:49.0 (71)	12:46.4 (43)
38	UPSHUR, Joelle	JR	699	Great Oak-SS	31	18:43.9	1:36.4	6:01.4	3:44.8	5:52.6 (83)	12:44.9 (39)
39	CAPUANO, Riley	SR	914	Los Altos-CCS	32	18:46.6	1:39.1	6:02.2	3:45.3	5:47.4 (69)	12:44.9 (40)
40	DAME, McCall	JR	564	El Camino-SDS	--	18:47.0	1:38.5	6:02.4	3:45.4	5:36.2 (38)	12:44.8 (38)
41	TAU, Sophie	JR	925	Los Gatos-CCS	33	18:47.6	1:40.1	6:02.6	3:45.5	5:44.2 (50)	12:46.5 (44)
42	MELANI, Sofia	SO	1020	Menlo-Atherton-CCS	--	18:47.7	1:40.2	6:02.6	3:45.5	5:47.1 (67)	12:46.8 (46)
43	LENAY, Jenna	SR	82	Arroyo Grande-CS	--	18:48.3	1:40.8	6:02.8	3:45.7	5:46.8 (63)	12:46.6 (45)
44	OLESEN, Tatum	SO	1021	Menlo-Atherton-CCS	--	18:50.2	1:42.7	6:03.4	3:46.0	5:47.3 (68)	12:51.2 (53)
45	HERRON, Fiona	SR	922	Los Gatos-CCS	34	18:51.0	1:42.5	6:03.7	3:46.2	5:48.3 (70)	12:57.6 (65)
46	SUTHERLAND, Audra	JR	1355	Rancho Bernardo-SDS	--	18:52.7	1:45.2	6:04.2	3:46.5	5:45.0 (55)	12:49.0 (49)
47	PEREZ, Miliana	SR	364	Clovis North-CS	35	18:53.2	1:45.7	6:04.3	3:46.6	5:28.2 (19)	12:30.1 (31)
48	SHEN, Eva	SR	515	Dougherty Valley-NCS	36	18:55.0	1:46.5	6:04.9	3:47.0	5:50.8 (75)	12:52.9 (58)
49	ELMORE, Shea	FR	921	Los Gatos-CCS	37	18:55.7	1:48.2	6:05.1	3:47.1	5:47.0 (66)	12:52.3 (57)
50	MCNATT, Louisa	JR	1002	McClatchy-SJS	38	18:56.0	1:47.5	6:05.2	3:47.2	5:50.8 (76)	12:58.5 (67)
51	ALFRED, Nicole	FR	1356	Rancho Cucamonga-SS	--	18:56.0	1:47.5	6:05.3	3:47.2	5:36.3 (39)	12:50.9 (52)
52	AOKI-CHANCE, Kalei	SR	372	Clovis West-CS	--	18:56.7	1:49.2	6:05.5	3:47.3	5:40.2 (45)	12:50.0 (51)
53	BROWN, Karis	SR	304	Chino Hills-SS	39	18:57.4	1:49.9	6:05.7	3:47.5	5:53.1 (85)	12:51.2 (54)
54	DIXON, Trinity	SR	1457	San Marcos-SDS	--	18:57.5	1:50.0	6:05.8	3:47.5	5:34.8 (31)	12:45.5 (42)
55	GALLEGOS, Jenna	JR	306	Chino Hills-SS	40	18:57.7	1:50.2	6:05.8	3:47.5	5:46.8 (64)	12:54.8 (61)
56	CHAN, Kirsten	SR	510	Dougherty Valley-NCS	41	18:59.5	1:52.0	6:06.4	3:47.9	5:46.9 (65)	12:53.3 (59)
57	ELLIOTT, Kaylee	SR	165	Buchanan-CS	42	19:02.5	1:55.0	6:07.3	3:48.5	5:37.4 (43)	12:47.7 (47)
58	MARTINEZ, Vivian	SR	1364	Redondo Union-SS	43	19:03.0	1:54.5	6:07.5	3:48.6	5:45.0 (56)	13:00.1 (70)
59	FABIAN, Aishling	JR	694	Great Oak-SS	44	19:03.6	1:56.1	6:07.7	3:48.7	5:52.3 (82)	12:52.2 (56)
60	WOMACK, Ariana	SR	356	Clovis East-CS	45	19:04.2	1:56.7	6:07.9	3:48.8	5:44.0 (49)	12:51.8 (55)
61	CASTAGNOLA, Isabel	SR	666	Granada Hills Charter-LAS	46	19:06.0	1:57.5	6:08.5	3:49.2	5:57.7 (102)	13:02.9 (75)
62	LEWIS, Claire	SR	770	Huntington Beach-SS	47	19:08.4	2:00.9	6:09.2	3:49.7	5:35.0 (33)	12:48.3 (48)
63	BUCKLEY, Audrey	FR	1534	Santiago (Corona)-SS	48	19:11.3	2:03.8	6:10.2	3:50.3	5:42.3 (47)	12:56.7 (64)
64	KAUFMAN, Emma	JR	896	Lincoln-S-SJS	--	19:12.5	2:05.0	6:10.6	3:50.5	5:44.8 (53)	12:55.5 (62)
65	MAHONY, Maeve	FR	775	Inderkum-SJS	--	19:13.0	2:04.5	6:10.7	3:50.6	5:51.7 (79)	13:02.2 (74)
66	LINDSAY, Camille	JR	1329	Poly (Long Beach)-SS	--	19:13.6	2:06.1	6:10.9	3:50.7	5:36.5 (41)	12:56.5 (63)
67	GUZMAN, Amari	SR	1888	Vista Murrieta-SS	49	19:13.7	2:06.2	6:10.9	3:50.7	5:46.4 (58)	13:02.0 (72)
68	KING, Natasha	SR	1889	Vista Murrieta-SS	50	19:15.3	2:07.8	6:11.4	3:51.0	5:46.7 (62)	13:02.0 (73)
69	SIDHU, Jasleen	SO	918	Los Altos-CCS	51	19:15.7	2:08.2	6:11.6	3:51.1	6:04.8 (126)	13:12.9 (79)
70	BROTCKE, Danielle	SO	1130	Newbury Park-SS	52	19:16.8	2:09.3	6:11.9	3:51.4	5:36.3 (40)	12:54.6 (60)
71	STRAZZERI, Lauren	SO	1365	Redondo Union-SS	53	19:17.4	2:09.9	6:12.1	3:51.5	5:41.9 (46)	12:58.8 (68)
72	ECHSNER, Ella	SO	481	Del Norte-SDS	54	19:19.6	2:12.1	6:12.9	3:51.9	5:45.9 (57)	13:12.0 (78)
73	JOHNSON, Olivia	JR	998	McClatchy-SJS	55	19:20.6	2:13.1	6:13.2	3:52.1	6:01.7 (118)	13:19.0 (90)
74	LEE, Liana	SO	512	Dougherty Valley-NCS	56	19:22.2	2:14.7	6:13.7	3:52.4	6:01.0 (113)	13:14.4 (83)
75	GEORGE, Emma	JR	1760	Torrey Pines-SDS	57	19:22.3	2:14.8	6:13.7	3:52.5	5:55.1 (93)	13:13.3 (80)
76	WANG, Natalie	SO	1763	Torrey Pines-SDS	58	19:22.7	2:15.2	6:13.8	3:52.5	5:49.9 (73)	13:01.2 (71)
77	OSBORNE, Cailin	JR	697	Great Oak-SS	59	19:23.4	2:15.9	6:14.1	3:52.7	6:04.0 (122)	13:15.2 (84)
78	TORZA, Divine	SR	700	Great Oak-SS	60	19:23.8	2:16.3	6:14.2	3:52.8	5:52.7 (84)	13:06.3 (77)
79	DULANEY, Norah	JR	459	Davis-SJS	61	19:24.3	2:16.8	6:14.3	3:52.8	5:50.3 (74)	12:58.4 (66)
80	PACHECO, Getzabell	JR	1584	Sheldon-SJS	--	19:28.6	2:21.1	6:15.7	3:53.7	5:51.1 (78)	13:14.3 (82)
81	BUTLER, Brooke	JR	1183	Oak Ridge-SJS	62	19:30.3	2:22.8	6:16.3	3:54.1	5:36.0 (37)	12:49.3 (50)
82	ROLDAN, Quinn	SR	773	Huntington Beach-SS	63	19:33.1	2:25.6	6:17.2	3:54.6	5:56.2 (96)	13:16.9 (87)
83	KIRK, Erika	FR	1890	Vista Murrieta-SS	64	19:33.8	2:26.3	6:17.4	3:54.7	5:56.7 (98)	13:16.2 (86)
84	MCGARRY, Alayna	SO	308	Chino Hills-SS	65	19:34.2	2:26.7	6:17.6	3:54.8	6:05.2 (129)	13:28.2 (103)
85	MENDOZA, Analeiah	JR	1891	Vista Murrieta-SS	66	19:35.6	2:28.1	6:18.0	3:55.1	5:46.7 (61)	13:05.2 (76)
86	SPAULDING, Samantha	SO	1136	Newbury Park-SS	67	19:36.1	2:28.6	6:18.2	3:55.2	5:53.3 (86)	13:14.1 (81)
87	MAGDESIAN, Ania	SR	1363	Redondo Union-SS	68	19:36.6	2:29.1	6:18.3	3:55.3	5:44.8 (54)	13:17.7 (88)
88	CARROLL, Abby	JR	457	Davis-SJS	69	19:36.7	2:29.2	6:18.4	3:55.3	6:02.8 (120)	13:27.0 (99)
89	GOWDA, Medha	JR	525	Dublin-NCS	70	19:37.7	2:30.2	6:18.7	3:55.5	5:58.0 (103)	13:18.8 (89)
90	DOROSTKAR, Sammi	JR	1758	Torrey Pines-SDS	71	19:38.7	2:31.2	6:19.0	3:55.7	5:54.8 (90)	13:21.5 (95)
91	EMMONS, Kaitelyn	SO	360	Clovis North-CS	72	19:40.1	2:32.6	6:19.4	3:56.0	5:56.8 (100)	13:21.3 (94)
92	MILLER, Hannah	JR	696	Great Oak-SS	73	19:41.5	2:34.0	6:19.9	3:56.3	6:05.1 (128)	13:28.4 (104)
93	TELI, Ameya	JR	698	Great Oak-SS	74	19:42.9	2:35.4	6:20.4	3:56.6	6:04.3 (124)	13:24.6 (97)
94	BUTLER, Julia	SR	1360	Redondo Union-SS	75	19:43.8	2:36.3	6:20.6	3:56.8	5:51.9 (81)	13:19.7 (92)
95	ECHSNER, Paige	FR	482	Del Norte-SDS	76	19:45.5	2:38.0	6:21.2	3:57.1	5:53.7 (88)	13:28.1 (102)
96	ABANDONATO, Allyson	SR	1530	Santiago (Corona)-SS	77	19:46.5	2:39.0	6:21.5	3:57.3	5:44.7 (52)	13:20.6 (93)
97	EBELL, Samantha	SO	359	Clovis North-CS	78	19:47.4	2:39.9	6:21.8	3:57.5	6:01.9 (119)	13:26.1 (98)
98	RANDALL, Maddy	SO	917	Los Altos-CCS	79	19:48.7	2:41.2	6:22.2	3:57.7	6:06.7 (140)	13:34.7 (114)
99	MILLER, Emily	SO	1892	Vista Murrieta-SS	80	19:50.9	2:43.4	6:22.9	3:58.2	5:58.2 (104)	13:27.9 (101)
100	CLINTON, Addison	FR	1184	Oak Ridge-SJS	81	19:52.2	2:44.7	6:23.3	3:58.4	6:06.3 (135)	13:30.8 (110)
101	DIEHL, Jazlin	SO	350	Clovis East-CS	82	19:52.3	2:44.8	6:23.4	3:58.5	6:00.7 (110)	13:29.8 (108)
102	LEE, Kendal	JR	1535	Santiago (Corona)-SS	83	19:52.9	2:45.4	6:23.5	3:58.6	5:42.9 (48)	13:30.6 (109)
103	TATUM, Skyler	SR	897	Lincoln-S-SJS	--	19:53.0	2:44.5	6:23.6	3:58.6	5:50.9 (77)	13:19.1 (91)
104	O'CONNOR, Marissa	JR	1893	Vista Murrieta-SS	84	19:53.2	2:45.7	6:23.7	3:58.6	6:01.0 (112)	13:39.2 (117)
105	GAUT, Marissa	JR	1759	Torrey Pines-SDS	85	19:53.9	2:46.4	6:23.9	3:58.8	5:54.9 (91)	13:15.4 (85)
106	VALENZUELA, Victoria	SR	1366	Redondo Union-SS	86	19:55.5	2:48.0	6:24.4	3:59.1	5:55.0 (92)	13:29.5 (106)
107	DWYER, Grace	SR	460	Davis-SJS	87	19:59.7	2:52.2	6:25.7	3:59.9	6:04.2 (123)	13:28.4 (105)
108	PAYNE, Amy	SR	363	Clovis North-CS	88	20:00.8	2:53.3	6:26.1	4:00.2	6:08.1 (143)	13:39.0 (116)
109	CHAVEZ, Madison	SR	177	California-NCS	--	20:01.7	2:54.2	6:26.4	4:00.3	5:49.7 (72)	12:59.5 (69)
110	SANDREW, Emma	SR	486	Del Norte-SDS	89	20:04.9	2:57.4	6:27.4	4:01.0	5:53.7 (87)	13:29.7 (107)
111	SOYINTHISANE, Bella	FR	354	Clovis East-CS	90	20:05.5	2:58.0	6:27.6	4:01.1	6:00.9 (111)	13:33.1 (112)
112	WITTENBERG, Mollie	JR	1257	Palisades Charter-LAS	91	20:05.9	2:58.4	6:27.7	4:01.2	5:51.7 (80)	13:27.6 (100)
113	LEWIS, Shelli	SR	916	Los Altos-CCS	92	20:06.7	2:59.2	6:28.0	4:01.3	6:06.9 (141)	13:40.5 (122)
114	LINGGI PEREZ, Andrea	SO	771	Huntington Beach-SS	93	20:06.7	2:59.2	6:28.0	4:01.3	6:09.5 (148)	13:42.5 (125)
115	COERT, Tessa	SO	1361	Redondo Union-SS	94	20:07.5	3:00.0	6:28.3	4:01.5	6:00.7 (108)	13:36.0 (115)
116	FADIL, Ella	JR	915	Los Altos-CCS	95	20:09.7	3:02.2	6:29.0	4:01.9	6:06.1 (134)	13:44.5 (127)
117	PYLE, Tatum	FR	924	Los Gatos-CCS	96	20:10.0	3:01.5	6:29.1	4:02.0	6:04.0 (121)	13:39.6 (118)
118	ISLETA, Ayane	JR	351	Clovis East-CS	97	20:11.5	3:04.0	6:29.5	4:02.3	5:55.9 (95)	13:40.1 (121)
119	VELAZQUEZ, Meztli	FR	670	Granada Hills Charter-LAS	98	20:13.5	3:06.0	6:30.2	4:02.7	6:01.3 (115)	13:45.1 (128)
120	GUTIERREZ, Emma	SR	307	Chino Hills-SS	99	20:14.0	3:05.5	6:30.3	4:02.8	6:06.4 (138)	13:41.7 (123)
121	NARANJO-CHAMPION, Kelia	FR	661	Garfield (James A.)-LAS	--	20:14.3	3:06.8	6:30.4	4:02.9	6:05.8 (131)	13:42.4 (124)
122	OLSON, Lauren	JR	1187	Oak Ridge-SJS	100	20:14.3	3:06.8	6:30.4	4:02.9	5:56.8 (101)	13:31.8 (111)
123	HERRON, Kate	SO	923	Los Gatos-CCS	101	20:15.0	3:06.5	6:30.7	4:03.0	6:06.3 (137)	13:46.9 (130)
124	SMITH, Hannah	FR	310	Chino Hills-SS	102	20:15.1	3:07.6	6:30.7	4:03.0	6:06.3 (136)	13:46.6 (129)
125	PACHECO, Jocelyn	JR	668	Granada Hills Charter-LAS	103	20:18.5	3:11.0	6:31.8	4:03.7	6:00.5 (107)	13:39.7 (120)
126	SRIVASTAVA, Yashvi	JR	529	Dublin-NCS	104	20:19.1	3:11.6	6:32.0	4:03.8	6:08.4 (146)	13:43.9 (126)
127	CASTLES, Emily	SR	458	Davis-SJS	105	20:22.3	3:14.8	6:33.0	4:04.4	6:05.1 (127)	13:39.7 (119)
128	BARAJAS, Melissa	SR	1053	Modesto-SJS	--	20:23.8	3:16.3	6:33.5	4:04.8	5:46.5 (60)	13:24.5 (96)
129	CENTENO, Luna	JR	768	Huntington Beach-SS	106	20:29.9	3:22.4	6:35.4	4:06.0	6:09.6 (149)	13:48.2 (132)
130	CHAN, Natalie	SO	511	Dougherty Valley-NCS	107	20:30.5	3:23.0	6:35.6	4:06.1	6:10.1 (150)	13:55.2 (139)
131	RIVERA, Riley	SR	309	Chino Hills-SS	108	20:34.1	3:26.6	6:36.8	4:06.8	6:06.7 (139)	14:01.7 (146)
132	VELAZQUEZ, Zaida	JR	671	Granada Hills Charter-LAS	109	20:37.1	3:29.6	6:37.7	4:07.4	6:01.6 (116)	13:49.3 (133)
133	DOROSTKAR, Nikki	JR	1757	Torrey Pines-SDS	110	20:38.5	3:31.0	6:38.2	4:07.7	6:17.4 (164)	14:04.5 (152)
134	HUYNH, Cameron	JR	239	Castro Valley-NCS	--	20:38.7	3:31.2	6:38.3	4:07.7	6:05.4 (130)	13:47.9 (131)
135	LIN, Jenny	SR	178	California-NCS	--	20:38.9	3:31.4	6:38.3	4:07.8	6:01.7 (117)	13:50.7 (135)
136	DELGADO, Elissa	JR	524	Dublin-NCS	111	20:40.1	3:32.6	6:38.7	4:08.0	6:17.7 (165)	14:02.5 (148)
137	CENTENO, Maya	SR	305	Chino Hills-SS	112	20:41.2	3:33.7	6:39.1	4:08.2	6:06.0 (133)	13:55.3 (140)
138	STUDDERT, Hillary	JR	1267	Palo Alto-CCS	--	20:41.7	3:34.2	6:39.2	4:08.3	5:44.7 (51)	13:54.9 (138)
139	WARD, Kylie	JR	355	Clovis East-CS	113	20:42.1	3:34.6	6:39.4	4:08.4	6:01.0 (114)	13:34.5 (113)
140	MALTOS, Miya	SO	362	Clovis North-CS	114	20:42.8	3:35.3	6:39.6	4:08.6	6:08.3 (144)	13:59.3 (144)
141	MIYAZAWA, Ameri	SR	527	Dublin-NCS	115	20:43.7	3:36.2	6:39.9	4:08.7	6:08.3 (145)	13:50.2 (134)
142	CEDILLO, Frieda	SR	794	Kennedy (John F.)-LAS	--	20:44.2	3:36.7	6:40.0	4:08.8	6:15.4 (161)	14:02.0 (147)
143	AGUINALDO, Tristen	SR	1531	Santiago (Corona)-SS	116	20:44.9	3:37.4	6:40.3	4:09.0	6:07.1 (142)	13:54.4 (137)
144	DELANGLE, Sonia	JR	101	Berkeley-NCS	--	20:45.0	3:36.5	6:40.3	4:09.0	6:11.2 (151)	14:02.7 (149)
145	KIMOTSUKI, Noelle	SO	657	Galileo-SF	--	20:46.3	3:38.8	6:40.7	4:09.3	6:15.1 (159)	14:03.6 (151)
146	HONG, Emma	JR	483	Del Norte-SDS	117	20:47.4	3:39.9	6:41.1	4:09.5	5:56.5 (97)	13:58.4 (142)
147	SALAZAR, Naima	JR	669	Granada Hills Charter-LAS	118	20:49.1	3:41.6	6:41.6	4:09.8	6:00.7 (109)	13:59.2 (143)
148	ZOLLA, Abigail	SO	926	Los Gatos-CCS	119	20:49.2	3:41.7	6:41.7	4:09.8	6:15.7 (162)	14:03.0 (150)
149	BUSSE, Brianna	SO	480	Del Norte-SDS	120	20:51.7	3:44.2	6:42.4	4:10.3	5:58.5 (105)	13:54.2 (136)
150	MORRIS, Kyra	SO	1255	Palisades Charter-LAS	121	20:52.4	3:44.9	6:42.7	4:10.5	6:05.9 (132)	14:05.2 (153)
151	LE, Fiona	JR	667	Granada Hills Charter-LAS	122	20:53.9	3:46.4	6:43.2	4:10.8	6:14.1 (156)	14:11.0 (158)
152	LOPEZ, Sasha	SR	352	Clovis East-CS	123	20:54.7	3:47.2	6:43.4	4:10.9	6:13.8 (154)	14:10.6 (157)
153	MARQUEZ, Maia	SR	526	Dublin-NCS	124	20:58.4	3:50.9	6:44.6	4:11.7	6:15.4 (160)	14:13.8 (159)
154	CORREIA, Olivia	SR	997	McClatchy-SJS	125	21:02.0	3:53.5	6:45.8	4:12.4	6:13.1 (153)	14:08.3 (155)
155	BAAK, Ava	JR	1253	Palisades Charter-LAS	126	21:02.9	3:55.4	6:46.1	4:12.6	5:58.7 (106)	13:59.6 (145)
156	PRENTON, Melia	FR	528	Dublin-NCS	127	21:07.0	3:58.5	6:47.4	4:13.4	6:20.6 (168)	14:21.8 (161)
157	NYBERG, Erika	JR	353	Clovis East-CS	128	21:09.5	4:02.0	6:48.2	4:13.9	5:54.1 (89)	13:55.8 (141)
158	BAKER, Belle	SO	767	Huntington Beach-SS	129	21:11.8	4:04.3	6:48.9	4:14.4	6:13.0 (152)	14:15.6 (160)
159	KELLY, Anna	JR	462	Davis-SJS	130	21:12.8	4:05.3	6:49.2	4:14.5	6:09.5 (147)	14:10.3 (156)
160	FOSMIRE, Lily	JR	769	Huntington Beach-SS	131	21:20.0	4:11.5	6:51.6	4:16.0	6:21.4 (169)	14:35.5 (167)
161	ABREGO, Sofia	SR	665	Granada Hills Charter-LAS	132	21:21.6	4:14.1	6:52.1	4:16.3	5:55.4 (94)	14:06.6 (154)
162	NARANJO-CHAMPION, Sophia	SO	662	Garfield (James A.)-LAS	--	21:31.2	4:23.7	6:55.2	4:18.2	6:14.1 (157)	14:26.4 (163)
163	ALWARDT, Grace	JR	1532	Santiago (Corona)-SS	133	21:34.2	4:26.7	6:56.1	4:18.8	6:13.9 (155)	14:31.0 (164)
164	VALENCIA, Luciana	JR	716	Hamilton-LAS	--	21:37.8	4:30.3	6:57.3	4:19.6	6:17.3 (163)	14:32.6 (165)
165	HUANG, Amie	JR	461	Davis-SJS	134	21:40.8	4:33.3	6:58.3	4:20.2	6:20.3 (166)	14:34.1 (166)
166	PALACIOS, Josselyn	SO	1536	Santiago (Corona)-SS	135	21:43.9	4:36.4	6:59.2	4:20.8	6:04.7 (125)	14:23.1 (162)
167	VARGAS, Kaylee	SR	1460	San Pedro-LAS	--	21:45.0	4:36.5	6:59.6	4:21.0	6:27.7 (172)	14:41.1 (169)
168	KONTRA, Judit	SR	523	Dublin-NCS	136	21:56.0	4:47.5	7:03.1	4:23.2	6:30.0 (175)	14:47.8 (170)
169	RAWLES, Gavi	SO	102	Berkeley-NCS	--	22:03.3	4:55.8	7:05.5	4:24.6	6:14.8 (158)	14:39.6 (168)
170	KLEIN, Scarlett	SR	1254	Palisades Charter-LAS	137	22:06.7	4:59.2	7:06.6	4:25.3	6:22.9 (170)	14:50.2 (171)
171	NARASIMHAN, Riyanka	JR	513	Dougherty Valley-NCS	138	22:15.6	5:08.1	7:09.4	4:27.1	6:22.9 (171)	14:58.3 (172)
172	ADELI, Layla	JR	1251	Palisades Charter-LAS	139	22:16.2	5:08.7	7:09.6	4:27.2	6:20.5 (167)	15:00.8 (173)
173	PALMER, Jillian	SO	1003	McClatchy-SJS	140	22:22.8	5:15.3	7:11.7	4:28.5	6:36.8 (178)	15:11.5 (174)
174	OSLUND, Jessica	JR	463	Davis-SJS	141	22:30.6	5:23.1	7:14.3	4:30.1	6:37.4 (179)	15:16.0 (179)
175	LOUNEY, Stella	FR	1000	McClatchy-SJS	142	22:35.5	5:28.0	7:15.8	4:31.1	6:36.6 (176)	15:11.6 (176)
176	KIRCHNER, Brooke	JR	999	McClatchy-SJS	143	22:35.7	5:28.2	7:15.9	4:31.1	6:36.7 (177)	15:11.5 (175)
177	RICE, Giada	FR	1256	Palisades Charter-LAS	144	22:48.1	5:40.6	7:19.9	4:33.6	6:28.0 (173)	15:11.9 (177)
178	ADELI, Leena	FR	1252	Palisades Charter-LAS	145	22:53.1	5:45.6	7:21.5	4:34.6	6:28.3 (174)	15:12.9 (178)
179	WEHRHEIM, Freya	SR	658	Galileo-SF	--	23:42.4	6:34.9	7:37.3	4:44.5	6:43.7 (180)	15:47.6 (180)
180	HUTCHISON, Grace	JR	166	Buchanan-CS	146	27:01.3	9:53.8	8:41.3	5:24.3	5:22.4 (3)	11:51.3 (4)