Entries are in for 23 schools for the 2022 Big Cat starting at 9am Saturday, March 5th at Santa Rosa High.
601 boys and 487 girls = 1088 athletes entered as of now.
I don't have who is in what event but here are some athletes entered in the meet who have had big marks in the past.
Expect a lot of the bests below to get crushed.
Distance races might see some great match-ups between Montgomery's Jude DeVries and Maria Carrillo's Jacob Donohue and Noe Vieyra in the boys and Montgomery's Hanne Thomsen and West County's/Analy's Carolina Dawson plus a host of Carrillo girls.
Girls sprints could see some great match-ups between Santa Rosa's Kassidy Schroth, Maria Carrillo's Lily Mulligan, Justin-Siena's Sydney Thweatt and St Helena's Eva Bowen.
Will Mulligan break the Empire record again in the pole Vault?
How far will El Molino's Ellie Roan go in the throws and Santa Rosa's CoCo McKamey go in the jumps?
Entrance fee of $5 (General); $3 (Student w/ASB and Seniors); Kids 5 and under FREE. The Snack Bar will be open.
The high may be only 60 degrees so dress warm.
I hope to be about doing some videoing.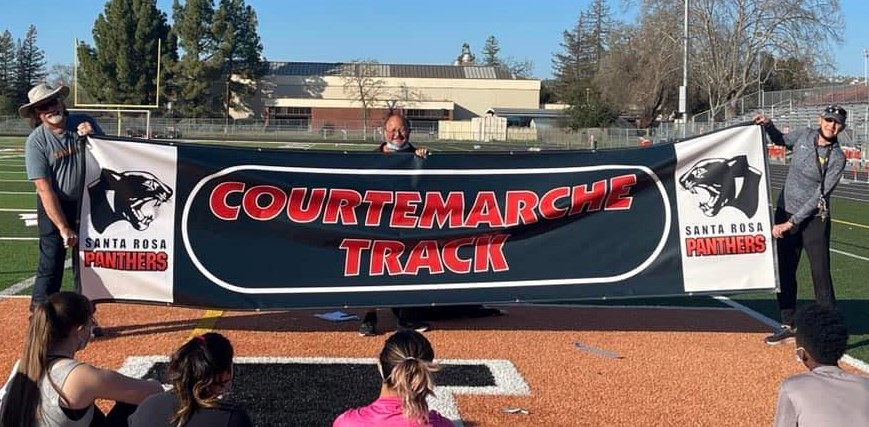 Boys
100
11.79 John Quilon, 11, American Canyon, current VVAL leader; 2/19 San Lorenzo, current Prep best
11.85 George Santos, 12, West County/Analy; 1/22 CCTC Winter 2021 11.34+
200
24.09 John Quilon, 11, American Canyon, current VVAL leader; 2/19 San Lorenzo
25.04+ Hunter Lewis, Piner, current NBL leader; 2/23 Pet
Jai Gray, 11, Maria Carrillo; 2021 23.14+
Valentino Bugica, 12, Windsor; 2021 23.24+
400
52.94+ Xavius Lanford, Montgomery, current NBL leader; 2/23 Pet, current Prep best
Valentino Bugica, 12, Windsor; 2021 51.67
800
2:08.62 Dylan Mooney, 12, Santa Rosa; 1/29 Cal All Comers, current Prep best 2021 2:03.51
Noe Vieyra, 12, Maria Carrillo; 2021 1:57.71
1600
4:52.74+ Jude DeVries, 11, Montgomery, current NBL leader, current Prep best; 2/23 Pet 2020 4:44.68 Victory Christian
Noe Vieyra, 12, Maria Carrillo; 2021 4:22.15
Jacob Donohue, 12, Maria Carrillo; 2021 4:24.93
3200
9:46.24+ Jude DeVries, 11, Montgomery, current NBL leader, current Prep best; 2/23 Pet
Jacob Donohue, 12, Maria Carrillo; 2021 9:19.89
Noe Vieyra, 12, Maria Carrillo; 2021 9:32.44 9
110HH
17.94+ NJ Robert, Piner, current NBL leader, current Prep best; 2/23 Pet
Alexander Manning, 12, Santa Rosa; 2021 15.45
300IH
45.74+ NJ Robert, Piner, current NBL leader, current Prep best; 2/23 Pet
Cole Chatagnier, 12, Justin-Siena; 2021 42.48
HJ
5-08.00 Nathan Fifer, Montgomery, current NBL leader; 2/23 Pet
Juan Calleja, 11, Fort Bragg; 2021 5-10
PV
12-04i Jai Gray, 11, Maria Carrillo; 1/15 Reno, current Prep best
11-9 Max Pedrotti-Jacobs, Petaluma, current VVAL leader; 2/23 Pet
11-08i Daniel Moessing, 12, Maria Carrillo; 1/15 Reno
LJ
19-07.00 John Quilon, 11, American Canyon, current VVAL leader, current Prep best; 2/19 San Lorenzo
Jai Gray, 11, Maria Carrillo; 2021 19-05.50
TJ
36-01.00 Javier Gutierrez, Petaluma, current VVAL leader, current Prep best; 2/23 Pet
Jaydon Shaw, 12, Montgomery; 2021 39-08.50
Ethan Dierke, 12, West County/Analy; 2021 39-03.50
SP
40-10.50 Carter Erickson, Piner, current NBL leader; 2/23 Pet
Albert Beerbower, 12, Cardinal Newman; 2021 43-06.25
DT
136-06 Jordan Zamora, 12, Santa Rosa; 2/19 All Comers
115-03 Conor Grace, 12, Santa Rosa,; 2/19 All Comers 2021 129-05
110-09 David Farrell, Piner, NBL leader; 2/23 Pet
Girls
100
Kassidy Schroth, 12, Santa Rosa; 2021 12.34+ 11, 9
Lily Mulligan, 11, Maria Carrillo; 2021 12.64+
Bailey Bronston, 11, Maria Carrillo; 2021 12.84+
Sydney Thweatt, 12, Justin-Siena; 2021 12.88
200
26.62 Kassidy Schroth, 12, Santa Rosa; 1/29 Cal All Comers, current Prep best 2021 25.73
Kathryn O'Malley, 11, Maria Carrillo; 2020 26.17 9
Sydney Thweatt, 12, Justin-Siena; 2021 26.30
Elianah DeMange, 11, Maria Carrillo; 2021 26.44+
400
Sydney Thweatt, 12, Justin-Siena; 2019 58.51 9
Eva Bowen, 11, St Helena; 2021 59.10
Elianah DeMange, 11, Maria Carrillo; 2021 59.34
Kianna Ruffin, 12, Ukiah; 2021 2019 61.70
800
Carolina Dawson, 12, West County/Analy; 2021 2:19.98
Rebekah Taylor, 11, Maria Carrillo; 2021 2:27.04+
Ashley Busienei, 12, Maria Carrillo; 2021 2:28.74+
1600
5:03.44+ Hanne Thomsen, 9, Montgomery, current NBL leader, current Prep best; 2/23 Pet 2021 4:51.74+
5:33.94+ Seelah Kittelstrom, 9, Montgomery; 2/23 Pet
Gracie Trenam, 10, Maria Carrillo; 2021 5:14.94+
Ashley Busienei, 12, Maria Carrillo; 2021 5:16.06
3200
11:53.25 Carolina Dawson, 12, West County; 11/5/21 Tiger Twilight, current Prep best
Ashley Busienei, 12, Maria Carrillo; 2021 11:36.56
Gracie Trenam, 10, Maria Carrillo; 2021 11:39.09
100HH
18.34+ Fayola Beck, 12, Montgomery, current NBL leader, current Prep best; 2/23 Pet 2021 17.42
CoCo McKamey, 11, Santa Rosa; 2021 16.14+
Liliana Hobaugh, 11, Justin-Siena; 2021 18.32
Katherine Heffernan, 12, Justin-Siena; 2021 18.57
Emily Nadeau, 12, Fort Bragg; 2021 18.72
300LH
CoCo McKamey, 11, Santa Rosa; 2021 48.54+
Alyssa Boyd, 12, Maria Carrillo; 2019 48.92
Sydney Thweatt, 12, Justin-Siena; 2021 49.16
HJ
5-01.00 CoCo McKamey, 11, Santa Rosa; 1/29 Cal All Comers, current Prep best 2020 5-02.00
Lola Martin, 11, Sonoma Valley; 2020 5-02.00 9
Max Moana Cook, 12, Healdsburg; 2020 5-02.00
PV
11-08i Lily Mulligan, 11, Maria Carrillo; 1/15 Reno, current Prep best 2021 13-0
8-02i Allison Kapustka, 9, Maria Carrillo; 1/15 Reno
8-02i Jenna Curti, 11, Fort Bragg; 1/15 Reno
8-00 Ruby Loe, 12, Piner, NBL leader; 2/23 Pet 2021 8-06
Jasmine Alapa, 12, Santa Rosa; 2021 9-07
LJ
17-03.00 CoCo McKamey, 11, Santa Rosa, current Prep best; 1/22 Pittsburg Winter Qualifier
16-09.00 Liliana Hobaugh, 11, Justin-Siena; 2/26 Super Seven
Lily Mulligan, 11, Maria Carrillo; 2021 18-2
TJ
30-08.25 Emery Messenger, 11, Justin-Siena, VVAL leader; 2/26 Super Seven, current Prep best 2020 30-10.25
Denali Ferrera, 12, West County/Analy; 2021 32-10.00
Katie Heffernan, 12, Justin-Siena; 2021 32-08.00
Karis Morasch, 10, West County; 2021 El Molino 32-08.00
SP
Ellie Roan, 12, West County; 2021 El Molino 38-08.00
Samantha Britton, 11, Fort Bragg; 2021 31-11.50
DT
Ellie Roan, 12, West County; 2021 El Molino 118-08
Sofia Henderson, 11, Santa Rosa; 2021 108-05
American Canyon
Cardinal Newman
Casa Grande
Cloverdale
Fort Bragg
Healdsburg
Justin-Siena
Lowell
Lower Lake
Maria Carrillo
Montgomery
Petaluma
Piner
Richmond
Roseland University Prep
Santa Rosa
Sonoma Academy
Sonoma Valley
St Helena
Technology
Ukiah
West County/Analy
Windsor