For those who have not heard Montgomery Track & Cross Country coach died on Tuesday 8/24.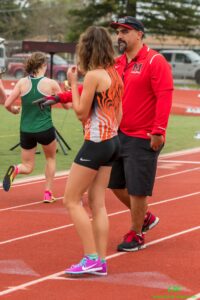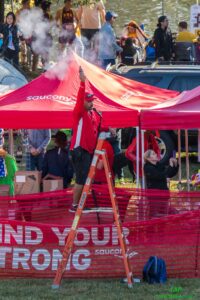 .
.
.
.
.
.
.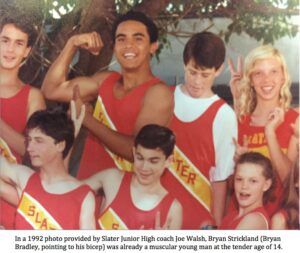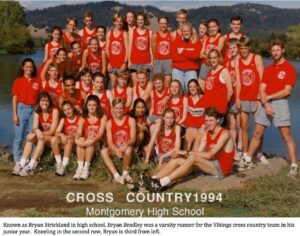 .
.
.
.
.
.
Bryan was out in Annadel State Park working with the cross country team when he died.
Story: Montgomery High School track coach Bryan Bradley dies suddenly at 43
Former Montgomery coach Larry Meredith wrote this about Bryan
Sad news regarding MHS coach Bryan Bradley
It is with a heavy heart that I report the sudden passing of Montgomery High School track and cross country coach Bryan Bradley. Yesterday, as Bryan was supervising cross country practice, having ridden his mountain bike alongside his runners to the bridge at the intersection of Annadel State Park's Spring Creek and Canyon Trails, he suffered a medical emergency and lost consciousness. I was told that team members summoned help and passersby joined in administering CPR for some time before emergency personnel took over the rescue attempt. Bryan could not be revived.
In high school Bryan, from Montgomery's class of 1996, went by the name Bryan Strickland and competed for the track team during his three years there. He was a remarkably versatile athlete, competing in the sprints, throws and jumps. I recall that in his first attempt at the triple jump Bryan leapt out beyond 43 feet and earned himself a trip to the prestigious Arcadia Invitational in Southern California. Looking back at his marks as a senior, Bryan led the team in the triple jump and high jump, was second-best at the shot put, discus and long jump and was a member of our team's best 400-meter relay squad.
Not only was Bryan a prolific point-scorer for the track team but, in his second season as a member of the cross country team as a junior in the fall of 1994, he earned a varsity award by making the team's top seven on numerous occasions. In his final race he helped the Viking JV Boys take the North Bay League title, extending their winning streak to eight years.
Bryan was not your typical slim and wiry distance runner. Even in high school he had a large, muscular frame and, with his speed and strength, was heavily recruited by the school's football coaches. But Bryan was a true gentle giant and, although very competitive on the track and trails, his nature was not amenable to a violent contact sport.
I don't recall when Bryan came back to Montgomery to coach the track team but he had been at it for several years and in recent years joined head coach Melody Karpinski as a member of the cross country coaching staff. He was highly regarded by coaches throughout the area. There are many other adjectives that can be used to describe Bryan and all are worthy of admiration. He was a model for integrity, fairness, calm, reason and dedication, both to the sport and the athletes he coached. I often found him on the MHS track long after the team practice ended, working with athletes one-on-one and setting up or putting away equipment. Bryan spent countless hours organizing team events and, along with Melody, directing the Viking Track Classic and Viking Opener Cross Country Invitationals, helping to assure that these events retained a reputation for first-class competition and organization.
My heart goes out to Bryan's family and friends and to the young Vikings on the current team, some of whom have already lost seasons to the wildfires and the pandemic. Bryan's absence will be felt by many people for quite some time. A great loss for all who knew him.