2023 Complete Results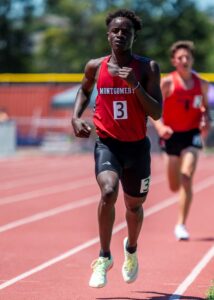 Montgomery's Jude DeVries opened the meet with a school record, the number 19 perfomer All-Time in the 1600 at 4:16.75 to take 4th out of 1147 finishers.
DeVries came back in the 3200 to beat one of the oldest school records around held by Bob Waldon in 1966 at 9:12.52* by running 9:08.05 to place 8th.
The old school record in the 1600 was 4:18.23 by Blake McDowall in 2007 who is now coaching at Analy.
It's being reported that a "World Record" 411 boys under 5:00 for 1600m, with Sonoma County contributing 22 of those.
All-Time 3200 Performances
8:55.43 Luis Luna, Piner 6/4/11 State, VIDEO of race, Current Empire record
8:59.89 Reesey Byers, Santa Rosa 4/10/10 Arcadia, former Empire record, fastest pre-league mark
9:01.32 Sterling Lockert, Petaluma 6/6/09 State, former Empire record
9:04.38 Luis Luna, Piner 4/15/11 Woody Wilson
9:04.66*i Luis Luna, Piner, 9:07.83y 2/25/12 Seattle
9:06.93 Reesey Byers, Santa Rosa 6/6/09 State
9:08.05 Jude DeVries, Montgomery 3/18/23 Dublin Distance Fiesta
9:08.82 Luis Luna, Piner 6/2/12 State
9:09.47 Brian Schulz, El Molino 5/20/17 NCS Redwood
9:09.48 Sterling Lockert, Petaluma 5/30/09 MOC, former Empire record

1600m
4.      12      Jude Devries            4:16.75         Montgomery
old school record 4:18.23 Blake McDowall 2007, 19th All-Time
13.     12      Tiernan Colby           4:20.48         Sonoma Academy
old school record 4:25.77 Patrick Loftus 2014, 48th All-Time

38.	10	Jack Wilson		4:26.86aPR	Maria Carrillo
68.	10	Dylan Mainaris		4:33.21aPR	Casa Grande, VVAL leader
111.	11	Grant Sanderson		4:39.62aPR	Maria Carrillo
127.	12	Sean Gubera		4:41.47aPR	Maria Carrillo
151.	9	Trenton Dawson		4:43.88a	Maria Carrillo
187.	11	Isaac Feleay		4:46.88aPR	Santa Rosa
194.	11	Mason Gaspar		4:47.40aPR	Santa Rosa
232.	10	Ryan LaFrance		4:50.28aPR	Montgomery
236.	11	Adam Joseph		4:50.33aPR	Santa Rosa
246.	9	Kevin Trenam		4:51.01aPR	Maria Carrillo
247.	9	Austin Petrik		4:51.05aPR	Maria Carrillo
278.	12	Theodore Broome		4:52.50aPR	Santa Rosa
294.	9	Xavier Surgeon		4:53.62aPR	Windsor
308.	12	Isaac Vasquez		4:54.51a	Casa Grande
316.	10	Graham Gregory		4:55.08aSR	Montgomery
328.	9	Jake McWilliams		4:55.55aPR	Healdsburg
331.	11	Max Azevedo		4:55.82a	Montgomery
339.	12	Benjamin Choe		4:56.24aSR	Maria Carrillo
345.	10	Max Emilio McKinney	4:56.56aPR	Windsor
389.	9	Trystan Treinen		4:58.65aPR	Maria Carrillo
403.	12	Aidan Hicks		4:59.54aPR	Petaluma
412.	12	Derek Sadorra		5:00.01aPR	Piner
433.	11	Ishmael Tillis		5:00.94aPR	Grace Christian Academy
437.	12	Julian Luciano		5:01.25aSR	Sonoma Academy
439.	11	Ryan Comella		5:01.26aPR	Casa Grande
440.	10	Javier Hernandez Ba...	5:01.32aSR	Sonoma Academy
442.	10	Michael Spears		5:01.56aPR	Santa Rosa
451.	10	Kapil Dave		5:02.22aPR	Maria Carrillo
476.	9	Kevin Hansen		5:04.34a	Casa Grande
489.	9	Grant Methum		5:05.68aPR	Grace Christian Academy
494.	10	Cole Barney		5:05.93aPR	Windsor
521.	9	Milo Weise		5:07.57aPR	Maria Carrillo
530.	9	Tomas Mercado		5:08.05a	Montgomery
562.	10	Matthew Payne		5:09.95aPR	Windsor
583.	11	Jack Fightmaster	5:11.25aPR	Santa Rosa
586.	10	Azriel Cuevas-Marti...	5:11.42aPR	Piner
608.	9	Jack Dufour		5:13.00aPR	Casa Grande
613.	9	Tyler Hall		5:13.18aPR	Grace Christian Academy
616.	9	Jonathan Rath		5:13.40aPR	Maria Carrillo
644.	11	Wyatt Paulson		5:15.89aPR	Justin-Siena
669.	9	Cristopher Pena Ber...	5:17.21aPR	Montgomery
681.	9	Gianni Deluca		5:18.12a	Montgomery
682.	10	Leo Dale		5:18.18aSR	Sonoma Academy
692.	9	Aiden Smith		5:18.94aPR	Maria Carrillo
702.	9	James Muir		5:19.56aPR	Maria Carrillo
722.	11	Nathra Kem		5:21.21aPR	Casa Grande
731.	12	Justin Hakola		5:21.74a	Maria Carrillo
738.	9	Jorge Navarro		5:21.95a	Casa Grande
742.	10	Aston Rashap		5:22.50aPR	Maria Carrillo
791.	11	Mickael Raufaste	5:25.41aPR	Maria Carrillo
833.	10	Bodhi Finnerty		5:30.05aPR	Montgomery
835.	9	Coe Dexter		5:30.26aPR	Sonoma Academy
844.	11	Sergio Ramirez Cont...	5:31.03aPR	Piner
869.	11	Isaiah Flores		5:33.94aPR	Maria Carrillo
959.	9	Nicolai King Gile	5:43.70aPR	Santa Rosa
968.	9	Carter Graf		5:45.11aPR	Montgomery
995.	9	Darwin Ramirez Sanc...	5:47.73aPR	Piner
1069.	10	Alexander Perez		6:01.62aPR	Piner
1071.	11	Valentin Castro		6:02.48a	Piner
1081.	9	Oliver Haupt		6:05.67a	Montgomery
1099.	11	Uriel Morales		6:14.68a	Piner
1129.	9	Tate Triola		6:40.41aPR	Montgomery
1147 finishers

800
47.	10	Dylan Mainaris		2:02.70a	Casa Grande
55.	12	Rami Nacouzi		2:03.64a	Maria Carrillo
61.	12	Benjamin Dethlefsen	2:04.33a	Santa Rosa
72.	11	Grant Sanderson		2:05.78aPR	Maria Carrillo
78.	11	Gabriel Sitton		2:06.12aPR	Maria Carrillo
87.	12	Bryce Ward		2:06.53a	Piner
90.	12	Cleo McClain		2:06.75aPR	St Helena, CMC leader
123.	10	Cormac Gaylord		2:08.97a	Analy
186.	12	Theodore Broome		2:12.18a	Santa Rosa
192.	9	Benjamin Taylor		2:12.42a	Maria Carrillo
206.	11	Xavius Lanford		2:12.97a	Montgomery
304.	11	Ishmael Tillis		2:16.11a	Grace Christian Academy
314.	10	Paul Macievich		2:16.47a	Sonoma Academy
319.	11	Jack Fightmaster	2:16.69a	Santa Rosa
324.	9	Jack Dufour		2:16.95a	Casa Grande
337.	12	Julian Luciano		2:17.53aSR	Sonoma Academy
367.	12	Marin Broadbent-Bell	2:18.78aPR	Analy
368.	9	Grant Methum		2:18.81a	Grace Christian Academy
369.	9	Tomas Mercado		2:18.82a	Montgomery
380.	10	Matthew Payne		2:19.18a	Windsor
387.	9	Kevin Hansen		2:19.55a	Casa Grande
424.	12	Alan Carmona		2:21.06a	Analy
434.	9	Jonathan Rath		2:21.59a	Maria Carrillo
442.	9	Jorge Navarro		2:21.88a	Casa Grande
443.	9	Aiden Smith		2:21.89a	Maria Carrillo
462.	9	Cristopher Pena Ber...	2:22.95a	Montgomery
467.	9	Masato Tallent		2:23.07a	Petaluma
494.	9	James Muir		2:24.41a	Maria Carrillo
506.	9	Gianni Deluca		2:24.85a	Montgomery
519.	10	Leo Dale		2:25.39a	Sonoma Academy
523.	11	Nathra Kem		2:25.59a	Casa Grande
524.	11	Luke Andre		2:25.60a	Grace Christian Academy
544.	9	Milo Weise		2:26.71a	Maria Carrillo
545.	10	Aston Rashap		2:26.85a	Maria Carrillo
546.	11	Cannon Andre		2:26.88a	Grace Christian Academy
665.	12	Ryan Mertens		2:35.77a	Piner
681.	9	Carter Graf		2:36.86a	Montgomery
739.	9	Connor Kempiak		2:48.26a	Sonoma Academy
747.	9	Oliver Haupt		2:50.98a	Montgomery
762.	9	Tate Triola		3:05.66a	Montgomery
769 finishers

3200
8.	12	Jude Devries		9:08.05aPR	Montgomery
58.	12	Andrew Stevens		9:38.84aPR	Santa Rosa
75.	10	Jack Wilson		9:46.34aPR	Maria Carrillo
136.	11	Adam Joseph		10:05.17aPR	Santa Rosa
137.	10	Kaeden Anderson		10:05.43aSR	Healdsburg
144.	9	Trenton Dawson		10:07.81aPR	Maria Carrillo
176.	9	Kevin Trenam		10:17.07aPR	Maria Carrillo
177.	9	Austin Petrik		10:17.42aPR	Maria Carrillo
178.	11	Isaac Feleay		10:18.05aPR	Santa Rosa
191.	12	Jonathan Donohue	10:21.11aSR	Maria Carrillo
200.	11	Max Azevedo		10:24.37aPR	Montgomery
202.	10	Graham Gregory		10:24.56aPR	Montgomery
204.	12	Isaac Vasquez		10:25.59aPR	Casa Grande
212.	9	Xavier Surgeon		10:27.09aPR	Windsor
239.	10	Michael Spears		10:38.35aPR	Santa Rosa
248.	11	Ryan Comella		10:42.03a	Casa Grande
264.	12	Bryce Ward		10:47.84aPR	Piner
278.	9	Tyler Hall		10:53.41aPR	Grace Christian Academy
281.	9	Trystan Treinen		10:57.29a	Maria Carrillo
295.	10	Cole Barney		11:05.80aPR	Windsor
299.	9	Grant Methum		11:08.66aPR	Grace Christian Academy
311.	11	Lawrence Gross		11:13.55a	Maria Carrillo
335.	11	Cannon Andre		11:26.10aPR	Grace Christian Academy
374.	10	Bodhi Finnerty		11:51.69aPR	Montgomery
389.	9	Masato Tallent		12:05.34aPR	Petaluma
458 finishers

3/17 4x800 Relay 
10. Santa Rosa 	8:50.95 Theodore Broome, Jack Fightmaster, Mason Gaspar, Benjamin Dethlefsen
14. Casa Grande 9:06.29 Isaac Vasquez, Kevin Hansen, Jack Dufour, Dylan Mainaris

29. Piner  12:18.44 Derek Sadorra, Azriel Cuevas-Martinez, Sergio Ramirez Contreras, Bryce Ward
30. Analy  12:18.83 Quince Holman, Alan Carmona, Marin Broadbent-Bell, Cormac Gaylord