The Bear Cubs held their own against tough competition at the NorCal Championships Preview held at Chabot College in Hayward.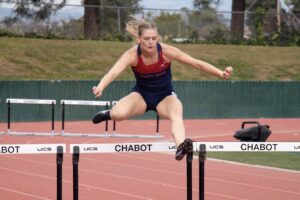 The Women's Team, who finished 3rd out of 16 team, set the tone early with a 2nd place finish in the 4×100 with a time of 51.47 (second best of the season). Stand out performances included Tianna Jardstrom finishing 2nd in the 400H with a time of 65.97, a State qualifying mark. This time ranks Jardstrom 2nd in the State, and 9th All-Time at SRJC. Emily Johnson continued her dominance with a Long Jump of 5.36m(17'7"). Johnson is now ranked 2nd in the State and 5th All-Time at SRJC.
An individual event winner, Nicole Guitierrez, jumped 10.27m (33'8.5") to win the Triple Jump.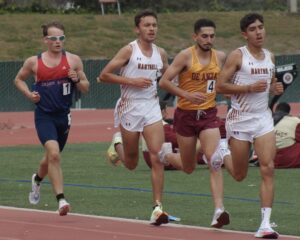 Though the Men finished 6th, there were many outstanding marks to build on for the rest of the season. The 4x100m team of Luis, Froes, Wood and Cibrian-Gomez finished 4th with a season best of 42.98, a time that ranks the team 4th in Northern California. Orion Dowdall continued his undefeated run in the Pole Vault with a 1st place finish and a mark that matched his best of 4.35m (14'9"). Although Vince Corday finished 2nd in the 400H, his time of 54.69 hit the State qualifying standard and ranks him 2nd in the State and 9th All-Time at SRJC. Paden Collard rolled to a State qualifying standard, state leading, and 3rd All-Time at SRJC time of 31:52.34 in the 10,000m.
Next week, the Bear Cubs host its first home meet on the brand new Track and Field Facility on Friday March, 4th. Field events start with Women's Pole Vault and Women's Javelin at 11:00am and Running events at 1:00pm.
Top SRJC Individual Results:
Team Scores
Women: 3rd 69 pts
Men: 6th 59 pts
Women:
800m
Evelin Ramirez – 4th – 2:29.22
100H
Emily Johnson – 3rd – 16.49
400H
Tianna Jardstrom – 2nd – 1:05.97(State A Standard) (9th All-Time at SRJC)
4x100m
Ouye, Gutierrez, Johnson, Jardstrom – 2nd 51.47
4x400m
Johnson, Jardstrom, Tyrrell, Ramierez – 4th – 4:19.03
High Jump
Eli Lerch – 3rd – 4-7
Pole Vault
Lianah Ouye – 4th – 8-4.25
Long Jump
Emily Johnson – 1st – 17'7" (State A Standard) (5th All-Time at SRJC)
Triple Jump
Nicole Gutierrez – 1st – 33'8.5"
Men:
100m
Jacob Cibrian-Gomez – 4th – 11.00
1500m
Andrew Engel – 4th – 4:03.34
10000m
Paden Collard – 1st – 31:52.34(State A Standard) (3rd All-Time at SRJC)
400H
Vince Corday – 2nd – 54.69(State A Standard) (9th All-Time at SRJC)
4x100m
Luis, Froes, Wood, Cibrian-Gomez – 4th- 42.98
Pole Vault
Orion Dowdall – 1st 14'9"
Triple Jump
Dui Froes – 4th – 43-10