May 6, 1967
Montgomery's Mel Gray put on an amazing show at the NBL I sub finals at the SRJC.
In the trials he ran 100 yards in 9.4 seconds which is the fastest ever for the Empire. That's equivalent to about 10.54 for 100 meters. It is listed as 5 mph wind or 2.2 m/s so it was wind aided. In the finals he ran a wind legal 9.5. He then broke the Empire record in the long jump at 24-7 which is still the meet record. In the 220 he tied the NATIONAL RECORD running 20.9 seconds. To top things off he anchored the 4X220 relay team to a win in 1:28.4 meet record.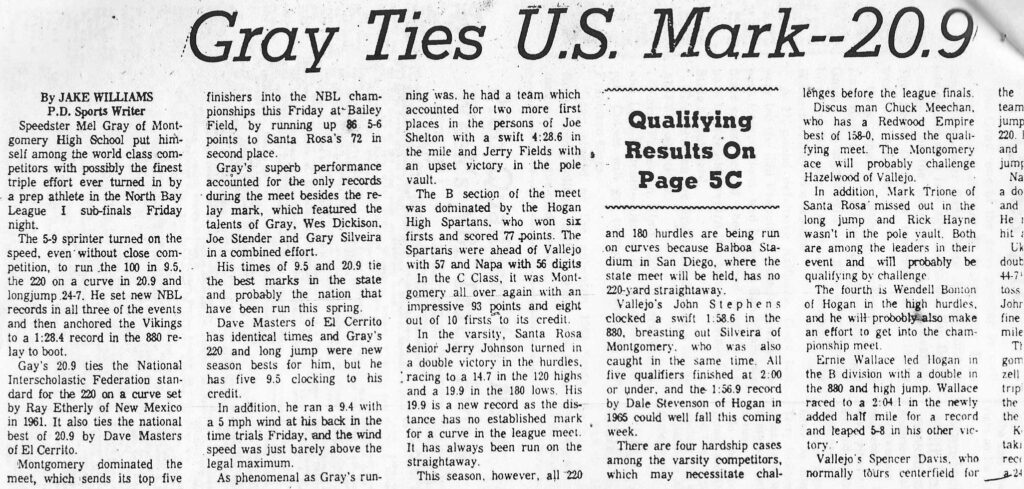 May 8, 1971
Another meet record set over 50 years ago happened on this date.
Santa Rosa's Joe DeDora set the still standing 1 lap meet record in the NBL I & II finals finishing the 440 in 48.1. =48.06 400.
May 7, 1975
If your looking for the fastest 2 lapper ever run in a dual meet here it is.
Petaluma's Dan Aldridge ran the 880 in 1:53.8 against Ukiah at home. =1:53.38 800m.
May 3, 1984
Piner's Tammy Wessendorf won the Sonoma County Leagues finals in the triple jump hopping to 36-5.
May 6, 1995
On this date Piner's Pat Leonard set the Empire high jump record at the Sacramento MOC meet clearing 7-0¼.
May 7, 1997
You won't find a faster 300 hurdle race in a tri-meet than Santa Rosa's Katie Schukle as she clocked 45.9 verses Maria Carrillo & Ukiah at home.
May 8, 1999
Sonoma Valley's Dan Littlefield had one of our longest ever long jumps at the Sacramento MOC meet landing at 23-7¾ +3.7.
May 6, 2009
When your competing against your city rivals big things can happen as Petaluma's Sterling Lockert ran our dual meet record for a 1600 running an amazing 4:14.9 verses Casa Grande at home.
May 5, 2010
Montgomery sprint sensation Alyssa Page set the tri-meet 200 record at 24.7 against Maria Carrillo & Ursuline at home. She warmed up with a 12.1 in the 100.
May 6, 2015
Fastest FAT 100 meters in a dual meet?
That would be Analy's Xavier Freeman at Healdsburg.
May 4, 2016
Running all alone Santa Rosa's girls 1600 relay team still ran the fastest dual meet time ever at Rancho Cotate clocking 4:04.5.
May 3, 2019
Santa Rosa's Brayden Glascock set the NBL finals meet record in the 300 hurdles running 38.76.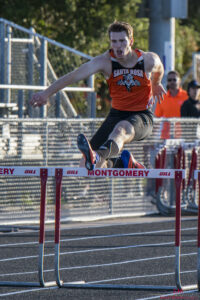 May 4, 2019
The next day Middletown's Bryson Trask added more than 13 feet to the discus record at the Coastal Mountain Conference finals at 175-7. He nearly won the shot put by 13 feet also with his 55-0½ meet record.
May 6, 2022
Not one but three NBL finals meet records were broken on this date.
In the girls Montgomery's Hanne Thomsen blazed to a 4:45.51 1600 meters record to go with her 10:21.15 3200 win.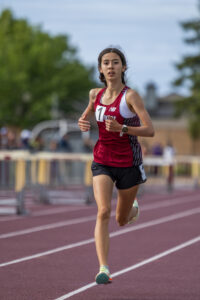 Meanwhile Maria Carrillo's Lily Mulligan added an incredible one foot 7 seven inches to the pole vault meet record clearing 13-1 which was for awhile an Empire record as well.
On the boys side Santa Rosa's Alexander Manning flew over the high hurdles in a meet record for a race with a legal wind reading stopping the clock at 15.15 -0.5.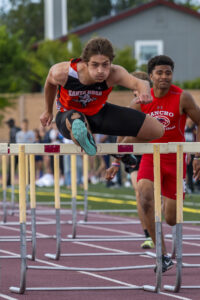 In this new weekly tidbit column, "Blast from the Past", I'm going to take a look at some special performances that happened during the week we are on.
Other Blast from the Past stories