May 20th 1950
Napa's Sherman Miller won NCS MOC finals in the 440 in 48.2 for an Empire record, still an amazing time today, =48.16 400m.
Analy's Wes Nott 12-3 Pole Vault and Vallejo's Russell Ellis 15.4 120 HH also picked up wins for the Empire that day.
May 21st 1966
Montgomery's Bob Waldon sets an Empire record for 2 miles at the NCS Div 3A running 9:17.5.
At the same meet Ukiah's Dan Hook has a shot mark of 58-0.
May 20th 1967
Montgomery's Mel Gray had his normal record setting day at the NCS 3A at the SRJC.
Gray had three former Empire record this day clocking 9.4, 20.9 and jumping 24-10.
Teammate Wes Dickison also ran a quick 220 in 21.7.
Santa Rosa's Jerry Johnson had a fine high hurdle time of 14.3.
May 23rd 1970
Santa Rosa's Joe DeDora took the NCS MOC 440 title in 48.7 and helped with his teams mile relay mark of 3:20.9.
May 23rd 1971
Fast sprint times was the order of this NCS MOC meet at SRJC.
Cardinal Newman's 440 relay blazed to 42.6.
Santa Rosa's Joe DeDora was winning the 440 at 48.0.
Two of the fastest ever high hurdlers for the Empire each went 14.2, Vallejo's Charles Porter and Hogan's Mel Wallace, and didn't even win.
May 18th 1974
Petaluma's Jon Sisler clocked 9:16.7 for 2 miles at the NCS 3A meet.
May 17th 1975
The NBL 880 record was set on this date by Petaluma's Dan Aldridge with the still standing 1:52.3 which at the time was also an Empire record.
May 20th 1978
NCS 3A Story, one of the many great stories by Herb Dower who just past away.
Piner's Marvin Colter had double wins in horizontal jumps going 23-0 & 47-11.
Teammate Armand Moreno battled to strong seconds in mile and then 2 mile (9:18.1) losing to Redwood great Rod Berry in 9:12.8.
Montgomery's Deanne Neff tied the Empire record in the long jump at 18-0 and picked up a second win in the high jump 5-4½.
Ukiah's Cindy Peterson also had an Empire record here throwing 116-3½ in the discus.
Same day at the NCS 1A meet Cloverdale's Allen Kuhn triple jumped 46-11½ for the win and added wins in the 440 Relay 43.9 and 100 yards in 9.8.
May 17th 1980
Santa Rosa's Dennis DeSoto had the very first 60 foot shot mark ever in the Empire at this NBL finals reaching 60-1.
May 23rd 1981
This NCS 3A finals recorded two Empire records, one of which still stands.
Petaluma's Rob McCorkel has the still standing mark at 48-7½ in the triple jump done here. He was actually pushed by teammate Jeff Johnson who went 46-3.
Santa Rosa's (Andrea Robinson, Alison DeRuntz, Kim Linden, Erin McNay) joined together for an Empire record in the 1600 relay at 4:02.9.
Long throws came from Santa Rosa's Dennis DeSoto 62-5 and Montgomery's Chris Day 175-10.
May 19th 1984
Analy's Sherri Minkler (11:03.5 3200) and Petaluma's Tara Grieser (5-5 high jump) each picked up NCS MOC wins this day as did Santa Rosa's John Gash (15-0 Pole Vault)
Santa Rosa girls produced an Empire record in the 400 relay clocking 49.1.
May 23rd 1987
Santa Rosa's Wendi Simmons performed one of her few triple jumps at the NCS 3A meet going 37-3½ to go with 400 and long jump wins.
Santa Rosa boys blazed a good 1600 relay in 3:21.3.
May 20th 1989
Two huge jumps at the NCS 3A meet.
Rancho Cotate's Amey Mitchell had one of her Empire Records here in the long jump landing at 19-0.
Santa Rosa's Gabe Manville cleared 6-10¼ in the high jump for the other big leap.
May 19th 1990
During the NCS 1A Championships at the SRJC Upper Lake's Suzi Green broke the meet record in the triple jump going 36-8½.
May 18th 1991
At the NCS 3A meet the Santa Rosa girls broke the Empire record in the 1600 relay finishing in 4:02.74.
May 20th 1995
This was the day that Petaluma's Rene Loraine had his Empire record in the vault clearing 15-9 at the NCS Redwood finals.
Rancho Cotate's Corey Nelson had one of his best days ever here.
Anchored 400 relay to win in 43.45, set the still standing meet record in the 400 at 47.77, won the 200 in 21.51 and finished by anchoring the 1600 relay getting the baton down by 3-4 seconds and taking the team to a 2 second win in 3:26.60. Watch all four races below.
11 boys videos from meet
9 girls videos from meet
May 18th 1996
Montgomery's Chris Barnsdale breaks Empire 300 hurlde record in 38.02 at the NCS Redwood meet and high's at 14.54.
Santa Rosa's Katie Schukle does similarly with Empire record in high's at 14.57 and a win in the 300's at 44.12.
Santa Rosa's Julia Stamps set Empire record in 3200 10:12.20.
Watch 12 of the boys races here. And 10 of the girls here.
May 22nd 1999
Montgomery's Sara Bei has double distance wins at NCS Redwood with 5:04.70 and 10:35.74.
May 18th 2002
Petaluma's Maggie Farrar won both NCS Redwood horizontal jumps at 37-3¾ & 18-1¼.
May 17th 2003
Elsie Allen's Whitney Leachman blazes NBL finals wins in 12.31 & 25.66.
Montgomery's Matt Tillinghast sets a new Junior Class Record in the vault at 15-3.
May 22nd 2004
Sonoma Valley's Melissa Van Paris had a huge shot mark at 42-5, still meet record, at the NCS Redwood meet with a 2nd in the discus at 126-9.
May 21st 2005
One of Sonoma Valley's Mindi Wiley many Empire records in the high jump came at the NCS Redwood meet winning at 5-10½.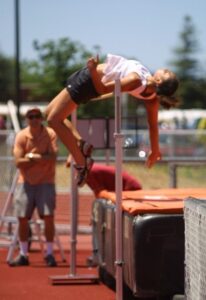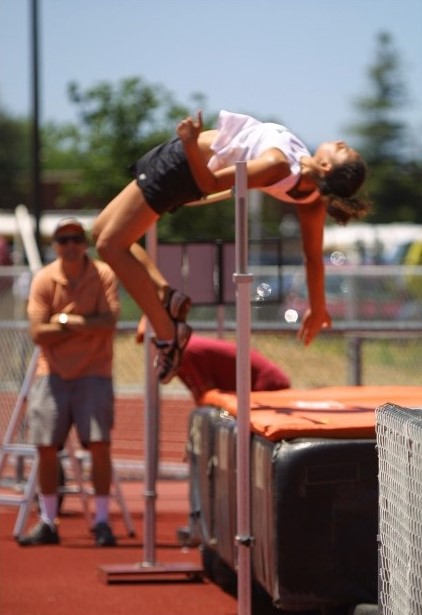 May 20th 2006
Maria Carrillo's Jean Lightfoot won both throws at the NCS Redwood meet at 41-4¼ and 121-0.
The Puma 1600 relay took the win at 3:58.85.
May 23rd 2008
Montgomery's Corrine Rich won the shot at 40-04.50 launched the discus to both the discus 132-6 at the MOC meet.
Cardinal Newman's Austin Davis edged El Molino's Joe Durling in the discus 158-03 to 158-01 for the win as the Empire took 6 of the top 8 spots.
Maria Carrillo's Julia Krickl was 2nd in the high jump at 5-5.
May 22nd 2010
Ursuline's Michelle Stone breaks the Empire record in the polke vault at the NCS Redwood meet soaring over 12-1.
May 21st 2011
Petaluma's Courtney Tuck cleared 5-7 in the high jump to win at NCS Redwood.
May 19th 2012
This NCS Redwood meet featured a great pole vault battle as Maria Carrillo's Siobhan Anderson beat Petaluma's Danielle Steffen on misses as both cleared 12-0½.
Casa Grande's Adam Lundquist won both hurdles is fast 14.63 -0.4 and 39.19 times.
May 18th 2013
Maria Carrillo's Kathleen Durand breaks the Empire discus record at the NCS Redwood meet at 140-10
Santa Rosa's Sadia Ibrahim takes the 800 in 2:12.53.
Maria Carrillo's Herbie Polk nearly takes down the NCS Redwood meet record in the 400 running 47.79 while being pressed by Eureka's Alexis Robinson 48.01 and Healdsburg's Andrew Kozel 48.10.
May 21st 2016
Casa Grande girls 400 relay breaks both the Empire record and the NCS Redwood meet record in 49.10.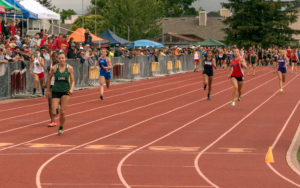 May 20th 2017
El Molino's Brian Schulz blisters the NCS Redwood meet 3200 in 9:09.47.
Santa Rosa's Kirsten Carter takes both sprints running 12.26 -2.2 and 25.02 -2.8.
Maria Carrillo however took both relays with the 400 being a meet record in 48.64 which also broke the Empire record.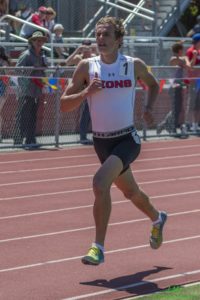 May 19th 2018
Maria Carrillo's Severin Ramirez equals the meet record at the NCS Redwood meet in the 100 at 10.86. Along with a 2nd in the 200 at 21.92 +0.8 and relay legs on both winning relays in 42.76 (meet record) and 3:23.70.
Santa Rosa's Kirsten Carter helped her team to a meet record in the 1600 relay at 3:57.52 to go with wins in the 200 24.59 +2.7 and 400 56.10.
Video, 1 hour 42 mintues, by Petaluma student of NCS Redwood meet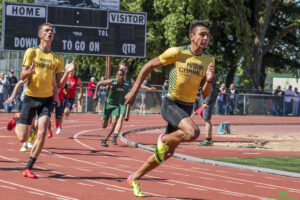 May 18th 2019
Healdsburg's Gabrielle Peterson defended her 1600 MOC title running 4:48.54 and adds a 2nd in 3200 at 10:32.53.
Casa Grande's Lillian McCoy takes the shot put at 40-05.
American Canyon's Croix Stewart runs the #2 adjusted for wind 100 in the trials at 10.89-10.97 -1.0.
Petaluma's Sydney Dennis sets a wind legal Empire record in the triple jump at 37-3¼ (-0.5).
Middletown's Bryson Trask won the Shot Put at 57-4.25.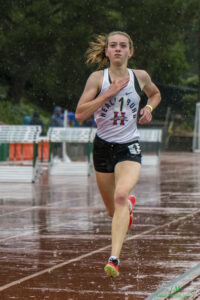 May 19th 2021
13-0 Maria Carrillo's Lily Mulligan becomes our first girl to clear 13 feet in the vault.
Check it out here and watch the vault on video.
May 21st, 2022
Montgomery's Hanne Thomsen wins the MOC 3200 in a fast 10:23.82.
Analy's/West County's Ellie Roan wins the shot at 39-09.75 and takes 2nd in the discus at 119-01.
In this new weekly tidbit column, "Blast from the Past", I'm going to take a look at some special performances that happened during the week we are on.
Other Blast from the Past stories