Maria Carrillo's Lily Mulligan broke the vault record not once but twice yesterday (5/19/21).
With the dual meet at Montgomery, but the Vikings not having a working pole vault facility, the vault was held at Maria Carrillo.
Lily opened up at 11 feet, a height only 12 other Empire girls have ever cleared since girls started vaulting back in 1994.
After clearing her next height of 12 feet she had the bar raised above her own Empire record of 12-4 to 12-6.
The 12-6 vault broke the not so old record, then she raised it again to the magical 13 foot height.
Below is a screen shot of that record jump plus the video it was taken from.
Her vault coach Bruce Hotaling said she was using a 13' 7" 155 lb pole and was so close to 13'6".
The next best girl in the North Coast Section is at 11-2 this year.
The NCS MOC meet record is 12-10 by Ariel Cheng, Mission San Jose 2013.
The All-Time NCS best is 13-4 by Kelley Kern, Carondelet 2019.
Lily is now number two on that list.
Oh, did I mention she is only a sophomore!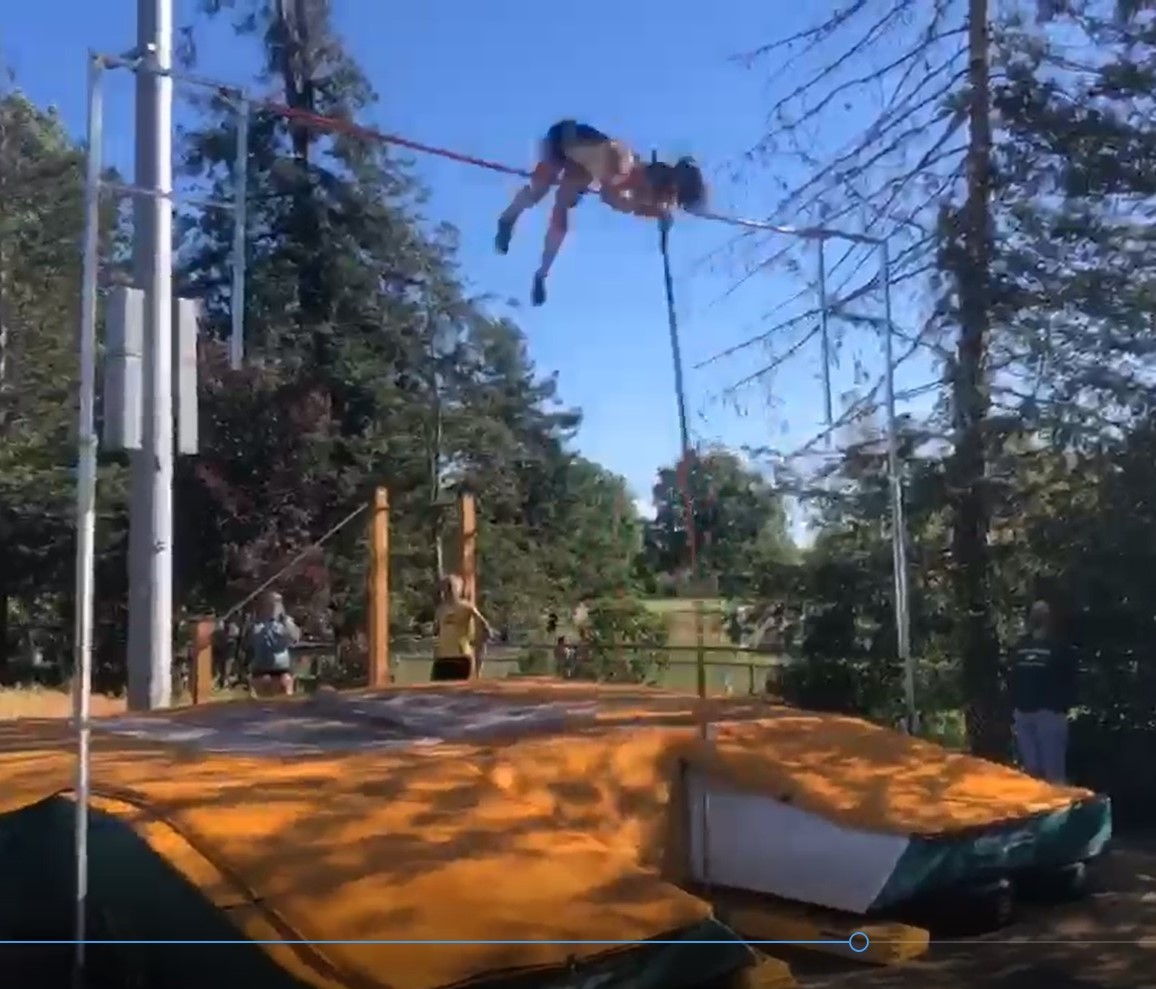 ALL-TIME REDWOOD EMPIRE TRACK & FIELD
13-0 Lily Mulligan, Maria Carrillo 5/19/21 at Maria Carrillo, Empire record, video of the vault
12-6 Lily Mulligan, Maria Carrillo 5/19/21 at Maria Carrillo, Empire record
12-4 Lily Mulligan, Maria Carrillo 4/28/21 SRHS, Empire record
12-3 Michelle Stone, Ursuline 5/28/10 MOC, former Empire record
12-3 Lily Mulligan, Maria Carrillo 2/13/21 Sky Jumpers, =former Empire record, video of the vault
12-1 Michelle Stone, Ursuline 5/22/10 NCS Redwood, former Empire record
12-1 Lily Mulligan, Maria Carrillo 5/8/21 Arcadia
12-0½ Siobhan Anderson, Maria Carrillo 5/19/12 NCS Redwood
12-0½ Danielle Steffen, Petaluma 5/19/12 NCS Redwood
(9)
12-0 Michelle Stone, Ursuline 1/23/10 At Los Gatos, former Empire record
12-0 Michelle Stone, Ursuline 5/7/10 Santa Rosa All City, =former Empire record
12-0 Siobhan Anderson, Maria Carrillo 3/8/12
12-0 Siobhan Anderson, Maria Carrillo 5/2/12
12-0 Lily Mulligan, Maria Carrillo 4/24/21 Eddie Hart
12-0 Lily Mulligan, Maria Carrillo 5/19/21 at Maria Carrillo
(15)
Evolution of Redwood Empire Pole Vault Record
8-6 Erika Hause, Montgomery 1994-1995
8-6 Grace Neisingh, Santa Rosa 1995
9-0 Shail Pec-Crouse, Santa Rosa 1996
9-0 Amy Bei, Montgomery 1996
9-0 Sophie Donnely, Sonoma Valley 1996
9-6 Amy Bei, Montgomery 1997
10-0 Shail Pec-Crouse, Santa Rosa 1997
10-0 Amy Bei, Montgomery 1997
11-0 Shail Pec-Crouse, Santa Rosa 1997
11-2½ Shail Pec-Crouse, Santa Rosa 1998
11-3 Ashley Lennon, Petaluma 2001
11-4 Emely Flores, Santa Rosa 4/13/02
11-6 Melissa Adams, Rancho Cotate 4/18/03
11-8 Emely Flores, Santa Rosa 6/4/04
11-8 Michelle Stone, Ursuline 6/5/09
11-10 Michelle Stone, Ursuline 6/6/09
12-0 Michelle Stone, Ursuline 1/23/10 At Los Gatos
12-0 Michelle Stone, Ursuline 5/7/10 Santa Rosa All City
12-1 Michelle Stone, Ursuline 5/22/10 NCS Redwood
12-3 Michelle Stone, Ursuline 5/28/10 MOC
12-3 Lily Mulligan, Maria Carrillo 2/13/21 Sky Jumpers
12-4 Lily Mulligan, Maria Carrillo 4/28/21 SRHS
12-6 Lily Mulligan, Maria Carrillo 5/19/21 at Maria Carrillo
13-0 Lily Mulligan, Maria Carrillo 5/19/21 at Maria Carrillo