Fort Bragg's Russell Gordon was really good as a freshman but I don't think most of us would have guessed he would go on to do what he did this year.
Especially with two of his seasons crippled by the pandemic.
His freshman year was 2018.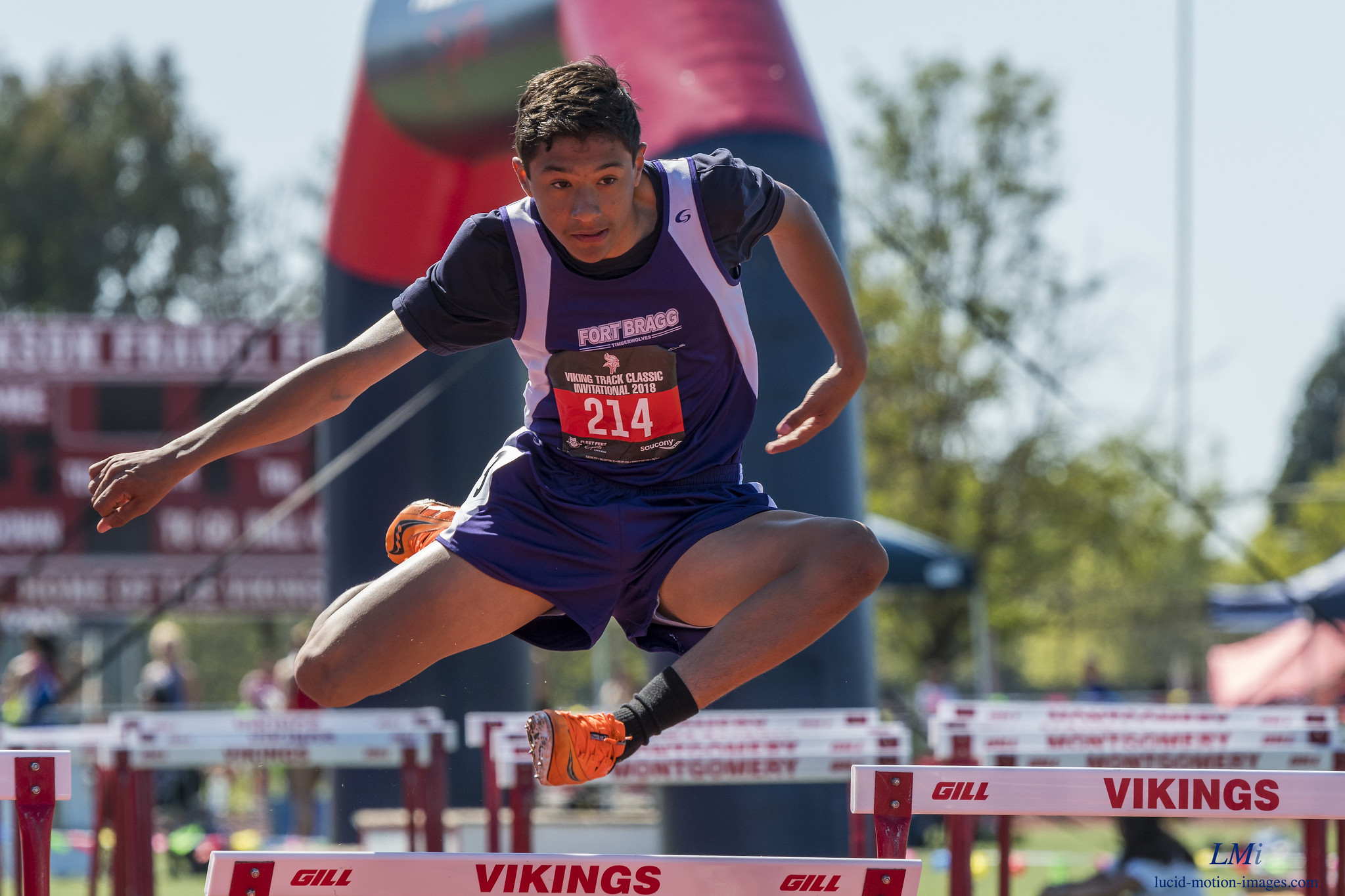 He ended his season strong at the Coastal Mountain Conference Finals with three firsts in the Frosh/Soph division.
(110HH 17.52, 100 12.30, 300IH 46.59) Good but not mind blowing.
In Gordon's Sophomore year, 2019, he ran behind senior teammate Eric Portillo who was a second team All-Empire pick that year.
Gordon first showed his potential placing 3rd at the Viking Classic in 40.61 beating Portillo for the best time in the CMC so far that year.
In the CMC league finals Gordon placed 3rd 110HH 16.84, 4th 100 11.96, 2nd 300IH 41.44 (Portillo 1st), 6th 200 24.33.
At the North Coast Section 1A Finals the two Tiberwolves took the top spots running 40.73 and 42.14.
At the NCS MOC meet Gordon just missed making the finals by two places running 41.22.
It was a strong year for Empire hurdlers as his 40.61 was only the 5th best time that year.
Gordon did surpass the sophomore mark that his schools record holder did as as sophomore.
Sophomore All-Time
39.54 Jason Andrews, Rancho Cotate 1995
39.60 Alex Netherda, Maria Carrillo 2013
39.74+ Seth Barrett, Santa Rosa 1995
39.83 Chris Barnsdale, Montgomery 1994
39.99 Brayden Glascock, Santa Rosa 2017
40.39 Ty Pearson, Petaluma 2014
40.53 Brent Oru-Craig, Montgomery 2017
40.61 Russel Gordon, Fort Bragg 2019
40.80 Caleb Cunha, Fort Bragg 2009
40.94 Mike Koellsted, Calistoga 1984
2020 COVID hits
Gordon won the 300IH at the season kickoff meet the Big Cat Invitational in 42.09.
That held as the 2020 Prep best because the season was cancelled soon after that because of the pandemic.
Watch the race
In 2021 Gordon would run four individual events in most meets he ran in this year.
Below are some of the major meets he ran in and how he prepared for the State meet in the 300 hurdles.
April 24
Gordon 2nd at Eddie Hart in 40.56 to Jadyn Marshall, St Mary's 38.94.
May 8
The Arcadia Meet showed that Gordon took on some of the best in the Nation in the meets he ran in as Jadyn Marshall was the winner at the in 36.77 with St Mary's College's Di'Niko Bates taking third in 38.43.
May 15
Gordon 2nd Pittsburg 39.13 to Di'Niko Bates 38.64
May 21
Gordon 1st Orland 40.14
May 29
Gordon 1st Showcase 38.71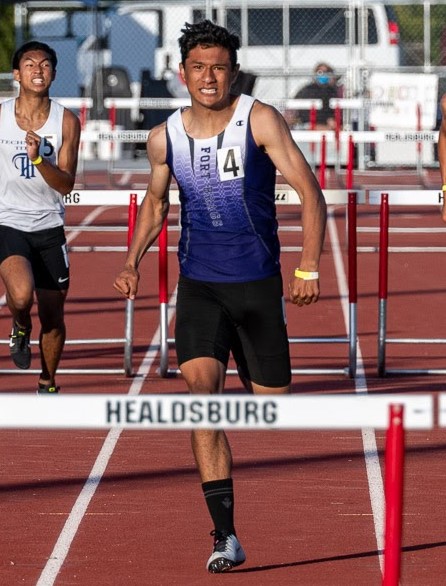 June 5
Gordon 2nd Clash of the Titans 38.39 to Jadyn Marshall 38.10.
June 16
Gordon 2nd Northern California Championships 38.44 to D'niko Bates 38.14.
June 26
Gordon 1st CALIFORNIA STATE CHAMPIONSHIPS INVITATIONAL 37.79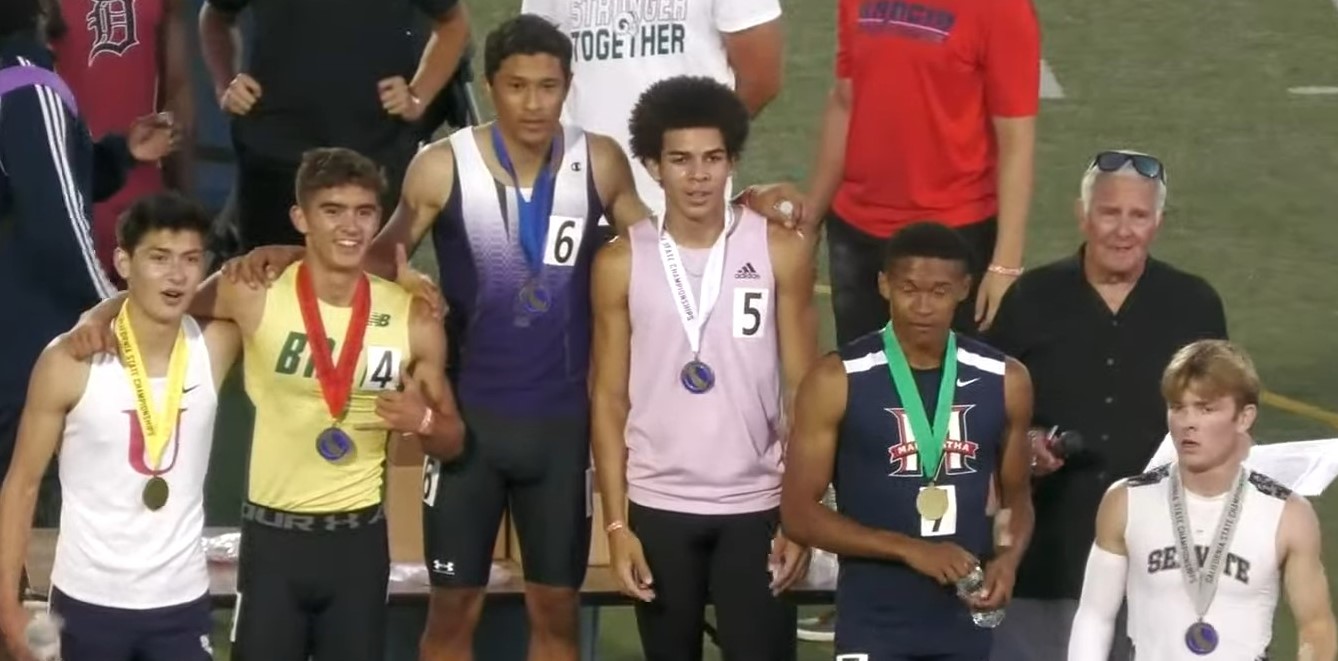 He has committing to running for the UC Santa Barbara team next year.
Empire's Best 110HH/300IH Hurdlers
110HH / 300IH** / Total
14.50..(911) 38.02..(996) 1907 Chris Barnsdale, Montgomery 1996
14.79..(875) 37.79.(1007) 1882 Russel Gordon, Fort Bragg 2021
14.28..(939) 39.19..(939) 1878 Adam Lundquist, Casa Grande 2012
14.52..(908) 39.14..(941) 1849 Mike Koellsted, Calistoga 1985-86
14.74..(881) 39.24..(936) 1817 John Gash, Santa Rosa 1984
Update
Russel Gordon Breaks Empire Record at 400IH, 7th Nation