Back in 2020 I began a weekly column called "Blast from the Past" which ended three weeks in when the pandemic shut down the season.
This year, 2023, I will pick it back up again.
In this new weekly tidbit column, "Blast from the Past", I'm going to take a look at some special performances that happened during the week we are on.
This week February 23-29
On the 23rd of February 2019, Middletown's Bryson Trask unleashed a huge discus throw at the Honker Mini Invitational sailing it out to 176-3. Trask would go on to throw 181-10 at State to erase the Empire record.
Since I'm just starting this let's take a look at some other big marks that happened even earlier in the calendar year.
February 11th 1995 saw three amazing indoor marks by local preps at the Sunkist Invitational.
Petaluma's Rene Loraine won the high school division of the pole vaulting at 15-6, while Piner's Pat Leonard would win the high jump at 6-8. The two boys would match each others feats all year sharing Athlete of the Year honors. On the track Sophomore sensation Julia Stamps of Santa Rosa High ran in the women's open mile race. Her 4:46.73 9th place finish was a new NATIONAL HS Sophomore record on 2/11/95.


Other pole vaulters who exploded early were Mike Tillinghast of Montgomery clearing 15-2 indoors at the Reno Pole Vault Summit on 1/10/2004 and Ursuline's Michelle Stone who cleared 12-0 on 1/23/2010 at a Los Gatos meet breaking the Empire record.
February 12th 2011 saw Courtney Tuck of Petaluma go 5-6 in the high jump.
February 13th 2021 Maria Carrillo's Lily Mulligan tied the Empire Record in the pole vault at 12-3.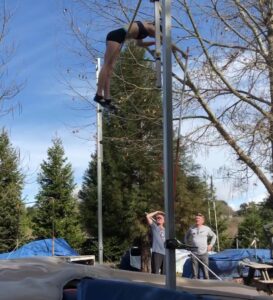 February 17th 2018 Montgomery's Jaymes Tischbern establish himself as someone to watch that year as he blazed a double of 49.00 (400) and 21.94 -1.0 (200) at a Berkeley All-Comers meet.
February 19th 1978 produced and amazing indoor triple jump by Piner's Marvin Colter at 47-6½ at the Examiner Games in the San Francisco Cow Palace.
February 25th 2012
Piner's Luis Luna ran a 9:07.83 2 mile indoor race in Seattle, still our indoor record.