Complete Results
Sat, Sep 24, 2022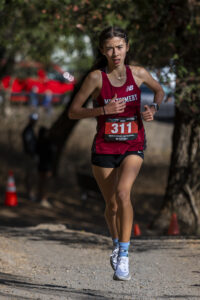 Photo at meet, second, third
Video interview
Sophomore sensation Hanne Thomsen blew away the field in one of the countries biggest cross country Invitationals at the Nike Portland XC meet.
Montgomery's Thomsen won the Danner Championship race in Portland in an incredible time of 16:50 over the 5,000 meter course.
Of the 179 entries in the elite division race the closet anyone could come was 17:39 Anna Callahan from Washington state.
Viking teammate Seelah Kittelstrom had an impressive finish herself taking 20th in 18:30. Photo at meet
In the Division I race Viking Amrie Lacefield took 3rd in 18:47 while Hope Martin was 39th in 20:07.
In the boys elite race Jude Devries turned in a time of 15:41 to place 16th. Photo at meet, second
That was the third fastest time from California runners.
In the Division I race Viking Graham Gregory in 76th ran 17:19.
Amber Trotter and Julia Stamps are the only two local runners to ever run faster than Thomsen's time today. Their fastest times came in their National Championship races.
Sara Bei's fastest also came in her National Championship win in 16:55.
5000 meters
Time Name, School Year Place
16:25 Amber Trotter Ukiah 2001 Disney World, Florida 5:17 Mile Pace
16:42 Julia Stamps, Santa Rosa 1994 Balboa Park, San Diego 5:23
16:50 Hanne Thomsen, Montgomery 2022 Nike Portland
16:55 Sara Bei, Montgomery 2000 Disney World, Florida 5:27
17:11 Harper McClain, St Helena 2019 Woodward Park, Fresno
17:24 Rylee Bowen, Sonoma Academy 2015 Davis Stampede
17:26 Sarah Sumpter, Healdsburg 2007 Woodward Park, Fresno
17:29 Jacque Taylor, Casa Grande 2009 Woodward Park, Fresno
17:29 Julie Nacouzi, Montgomery 2009 Woodward Park, Fresno
17:42 Phyllis Blanchard, Rancho Cotate 2003 Woodward Park, Fresno
26th 18:30 Seelah Kittelstrom, Montgomery 2022 Nike Portland
=40th 18:47 Amrie Lacefield, Montgomery 2022 Nike Portland
complete list
Jude Devries =26th All-Time 5k