9/16/23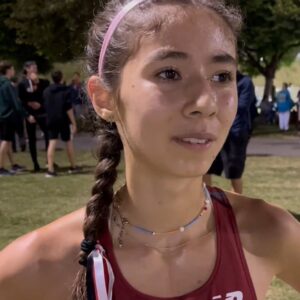 Race 51 – 9:34pm – Bob Day Sweeps (G)
Video interview
Jane Hedengren Outlasts Elizabeth Leachman in Historic Woodbridge Girls Showdown
Photo
Montgomery junior Hanne Thomsen just ran the fastest time ever for a Redwood Empire runner on a course 3 miles or longer at 5:16 mile pace.
Thomsen finished in 5th after moving up from 15th at the mile in 5:13 and from 6th at the 2 mile in 10:49 to finish in 15:48.
National Champions Amber Trotter, Ukiah 2001 5:17 Mile Pace and Julia Stamps, Santa Rosa 1995 5:18 mile pace are the only other girls to run sub 16:20 for 3 miles.
Jane Hedengren from Utah won the race in 15:33. Elizabeth Leachman from Texas was 2nd, while Californian's Sadie Engelhardt and Rylee Blade took 3rd and 4th.
Engelhardt won CA State II last year while Blade was 3rd in division I. Thomsen is the two time defending division III champion.
Hedengren's time was not only a meet record but is being said to be the fastest high school 3 mile time in US history.
3 mile with converted 5ks, with Woodbridge
Time Name, School Year Place
15:48 Hanne Thomsen, Montgomery 2023 Woodbridge 5:16 Mile Pace, 16:11 2022 Rancho Invit.
15:51* Amber Trotter, Ukiah 2001 Disney World, Florida 5:17 Mile Pace
15:54 Julia Stamps, Santa Rosa 1995 S.F. Zoo 5:18
16:20* Sara Bei, Montgomery 2000 Disney World, Florida 5:26
16:24 Harper McClain, St. Helena 2019 Woodbridge, 17:04 Hayward
16:49* Rylee Bowen, Sonoma Academy 2015 Davis Stampede
16:51 Sarah Sumpter, Healdsburg 2007 Spring Lake
16:54* Jacque Taylor, Casa Grande 2009 Woodward Park, Fresno
16:54* Julie Nacouzi, Montgomery 2009 Woodward Park, Fresno
16:59 Lori Shanoff, Petaluma 1981 Sierra College, Rocklin
* – 5000 meter time converted
Maria Carrillo runners in other races.
Race 50 – 9:14pm – Rated Varsity (B)
28th Maria Carrillo 661 pts
46 Jack Wilson 15:00 Yr: 11
122 Trenton Dawson 15:43 Yr: 10
145 Grant Sanderson 15:51 Yr: 12
151 Austin Petrik 15:53 Yr: 10
Gabriel Sitton 16:42 Yr: 12
Lawrence Gross 16:59 Yr: 12
Race 41 – 7:10pm – Gold Varsity A (G)
1st Maria Carrillo 130 pts
6 Kira Moe 18:13 Yr: 12
25 Brooke Szczekocki 18:52 Yr: 11
29 Katherine Choe 19:03 Yr: 11
31 Andi Fogg 19:06 Yr: 10
52 Carley Schubert 19:45 Yr: 11
72 Grace Gunderson 20:18 Yr: 11
85 Aliyah Donohue 20:43 Yr: 11
Race 37 – 6:22pm – Gold Soph (G)
16 Keeley Graziani 20:22 Yr: 10
19 Isabelle Gross 20:41 Yr: 10
29 Savannah Fogg 21:15 Yr: 10
Race 45 – 7:58pm – Gold Varsity A (B)
29th Maria Carrillo 697 pts
63 Cameron Jones 16:11 Yr: 9
113 Trystan Treinen 16:36 Yr: 10
163 Jonathan Rath 17:08 Yr: 10
186 Aiden Smith 17:230 Yr: 10
191 James Muir 17:32 Yr: 10