North Bay League "Oak" Championship 11/3/23
2.97 mile Spring Lake County Park course, since 1988
Photos by Michael Lucid
Lucid's NBL Oak Finals Varsity Boys photos
As expected Maria Carrillo's Jack Wilson took the individual title (15:38) besting teammate Trenton Dawson (15:53) by 15 seconds.
Santa Rosa's Johnny Ando placed third in 16:02 as teammate Ome Zuniga, who lead the Panthers in their dual meet verses the Puma's, was unable to compete today.
But there was no stopping the Puma's today as they had their top five finish in the top seven spots meaning they could have beaten the rest of the Oak schools if even combined.
The two school's will share this years pennant giving Maria Carrillo their 17th one and Santa Rosa their 10th. Montgomery took third with Windsor earning their best NBL Oak finish ever at 4th.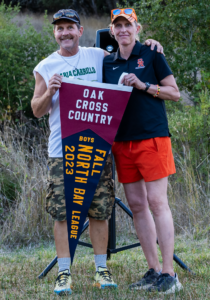 Meet History
League Championship Meet Record Times for Spring Lake
Individual: 14:43 Luis Luna, Piner 2011
Team: 76:58 Maria Carrillo 2019

Varsity
1	Maria Carrillo	20	1-2-4-6-7(12)(15)	80:31	16:06	0:46.8, 21st All-Time
2	Santa Rosa  	44	3-5-8-11-17(18)(32)	83:16	16:39	1:38.7
3	Montgomery  	77	10-13-14-19-21(31)(33)	86:19	17:16	1:16.4
4	Windsor        109	9-16-26-28-30(34)(35)	89:21	17:52	2:13.3
5	Piner          114	20-22-23-24-25(27)(29)	90:12	18:02	0:25.2

1	Wilson, Jack	JR	1547	Maria Carrillo 	1	15:38	---	5:15.6, 59th All-Time
2	Dawson, Trenton	SO	1512	Maria Carrillo 	2	15:53	15.2	5:20.7
3	Ando, Johnny	SR	1632	Santa Rosa (NC)	3	16:02	24.0	5:23.7
4	Petrik, Austin	SO	1531	Maria Carrillo 	4	16:11	32.6	5:26.9
5	Sauter, Quinlan	JR	1664	Santa Rosa (NC)	5	16:19	41.3	5:29.5
6	Jones, Cameron	FR	1526	Maria Carrillo 	6	16:24	46.4	5:31.2
7	Sanderson, Grant SR	1536	Maria Carrillo 	7	16:25	46.7	5:31.3

8	Feleay, Isaac	SR	1640	Santa Rosa (NC)	8	16:31	52.6	5:33.7
9	Surgeon, Xavier	SO	1694	Windsor (NC)	9	16:36	57.9	5:35.1
10	Gregory, Graham	JR	1559	Montgomery (NC)	10	16:38	1:00.2	5:35.9
11	Spears, Michael	JR	1667	Santa Rosa (NC)	11	16:44	1:06.2	5:37.9
12	Boyadjieff, Scott SO	1510	Maria Carrillo 	12	16:53	1:15.5	5:41.0
13	Azevedo, Max	SR	1555	Montgomery (NC)	13	16:59	1:20.7	5:42.8
14	LaFrance, Ryan	JR	1563	Montgomery (NC)	14	17:00	1:22.4	5:43.3

15	Hall, Tyler	SO	1522	Maria Carrillo 	15	17:01	1:22.9	5:43.5
16	McKinney, Max Emilio JR	1688	Windsor (NC)	16	17:11	1:33.2	5:47.0
17	Joseph, Adam	SR	1649	Santa Rosa (NC)	17	17:40	2:01.6	5:56.9
18	Gaspar, Mason	SR	1644	Santa Rosa (NC)	18	17:47	2:09.4	5:59.2
19	Mercado, Tomas	SO	1566	Montgomery (NC)	19	17:48	2:09.9	5:59.4
20	Cecil, Gavin	SR	1584	Piner (NC)	20	17:54	2:15.9	6:01.4
21	Finnerty, Bodhi	JR	1557	Montgomery (NC)	21	17:54	2:16.5	6:01.6

22	Cuevas-Martinez, Azriel JR 1586	Piner (NC)	22	17:54   2:16.5	6:01.6
23	Cambou, Alexander JR	1582	Piner (NC)	23	17:59	2:20.8	6:03.0
24	Gaytan, Estaban	SO	1592	Piner (NC)	24	18:06	2:27.8	6:05.4
25	Luong, Andrew	JR	1596	Piner (NC)	25	18:19	2:41.1	6:09.8
26	Post, Corbin	FR	1692	Windsor (NC)	26	18:19	2:41.4	6:10.0
27	Ramirez, Sergio	SR	1601	Piner (NC)	27	18:22	2:44.5	6:11.0
28	Moores, Tristan	SO	1690	Windsor (NC)	28	18:26	2:47.7	6:12.1
29	Vera, Ethan	JR	1603	Piner (NC)	29	18:29	2:50.6	6:13.4
30	Barney, Cole	JR	1681	Windsor (NC)	30	18:49	3:11.1	6:20.0
31	Karres, Tristan	FR	1562	Montgomery (NC)	31	18:59	3:20.6	6:23.5
32	Williams, Holden JR	1671	Santa Rosa (NC)	32	19:03	3:25.5	6:24.8
33	Weeks, Samuel	SR	1569	Montgomery (NC)	33	19:04	3:26.2	6:25.0
34	Alanis, Allan	SR	1680	Windsor (NC)	34	19:09	3:30.9	6:26.6
35	Liddel, Aaron	SO	1686	Windsor (NC)	35	20:19	4:41.3	6:50.3

Junior Varsity
1	Maria Carrillo 	17	1-2-3-5-6(8)(11)	90:40	18:08	0:48.5
2	Santa Rosa  	66	4-10-16-17-19(22)(27)	96:40	19:20	1:44.6
3	Piner    	83	7-9-15-23-29(31)(33)	97:58	19:35	2:06.3
4	Montgomery  	89	12-13-18-21-25(28)(34)	98:28	19:42	1:30.8
5	Windsor        114	14-20-24-26-30(32)(35) 101:38	20:20	1:35.4

1	Trenam, Kevin	SO	1545	Maria Carrillo (NC)1	17:42	---	5:57.5
2	Dave, Kapil	JR	1511	Maria Carrillo (NC)2	18:00	18.2	6:03.3
3	Treinen, Trystan SO	1544	Maria Carrillo (NC)3	18:07	25.9	6:06.0
4	Moore, Gavin	JR	1655	Santa Rosa (NC)	4	18:18	36.7	6:09.6
5	Smith, Aiden	SO	1539	Maria Carrillo (NC)5	18:20	38.1	6:10.1
6	Rath, Jonathan	SO	1534	Maria Carrillo (NC)6	18:31	49.5	6:13.9
7	Espinoza, Carlos SO	1591	Piner (NC)	7	18:34	52.1	6:14.8

8	Rashap, Aston	JR	1532	Maria Carrillo (NC)8	18:38	56.1	6:16.1
9	Perez, Alex	JR	1600	Piner (NC)	9	18:40	58.9	6:17.0
10	Dennis, Jason	SO	1638	Santa Rosa (NC)	10	18:46	1:04.3	6:18.9
11	Thompson, Logan	FR	1543	Maria Carrillo (NC)11	18:51	1:09.4	6:20.6
12	Gubera, Christopher FR	1521	Maria Carrillo (NC)--	18:52	1:10.8	6:21.1
13	Haupt, Oliver	SO	1561	Montgomery (NC)	12	18:53	1:11.3	6:21.2
14	Taylor, Benjamin SO	1540	Maria Carrillo (NC)--	19:06	1:24.3	6:25.6
15	Peterson, Grady	JR	1567	Montgomery (NC)	13	19:07	1:25.5	6:26.0
16	Scheller, Magnus FR	1537	Maria Carrillo (NC)--	19:09	1:27.5	6:26.7
17	Kearns, Laszlo	FR	1528	Maria Carrillo (NC)--	19:15	1:33.2	6:28.6
18	Ricci, Dominic	SO	1535	Maria Carrillo (NC)--	19:16	1:34.4	6:29.0
19	Goehring, Maxwell FR	1518	Maria Carrillo (NC)--	19:23	1:41.4	6:31.4
20	Iezza, Dylan	FR	1524	Maria Carrillo (NC)--	19:26	1:44.2	6:32.3
21	Kane, Benjamin	FR	1527	Maria Carrillo (NC)--	19:32	1:50.9	6:34.6
22	Hernandez, Isaiah SO	1685	Windsor (NC)	14	19:37	1:55.6	6:36.2
23	Thomasson, Elliott FR	1542	Maria Carrillo (NC)--	19:37	1:55.7	6:36.2
24	Vera, Jaden	SR	1604	Piner (NC)	15	19:42	2:00.6	6:37.8
25	Rodriguez, Eric	JR	1662	Santa Rosa (NC)	16	19:46	2:04.4	6:39.1
26	Pinalez-Vera, Dereck JR	1659	Santa Rosa (NC)	17	19:47	2:05.3	6:39.4
27	Larsen, Elliot	SO	1564	Montgomery (NC)	18	19:50	2:08.3	6:40.4
28	Jensen, Shay	SO	1525	Maria Carrillo (NC)--	20:00	2:18.3	6:43.8
29	Thom, Keon	SO	1541	Maria Carrillo (NC)--	20:00	2:18.9	6:44.0
30	Fightmaster, Jack SR	1641	Santa Rosa (NC)	19	20:03	2:21.2	6:44.8
31	Gillingham, Mason FR	1682	Windsor (NC)	20	20:03	2:21.5	6:44.9
32	Guenther, Cameron SO	1560	Montgomery (NC)	21	20:15	2:33.2	6:48.8
33	Lasker, Isaac	SO	1651	Santa Rosa (NC)	22	20:18	2:36.8	6:50.0
34	Esquivel-Arango, Jacobo FR 1513	Maria Carrillo (NC)--	20:22	2:40.2	6:51.2
35	Contreras, JuanPablo SR	1585	Piner (NC)	23	20:22	2:40.3	6:51.2
36	Hanshew, Kyan	SR	1683	Windsor (NC)	24	20:22	2:40.8	6:51.4
37	Tuso, Cruz	SO	1568	Montgomery (NC)	25	20:23	2:41.0	6:51.8
38	Sinnott, James	FR	1693	Windsor (NC)	26	20:24	2:42.5	6:51.9
39	King Gile, Nicolai SO	1650	Santa Rosa (NC)	27	20:24	2:42.9	6:52.1
40	Flores, Isaiah	SR	1514	Maria Carrillo (NC)--	20:28	2:46.9	6:53.4
41	Blasiotti, Christian SR	1635	Santa Rosa (NC)	--	20:30	2:48.4	6:53.9
42	Sacher, Cadel	SR	1663	Santa Rosa (NC)	--	20:38	2:56.4	6:56.6
43	Rashap, Elliott	FR	1533	Maria Carrillo (NC)--	20:38	2:56.6	6:56.7
44	Graf, Carter	SO	1558	Montgomery (NC)	28	20:39	2:57.8	6:57.1
45	Naepflin, Christopher SO 1598	Piner (NC)	29	20:40	2:58.3	6:57.3
46	Muir, James	SO	1529	Maria Carrillo (NC)--	20:41	2:59.9	6:57.8
47	Gierhart, Linden FR	1517	Maria Carrillo (NC)--	20:46	3:04.7	6:59.4
48	Huang, Shengkai	SO	1523	Maria Carrillo (NC)--	20:48	3:06.2	6:59.9
49	Heavner, Reid	FR	1646	Santa Rosa (NC)	--	20:57	3:15.8	7:03.2
50	Ventura, Gaston	FR	1670	Santa Rosa (NC)	--	21:04	3:22.0	7:05.6
51	Miguel Lopez, Giovanni SR 1689	Windsor (NC)	30	21:12	3:30.0	7:08.3
52	Dominguez, Emmanuel SR	1589	Piner (NC)	31	21:13	3:31.4	7:08.4
53	Hanshew, Sean	FR	1684	Windsor (NC)	32	21:23	3:41.4	7:11.8
54	Cullom, Caden	SO	1587	Piner (NC)	33	21:25	3:43.6	7:12.5
55	Castro, Valentin SR	1583	Piner (NC)	--	21:31	3:49.0	7:14.7
56	Flores, Ivan	SO	1515	Maria Carrillo (NC)--	21:33	3:51.0	7:15.3
57	Gierhart, Grayson SO	1516	Maria Carrillo (NC)--	21:37	3:55.5	7:16.5
58	Luong, Tien	FR	1565	Montgomery (NC)	34	21:38	3:56.2	7:16.7
59	Matamoros, Christian JR	1687	Windsor (NC)	35	21:42	4:00.3	7:18.1
60	Garcia-Glover, Jade JR	1643	Santa Rosa (NC)	--	21:44	4:02.6	7:18.9
61	Morales, Uriel	SR	1597	Piner (NC)	--	21:47	4:05.9	7:20.0
62	Hartman, Henry	FR	1593	Piner (NC)	--	22:03	4:21.3	7:25.2
63	Do, William	SO	1639	Santa Rosa (NC)	--	22:21	4:39.1	7:31.2
64	Perez, Juelz	JR	1658	Santa Rosa (NC)	--	22:44	5:02.7	7:39.1
65	Azat, Finn	JR	1634	Santa Rosa (NC)	--	22:47	5:05.9	7:40.2
66	Dominguez, Alex	FR	1588	Piner (NC)	--	23:05	5:23.2	7:46.0
67	OHarren, Marlon	FR	1530	Maria Carrillo (NC)--	23:05	5:23.4	7:46.1
68	Jafri, Adheem	FR	1648	Santa Rosa (NC)	--	23:07	5:25.9	7:46.9
69	March, Zachary	JR	1653	Santa Rosa (NC)	--	23:21	5:39.8	7:51.6
70	Schuster, William JR	1666	Santa Rosa (NC)	--	23:47	6:05.5	8:00.3
71	Nunez, Gustavo	FR	1599	Piner (NC)	--	23:53	6:11.7	8:02.4
72	Flores, Anthony	JR	1642	Santa Rosa (NC)	--	24:03	6:21.4	8:05.6
73	Orellana, Matthew FR	1656	Santa Rosa (NC)	--	24:03	6:21.5	8:05.7
74	Robinson, Brayden FR	1661	Santa Rosa (NC)	--	24:18   6:36.6	8:10.8
75	Lewis, Ryder	FR	1595	Piner (NC)	--	24:39	6:57.7	8:17.9
76	Hong, Ken	SR	1594	Piner (NC)	--	24:39	6:57.7	8:17.9
77	Hernandez, Necalli FR	1647	Santa Rosa (NC)	--	25:13	7:31.2	8:29.1
78	Camacho Candelas, Ian JR 1636	Santa Rosa (NC)	--	25:20	7:38.8	8:31.7
79	Purvis, Trent	FR	1660	Santa Rosa (NC)	--	25:48	8:06.2	8:40.9
80	Stafford Morales, Jordan SO 1668 Santa Rosa (NC)--	25:58	8:16.4	8:44.4
81	Coscarelli, William SR	1637	Santa Rosa (NC)	--	26:13	8:31.6	8:49.5
82	Estrada, Lucas	JR	1556	Montgomery (NC)	--	26:51	9:09.6	9:02.3
83	Pedrazzini, Joshua FR	1657	Santa Rosa (NC)	--	27:301	9:49.6	9:15.7
84	Schulze, Zachariah FR	1665	Santa Rosa (NC)	--	27:54	10:13.0	9:23.6
85	Swallow, Ian	JR	1669	Santa Rosa (NC)	--	28:22	10:39.0	9:32.7
86	Macken, Elliot	SO	1652	Santa Rosa (NC)	--	28:22	10:40.1	9:32.8